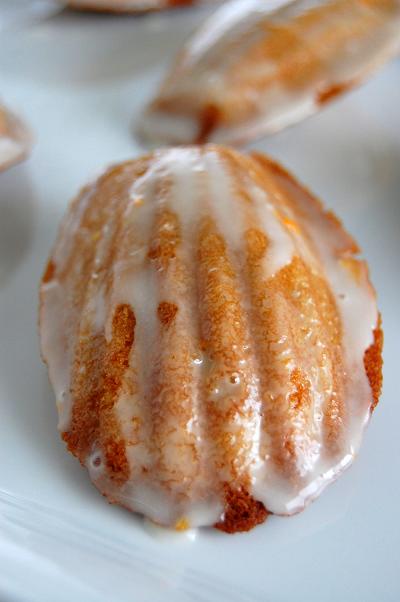 So there is this picture of me (if I had it I would post it but I think my mom has it). I am standing in the doorway getting ready to go out. My mom and aunt wanted a picture of me because they couldn't believe I was going out in public in what I was wearing. Now before you go thinking something slutty, please… I don't even kiss on the first date (well didn't, I'm married now and that has cut down on my dating life. 😛 ).
Picture if you will: black stirrup pants with a pair of black and white boxer shorts OVER them, a giant Depeche Mode concert t-shirt, a cropped denim jacket, Vans shoes (at one point I owned 43 pairs) and my hair in a side pony tail (yes, it was the 80's boys and girls). I remember at that time my aunt and mom almost laughing at me and saying "you're not going to wear that in public are you?" and of course I was. I remember at the time thinking that I looked darn good. It's funny what 15 years will do to you. As the last time I saw that photo I thought the same thing as my aunt and mom…what was I thinking? My recently reunited high school friends and I have been torturing each other with photos of our past. There were a lot of what was I thinking moments.
In what was I thinking food moments I present gingerbread. As a kid I was not a fan. If there was a plate of cookies I never wanted the gingerbread men. I would eat them as a last resort, they do have sugar in them after all. And I would never touch gingerbread. Yuck.
Umm, yeah, what was I thinking? Gingerbread kicks ass. Especially warm out of the oven. Yum, yum, yum.
So in effort to do something different with gingerbread this year I decided to make them into madeleines. I combined a recipe from Sherry Yard for Orange Madeleines with her recipe for gingerbread finaciers. It worked out well. After they came out of the oven I smothered them in orange glaze. What I got was something quite wonderful. And not wonderful like I thought my boxers over stirrup pants was wonderful but actually wonderful. These are best eaten the day of and even better if you can eat them while they are still warm.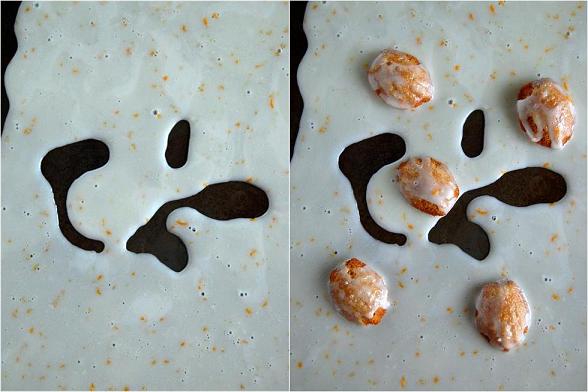 Gingerbread Madeleines
½ cup all purpose flour
½ cup cake flour
½ cup almond flour
½ tsp baking powder
¼ tsp salt
¼ pound (1 stick) unsalted butter, at room temperature
1 cup granulated sugar
¼ cup full flavor molasses
1 tsp vanilla extract
2 tsp ground ginger
½ tsp ground cinnamon
¼ tsp freshly grated nutmeg
1/8 tsp ground cloves
4 eggs
Orange Glaze (recipe follows)
Sift flours, baking powder, spices, and salt into medium bowl and set aside.
Using a standing eclectic mixer fitted with a paddle attachment or hand mixer, beat the butter on high speed until soft and creamy, about 1 minute. Slowly add the sugar, 1 TBSP at a time beating continuously on high speed. It should take 5-10 minutes to add the sugar. The mixture should be light, fluffy and a creamy white color. Stop the mixer and scape down the sides of the bowl with a rubber spatula.
Add the eggs, on at a time. Be sure each egg is completely incorporated and scape down the sides of the bowl before adding the next one. Add the molasses and vanilla and beat until blended.
Add the flour mixture to the batter in thirds, beating on low speed until just incorporated. Cover the batter and chill if for at least 2 hours and up to 4 hours.
Preheat oven to 375F. Adjust the rack to the center of the oven. Brush the mini or standard madeleine molds with melted butter, then dust them lightly with flour.
Carefully spoon (I piped) the chilled batter into the madeleine pan, filling each shell three-quarters full. Bake for 10 minutes for mini or about 15 for standard size, or until they are golden brown and firm to the touch. Repeat until all the batter has been used, brushing pans with butter if needed.
While madeleines are still hot pour orange glaze over them.
Adapted from The Secrets of Baking by Sherry Yard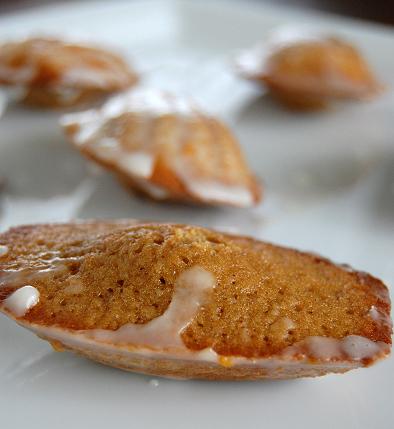 Orange Glaze
2 cups confectioners¢â¬â"¢ sugar
¼ cup fresh orange juice
1 tsp grated orange zest
When the cake is completely cooked, whisk the icing ingredients together until smooth. Set t he wire rack over wax paper or place in a baking pan to catch the drips. Spoon all the icing onto the top of the cake and spread it out, so that it runs down the sides. Set aside in a cool place until icing has set about 30 minutes.
Source: Adapted from Butter, Sugar, Flour, Eggs by Gale Gand, Rick Tramonto and Julia Moskin