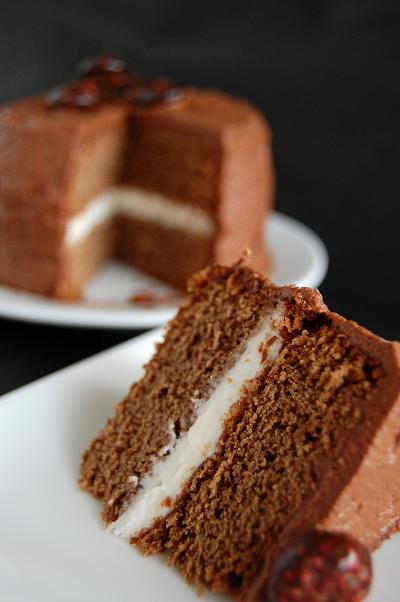 There have been times through out my life that I have often wondered what happened to people who used to be a part of my life. What is my best friend from High School doing? Or maybe the first boy I kissed? Things like that. It's not so much that I think we will become BFF's again, it's that it's just nice knowing how things have turned out for that person.
I mean I am quite sure that anyone who knew me 20 years ago would never have thought that I would be running a food blog (me included). Or that I taught math and physical sciences. I'm pretty sure back then I wanted to be a High School Spanish teacher (too bad I remember almost none of it…which is really sad since it was one of my minors in undergrad). Then I went into college wanting to be a forest ranger. Too bad I am allergic to pretty much every tree and bush out there. Not only did I want to do forestry I wanted to be in charge of a fish hatchery.
Thankfully the Internet has many, many avenues that help you to get in touch with those you have often wondered about over the years. I've been able to get in touch with quite a few of the ones that I have thought about. It's been a hoot to see how they have turned out and some of the amazing accomplishments that they have done. Some are doing exactly what I pictured them doing all those years ago and some have down right surprised me, mostly in a good way. Though one turned out to have a porn star past (oh my!), but to each it's own and it is how they paid for graduate school.
I think the holidays for some reason make people think about the ones in their lives even more. Some people are lonely and have no one around the holidays and that makes me truly sad, for everyone should have someone for the holidays. My mother always picks up the strays around her town and brings them in for the holidays. I don't have any strays (luckily everyone around here that I know has family) but if I did, I would as well. If you have a stray, I suggest inviting them to be part of your holiday festivities. It's a nice thing to do.
I'm still bogged down around here. My Google Reader has over 300 things for me to read. AHHH. The dĩcor is up and festive baking has become. Just don't ask me about Christmas cards.
Part of that festive baking was this Chocolate-Mint Cake. It's like a giant Peppermint Patty in cake form. It's one of the many desserts I will be hauling to pot lucks in the coming weeks. If you are a chocolate mint fan, this cake is for you.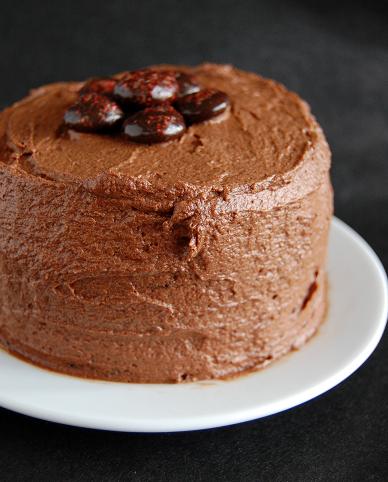 Chocolate-Mint Cake
1 ½ cups semisweet chocolate morsels
½ cup unsalted butter, at room temperature
16 ounces light brown sugar
3 eggs
2 cups all-purpose flour
1 tsp baking soda
½ tsp salt
8 ounces sour cream
1 cup hot water
2 tsp vanilla extract
Peppermint Frosting
Chocolate Ganache
Melt chocolate morsels in a microwave-safe bowl at high for 30 second intervals until melted (about 1 ½ minutes). Stir until soft.
Beat softened butter and brown sugar at medium speed with an electric mixer about 5 minutes or until well blended. Add eggs, one at a time, beating just until blended after each addition. Add melted chocolate, beating just until blended.
Sift together flour, baking soda, and salt. Gradually add to chocolate mixture alternately with sour cream, beginning and ending with flour mixture. Beat at low speed just until blended after each addition. Gradually add 1 cup hot water in a slow, steady stream, beating at low speed just until blended. Stir in vanilla, Spoon batter evenly into 2 greased and floured 10-inch round cake pans.
Bake at 350F for 30 minutes until a wooden pick inserted in center comes out clean. Cool in pans on wire racks 10 minutes; remove from pans, and let cool completely on wire racks. Spread peppermint frosting evenly between cake layers. Spread Chocolate Ganache evenly on top and sides of cake.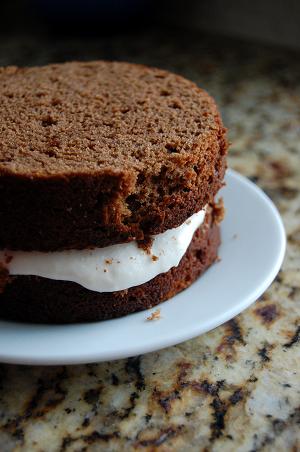 Peppermint Frosting:
½ cup unsalted butter, at room temperature
16 ounces powdered sugar
1/3 cup milk
¼ tsp peppermint oil (not extract, oil!)
Beat butter at medium speed with an electric mixer until creamy; gradually add powdered sugar alternately with milk, beginning and ending with powdered sugar. Beat at low speed just until blended after each addition. Stir in peppermint oil.
Chocolate Ganache
12 ounces semisweet chocolate morsels
1 ½  cups whipping cream
3 TBSP unsalted butter
Microwave semisweet chocolate morsels and whipping cream in a 2 qt microwave safe bowl at medium power 2 1/2-3 minutes or until chocolate begins to melt. Whisk until chocolate melt and mixture is smooth. Whisk in butter, let stand for 20 minutes.
Beat at medium speed with an electric mixer 3 to 4 minutes or until soft peaks form.
Source: Southern Living Christmas Cookbook