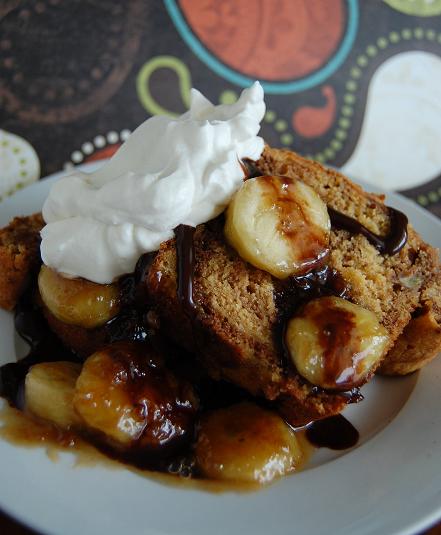 Oh I was such a mover and a shaker when I was a little kid. Of presents that was. I just HAD to know what was in those packages!  My mother would sometimes have to lecture me to not shake them so hard but that falls on deaf ears to an overstimulated 7 year old Christmas-aholic.
As I got older (parents don't read this part) I got extra bad and would actually unwrap the gifts while my parents were out. The first years were a little botched as my re-taping wasn't that great (I suck at wrapping) but no one went back and looked at the gifts. Plus I always volunteered to pass out the gifts to everyone so that I could hide my dirty work. I did get more sophisticated though, as I would steam away the tape those last few years and no one was the wiser. The problem of course once Santa stopped coming to my house (perhaps I made the naughty list for peeking at my gifts) the surprise of Christmas goes away. I was left knowing everything I was getting….just like it is when you are an adult.
Now a days I have my Amazon wish list so that my husband, parents and in-laws can't go wrong. The only problem with that of course is that it takes the surprise out of it. My poor husband is tortured each year though with the request to find me a surprise. The last few years he has done great though this year he says he can't think of anything. Now some of you may say that he is just saying that to through me off, no. I know him, he really means that. It's not his fault, it's just hard to buy adults gifts. Let's face it, for the most part if you really want something as an adult, you just go out and buy it. Or it's too expensive, I mean I love a surprise of say a Nikon D200, but let's be realistic here…so not happening.
So few surprises left in the world of adults. And sadly usually the stuff that surprises us is more of a shock and not necessarily the best kind of surprise. Surprise you need to buy new tires. Surprise you did your taxes wrong and you owe money this year. Surprise you have a $500 vet bill. Surprise your brother-in-law is coming to live with you. All fun stuff. 🙂
This cake does offer up a bit of a surprise. Not many recipes use butterscotch chips. The melting them into the batter gives the cake a really good flavor that compliments the banana. I added chocolate to one half of the batter for a little contrast. I served mine with bananas sauted in a little butter and brown sugar with some whipped cream on top.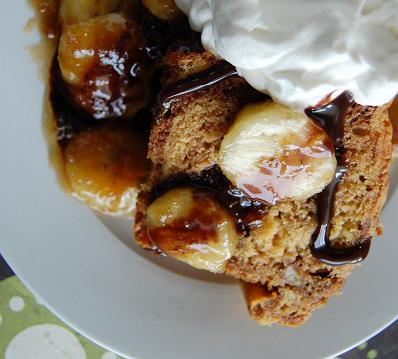 Butterscotch Banana-Chocolate Swirl Cake
5 ounces butterscotch chips, separated
½ recipe for yellow cake batter (recipe here)
1 large banana, smashed
¼ cup unsweetened cocoa powder
Preheat oven to 375F. Grease mini loaf pans; set aside.
Microwave 3 ounces of butterscotch chips on medium high heat for 30 second intervals. Stir after each interval and repeat until chips have melted.
Add smashed banana to the yellow cake batter. Mix until fully incorporated.
Add melted butterscotch chips to cake batter and mix on medium speed for 1 minute.
Separate batter into evenly into two medium sized bowls. Add cocoa powder to one bowl and mix until incorporated.
Add remaining 2 ounces of butterscotch chips to the other bowl. Mix to incorporate.
Alternating, drop spoonfuls of batter, first butterscotch then chocolate butterscotch into the mini loaf pan until you have reached ¾ of the way up. Take a knife and swirl the batter. Repeat with second loaf.
Bake on a cookie sheet (in case you filled it too much and it spills over) for 20-25 minutes or until a wooden pick inserted in cake comes out clean.
Adapted from VeryBestBaking.com
*This can be doubled so that you can use the full yellow cake batter recipe. If you do that, bake it in a 10-cup Bundt pan for 35-45 minutes.