This Red Velvet Cheesecake is a vibrant red cheesecake with a hint of cocoa powder and covered in cream cheese frosting.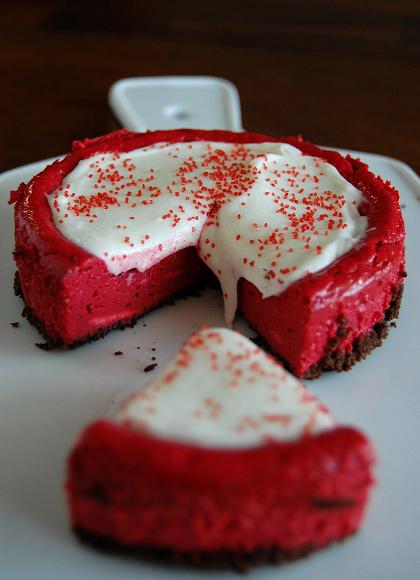 Yes Virginia….there is a Red Velvet Cheesecake.
Falling into the why didn't I think of that category I ran across a recipe in Southern Living Christmas Cookbook for a Red Velvet Cheesecake.
My mouth dropped open just a bit.
How had I never thought of this before?
I mean my husband is the man who loves all things red velvet and he eats cheesecake.
Plus I love to experiment with cheesecake flavors.
The question I get from most people when I made this was, does it taste like the cake.
For the most part yes.
It has all the flavor components but in a creamy texture that is cheesecake.
And it has cream cheese frosting on top.
So cheesecake with cream cheese frosting.
Yeah, a pretty darn good invention if you ask me.
The cheesecake is not baked in a water bath which I was reluctant about.
It came out creamy but the next time I make this I will bake in a water bath.
I would love the say that I have crossed more things off my Holiday to-do-list.
Other than getting the tree up that would be a big fat zero…and I got invited to another party.
I find this the most ironic.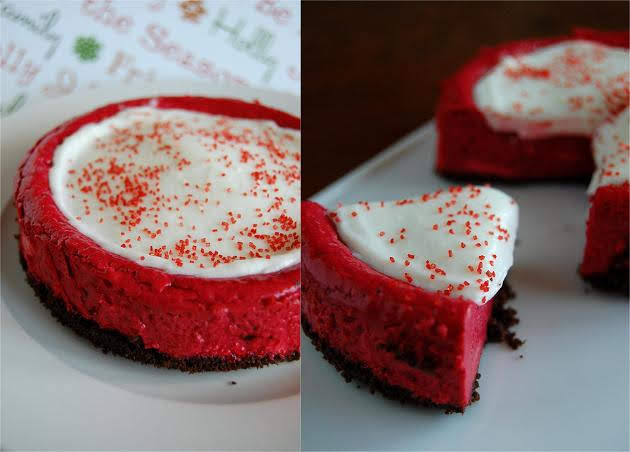 For last year I was invited to zero parties.
None, zippo, nada.
This year 10.
You think they could have spread these things out. 😉
No gifts have been bought.
Apparently when I told my editor that I needed my check so that I could Christmas shop, he must have thought I was super early and shopping for Christmas 09.
It's been "getting out" to me for over a month now and at this point I'm no longer holding my breath.
I almost bought cards today but just didn't find any I like.
Hopefully you are having better motivation than me.
P.S. It's a great day to buy my cookbook Holy Sweet!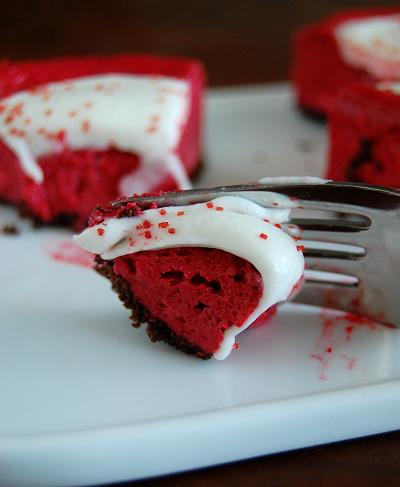 Want More Cheesecake Recipes?
Cinnamon Roll Caramel Apple Cheesecake
Pumpkin Salted Caramel Swirl Cheesecake
Caramel Apple Toffee Cheesecake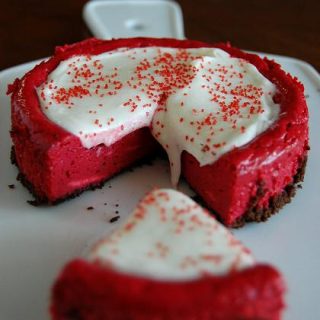 Red Velvet Cheesecake
Ingredients
For the Crust:
1 ½ cups chocolate graham cracker crumbs
¼ cup butter, melted
1 TBSP granulated sugar
For the Filling:
3 (8 ounce) packages cream cheese, at room temperature
1 ½ cups granulated sugar
4 large eggs, lightly beaten
3 TBSP unsweetened cocoa
1 cup sour cream
½ cup whole buttermilk
2 tsp vanilla extract
1 tsp distilled white vinegar
2 (1 oz) bottles red food coloring
For the Topping:
1 (3 ounce) package cream cheese, at room temperature
¼ cup butter, at room temperature
2 cups powdered sugar
1 tsp vanilla extract
Instructions
For the Crust:
Stir together graham cracker crumbs, melted butter and 1 TBSP sugar; press mixture onto bottom of a 9-inch springform pan.
For the Filling:
Beat together cream cheese and sugar at medium low speed with an electric mixer 1 minute.
Add eggs, unsweetened cocoa, sour cream, buttermilk, vanilla extract, vinegar and food coloring.
Mix on low speed just until fully combined.
Pour batter into prepared pan.
Bake at 325F for 10 minutes, reduce heat to 300F, and bake for 1 hour and 15 minutes or until center is firm.
Run knife along outer edge of cheese.
Turn oven off and let cheesecake stand in oven 30 minutes.
Remove cheesecake from oven; cool in pan on a wire rack for 30 minutes.
Cover and chill for 8 hours.
For the topping:
Beat cream cheese and butter at medium speed with an electric mixer until smooth; gradually add powdered sugar and vanilla, beating until smooth.
Remove cheesecake from refrigerator and spread topping evenly over top of cheesecake.
Remove sides of springform.
Garnish with sprinkles if desired.