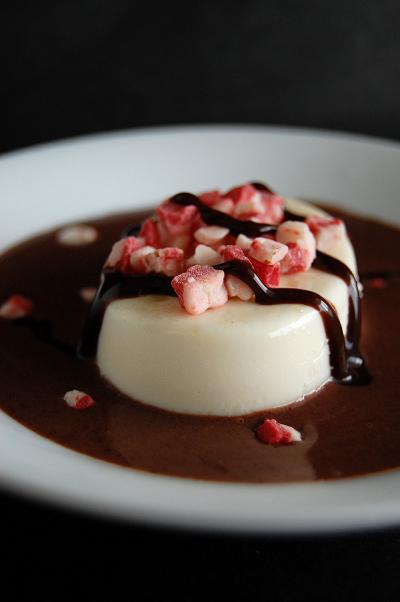 How do you translate a hug into food? That was my challenge of sorts.
For you see one of my favorite food bloggers and all around wonderful person Barb, of Winos and Foodies, thought it would be a good idea to see if there were in advances in chemotherapy. You might know Barb from her efforts for getting the word out about cancer with her LiveStrong with a Taste of Yellow event that she has hosted for the last two years. Unfortunately Barb is back to battling cancer. Some of us fellow food bloggers (headed up by Bron and Ilva) thought it would be a good idea to send Barb a big cyberspace hug. Letting her know we are sending her every good thought that we could possible muster up!
So I thought long and hard about what to make. What would say comfort and love. Hot chocolate. Hot chocolate always makes me feel at peace. And I want Barb to feel at peace.
I am one of those who can not have hot chocolate without marshmallows ( well, I suppose if I was forced I could). Marshmallow panna cotta popped up in my head. Only problem…no one had made that yet…well if they did it's not in cyberspace. So off to the experimenting I went. It only took two tries and I thought it would take much longer. The second time was a charm so to speak and let us hope that Barb's second time is a charm as well.
To compliment the panna cotta I made a Peppermint "Hot Chocolate" Soup for it to swim in. If you wandering if it taste like marshmallow. Yes, like a big creamy, smooth one.
All the best Barb, we are thinking of you!
(((((((((HUGS, HUGS, HUGS, HUGS, HUGS, HUGS, HUGS, HUGS, HUGS, HUGS, HUGS, HUGS,HUGS, HUGS, HUGS, HUGS,  HUGS, HUGS, HUGS, HUGS))))))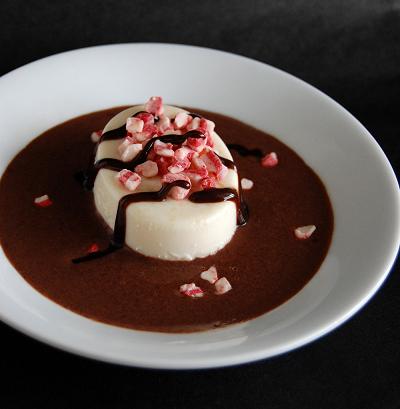 Marshmallow Panna Cotta with Peppermint "Hot Chocolate" Soup
Marshmallow Panna Cotta
2 cups heavy cream
½ cup half and half (or you can use more heavy cream)
½  cup marshmallow fluff
1 package (¼  ounce) unflavored gelatin
1/3 cup granulated sugar
1 tsp vanilla extract
Place ½ cup of cream in a small bowl and sprinkle gelatin over the cream. Let gelatin bloom for about 5 minutes.
Put remaining cream and half and half into a medium saucepan on medium-low heat. Add marshmallow fluff and whisk into cream mixture. As the mixture heats up the marshmallow will start to melt into it, keep whisking to make sure it full incorporates.
Turn heat to low and add in the bloomed gelatin, whisking again to make sure it fully incorporates.
Add sugar and vanilla extract. Whisk until sugar has dissolved.
Pour mixture into ramekins of your choice. Refrigerate for at least 4 hours but serve that day or the next for best texture and flavor.
Unmold by dipping ramekins into hot water for a few seconds. Flip the panna cotta over into a shallow soup bowl. Pour in chocolate soup. Garnish with candy cane pieces and extra chocolate if you like.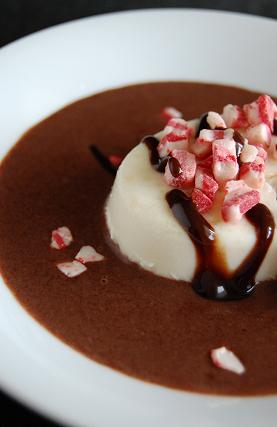 "Hot Chocolate" Soup
1 cup whole milk
1 cup half and half
3 heaping TBSP powdered peppermint hot chocolate
2 ounces semi-sweet chocolate, chopped
2 ounces milk chocolate, chopped
Place milk in a medium saucepan and whisk in hot chocolate. Add half and half and bring to a boil.
Remove from heat and add chopped chocolate. Let sit for about 3 minutes.
Whisk to incorporate the chocolate until totally smooth. Let cool slightly as to not melt the panna cotta when served with it.