These Mini Turtle Pumpkin Cheesecakes are mini pumpkin cheesecakes topped with chocolate and caramel sauce and pecans.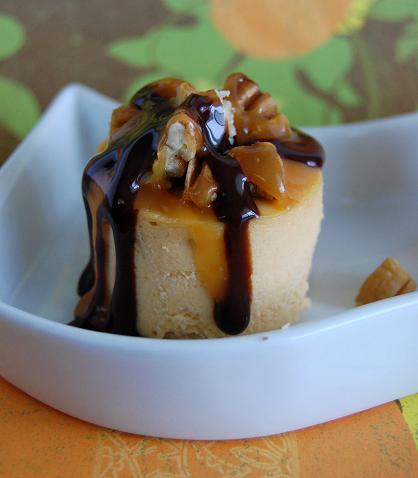 There are many times in my life that I am glad that I am a fattie.
Just like in my adult life, in my childhood I was less than a petite flower.
Growing up my BFF was DB, those were her initials and that is what I called her.
We became bff's because our parents were bff's and when they would go out for an evening among adults I would sleep over at DB's house.
Why not at mine?
Simple.
Number one, their pool had the slide, mine did not.
Second, she had an older brother who would watch us.
Though watch isn't really what I would call it.
More like sibling and sibling friend torture.
This is where my chunkiness worked for me.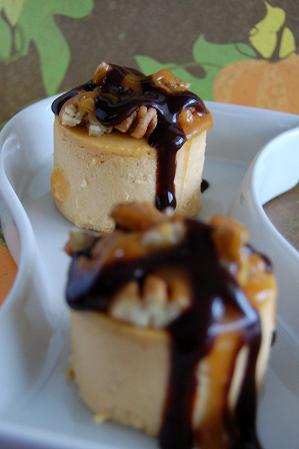 See, DB was small.
Really small, both height and weight.
I would say at the time she was about 70 pounds (to this day she is probably not over 100…she eats, she is just tiny).
Her brother was a good sitter when it was just him.
He left us alone and that was about it.
Trouble stirred when his friends would come over, then we were fair game.
Well, DB was.
See I bit them when the messed with me. 😛
That will teach them.
But, DB, poor DB would get hung upside down in the closet by her feet.
They tried it once with me, did not go over well at all.
Visualize if you will a hefty 12 year old falling onto the groin of DB's brother's friend. 😉
Oops, sorry about that…not.
One time, it was right after Thanksgiving and we were to eat leftovers for our dinner.
DB's brother's friend told us to save him a piece of pie.
I ate it.
That's right, take that.
I was chased around a lot that night, got piled on and given Indian burns and what not on my skin.
No worries though, I got my revenge.
See I had to eat 4 pieces of pie to insure that DB's brother and friends got no pie.
Needless to say my tummy was a tad queasy.
My revenge…vomit in his sleeping bag (yeah, I know not great reading material on a food blog :).
Amazingly enough I didn't get an aversion to pumpkin after that…thank goodness.
When talking to my mom the other day she mentioned seeing a Turtle Pumpkin Cheesecake in some magazine.
It sounded so good and so I was off to make some, mini ones in fact.
These Mini Turtle Pumpkin Cheesecakes are basically just a pumpkin cheesecake topped with pecans, chocolate glaze and caramel.
But oh my, does it make pumpkin cheesecake taste all that much better.
P.S. It's a great day to buy my cookbook.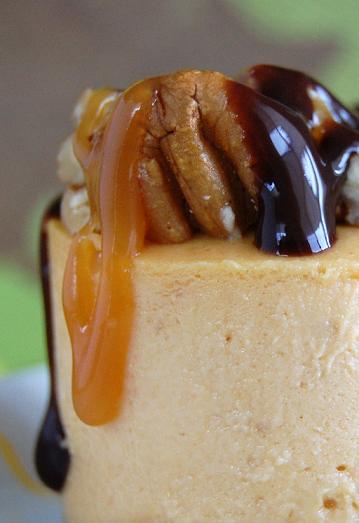 Want More Cheesecake Recipes?
Cinnamon Roll Caramel Apple Cheesecake
Pumpkin Salted Caramel Swirl Cheesecake
Caramel Apple Toffee Cheesecake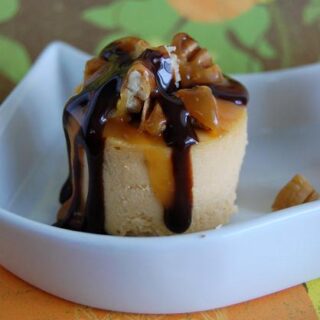 Mini Turtle Pumpkin Cheesecakes
Ingredients
For the Pumpkin Cheesecakes:
1 cup pumpkin puree
½ cup heavy cream
2 tsp vanilla extract
1 tsp pumpkin pie spice
1/4 tsp salt
1 ¼ pounds cream cheese
½ cup granulated sugar
½ cup firmly packed brown sugar
1 TBSP cornstarch
4 large eggs
12 vanilla or chocolate wafers (if not making mini cheesecakes, you will need to use a crust of your choice)
chocolate glaze
caramel sauce
1 cup chopped pecans
For the Chocolate Glaze:
4 ounces bittersweet chocolate, coarsely chopped
½ cup heavy cream
2 teaspoons light corn syrup
For the Caramel Sauce:
2 cups sugar
½ cup water
1 ½ TBSP light corn syrup
½ cup heavy cream plus 1 TBSP
1 tsp vanilla
2 TBSP unsalted butter, at room temperature
Instructions
For the Cheesecakes:
In a medium bowl, whisk together the pumpkin puree, heavy cream, vanilla extract, spice and salt. Set aside.
In the bowl of an electric mixer, using the paddle attachment, beat the cream cheese at medium low speed until creamy, about 2 minutes, scraping down the sides of the bowl as necessary.
Gradually add the sugars and beat until blended.
Add the pumpkin mixture and mix till blended.
Add the cornstarch and mix just until combined.
Add the eggs on at a time, mixing well after each addition and scraping down the sides of the bowl as necessary.
Place a vanilla wafer at the bottom of each of a prepared mini cheesecake pan.
Scrape the batter evenly among the pan ( you can fill them all the way to the top).
Wrap bottom of pan in aluminum foil.
Place the wrapped pan in a roasting pan or large baking pan.
Pour enough hot water into the roasting pan to come 1 inch up the sides of the cheesecake pan.
Bake the cheesecakes in the water bath for 40 minutes(60 for 4 ½ -inch diameter, and 70 minutes for full size cheesecake) @ 350F, until the center of the cake is set but slightly wobbly(the cake will completely set as it cools).
Remove the cake pan from the water bath, place the pan on a wire rack, and carefully loosen the foil.
Let the cake cool completely.
Refrigerate the cheesecake for at least 4 hours.Top each mini cheesecake with pecans.
Drizzle with chocolate glaze and caramel glaze on each one as well.
For the Chocolate Glaze:
First, turn the cooled cake over onto another rack so you will be glazing the flat bottom, and place the rack over a baking sheet lined with parchment or wax paper to catch any drips.
Put the chocolate in a small heatproof bowl.
Melt the chocolate over a pan of simmering water or in a microwave oven; the chocolate should be just melted and only warm, not hot.
Meanwhile, bring the cream to a boil in a small saucepan.
Pour the hot cream over the chocolate and stir very gently with a rubber spatula until the mixture is smooth and shiny.
Stir in the corn syrup.
Whisk until smooth. Set aside until ready to serve.
For the Caramel Sauce:
Put the sugar, water and corn syrup in a medium heavy bottomed saucepan, stir just to combine the ingredients and then put the pan over medium-high heat.
Heat, without stirring , until the caramel turns deep amber, 5-10 minutes.
Take the pan off of the heat and, standing back from the saucepan add the cream and butter.
When the spatters are less vehement, stir to calm down the caramel and dissolve any lumps.
Add in the vanilla and whisk until smooth.