This Pumpkin Cinnamon Roll Coffee Cake has a pumpkin cinnamon roll cake base all topped with a caramel pecan sauce that is like a sticky bun.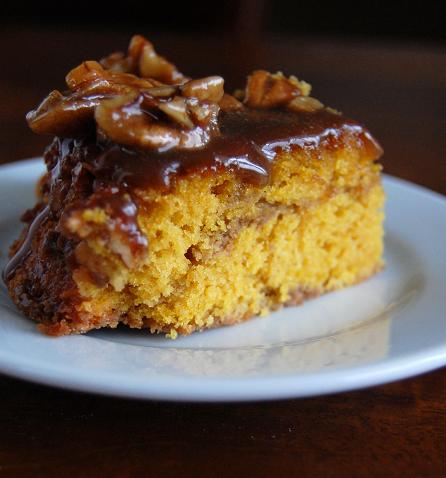 They say that puppies and babies are made cute so that you don't want to kill them when they drive you insane (though I have seen some ugly babies in my time so I am not sure how true that is 😛 ).
I must say that as a dog owner, it was a lot easier to forgive my dog for throwing up grass on my $1500 chair (that I saved for over a year for) which stained it permanently, when she looked up at me with those sad little cocker spaniel eyes.
Those woeful eyes have saved my puppy many a time from having to take a long walk off a short plank.
In the cooking world there are recipes that drive us insane but in the end they were worth it.
This recipe is a case in point.
The first time I made it many, many swear words were spewed from my mouth.
You see, this is a very easy recipe….until you have to assemble it in the pan.
First you lay down the caramel and pecans…and then spread thick batter over that.
Umm, that doesn't work all that well.
Then you top that with streusel (that was easy).
But then you have to spread batter on top of the streusel.
And, that ladies and gentleman is somewhat of a nightmare.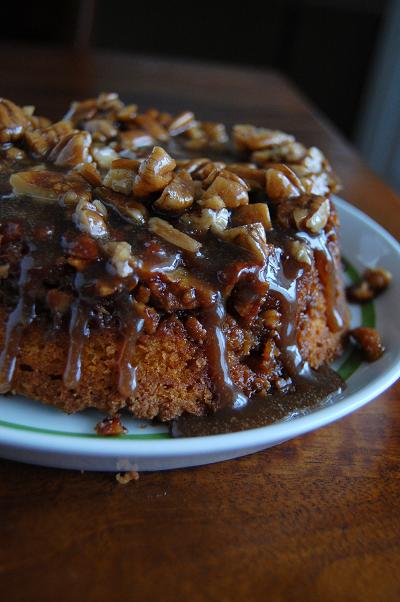 After making versions of this Pumpkin Cinnamon Roll Coffee Cake several times now I can tell you that using both a spatula and your fingers is the way to go.
As is dropping pieces of the batter around the cake so that spreading is kept to a minimum.
The whole time I was spreading the impossible I just kept mumbling to myself that this darn well better be worth it!
Good news is, it is.
This is one of those recipe that the first time I made it I didn't get to photograph it because I made it at night and the smell was just too over powering and I ate like half the cake.
Oops.
The original recipe does not use pumpkin.
If you would like to not use pumpkin then omit the pumpkin and use ½ cup buttermilk and ¼ cup sour cream.
I decided to add pumpkin this last time to make it a little more festive.
I like both versions equally so it is hard to say which way I recommend you make this.
P.S. It's a great day to buy my cookbook Holy Sweet!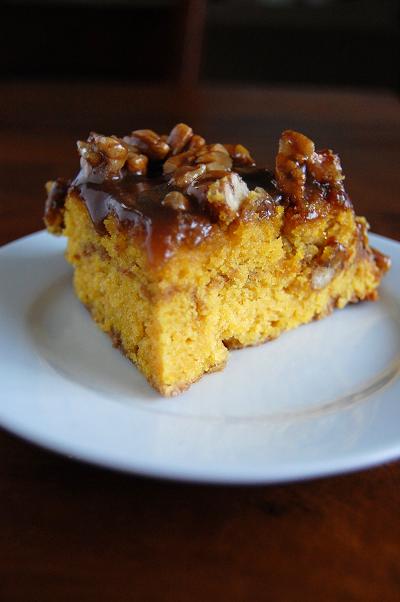 Want more Coffee Cake recipes?
Blackberry Brown Butter Crumb Coffee Cake
Strawberry Lemonade Crumb Cake
Hummingbird Streusel Loaf Cake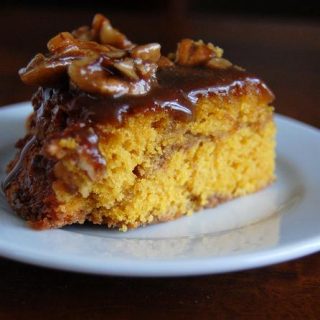 Pumpkin Cinnamon Roll Coffee Cake
Ingredients
For the Caramel:
¾ cup brown sugar
¼ cup heavy cream
pinch of salt
1 cup chopped pecans, toasted
For the Streusel:
½ cup brown sugar
1/3 cup all-purpose flour
4 TBSP unsalted butter, sliced
1 ½ TBSP ground cinnamon
¼ tsp table salt
For the Cake:
¼ cup buttermilk
2 TBSP sour cream
½ cup pumpkin puree
2 eggs
1 ½ cups all-purpose flour
½ tsp baking powder
½ tsp baking soda
½ tsp table salt
½ cup unsalted butter, softened
¾ cup sugar
Instructions
Preheat oven to 350F.
Coat a 9-inch pan with nonstick spray.
Stir together the brown sugar, cream and salt for the caramel.
Pour into a prepared pan and spread to coat the bottom.
Sprinkle pecans over the caramel.
In a food processor, process brown sugar, flour, butter, cinnamon and the salt for the streusel.
Pulse until small clumps form; set aside.Whisk buttermilk, sour cream, pumpkin puree and eggs together and place into a large measuring cup with a pour spout.
Sift flour, baking powder, baking soda, and salt into a small bowl.
Cream the butter and sugar with a mixer just until combined.
Alternately add dry and wet ingredients, starting and ending with the dry.
Blend each additions just until incorporated.
Spread half the batter over the caramel, then sprinkle with half the streusel.
Carefully spread remaining batter over that and top with remaining streusel.
Bake 50-60 minutes, or until a toothpick comes out clean.Cool cake for 5 minutes, then run a paring knife around the sides to loosen.
Invert onto a serving platter while hot, then let cool slightly before slicing.
Due to the sticky top, and electric knife is best for cutting, but a sharp, thin bladed knife is fine too.