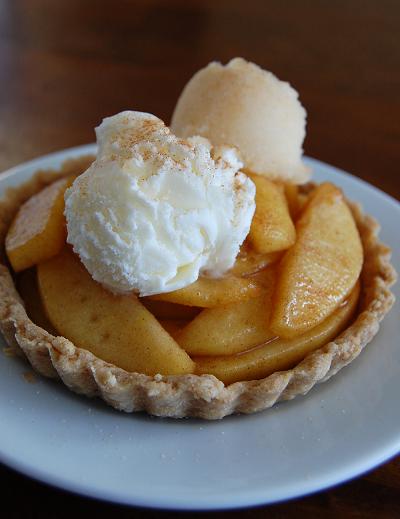 Todays creation comes from the resources of one food blogger and the inspiration of another. Once again, Elle of Feeding My Enthusiasms was kind enough to send me quinces. I just can't seem to get them here and I love them so. This year I got a bunch so I made two things, quince paste (which will be up sometime next week on Northwest Noshings) and quince sorbet. I had seen a lovely apple tart with cranberry sorbet over at my buddy Jen's blog and knew I had to follow suit.
I already had leftover tart shells from when I made the Butterscotch Pudding Tarts, so that was a plus. Jen's apple filling was simple as well. But what to go on top? That is where the quince sorbet came into play, as well as a crème fraiche ice cream. I wanted something with a little tang to go with my tart. I must say that the whole combo taste really nice together.
And if you don't want to make the tart you can make a Fall flavors float. Scoops of quince sorbet and  crème fraiche ice cream with fresh apple cider poured over it…yum!
I've been a busy little blogger as of late, though nothing to do with blogging. So if you haven't seen my stopping by and saying hi, sorry about that. I am pretty busy up until the election as I am volunteering my time. And they take all of that time up!
In good news, since Palin cursed a new team and mine has been winning. Both of my teams are improving, so my mood is improving as well. 😉 My player seems to be recovering nicely too.
All the critters are doing well. LFB eye is the same (but that is good) and CCS has stopped having tummy issues.
Hope everyone has a safe and happy Halloween. All treats and no tricks as well….I got a great treats this year. Special thanks to Elle for the quinces and Hannah for my adorable candy corn magnet!!!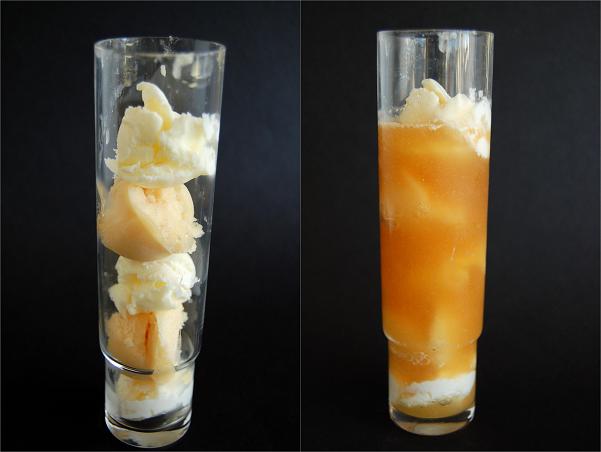 Apple Tarts with Quince Sorbet and Creme Fraiche Ice Cream
4 4-inch prepared Oat Wheat Tart Crust (go here for recipe)
apple filling (go here for recipe)
quince sorbet (recipe follows)
creme fraiche ice cream (recipe follows)
Creme Fraiche Ice Cream
2 cups creme fraiche
¾  cup half-and-half
¼ cup buttermilk
1 cup granulated sugar
1 tsp vanilla extract
6 egg yolks
Combine creme fraiche, half-and-half, buttermilk, vanilla extract and sugar, and warm the mixture over medium heat, stirring occasionally, until the sugar has dissolved, 3 to 5 minutes.
In a medium bowl, whisk the egg yolks just until blended, then whisk in about one-quarter of the warm half-and-half mixture. Return the yolk mixture to the saucepan and cook over medium heat, stirring constantly, until the custard coats the spoon, about 10 minutes. Strain the custard into a medium bowl to remove any lumps and let cool to room temperature, then refrigerate until fully chilled. When cold, pour the mixture into an ice-cream maker and freeze according to the manufacturer's instructions. Transfer the ice cream to an airtight container and freeze until set, at least 2 hours.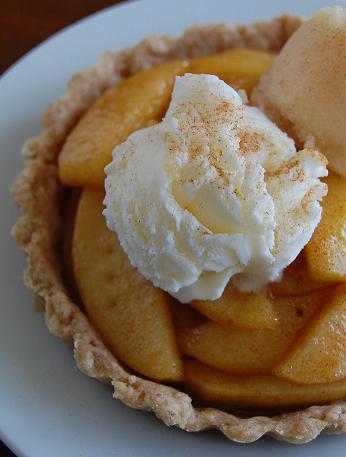 Quince Sorbet
2 lb ripe quinces
1 cup plus 2 TBSP sugar
8 cups water
2 TBSP Grand Mariner
Peel and quarter quince, then core. Simmer quince, sugar, and water in a 6-quart pot, uncovered, until very tender, about 1 hour.
Blend mixture in batches in a blender (use caution when blending hot liquids), then force through a large fine-mesh sieve into a bowl. Cool to room temperature, about 2 hours. Whisk in poire William.
Freeze mixture in 2 batches in ice cream maker. Transfer to an airtight container and put in freezer to harden.
Sorbet adapted from Gourmet Magazine, October 2003