These Butterscotch Pudding Tarts have a crunch oat wheat crust filled with butterscotch pudding and covered in Butterfinger pieces.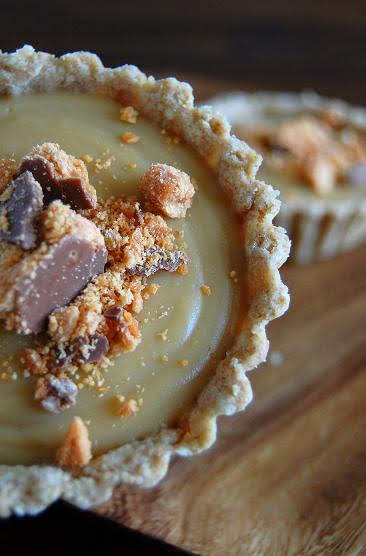 Teaching, as you know, is often a thankless job.
Randomly you might get an atta girl thrown at you but other than that you don't get a lot of positive feedback.
Unless of course, "I hate homework" is positive feedback.
So when I started to get comments on my blog I was just giddy.
Wow, positive feedback…and the actual day I post.
But sadly there is some feedback I never get and wish I would.
You might be surprised at the amount of email I answer a day.
Sometimes I am even surprised.
I always try and help when I can and I try and be honest when I can't.
No superwoman here.
But so many times after I get the email and help the person, I never hear from them again.
It's not that I am looking for a thanks, but I really want to know if what I told you worked out or not!
It helps me too.
So a few months back (gosh maybe longer than that) a reader (who does not have a blog) wrote me and asked if she could have my address.
Now I admit, I get nervous handing out my address to people, though really it is public record, but still (just keep in mind I do have an attack bunny…and a dog that will lick you…and you don't want to know where that's been).
I gave it to her and that was it.
Nothing came in the mail and of course part of me grew suspicious that now I would be getting extra junk mail. 😉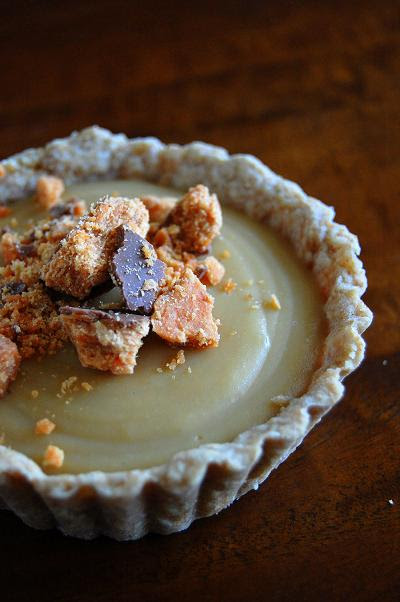 But then the other day I got a letter.
Handwritten, so it really stuck out.
The name was not one I knew and it seemed bulky.
Hmm ( here CCS sniff the letter…you didn't die, okay, I'll open it) .
I opened it up to find $17 cash and a note.
There outlined in the note were 17 recipes that my reader K had tried from my site.
It went through each one explaining what she liked about each recipe.
It also told me how my suggestions on two of my recipes turned out.
Yay, feedback!
It also went on to say some nice things about me to further make my day.
I also had to laugh as she informed me that she would be sending me a dollar for every recipe that she tried and liked from now on.
She said she knew that running a food blog could get costly and she hoped I could use the money ( who can't 😉 ).
So readers of the Culinary Concoction world, please if you ask me a question, let me know how it turns out.
Good or bad…I can take it, I've got my big girl panties on. 😛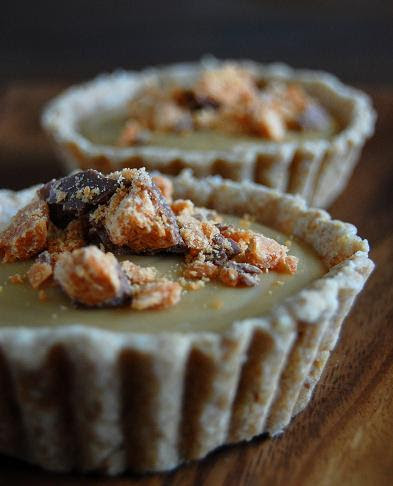 Perhaps one to add to her list is these here Butterscotch Pudding Tarts from my new cookbook obsession/crush, Baked.
These are essentially Butterscotch Pudding in a Tart Shell, with Butterfinger Candy.
So if you were feeling lazy and didn't want to make the tart dough, you just just as easily spoon this into a glass and have at it.
Mine came nowhere as dark as the picture in the cookbook.
I can understand for the pudding.
I didn't want to caramelize to dark, as it sometimes gets bitter.
The tart shells however made no sense.
I baked them for longer than what they said and they still stayed pale in color.
They had great flavor and crispness but very pale.
Odd.
But I really liked the shell as it was different than what you normally get.
I think it would be good with pumpkin pie filling as well.
P.S. It's a great day to buy my cookbook Holy Sweet!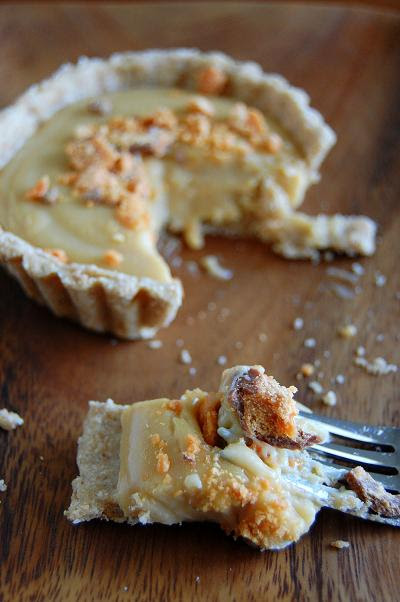 Want More Tart Recipes?
Pistachio Dried Cranberry Caramel Tart
Mini Bailey's Irish Cream Mocha Cheesecake Tarts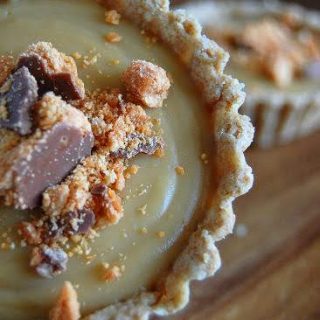 Butterscotch Pudding Tarts
Ingredients
For the Oat Wheat Pie Crust:
1 cup rolled oats
½ cup whole wheat flour
1 cup all-purpose flour
¼ cup firmly packed dark brown sugar
½ tsp salt
¾ cup cold unsalted butter, cut into pieces
¼ cup whole milk
For the Butterscotch Pudding:
6 large egg yolks
¾ cup granulated sugar
¼ cup heavy cream
½ cup firmly packed dark brown sugar
1/3 cup cornstarch, sifted
1 tsp salt
3 cups whole milk
1 tsp vanilla
1 TBSP unsalted butter
2 TBSP whiskey
Butterfinger pieces to garnish
Instructions
For the Oat Wheat Pie Crust:

Put the rolled oats in a food processor and process for about 30 seconds, until ground but not powdered.

Add the flours, brown sugar, and salt and pulse until combined.

Add the butter and pulse until the butter pieces are small and the dough looks crumbly, like coarse sand.

Add the milk and pulse for a few seconds.

Scoop the dough out of the food processor and form it into a large disk.

Wrap tightly in plastic and refrigerate for at least 1 hour and up to 3 hours.

Dust a work surface with a sprinkling of flour.

Unwrap the disk of chilled dough and put it directly on the work surface.

Cut the dough into eight equal pieces, about 2 ounces each, and gently shape each piece into a smooth disk.

The dough will be sticky. Make sure t turn the dough over as needed and keep the working surface floured.

Put the dough disks in the refrigerator for 10 minutes.Using a rolling pin, roll each dough ball into a 6-inch round just over 1/8-inch thick.

Place a round over a 4-inch tart pan and very gently press the dough into the pan.

Roll the rolling pin over the pan to trim off the excess.

Repeat with the remaining dough rounds.

Use any excess dough trimmings to make a ninth tart shell or freeze for another time.

Preheat the oven to 325F.

Put the tart pans in the freezer for 30 minutes.

Remove the tarts from the freezer, then arrange on a baking sheet and gently prick the dough with a fork.

Bake on the baking sheet until golden brown, 12-15 minutes, rotating the baking sheet halfway through baking time.

Transfer the tart pans to wire racks and let cool completely.

For the Butterscotch Pudding:

Put the egg yolks in a large heat proof bowl and set aside.In a small saucepan, combine the granulated sugar, and ¼ cup water and stir gently with a heatproof spatula; do not splash the side of the pan.

Cook over medium heat until the sugar is dissolved, then increase the heat to medium-high heat and cook until the mixture begins to turn dark amber color.

Swirl the pan, if necessary, to create an even color, but do not stir.

Remove from heat, let stand for 1 minute, then use the heatproof spatula to stir in the cream.

Pour the caramel into small bowl.

Set aside.

In another small saucepan, combine the brown sugar, cornstarch, and salt.

Stir in the milk and whisk to combine.

Add the vanilla extract.

Cook over medium-high heat, whisking occasionally, until the mixture comes to a boil.

Remove from heat and add the caramel.

Whisk together until combined, then pour one third of the mixture over the eggs.

Keep whisking the egg mixture and add another third of the hot milk mixture.

Transfer the egg mixture back to the saucepan with the milk minute and, whisking the whole time, bring to a boil over medium-high heat. Boil for 2-3 minutes, or until very thick.Remove from the heat and add the butter and whiskey.

Keep whisking vigorously for about 1 minute to cool the pudding slightly.

Let the pudding sit for about 15 minutes.

To assemble the tarts:

Whisk the pudding one more time until smooth.

Divide the pudding equally among the tart shells an sprinkle some crumbled Butterfinger bar over the pudding.

Cover the tarts with plastic wrap and put them in the refrigerator for about 2 hours before serving.

The tarts can be stored, tightly covered, in the refrigerator for up to 2 days.