These Orange Cream Cheese Muffins are great for brunch and have a unique twist by being topped with a pepita crunch.
That's right peeps, hockey starts today.
And not a moment sooner I might add.
For sitting around not being able to do much but sit propped up in front of the TV coughing (I recommend bacterial pneumonia to no one) gets old pretty quick.
Even more so when about the only thing going on is the election.
And I am pretty darn sick of all of that at this point.
So imagine my glee in knowing that my beloved Flames play this evening.
Knowing that, at least for a few hours I will just be watching something where no one is insulting each other (well, at least not that I can hear).
Though I must say boo to the Flyers who on Saturday will be having Palin drop the puck for the game…grr, get politics out of my happy time darn it all!!!
Having been sick we are pulling from the archives for the next couple of posts I am sure.
No baking, no cooking, no nothing as of late. 🙁
This is a Orange Cream Cheese Muffin topped with sugar and toasted pepitas (pumpkin seeds).
There are a lot of steps but I think the crunch really does add something to these muffins.
I love to serve these at brunch because they have a nice citrus flavor.
And the pepita crunch is unexpected and people always comment on how yummy it is.
P.S. It's a great day to buy my cookbook Holy Sweet!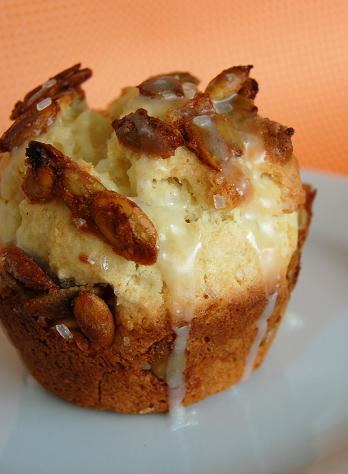 Want More Muffin Recipes?
Cider Glazed Apple Fritter Muffins
Cranberry White Chocolate Chip Crumb Topped Muffins
Chocolate Candied Orange Peel Sour Cream Muffins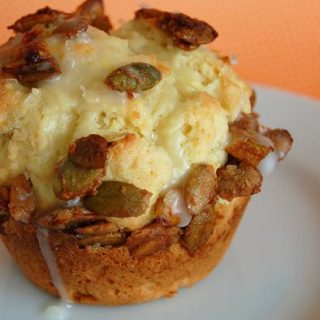 Orange Cream Cheese Muffins with Pepita Crunch
Ingredients
For the Pepita Crunch:
1 large egg white (reserve yolk)
2 TBSP plus 1 tsp granulated sugar
½ cup pepitas
For the Muffin Batter:
1/3 cup fresh orange juice
zest of ½ a small orange
4 ounces cream cheese, at room temperature, broken into 3-4 pieces
2 cups all-purpose flour
½ tsp baking powder
½ tsp salt
¼ tsp baking soda
1 cup superfine sugar
½ cup unsalted butter, slightly firm
2 large eggs
1 large egg yolk (reserved from Pepita Crunch)
1 tsp vanilla extract
For the Orange Glaze:
1 cup powdered sugar
5 TBSP fresh orange juice
1 ½ tsp light corn syrup
Instructions
For the Pepita Crunch:

Preheat oven to 350F.

Spray a rimmed cookie sheet with nonstick cooking spray.In a small bowl, whisk together the egg white and 1 TBSP of the granulated sugar.

Add the pepitas, tossing to coat well with the egg/sugar mixture.

Pour into the prepared cookie sheet and spread evenly in a single layer.

Sprinkle 1 more TBSP of the sugar over the pepitas.

Bake for 7-8 minutes, stir the pepitas with a fork, and bake another 7 minutes.

Remove from oven, stir the pepitas , sprinkle with the remaining 1 tsp of sugar, and bake for another 3 minutes.

Remove from the oven and allow to cool.

Break up any clusters with your fingertips and set aside.

For the Muffins:

Increase oven temperature to 375F.

In a food processor, process the cream cheese, orange juice and orange zest, in three 10-second intervals.

In a large bowl, thoroughly whisk together the flour, baking powder, salt, and baking soda. Set aside.

Cut butter into 1-inch pieces and place in the bowl of an electric mixer fitted with the paddle attachment.

Mix on medium speed until smooth and lightened in color, about 1 minute.

Stop the machine and add the cream cheese mixture, and mix on medium speed for 1 minute.

Add the superfine sugar in a steady stream, then blend in the eggs, the reserved yolk, and the vanilla.

Reduce the mixer to low speed and add flour mixture in 3 additions, mixing just until blended after each addition.

Scoop muffins into a prepared muffin pan.

Sprinkle the top of each muffin with 1 TBSP of the Pepita Crunch. Be sure to use any sugar that remains in the pan.

Bake for 22-25 minutes, or until the muffins are golden brown an the tops are springy to the touch.

To ensure even baking, toward the end of baking time, rotate the pans top to bottom and front to back.

Remove from the oven and place on rack to cool.

For the Glaze:

Combine sugar, orange juice and corn syrup.

Whisk until smooth and pour over muffins.