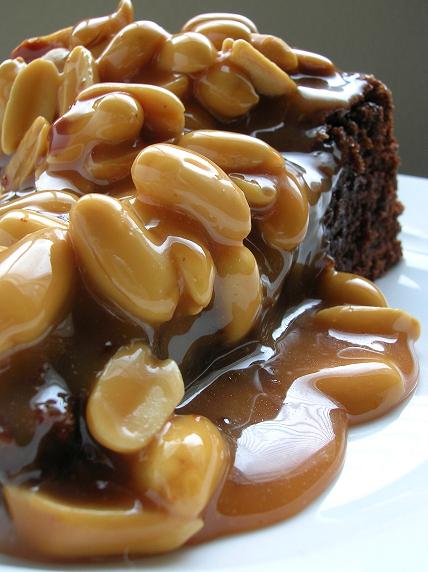 Yay! This weeks pick Caramel-Peanut-Topped Brownie Cake (chosen by Tammy of Wee Treats by Tammy) is one I have already made in the past. I actually planned on making it again since my hubby LOVED it when I made it the first time around but come to find out that my nagging cough I have had for a couple of weeks worsened and come to find out I have a bacteria infection in my lungs. Special. I know you are jealous and wish you had one too. Well too bad, I am saving this all for myself, the infection that is, you can have some of the cake.
If you have never made this cake I highly suggest that you make it. It is really gooey and good.
Since this is a fluff post I thought I would do a couple more of those Meme. The first one was on Cakespy in her sweet version of the 100. Let me just say, I sure do eat a lot of sugar. 😉
1) Copy this list into your site, including the instructions!
2) Bold all of the sweets you've eaten!
3) Cross out any of them that you'd never ever eat.
4) Consider anything that is not bold or crossed out your "To Do" List.
1. Red Velvet Cake
2. Princess Torte
3. Whoopie Pie
4. Apple Pie either topped or baked with sharp cheddar
5. Beignet
6. Baklava
7. Black and white cookie
8. Seven Layer Bar (also known as the Magic Bar or Hello Dolly bars)
9. Fried Fruit pie (sometimes called hand pies)
10. Kringle
11. Just-fried (still hot) doughnut
12. Scone with clotted cream
13. Betty, Grunt, Slump, Buckle or Pandowdy
14. Halvah
15. Macarons
16. Banana pudding with nilla wafers
17. Bubble tea (with tapioca "pearls")
18. Dixie Cup I am assuming this is the ice cream
19. Rice Krispie treats
20. Alfajores
21. Blondies
22. Croquembouche
23. Girl Scout cookies
24. Moon cake
25. Candy Apple
26. Baked Alaska
27. Brooklyn Egg Cream
28. Nanaimo bar
29. Baba au rhum
30. King Cake
31. Sachertorte
32. Pavlova
33. Tres Leches Cake
34. Trifle
35. Shoofly Pie
36. Key Lime Pie (made with real key lime)
37. Panna Cotta
38. New York Cheesecake
39. Napoleon / mille-fueille
40. Russian Tea Cake / Mexican Wedding Cake
41. Anzac biscuits
42. Pizzelle
43. Kolache
44. Buckeyes
45. Malasadas
46. Moon Pie
47. Dutch baby
48. Boston Cream Pie
49. Homemade chocolate chip cookies
50. Pralines
51. Gooey butter cake
52. Rusks
53. Daifuku
54. Green tea cake or cookies
55. Cupcakes from a cupcake shop
56. Crème brƒ»lƒ©e
57. Some sort of deep fried fair food (twinkie, candy bar, cupcake)
58. Yellow cake with chocolate frosting It's my husband's birthday cake every year
59. Jelly Roll
60. Pop Tarts
61. Charlotte Russe
62. An "upside down" dessert (Pineapple upside down cake or Tarte Tatin)
63. Hummingbird Cake
64. Jell-O from a mold
65. Black forest cake
66. Mock Apple Pie (Ritz Cracker Pie)
67. Kulfi
68. Linzer torte
69. Churro
70. Stollen
71. Angel Food Cake
72. Mincemeat pie
73. Concha
74. Opera Cake
75. Sfogliatelle / Lobster tail
76. Pain au chocolat
77. A piece of Gingerbread House
78. Cassata
79. Cannoli
80. Rainbow cookies
81. Religieuse
82. Petits fours
83. Chocolate Souffle
84. Bienenstich (Bee Sting Cake)
85. Rugelach
86. Hamenstashen thanks to Hannah, I saw on her blog and made some
87. Homemade marshmallows
88. Rigo Janci
89. Pie or cake made with candy bar flavors (Snickers pie, Reeses pie, etc)
90. Divinity
91. Coke or Cola cake
92. Gateau Basque
93. S'mores
94. Figgy Pudding
95. Bananas foster or other flaming dessert
96. Joe Froggers
97. Sables
98. Millionaire's Shortbread
99. Animal crackers
100. Basbousa
Holy Cow I eat a lot of sweets! I only haven't eaten 5! Which of course, I will now have to eat.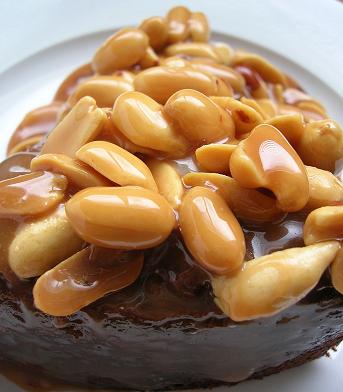 The second one I am told was on Slashfood. But I missed it. I believe it is suppose to be American foods. It's another fun kind of one that once again proves, I am a food whore.
By now you know the drill. Bold means I've tried it. Strike means I'd never try it.
1. New York pizza
2. Hoppin' John
3. New Mexico green chile
4. Homemade buttermilk biscuits
5. Tasso
6. Whole Maine lobster
7. Calabash-style shrimp and hushpuppies
8. Kansas City barbecue ribs
9. Hot glazed Krispy Kreme
10. San Diego fish tacos
11. Cheese curds
12. Key lime pie
13. Philly cheese steak
14. Memphis pork barbecue sandwich
15. Lowcountry boil
16. Huckleberry pie
17. New England clam chowder
18. Boiled peanuts
19. Buffalo burger
20. Eggs Benedict
21. Pastrami on rye
22. Corned beef and cabbage
23. Pancakes with maple syrup
24. Everything bagel with cream cheese and tomato
25. Thin Mints (preferably frozen)
26. Frito pie
27. Potato knish with mustard
28. Silver Queen corn on the cob
29. Soft pretzel from a street cart
30. Fresh-picked blueberries
31. Sourwood honey
32. State fair funnel cake
33. Chesapeake crab cakes
34. Candied yams
35. Oyster dressing
36. Snow cone or snowball
37. Wild Alaskan salmon
38. Sautĩed morels
39. Persimmon pudding
40. General Tso's Chicken
41. Frozen custard
42. Italian sausage with peppers and onions on a hoagie bun
43. Chili dog
44. Buffalo wings with blue cheese
45. Spam musubi
46. Saltwater taffy
47. Fluffernutter sandwich on Wonder Bread
48. Black and white cookie
49. Frybread
50. BLT with thick-cut applewood bacon
51. Baked beans
52. Pumpkin pie
53. Collards with vinegar and Tabasco
54. Tex-Mex fajitas with skirt steak and sautĩed peppers
55. Fried green tomatoes
56. Succotash
57. Shrimp and grits
58. Hot water cornbread
59. Barbecue chicken pizza with red onions
60. Chicken fried steak
61. Carnitas burrito
62. Apple butter
63. Geoduck one of the weird things I got talked into eating since they are found easily in the PNW
64. Soft-serve ice cream cone dipped in chocolate shell (especially Dairy Queen)
65. Pecan pie
66. Catfish supper at a church or fire station
67. Oysters Rockefeller
68. Homemade cranberry sauce
69. Pimiento cheese
70. MoonPie washed down with R.C. Cola – summers in Steger, IL
71. Pickled watermelon rind
72. Cracker Jacks at the ball game
73. Smithfield ham
74. Meatloaf and mashed potato blue plate special at diner
75. Chicken and waffles
76. Po'Boy
77. Green bean casserole with French's fried onions
78. Stuffed sopaipillas
79. Turducken
80. Shad roe on toast
81. Sweet potato casserole with or without marshmallows
82. Cioppino
83. New York cheesecake
84. Pan-fried river trout
85. Jambalaya
86. North Carolina pig pickin'
87. California rolls
88. Burgoo
89. Penuche fudge
90. Fried peanut butter and banana sandwich (the Elvis)
91. Scrapple or livermush
92. Elk medallions in red wine reduction
93. Muscadine grapes
94. Cheeseburger at backyard barbecue
95. Open-face turkey sandwich
96. Chicago deep dish pizza
97. Cobb salad
98. Peach pie a la mode
99. Macaroni and cheese with Tillamook sharp cheddar
100. Root beer float