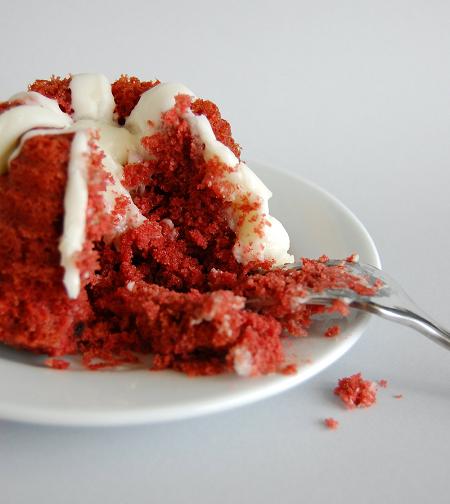 My husband works in the computer industry. When he first met me he had considered leaving it all and becoming a teacher. One of the things he liked about me was that I was a teacher. Then he saw my paycheck. He told me that I got paid a lot more than what he thought. Then I had to break it to him…that was my paycheck for the month…not the week like he thought. Ah. His desire to teach went away….quickly.
There is a reason why they say teaching makes a great second income….because it make a lousy first one. 🙂 Mine was particularly sad as the whole time I was teaching, Arizona was ranked 48th in pay for teachers. We didn't really have unions and your contract went from year to year. You were lucky to get $500 increase each year. Most years the pay scale was frozen. With the exception of the year I was in curriculum my pay over a 10 year span only went up $6K…and I have a lot of education to help me move over on the scale.
The teaching world and the corporate world are very different. My husband would talk about taking in a movie at lunch and I would just stare at him. A movie? I got 30 minutes. In which I had to drop my kids off and make sure they made it through the line without killing or molesting each other, this usually took about 10 minutes. By the time you made it to the teachers lounge, heated up your lunch and sat down to eat it, you had about 4 minutes to digest it. Because after all you had to go to duty and again make sure the kids did not kill or molest each other. You learned to eat the hot stuff in the teachers lounge and eat your fruit and sugared baked goods out on the playground. Or better yet, if you were good like me, you could train the kids to bring you snacks. Bribery wont get you good grades from me but it's never bad to have the teacher on your side. 😉
My husband would also talk of bonuses. Bonuses? What is this bonuses you speak of? Why a bonus to a elementary school teacher is not getting lice, pink eye or strep throat through out the year. That was our bonus. Retiring? You see corporate world handing out nice watches and what not. In teaching you get something the primary teachers no doubt made out of Popsicle sticks and glitter and IF you were lucky a $20 gift certificate to the Olive Garden.
Then there are stock rewards. Don't even get me started on that.
My hubby's review time came around and he received the trifecta: raise, bonus, stock. I of course being happy for him, felt the need to bake him his favorite, Red Velvet Cake. This Bundt cake comes from a Christmas magazine…yes I am already thinking about Christmas treats. I can always trust Paula Deen when it comes to things like Pound Cakes and Red Velvet. It doesn't have pecans in the glaze which was slightly disturbing to my Southern husband but he liked all that same. If you too are a Red Velvet fan it will not disappoint.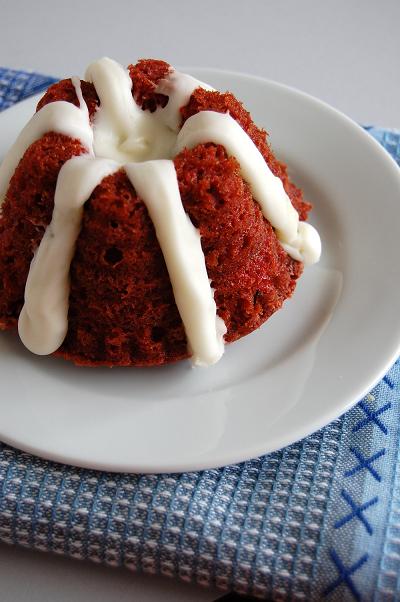 Red Velvet Pound Cake
1 ½ cups unsalted butter, at room temperature
3 cups granulated sugar
5 large eggs
3 cups all-purpose flour
1/3 cup unsweetened cocoa powder
¼ tsp baking soda
½ tsp salt
½ cup buttermilk
½ cup sour cream
1 (1 ounce) bottle red food coloring
1 tsp distilled white vinegar
1 tsp vanilla extract
Cream Cheese Glaze(recipe follows)
Preheat oven to 325F.
Grease and flour a 12 cup Bundt pan. I used minis…makes about 12 of those.
Cream together the butter and sugar on medium high speed with an electric mixer until fluffy, about 3 minutes.
Add eggs, one at at time, scraping down after each addition.
In a medium bowl, combine flour, cocoa, salt, and baking soda.
In a small bowl, combine buttermilk, sour cream, food coloring, vinegar, and vanilla.
Gradually add flour to the butter mixture, alternately with the buttermilk mixture, beginning and ending with flour mixture. Spoon batter into prepared pan(s), and bake for 50-60 minutes(30-40 for the smaller). Bake until a wooden pick inserted in the center comes out clean.
Let cool for 10 minutes. Remove from pan(s), and coll completely on a wire rack. Drizzle cooled cake with Cream Cheese Glaze.
Cream Cheese Glaze
(I highly suggest that you double the batch…I ended up making more)
1 (3 ounce) package cream cheese, at room temperature
1 ½ cups powdered sugar
1 TBSP milk
In a small bowl, beat cream cheese at low speed with an electric mixer until creamy. Gradually add sugar, beating until combined. Add milk, beating until smooth.
Adapted from: Paula Deen's Holiday Baking magazine 2008