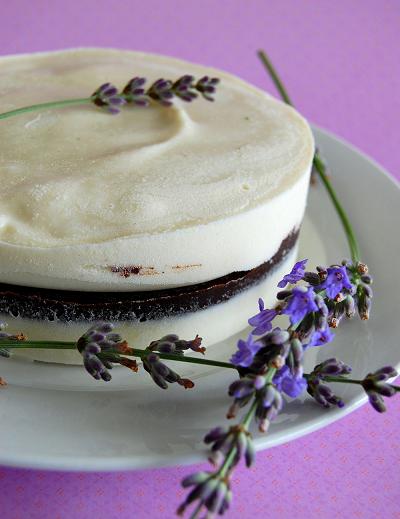 I started to feel bad as of late that I was not doing any inspired by Dorie recipes and therefore my readers were not getting any recipes. Well this weeks pick(by Amy of Food, Family, and Friends)  was a Chocolate Banded Ice Cream Torte. It is suppose to be raspberry but I went ahead and made a Honey Lavender Ice Cream. Tartelette had made a beautiful looking lavender panna cotta a while back and it had me wanting to make lavender ice cream ever since.
The original torte has more layers of chocolate, but since I made a mini, only one was fitting. I also didn't top it with chocolate like you are suppose to. I was in the mood for more lavender than chocolate.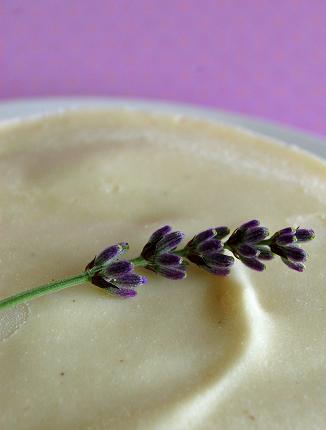 Honey Lavender Ice Cream
2 cups heavy cream
1 cup half-and-half
2/3 cup lavender honey(or any honey)
2 tablespoons dried edible lavender flowers(can be ordered through Penzey's)
2 large eggs
1/8 teaspoon salt
Bring cream, half-and-half, honey, and lavender just to a boil in a 2-quart heavy saucepan over moderate heat, stirring occasionally, then remove pan from heat. Let steep, covered, 30 minutes.
Pour cream mixture through a fine-mesh sieve into a bowl and discard lavender. Return mixture to cleaned saucepan and heat over moderate heat until hot.
Whisk together eggs and salt in a large bowl, then add 1 cup hot cream mixture in a slow stream, whisking. Pour into remaining hot cream mixture in saucepan and cook over moderately low heat, stirring constantly with a wooden spoon, until thick enough to coat back of spoon and registers 170 to 175°F on thermometer, about 5 minutes (do not let boil).
Pour custard through sieve into cleaned bowl and cool completely, stirring occasionally. Chill, covered, until cold, at least 3 hours.
Freeze custard in ice cream maker. Transfer ice cream to an airtight container and put in freezer to harden.
Adpated from Gourmet Magazine, September 2003