This Honey Lavender Ice Cream Torte has a sweet and floral ice cream made with local lavender and honey with a layer of chocolate ganache.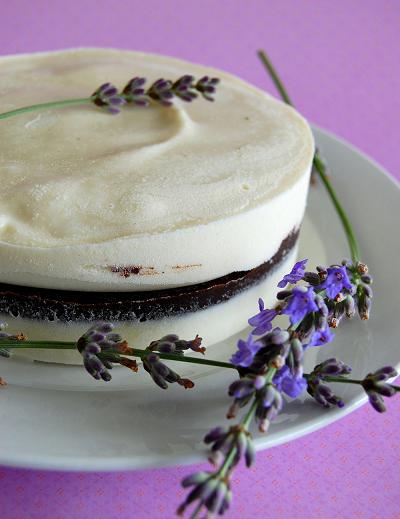 I started to feel bad as of late that I was not doing any inspired by Dorie recipes and therefore my readers were not getting any recipes.
Well this weeks pick (by Amy of Food, Family, and Friends)  was a Chocolate Banded Ice Cream Torte.
It is supposed to be raspberry but I went ahead and made a Honey Lavender Ice Cream.
And made a Honey Lavender Ice Cream Torte.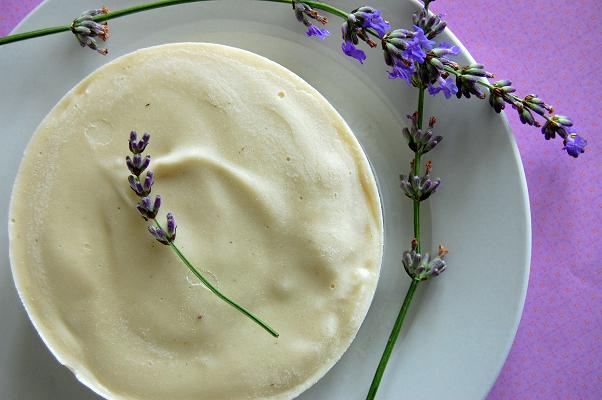 Tartelette had made a beautiful looking lavender panna cotta a while back and it had me wanting to make lavender ice cream ever since.
The original torte has more layers of chocolate, but since I made minis so only one was fitting.
I also didn't top it with chocolate like you are suppose to.
I was in the mood for more lavender than chocolate.
Last but not least…It's a great time to buy my cookbook.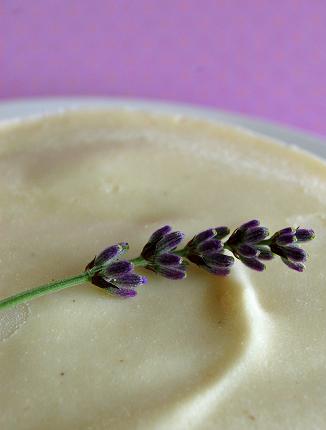 Want More Ice Cream Recipes?
Pineapple Upside Down Cake Ice Cream 
Coke and Salted Peanut No Churn Ice Cream
Peanut Butter and Pretzel No-Churn Ice Cream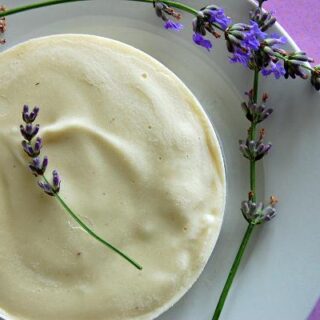 Honey Lavender Ice Cream Torte
Ingredients
For the Honey Lavender Ice Cream:
2 cups heavy cream
1 cup half-and-half
2/3 cup lavender honey(or any honey)
2 tablespoons dried edible lavender flowers(can be ordered through Penzey's)
2 large eggs
1/8 teaspoon salt
For the Chocolate Layer:
2 oz high-quality semisweet chocolate, finely chopped
1/4 cup heavy whipping cream
2 tsp corn syrup
Instructions
For the Ice Cream:
Bring cream, half-and-half, honey, and lavender just to a boil in a 2-quart heavy saucepan over moderate heat, stirring occasionally, then remove pan from heat. Let steep, covered, 30 minutes.
Pour cream mixture through a fine-mesh sieve into a bowl and discard lavender.
Return mixture to clean saucepan and heat over moderate heat until hot.Whisk together eggs and salt in a large bowl, then add 1 cup hot cream mixture in a slow stream, whisking.
Pour into remaining hot cream mixture in saucepan and cook over moderately low heat, stirring constantly with a wooden spoon, until thick enough to coat back of spoon and registers 170 to 175°F on thermometer, about 5 minutes (do not let boil).
Pour custard through sieve into cleaned bowl and cool completely, stirring occasionally.
Chill, covered, until cold, at least 3 hours.
Freeze custard in ice cream maker.
Spread half of the ice cream in a springform pan lined with plastic wrap. I used three mini springform pans.
Make the Chocolate Layer:
Add chocolate to a heatproof bowl.
In a small saucepan, heat the cream and corn syrup until simmering but not boiling.
Pour the cream over the chocolate and wait 2-3 minutes or until the chocolate starts to soften. Slowly stir together until completely smooth.If the chocolate isn't fully melted, place the bowl over a pan of simmering water (do not let the bottom touch the water).
Continue stirring until smooth. Do not get any water or steam in the bowl.
Pour the ganache over the honey lavender ice cream that is in the springform pan.
Place in freezer to set up.
Top with the remaining ice cream and freeze for at least 4 hours.