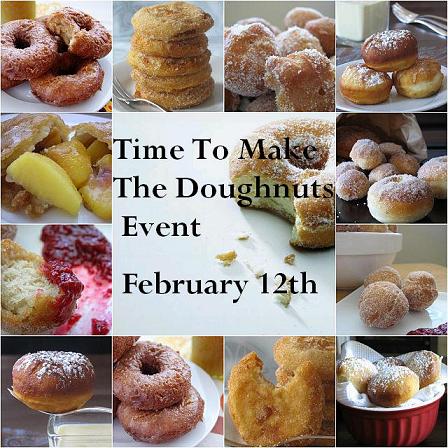 Wow!
People really wanted to fry some dough. Helen and I were blown away by the response that our little doughnut event got!
What was even greater is that so many people had never made them before. They dragged out the oil and braved making doughnuts. So glad we could help you push the limits.
The variety was outstanding. Yeast, baked, cake, filled, fried, heart shaped…you name it, we got it. And now we pass the goodness on to you.
If your blog name fell alphabetically between M and Z then you are on my post. If your blog name fell alphabetically between A and L, then you are on Helen's post. We did see a couple people link to us but we never got an email. If this is you or we some how missed you, PLEASE let us know and we will add you.
You have so many doughnuts to chose from…so without further ado…here are all the wonderful doughy creations!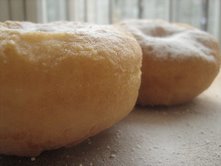 Marija from Belgrade, Serbia made our first batch of doughnuts. Her blog is Palachinka.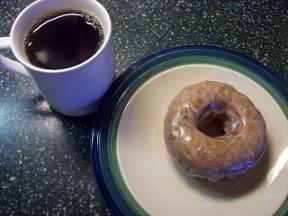 Pumpkin Donuts with Powdered Sugar Glaze and Spiced Sugar Donut Holes
Mary of Shazam in the Kitchen made us these beautiful pumpkin doughnuts. Since they are pumpkin, and pumpkin is a vegetable…they have to be healthy…right?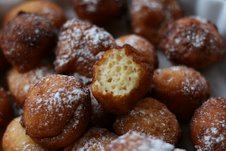 Estonian curd cheese doughnuts aka kohupiimapont…¡ikud
Pille of Nami-Nami makes us an Estonian treat that she says is the comofort food of all Estonian kids. I can see how. She also said that it is best not to tell you how many calories are in these….my favorite kind!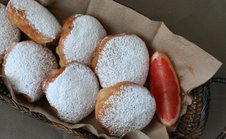 Red Grapefruit Curd Filled Donuts
I was happy to see the vegan bloggers getting in on this one. Dayna of Vegan Visitor made these gorgeous Red Grapefruit Curd Filled Donuts. She was all about making donuts as she too is not into conforming to the January=diet mode.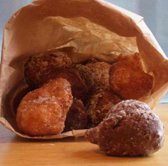 Ann from Redacted Recipes made Zeppoli(Italian doughnuts). Even better is she used a recipe from one of my favorite cookbooks, Dessert By The Yard.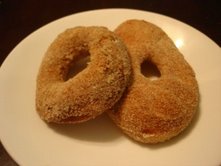 Ryley or That's My Cake…and Dog! shows us that doughnuts don't need to be hard with her World's Easiest Doughnuts. Easy sounds good to me.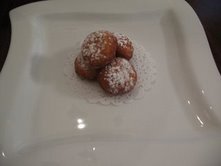 Chris from Mele Cotte tempts us with Italian Doughnuts…that were filled with Nutella(swoon)!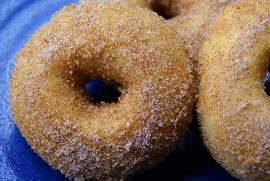 Susan from Wild Yeast broke out the yeast for us with her Yeasted Baked Doughnuts. They are baked…so you can eat twice as many. 🙂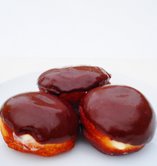 Kelly is a member of the Daring Bakers…but has no blog. She uses the Official Daring Baker Non-Blogging Member Blog which the group provides for non-bloggers. I think it is great that she participated.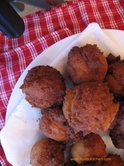 Cider and spice doughnut drops
Janie of the Rustic Kitchen makes some of my all time favorites… cider and spice doughnut drops. These are great because you don't even need a doughnut cutter!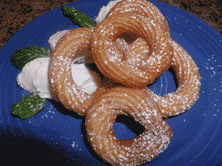 Judy of Judy's Gross Eats(I always laugh at that name…since there is nothing gross about her eats) made these glorious Beignets Souffles(they just sound so fancy!)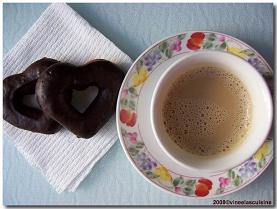 Vineela from Vineela's Cuisine made these adorable heart shaped cashew nut doughtnuts. Cashews in doughnuts…now that is a great idea.

Aparna from My Diverse Kitchen offers up a variety of toppings for her doughnuts. Her coffee glaze would go over really well in these parts.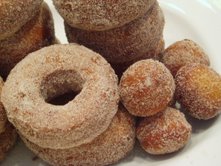 Danielle of Sweet and Savory Eats shows us how a potato can be just more than a french fry! I think I like her Spiced Potato Doughnuts over french fries any day.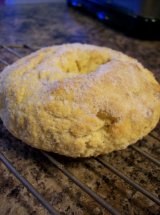 Sarah of What Smells So Good? took on a doughnut war(so to speak) to see if she could make a healthier doughnut. And she did with her Baked Sour Cream Doughnuts…which were a good 130 calories less than Krispy Kreme.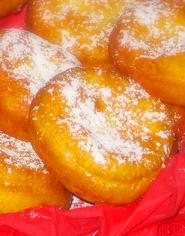 Lore from Natural Cuisine shows that sweet potatoes are more than just something to have as a side…with her Sweet Potoato Doughnuts. Now that is the way to eat your vegetables.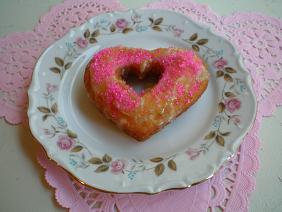 Jennifer of Oye Cookie! went above the call of duty and ventured to Sur la Table just to buy heart shaped cutters. The result? Cute heart shaped rose water glazed doughnuts. Fantastic.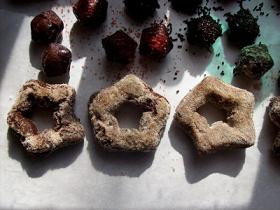 Laurie of Quirky Cupcake(you might know her from Cupcake Hero) departed from cupcakes to bring us these lovely star shaped Chocolate cake doughnuts.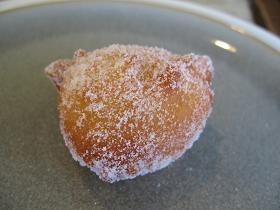 Mrs. L(my Adopt a Blogger!) of Pages, Pucks and Pantry stepped up and tried her hand at doughnuts….so glad she did. What we got were these yummy Orange Drop doughnuts…that again…don't have to have a cutter.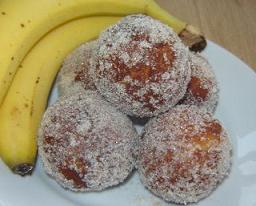 Deborah from The "Humble" Housewife was inspired by her fruit bowl to make these Banana stuffed Doughnuts. They are inspiring indeed!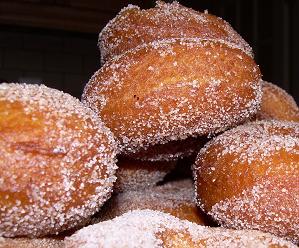 Madam Chow of Madam Chow's Kitchen who made her doughnuts with bread flour when she realized she was out of all-purpose. All was good though as they tasted…well tasty.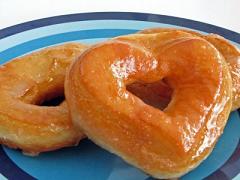 Deborah from Taste and Tell send fried doughnut love in the shape of a heart. She too used the Sherry Yard recipe so you know they were fabulous!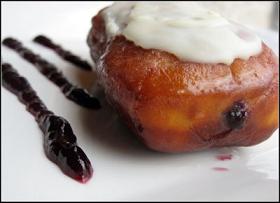 Blackberry & White Chocolate Long Johns
Emiline of Sugar Plum made these gorgeous Blackberry & White Chocolate Long Johns. I have never had a Blackberry Long John but I want one really bad now.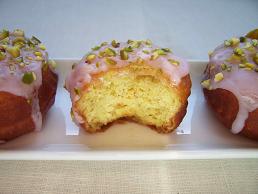 Saffron doughnuts with rose icing and pistachio nuts
Linda from Make Life Sweeter! tried, tried and tried again she got her doughnuts right. Now that is dedication. What she got were these beautiful Saffron Doughnuts with rose icing and pistachio nuts.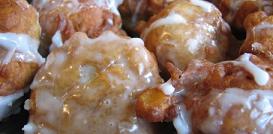 Cara from the Picky Apple makes, what else, Apple Fritters. If I am at the doughnut store chances are that I am going for a apple fitter…so I was glad to see another recipe for them.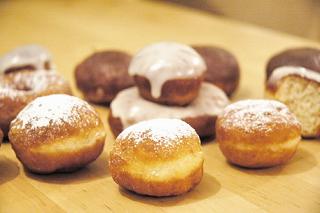 Miri of Room for Dessert recreates one of Americas favorite doughnuts…Dunkin Doughnuts. The vanilla glazed ones especially catching my eye.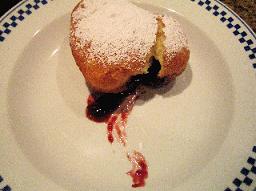 Homemade Doughnuts with Powdered Sugar & Raspberry Jam
Kelly from Sass & Veracity had these Homemade Doughnuts with Powdered Sugar & Raspberry Jam calling her name…and if you listen carefully they are calling your name too!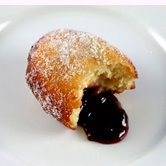 Raspberry Filled No-Knead Doughnuts
Susan of Sticky, Gooey, Creamy, Chewy made some sticky and gooey(well more like oozing) Raspberry Filled No-Knead Doughnuts. She stepped out of her comfort zone and made doughnuts for the first time.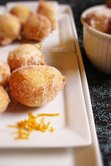 Eliza of Notes from My Food Diary makes some homemade goodness with these tasty looking Orange Drop Doughnuts…homemade goodenss indeed.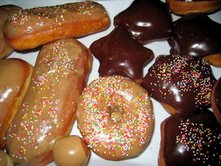 Yeast Doughnuts with Chocolate and Maple Glaze
Holly from PheMOMenon squeezed in time these gorgeous Yeast Doughnuts with Chocolate and Maple Glaze. Oh how excited I was when I saw maple glazed. Put a Canadian near a doughnut and cover it with maple…you best take cover.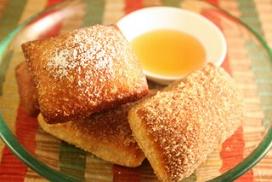 Emma of The Chef and The Photographer made a dish that is dear to my heart, Sopaipillas. It is one of the things that I do miss from Arizona…a good sopaipilla.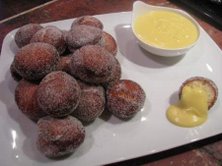 Bomboloni all'Arancia with Orange-Rum Custard
Bomboloni all'Arancia with Orange-Rum Custard is what Michelle of Us vs. Food made. I can't pronounce it but I sure want to eat them!!! This is the best batch of doughnuts she has ever made…and I can see why.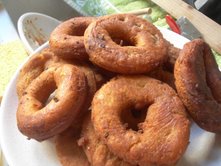 The Great Doughnut Adventure(aka Apple Cider Doughnuts)
Emiglia of Tomato_Kumato pulled out one of the recipes from my archives to make The Great Doughnut Adventure(aka Apple Cider Doughnuts). After a bit of a trying start she got into a rhythm and ended up with some great doughnuts…and even great tasting "rejects'.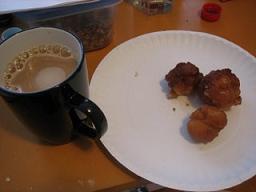 Judith from Shortcut to Mushrooms makes a doughnut called Kala Jamun which uses pancake mix….I will never look at pancake mix the same way knowing that they could be a doughnut!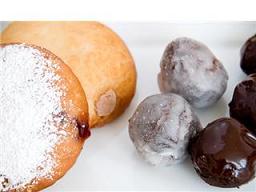 Chocolate Cake Doughnuts and Filled Doughnuts
Jen Yu of Use Real Butter was a super over-achiever and made not one, but two types of doughnuts….Filled Doughnuts
 and Chocolate Cake Doughnuts. I am especially in love with the chocolate ones because they look so much like Dunkin Donut Munchkins that I loved as a kid(and well, adult!).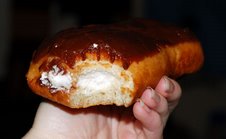 Julie of The Persnickety Palate made doughnuts that would have my mother beating down her door. Gorgeous cream filled, chocolate glazed Long Johns whose yeasted dougnut recipe I am dying to try because hers looks fantastic.!