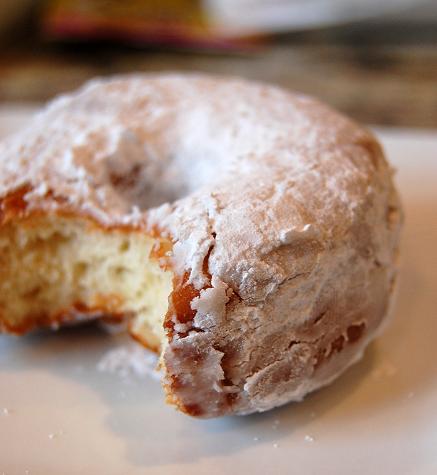 So I was a little boring this time around. Nothing fancy to say the least. However, I did go out of my comfort zone. See, I make cake doughnuts all the time at home, but yeast doughnuts…that was virgin territory. What I got were very interesting results. For from the same batch I had some doughnuts that rose like sky scrapers and I had some that didn't rise at all. Hmmm. I must say that I was stumped. I mean, I make yeast bread often. And when you make yeast bread, it either rises, or it doesn't. Parts of the bread don't rise and other parts do, so to say I was perplexed was putting it mildly. It could have been the fact that I had to get up early to make these babies(my brain is not known to function at that time of day).
There is a sponge made, a rise for that. Add the ingredients, a rise for that. Roll them out, cover myself in flour, and then a rise for that. Well, some rise. Some just flat dough staring at me, mocking me. The ironic things was that after frying all of them up, the ones that rose the least ended up being my favorite. I mostly made plain or powdered sugared ones. I did however make two that were dipped in chocolate ganache and covered in sprinkles…for my hubby.
I'm glad that I chose to make the yeast doughnuts. I now know that I like cake ones better. I mean, I still love Krispy Krème and Tim Horton's yeasty goodness, but when it comes to homemade, I am all about the cake. Especially since it does not take 4 hours to make. But know I know…and like GI Joe says, "knowing is half the battle." (that dorky quote was for when my husband reads this).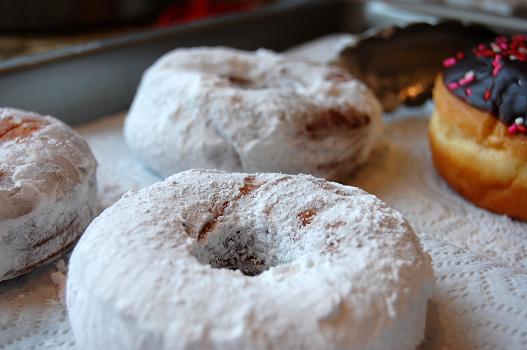 Okay, I have made my doughnuts. Have you made yours? My biggest FEAR is that I have seen a few posts about doughnuts but you didn't send Helen or I the link or the vital info. See, it's not just enough to put it on your blog, you have to email us that you put it on your blog so that we know. I would really hate to miss out on any doughnuts that you all have made, because based on what we have seen so far there is some really great doughnuts out there….and a lot of variety! If you need a reminder, here is what you need to do:
Our only "requirements" are that your entry be a sweet one (plain, or fruit filled or other), and one you make especially for the event¢â¬¦.because…well, that's just us!
To participate, make and post some doughnuts between now and February 12th send us your entry at mytarteletteATgmailDOTcom or luvbriereATgmailDOTcom with the following information:
* Name
* Blog name
* Blog URL
* Post title or Name of dish
* Post URL
* Picture
Round up on both our blogs on the 15th!
Hope to see your doughnuts!!!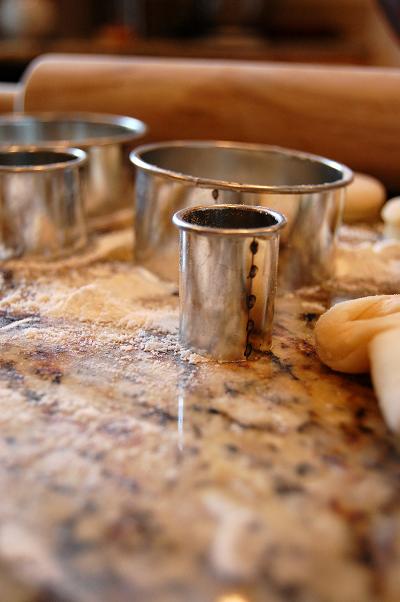 Raised Doughnuts
1 ¼ cups milk
2 ½ tsp active dry yeast
¾ cup granulated sugar
4 cups flour
¼ cup unsalted butter, at room temperature
1 egg
1 tsp pure vanilla
½ tsp salt
vegetable oil, for frying
powder sugar for dredging
Heat milk in a saucepan over medium heat until it reaches 100 to 110. Pour the milk into a large bowl, add the yeast, about 1 TBSP of the sugar, and about 1 ½ cups flour, and mix well. Cover with plastic wrap and let the dough rise in a warm place until doubled in volume, about 1 hour.
When the dough has risen, place the butter and the remaining sugar in the bowl of a mixer fitted with the paddle attachment and beat on high speed, scraping down the sides of the bowl occasionally, until light and fluffy. Add the egg and vanilla and mix well. Add the yeast mixture and mix on low speed until well blended. Add the remaining 2 ½ cups flour and the salt and mix until the dough comes together, about 2 minutes. Transfer the dough to a wall floured surface and knead until very smooth and elastic. Place the dough in a large well greased bowl, cover with plastic wrap, and let rise until double in volume, about 1-1 ½ hours.
Roll the dough out onto a well floured surface to a thickness of about ½ inch. Cut with a doughnuts cutter. Place doughnuts on a well greased sheet pan and let rise in a warm place for about an hour.
To fry the doughnuts, heat about 4-inches of vegetable oil over high heat until it reaches 350F. Meanwhile, line a sheet pan with paper towels, and have it ready by the fryer. When oil is hot, add as many doughnuts as will fit without overcrowding, and cook on one side until golden brown 2-3 minutes. Turn the doughnuts over an cook about 2 minutes loner. Transfer to the paper towels to drain, and let cool for about 5 minutes. Continue cooking the rest of the doughnuts. Dredge in powder sugar and serve immediately.
Makes 24(I got about 13…I like big doughnuts)
Source: Adapted from Caprial's Desserts by Caprial Pence and Melissa Carey