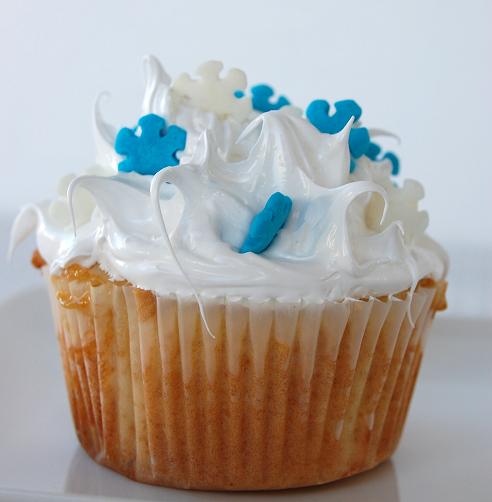 Among many of my favorite things to do for the Holidays is to watch the TV specials. Now granted, I own most of these on DVD, and yet every year I prefer to watch them on TV, with commercials. Strange I know. Last night I watched a new one called Shrek the Halls. Which was actually pretty cute but will never compete with the classics of my childhood.
I've already seen on TV, How the Grinch Stole Christmas and A Charlie Brown Christmas, but it never is Christmas to me until I see Rudoph the Red Nose Reindeer. Perhaps it is the fact that I am somewhat of a misfit myself and so I can relate to Rudolph and Hermey the Elf…I mean I had Hermey saying "I want to be a dentist" as my outgoing message for my answering machine throughout undergrad school…and no, I didn't want to be a dentist.
Is it the timely message to accept others as they are, for everyone has a purpose in the world?
No.
It's the Bumble. I love the Bumble( aka. The Abominable Snow Monster of the North). He never scared me as a kid. I never shouted at the screen saying "run, Rudolph, run" like my friend D did. He always made me happy. I knew he was never a bad guy, I mean if he wanted to eat Ruldoph's friends, he would have done it right away, right? And by the end of the movie, when he is toothless and can do no harm, even he the misfit had a purpose…to put the star on the tree. Ahh, let us all hug now.
So in honour of my beloved Bumble I decided to make him a Christmas treat. I was going to have to be something soft, since all of his teeth were removed. I remembered seeing in one of my many cupcake books that there was a Yeti cupcake…in case you don't know, a yeti it is an abominable snowman. Surely these would do. The recipe called for using coconut in the frosting, which I left out because I want to use my little snowflake sprinkles I found. They were far more festive than coconut. Be sure to grease the top of your pan, even if you are using cupcake liners, as these cupcakes have marshmallow in them and they like to ooze when hot and then stick like crazy to everything when they cool down. These were much fun and super tasty and I have no doubt that after he eats one the Bumble will be loving me.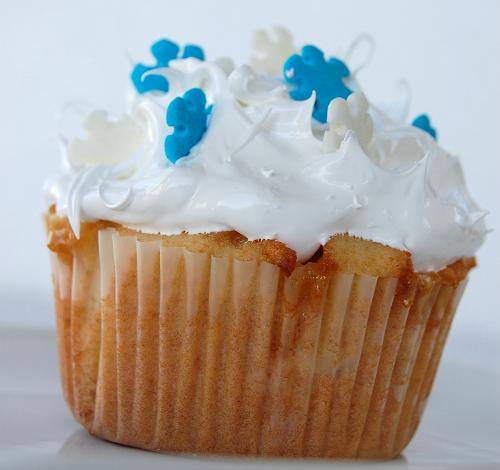 Marshmallow Snowflake Cupcakes

Cupcake Batter:
2 cups all-purpose flour
2 tsp baking powder
½ cup unsalted butter, room temperature
1 ¼ cups sugar
2/3 cup milk
1 tsp vanilla
3 egg whites(plus a pinch of salt for them)
1 cup mini-marshmallows
Preheat oven to 350F.
Combine flour and baking powder together in a bowl; set aside.
Cream butter and sugar together, beating till light and fluffy, about 3 minutes.
Alternately add the flour mixture and the milk, and beat until batter is smooth. (Don't panic, this will look more like cookie batter than bake batter.)
Beat egg whites with a pinch of salt until stiff but not to dry. Gently fold into batter. (This was a bit of a chore, just keep at it).
Fold in marshmallows.
Spoon batter into cupcake papers, filling cups about 2/3 full(even if you are using papers, be sure to grease down the top of the muffin tins as the marshmallow part tends to ooze over a bit). Bake for 20-25 minutes or until a toothpick inserted into the center comes out clean. Remove from oven and cool.
Frosting:
2 egg whites
¾ cup sugar
¼ cup light corn syrup
pinch of salt
1 tsp vanilla
Using a large bowl, preferably the top of a double boiler, mix eggs, sugar, corn syrup ans salt until combined. Place the bowl over simmering water ans whisk until the sugar dissolves and the mixture is hot, about 3 minutes(be careful to not make it too hot since you are using eggs and don't want them to scramble). Remove heat and beat 5-7 minutes until frosting is cool and stiff peaks form. Beat in vanilla. Decorate cupcakes to your tastes. To get the "spiked" look simply frost the cupcake as you normally would and then go back and touch the knife to various parts of the frosting and it will pull up. Sprinkle with candy snowflakes(I got mine at Target).
Source: Adapted from Cupcakes Galore by Gail Wagman