This Orange Date Bundt Cake is a moist and dense pound cake filled with dates and covered in an orange glaze.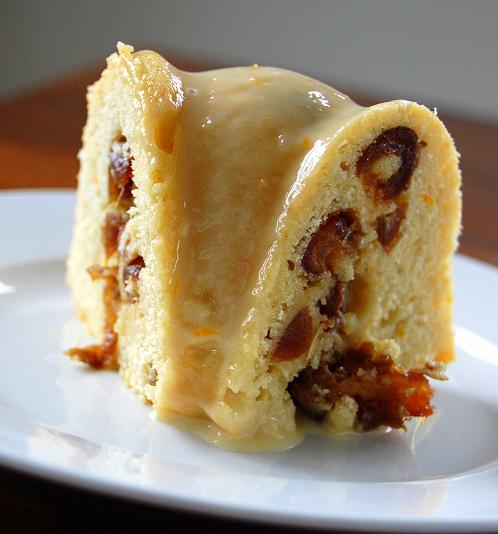 I've mentioned before how in having this blog, many a family favorite has been shattered.
Here I had visions of my mother slaving over homemade baked goods, only to find out that my mother was basically Sandra Lee(ironically, she makes everything from scratch now).
Growing up at Christmas time my mom always had Date Nut Bread.
I always turned my nose up at it because I was not a fan of dates as a kid.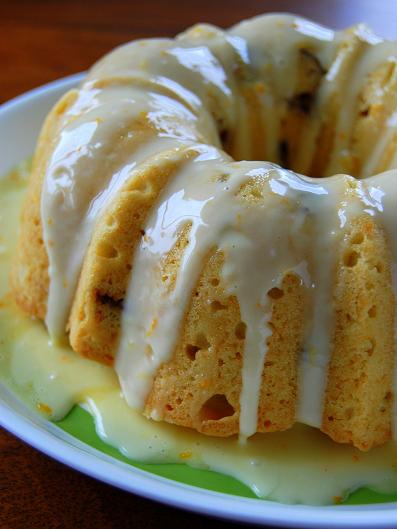 But as I grew up, so did my taste buds and I learned to love the bread…especially for a breakfast treat.
So the other day I called my mom to ask her to email me her beloved Date Bread recipe…and then it happened.
The silence.
The silence I have grown to learn that means, oh crap, I must now admit that I used a box mix to make it silence.
It was that silence again.
Apparently our family treasured recipe was a box of Pillsbury Date Bread Quick Bread Mix.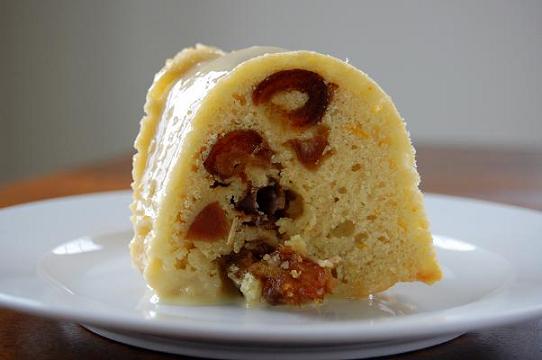 Ugh.
Now granted she did add to it, using fresh dates and chopped nuts, but still.
Yet another blow to my ego. 🙂
So if you would like the Date Bread I grew up eating go grab yourself a box.
Since I was not going to put a box cake up on my blog(not that there's anything wrong with box cake…we all know my love of Funfetti cake) I had to figure out what to make since I now had all these dates.
I turned to one of my favorite cookbooks, The Pastry Queen to see what they had done with dates.
They had made a Orange Date Bundt Cake.
Alright I thought, I will just start my own holiday tradition. 🙂
This is moist and dense, like most Bundt cakes are.
It is not anywhere close to the taste of my family "recipe" but it is certainly good.
P.S. It's a great day to buy my cookbook.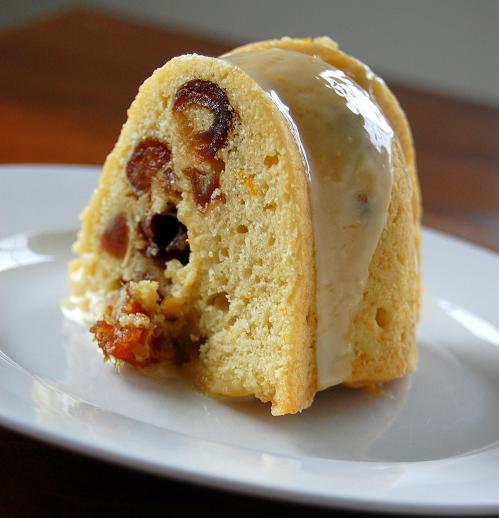 Want More Cake Recipes?
Whiskey Glazed Apple Buttermilk Pound Cake
Bourbon Brown Butter Chocolate Chip Cake
Strawberry Lemonade Bundt Cake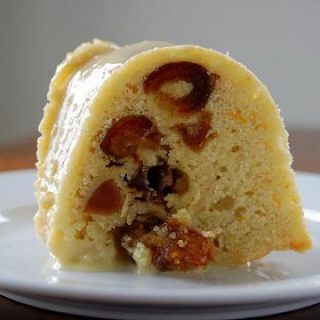 Orange Date Bundt Cake
Ingredients
For the Cake:
½ cup unsalted butter, at room temperature
1 cup sugar
2 large egg
grated zest of 1 medium orange
1 tsp vanilla
2 cups all-purpose flour
½ tsp baking soda
½ tsp salt
2/3 cup buttermilk
1 chopped dates
For the Glaze:
1 cup powder sugar
½ cup freshly squeezed orange juice
1 TBSP grated orange zest
Instructions
For the Cake:
Preheat oven to 350F.Grease and lightly flour a 10-12 cup Bundt pan.
Using a mixer fitted with a paddle attachment, cream the butter on medium-high speed about 1 minutes, until fluffy.
Add the sugar and cream on medium-high speed about 30 seconds.
Add the eggs all at once and continue creaming for one minute.
Add the orange zest and vanilla; beat until combined.
Add about half the flour, the baking soda, and the salt; mix on medium-low speed until just combined.
Add the buttermilk and mix on medium-low speed until just combined.
Add the rest of the flour and mix until just combined.
Gently stir in the dates.
Spoon the batter evenly into the pan.
Bake for 40-45 minutes.
Let cake cool in the pan about 10 minutes.
Invert it onto a rack and cool at least 20 minutes before glazing.
Transfer cake to a serving plate.
To make the glaze:
Combine the ingredients together and whisk until it becomes a creamy orange color.
Pour glaze over cake.Serve at room temperature.