These Molasses Dog Biscuits are roll out dog treat that you can make into fun shapes for your pup to enjoy.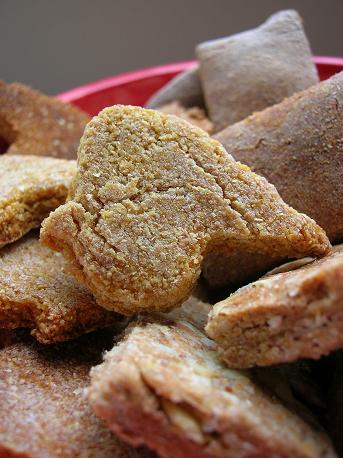 A few weeks ago my dog had asked you all for a couple dog bone recipes…we got over 50…so thank you.
While my mom was here (also a dog owner) I mentioned to her that I wanted to start making my own dog treats.
She was very much on board with this and also wanted to make her puppy some as well.
So after the Easter dishes were done we set out to make dog biscuits.
We made three types of biscuits.
These Molasses Dog Biscuits were a big hit.
The dogs gladly ate them whenever they were tossed their way.
I think both of them liked the molasses flavor.
FulI confession, I did get lazy after a while and just cut them into squares. 🙂
Just like I do when making Christmas cookies.
While these did not last more than a few days at my house, you could keep them in an airtight container for up to two weeks.
If your human loves treats too they should buy my cookbook Holy Sweet!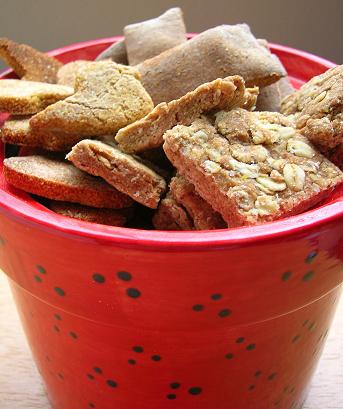 Want more dog treats?
Pumpkin Peanut Butter Pretzel Twist Dog Treats
Peanut Butter and Oatmeal Dog Treats
Buckwheat Coconut Oil Dog Treats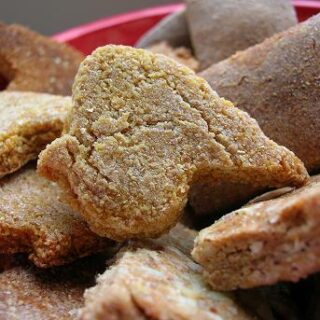 Molasses Dog Biscuits
Ingredients
2 cups cornmeal
2 eggs
2 TBSP molasses
½ cup chicken broth
½ cup powdered milk
Instructions
Preheat oven to 400º.
In a large mixing bowl combine all the ingredients.
Blend until smooth.
Roll this mixture out ¼ inch thick and cut into shapes or shape into dog biscuits by hand.
Place 1 inch apart on a greased cookie sheet.
Bake for 20 minutes until golden brown.