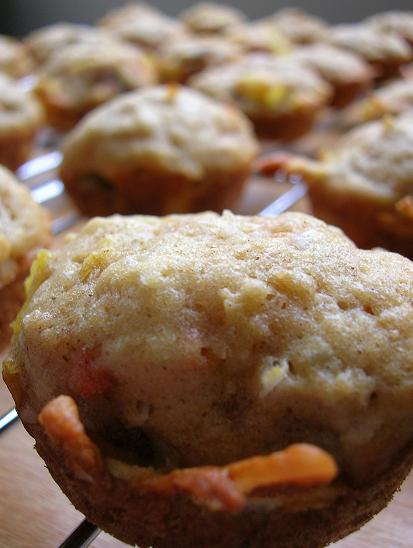 This weekend could have affectionately been referred to as Cuss-Fest 2007. For not one but BOTH of my teams decided to piss me off and lose. I have officially decided that quiche is the wrong food and ditched that. Now, I'm not surprised my Flames lost. They are after all playing the Detroit Red Wings, who, as much as I hate to admit, are pretty darn good. I hate the Red Wings(more than any team in the NHL…I even have a Detroit sucks jersey and a t-shirt that reads If Detroit's so great…go back!) for a list of many reasons. But the biggest reasons why I hate Detroit is the bandwagon fans. I can't stand bandwagon fans!!!! And there are a lot of them. If you are reading this saying oh, I'm not a bandwagon fan and I love the Red Wings…then quick, without looking it up on the Internet, name me 7 players off the Detroit team(exactly…shut up, you are a bandwagon fan). The true fans are the tortured ones like my poor friend Ivonne, who suffers the curse of being a Leafs fan which is the equivalent of being a Red Sox's or Cubs fan. The Flames have been horrible on the road all season and this playoff round does not seem to be the exception to that rule. Hopefully as they return to the Red Mile and the building that brings them such luck(the Saddledome for you non-hockey people) they can pull it together and show a little dignity.
My Sabres on the other hand have NO excuse…we're playing the Islanders….the fricking Islanders. We got cocky and listened to all those people who said we would sweep the NY boys…well sweep we will not…but win, I am still confident we will do that.
Enough hockey. Sunday was book club again. We had brunch this time around and I chose to make muffins from the cookbook of a local favorite bakery here in the Seattle area, Macrina Bakery. The cookbook is one of my favorites and if you like to bake…it is a must. Not necessarily for the beginning baker but if you have a little bread flour under your belt, you will love the things this book produces. Now, these muffins could be made by anyone. A myriad of flavors makes up this muffin…but mostly I taste the pineapple and walnuts. There is carrot and apple but I really feel that is more for adding moisture to the muffins. I will have to say that these are almost healthy…well, healthy for me. They have coconut in them, which I love, but many do not and in retrospect I should have left it out since many book club girls are anti-coconut….live and learn.
I am off to punch down some brioche dough as I needed to bake bread to calm me down…my hockey season is over until mid-May, so baking bread is the only outlet I have right now for hitting something!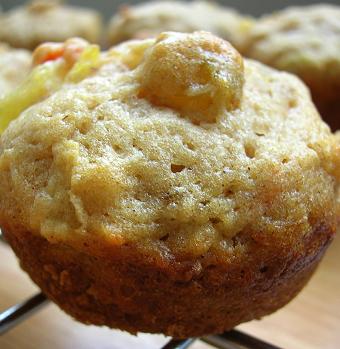 Morning Glory Muffins
1/2 cup seedless raisins
1/3 cup walnut halves
2 cups all-purpose flour
1/2 cup granulated sugar
2 1/4 tsp cinnamon
1 1/2 tsp baking soda
1/4 tsp salt
1 medium carrot, grated
1 Granny Smith apple, peeled and grated
3/4 cup chopped pineapple
3 eggs
1/4 cup canola oil
6 TBSP unsalted butter, melted
1 TBSP freshly squeeze lemon juice
1 tsp pure vanilla extract
1/2 cup shredded, unsweetened coconut
Preheat oven to 350F.
Brush insides of muffin tin with canola oil.
Place raisins in a small bowl and cover with hot tap water. Let sit for 10 minute while raisins plump, then strain and squeeze out excess liquid with your hands. Set aside. Place walnuts on a rimmed baking sheet and toast until golden brown, about 15 minutes. Let cool, then chop coarsely and set aside.
Sift four, sugar, cinnamon, baking soda, and salt into a medium bowl. Mix gently with a wooden spoon and set aside. In a separate medium bowl, combine raisins, walnuts, carrot, apple, pineapple, eggs, canola oil, melted butter, lemon juice, vanilla extract and coconut; mix with a wooden spoon until combined. Add the dry ingredients and continue stirring just until all the dry ingredients are moistened. It's important not to over mix.
Scoop batter into oiled muffin tin, filling the cups to the top. Bake on the center rack of the oven for 40-45 minutes(15-20 for mini). Let cool for 20 minutes, then slide a fork sown the sides of each muffin and gently lift it from the pan.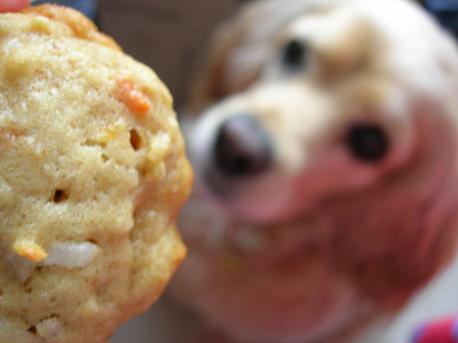 Source: Adapted from the Macrina Bakery and Cafe Cookbook by Leslie Mackie with Andrew Cleary, 2003