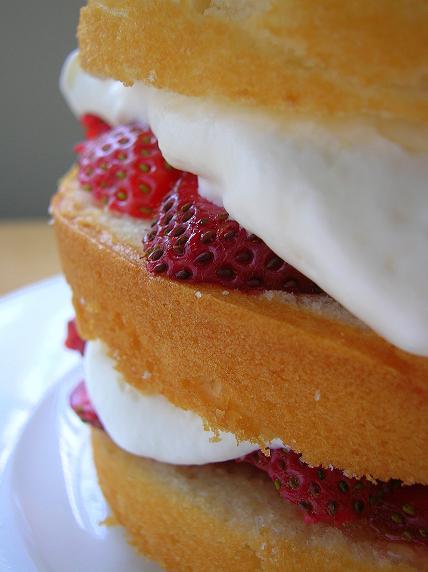 So it is playoff hockey time. This year it is twice as nerve racking, for both my teams have made the playoffs(sorry Ivonne about the Leafs). Luckily, my teams are in separate conferences and really only have the chance of playing each other in the Stanley Cup playoffs. That would tear me apart.
This is the time of year that my husband says he has no idea who I am, he thinks I have been abducted by the NHL. I will admit that I tend to go off the deep end a little. I swear constantly like a drunken sailor. I throw things(mostly balled up socks). I only watch about half the game because I work my stomach into so many knots that the minute the other team gets in our zone and has a chance to score I switch the channel and scream, "BAD ZONE, BAD ZONE!" I also, out of superstition, eat the same thing over and over again based on what I was eating the first game my team had their first win. Last year it was pea soup(so not doing that again…my team made it all the way to the Eastern Conference finals…and that was a lot of soup). Two years before that it was sour licorice and macadamia nuts. If you are not a hockey fan none of this makes sense to you…and that is okay…you can go hang out with my husband.
Since my mind and body(if you ask my hubby) are otherwise preoccupied in the quest for Lord Stanley's Cup I need to stick with simple food, as I am sure to miss a few ingredients if it is a complicated. Today I was at the store stocking up on rare types of flour(the Daring Bakers were talking about flour and I went flour buying crazy) but I also ran across key lime marmalade! I was so excited, for I am after all, on a key lime kick. I also found some luscious, red, ripe strawberries that wanted to come home with me too. This cake is super easy and I do love the addition of the key lime being soaked into the cake…really does give it a little something extra. If you can't find the treasure of key lime marmalade like I did you can use an alternative jam.
All that being said…the race is on. GO FLAMES!!!! GO SABRES!!!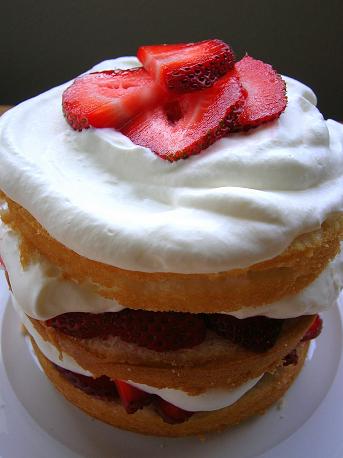 Basic White Cake 
INGREDIENTS:
2-1/2 cup sifted cake flour
1-1/2 cups sugar
3-1/2 tsp. baking powder
1/2 cup butter, softened
1/2 tsp. salt
3/4 cup milk
1-1/2 tsp. vanilla
4 egg whites, at room temperature
PREPARATION:
Preheat oven to 350 degrees F. Grease and flour two 9″ round layer cake pans and line the bottoms with waxed paper; set aside. Sift flour, sugar, and baking powder into a large mixer bowl. Add butter, milk and vanilla.
Beat on slow speed until blended. Then beat on medium speed for 2 minutes, occasionally scraping down the sides of the bowl. Add unbeaten egg whites (yes, UNbeaten – that's the trick), and beat two minutes longer at medium speed.
Pour batter into prepared pans and bake at 350 degrees for 20 to 30 minutes or until cake is light golden brown and is beginning to pull away from the sides of the pan. Cool 15 minutes in pans, then carefully remove layers from pans and cool completely on wire rack.
Source: Adapted from busycooks.about.com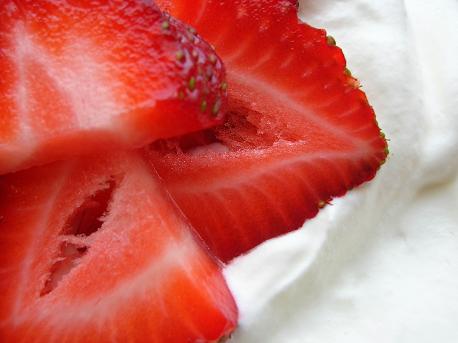 Other ingredients:
Rose's Key Lime Marmalade(If you can't find just use orange marmalade or a jam of your choice)
sweetened whipped cream
fresh cut strawberries
To Assemble:
Cut cake into three layers, try not to butcher it as badly as I did.
Melt marmalade in a saucepan until it becomes sauce like.
Place a cake layer on a plate and brush with key lime maramalade. Layer with sliced strawberries and then whipped cream. This really is just a matter of taste and how much you want of each ingredient.
Place second layer on top and repeat.
Place thrid layer on top, this time brush with marmalade and top with whipped cream and place some strawberries on top for garnsih.