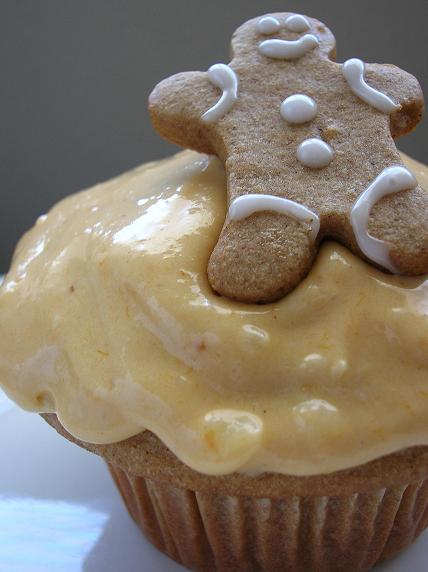 So I was robbed by my migraine of my usually holiday fun. Each year, the day after Thanksgiving I frantically clean and put out all of the non-tree stuff. Then the next night we play music, make hot chocolate and once again remember that we said we would buy new lights and new hooks, but never do. One year we put the lights on and didn't check them. So once the whole tree was decorated and we lighted it up….we learned that the middle strand of lights was considerably dimmer than the other strands….oh well. I would love to say that I reclaimed my holiday spirit and made these cupcakes, but truth be told I made these last week when the radio was playing Christmas music a FULL week before Thanksgiving. I'm still not fully recovered but I am starting to feel more festive 🙂
This recipe comes from one of my newer cookbooks, Buttercup Bakes at Home. I tagged this cupcake right away and had an image in my mind of topping them with mini gingerbread men(why must I make everything so complicated?). The cupcake itself had me worried, not much flavor. But after making the frosting it was clear that the cupcake needed to be a little bland since the frosting has quite a bit of flavor. You most definitely need the frosting or these cupcakes simply wont be worth it. These are with out a doubt holiday in a cupcake…gingerbread and pumpkin…come on! The mini gingerbread men aren't necessary but I thought it made the cupcakes that more festive.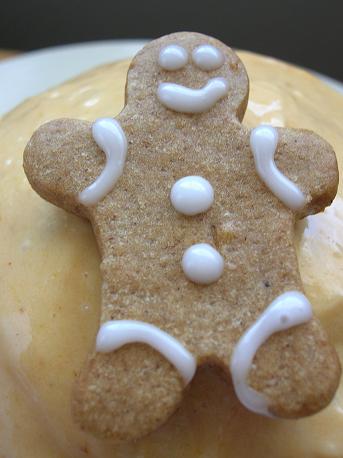 Gingerbread Cupcakes with Pumpkin Cream Cheese Frosting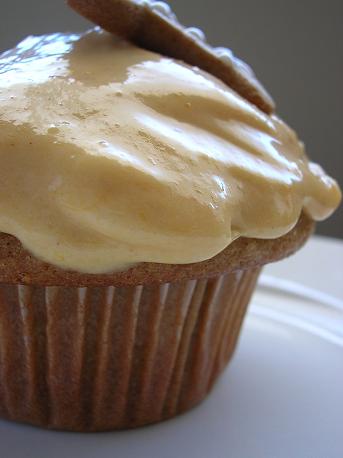 3 cups all-purpose flour
1 tsp baking soda
1/2 tsp salt
1 1/2 tsp ground ginger
1 tsp ground cinnamon
1/2 tsp ground allspice
1 cup unsalted butter
1 cup firmly packed brown sugar
4 large eggs, room temperature
1 cup buttermilk
2 TBSP light, unsulfured molasses
2 tsp vanilla extract
Preheat oven to 350F.
Line 2 muffin tins with cupcake papers.
In a medium bowl, combine the flour, baking soda, salt and spices. Set aside.
In a large bowl, cream the butter and brown sugar on the medium speed of an electric mixer until fluffy, about 2-3 minutes. Beat in the eggs one at a time. Add the dry ingredients in two parts, alternating with the buttermilk. Stir in the molasses and vanilla.
Spoon the batter into the cups about 2/3 full. Bake 20-25 minutes, or until the tops spring back when lightly touched. Let the cupcakes cool in the pans for 10 minutes. Remove from the pans and cool completely on a wire rack.
makes 24 cupcake….I got 12
Icing:
1 8 oz package cream cheese
1/2 cup pumpkin puree
1/2 tsp ground allspice
1/4 tsp ground nutmeg
1 TBSP finely grated orange zest
1/2 tsp vanilla extract
3 1/2 – 4 cups powdered sugar
In a large bowl, beat the cream cheese and pumpkin puree on medium speed of an electric mixer until smooth, about 2-3 minutes. Add the spices, zest and vanilla extract and mix well. Gradually add the sugar and beat until desired consistency. Refrigerate for 1 hour, Remove from refriferator 5-10 minutes before using. Spread on the tops of the completely cooled cupcakes.