I need to put something up. This will be a very quick write up of my lovely Thanksgiving at the Herb Farm restaurant. Unfortunately, ever since 1:30pm on Friday afternoon(it's late Sunday night now) I have had a debilitating migraine headache and have pretty much been not functioning. I'm hoping that tomorrow when I go to the doctor that I will get better. For now all I can say is that once again I enjoyed my dining experience at the Herb Farm. The food is always humbling and a constant reminder that I'm really not that gifted/creative with food(though I could easily make all three of the desserts we had). I do have some photos(all flash…sorry).
Course #1:
Harvest from the Edge of the Sea
Cauliflower and Fenugreek Soup with Sliver Sea Scallop(second photo) my favorite of the three
Kushi Oyster with Sorrel Sauce(first photo)
Paddlefish Caviar on Sea Urchin Flan
1998 Argyle Brut From Magnum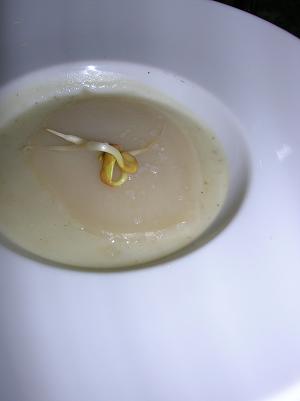 Course #2
Slow Roasted Black Cod
With Carrot-Lemon Thyme Broth
And Three Colors of Beets-both my hubby and I absolutely LOVED this!
2002 Zefina Serience White Rhone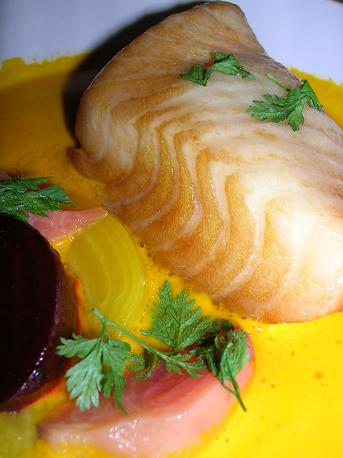 Course #3
Bay-Scented Chestnut Soup-the soup was spectacular
With Salad of Celery, Celery Root, Chesnut and Pear
2005 Chateau Ste. Michelle Indian Wells Riesling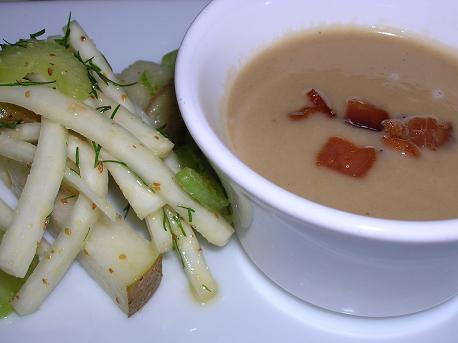 Course # 4
I only got pictures of them preparing the dish. I somehow forgot to take a photo…a little too much wine I think 🙂
Lavender & Juniper-Rubbed Venison Loin
With Parsnip Puree, Quince, and Huckleberry Sauce
2001 Soter Vineyards Brut Rose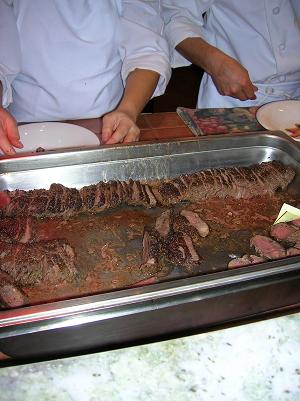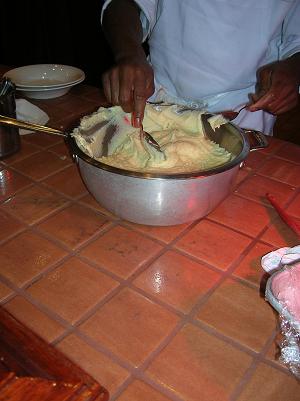 Course# 5
I took pictures but all three were very blurry.
American Bronze Heritage Turkey
Poached Breast on Bolete Bread Pudding
Confit of Leg on Mashed Delicata Squash with Shallots- my favorite of the three and I don't like dark meat…but it was so flavorful
Crepinette on Cabbage- this was a turkey sausage that was very moist
2001 McCrea Cellars Grenache
After our turkey we went and walked off a little of our meal and went to feed the "recyclers" of the Herb Farm. We hadn't seen the pigs for a year and they have gotten quite BIG….they were just babies last year.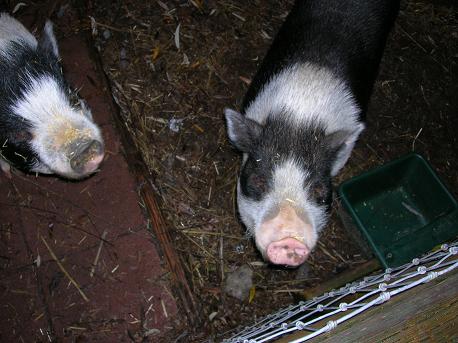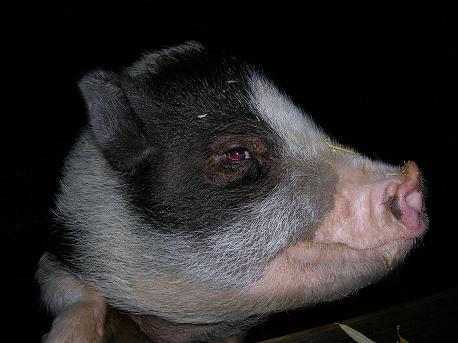 Course #6- also another set of blurry photos.
Estrella Red Darla Cheese- named after the actual cow it comes from….very pungent
With Spice Bread
Course #7
Cranberry-Orange Thyme Sorbet
With Persimmon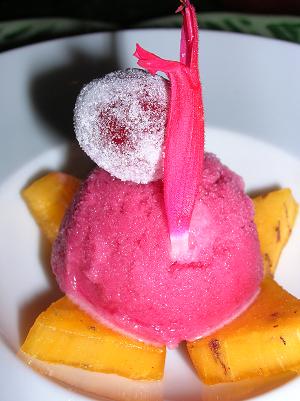 Course # 8
Trio of Harvest Desserts
Pumpkin Souffle with Spiced Custard Sauce-I really wished it had more pumpkin flavor
Butterscotch Creme Brulee-my favorite
Blackberry & Chocolate Ice Cream Sandwich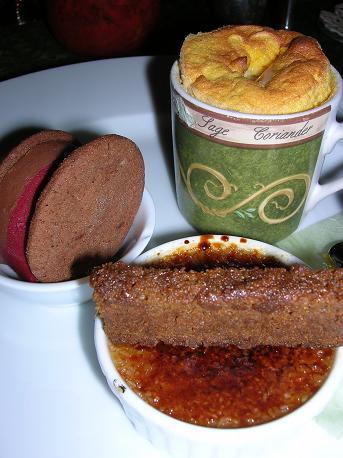 Course #9
A Selection of Small Treats
Cinnamon-Salted Shortbread
Lavender White Chocolate Truffle
Jasmine Dark Chocolate Truffle
Orange Caradamom Caramels-could have been my favorite of the whole night….I LOVE caramel
Raspberry Gel
Vintage 1912 Barreito Bual Madeira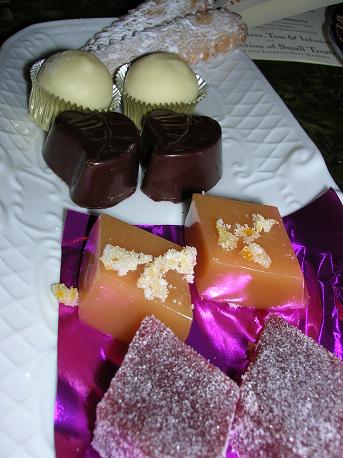 If I feel better I will come back and write more. I can't suggest this restaurant enough. It is in my top 5 of all time.