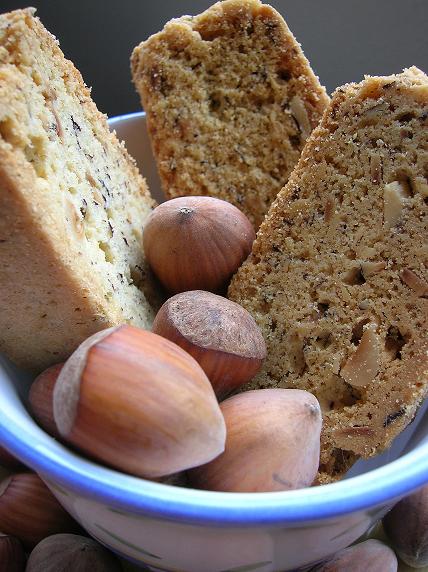 This weekend Ivvone, Brilynn, Lis and myself will all be making the same biscotti, another one of those cross blogging events. When I first got the email it said that we were to make whatever biscotti we wanted to. As luck would have it my very good friend E gave me hazelnuts from her dad's tree a couple weeks ago and so I thought some hazelnut biscotti would be lovely. Within hours of receiving the email I had made my biscotti. Only problem was the next day I got an email saying that we were all going to make the same one…opps. In a way I am glad. I have been in a non-baking, non-holiday, non-everything funk lately that I am glad that I am participating so that I have to force myself to bake.
I found my recipe on Christmas Cookies dot com. It was hard to find a non-chocolate hazelnut biscotti but I did and I like it a lot. I don't make biscotti very often and I fear I am not that great at it. Being of Scottish decent I am more apt to have shortbread than biscotti with my hot beverages. My biggest problem is cutting it. I have wonderful knives….EXCEPT for my bread knife. I ask for one for every major holiday but no one seems to want to buy me a $120 knife. I will break down one of these years and buy it for myself. This says it will make 32….these people make tiny slices then…I got 14…portion control was never my strong point. I'm hoping to snap out of my funk. I have some molasses crinkles to make and more biscotti too. Enjoy your weekend all!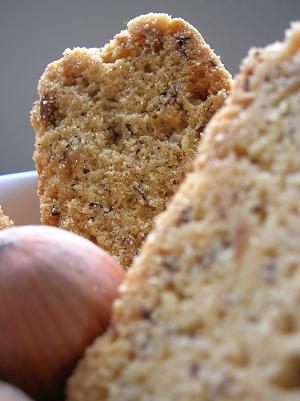 Cinnamon and Hazelnut Biscotti
Makes about 32
3 cups all purpose flour
1 tablespoon baking powder
1/2 teaspoon salt
1/4 teaspoon ground cinnamon
1 cup toasted hazelnuts
3/4 cup sugar
1/2 cup unsalted butter, softened
1 tablespoon grated orange zest
1 teaspoon vanilla
3 large eggs 
  
Preheat oven to 350 F. Line a baking sheet with parchment paper or a baking liner. Mix flour, baking powder, salt and cinnamon in medium bowl; set aside. Coarsely chop hazelnuts in a food processor. Combine sugar and butter and mix until fluffy. Add orange zest and vanilla and mix well. Add eggs 1 at a time, blending just until incorporated after each addition. Add flour mixture and mix until just blended. Mix in hazelnuts until just blended. Turn dough out onto a floured work surface. Divide dough in half. Roll each half into a 9″ x 2″ log. Place the logs on the baking sheet. Flatten each log to 12″ x 2 1/2″. Bake 25 minutes or until very light golden and firm to touch. Cool on baking sheet 5 minutes. Transfer the logs to a cutting board. Using a serrated knife, cut logs diagonally into 3/4-inch-wide slices. Place slices, cut side down, on your baking sheet. Bake 15 minutes. Turn biscotti over, bake about 15 minutes more or until light golden and firm. Transfer biscotti to racks and cool.