These Maple Mummy Cupcakes Cones have a maple yellow cake mix baked in ice cream cones and decorated like mummies.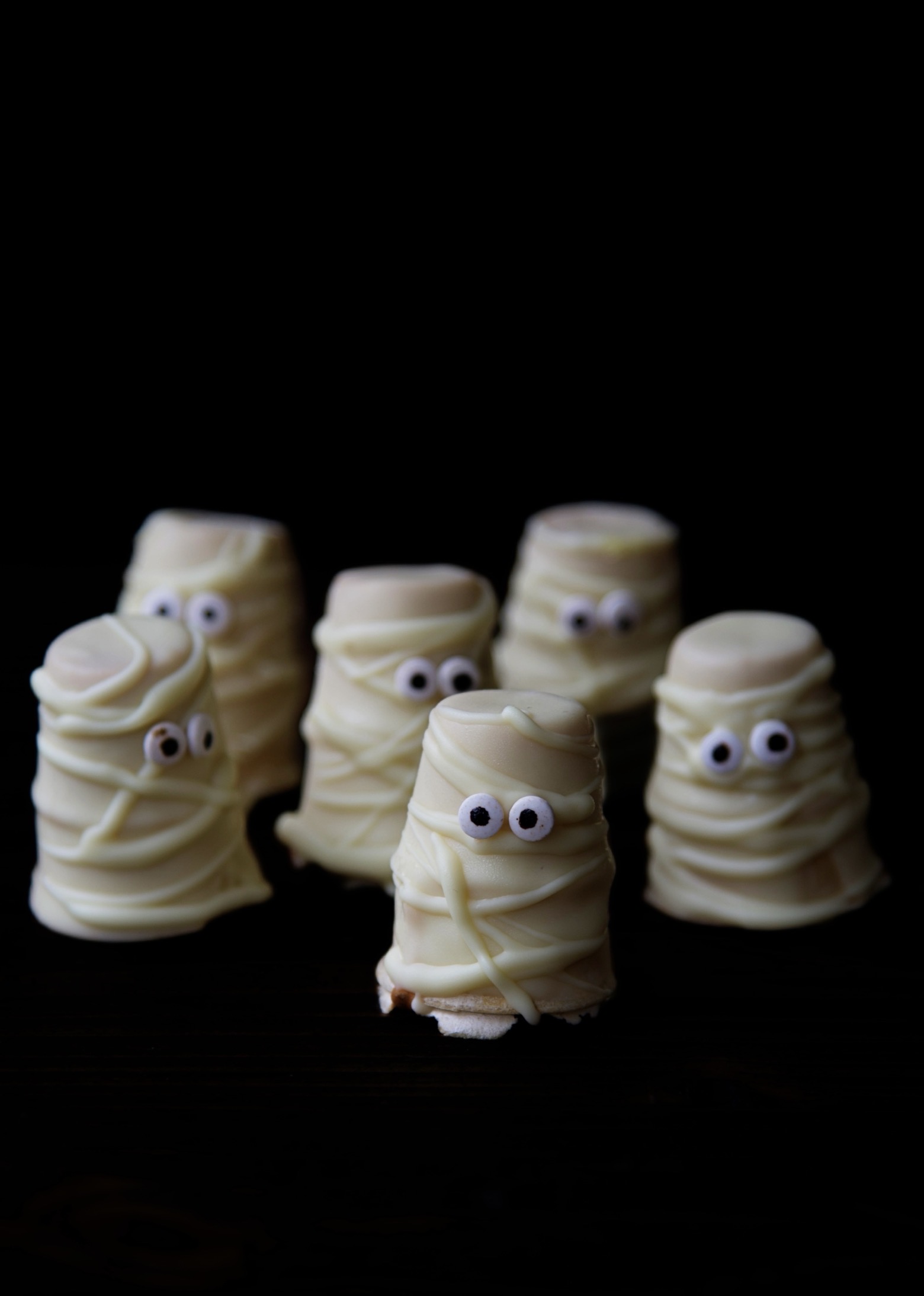 I got the idea for these Maple Mummy Cupcake Cones when I saw cupcake cones upside down to make Frankensteins on Pinterest.
Mummies sounded like a much better idea to me because I'm horrible at decorating.
So a cupcake that I can go all Jackson Pollock on works for me. 😀
I'm here for all of you, who like me, did not get the decorting gene.
If you aren't a fan of maple you can omit the maple syrup and maple extract.
These could be lemon, vanilla, basically any flavor you want.
I made these maple because a few years back I made Maple Mummy Oatmeal Cookie Cream Pies for #HalloweenTreatsWeek and loved them.
So I went for maple here too.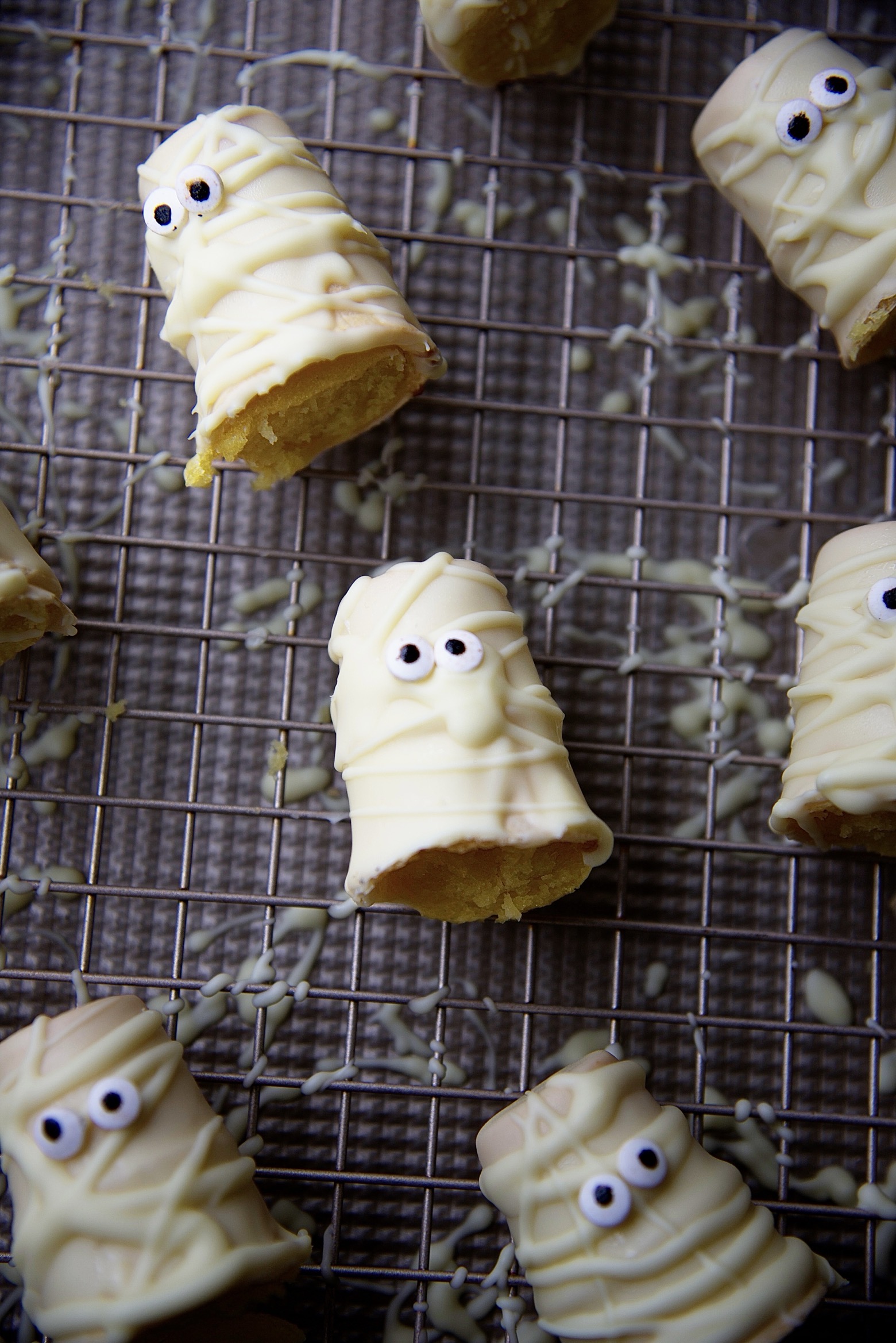 Ingredient Highlights:
Ice cream cones – It is best to find cones with a flat base so that they stand up in the cupcake tins. I like to use mini ones but you can do full size as well.
Yellow Cake Mix – Yes, I used a box cake for this. These were made for kiddos and they didn't care that it was boxed. 🙂
Eggs – Use large eggs for this recipe. At room temperature works best.
Maple Syrup – I am a grade B maple syrup gal. But that is hard to find. But if you can, get it. It has more flavor in my opinion. If not, use grade A.
Maple Extract – Not required but if you would
Milk – I suggest using whole milk or 2%.
White Chocolate Chips – Do you best to find real white chocolate. Most of the chips sold are vanilla chips. Which you can certainly use. Or you can use candy melts.
Could you make these using full sized cones?
Absolutely.
My guess is you would get about 24 full size cones.
But how many you get and how long to bake them for will change dramatically.
I would bake the full sized ones for about 20-22 minutes.
Also be sure to only filled them halfway.
You don't want spillage.
Personally, I like them best as minis.
While I used white chocolate to make my coating you can use candy melts.
However, I use the white chocolate because it tastes better.
The oil is needed to get a smoother finish but also while the chocolate still hardens, the oil helps keep it softer.
So you don't break your teeth biting into it. 🙂
Last but not least…it's a great time to order my cookbook. 😀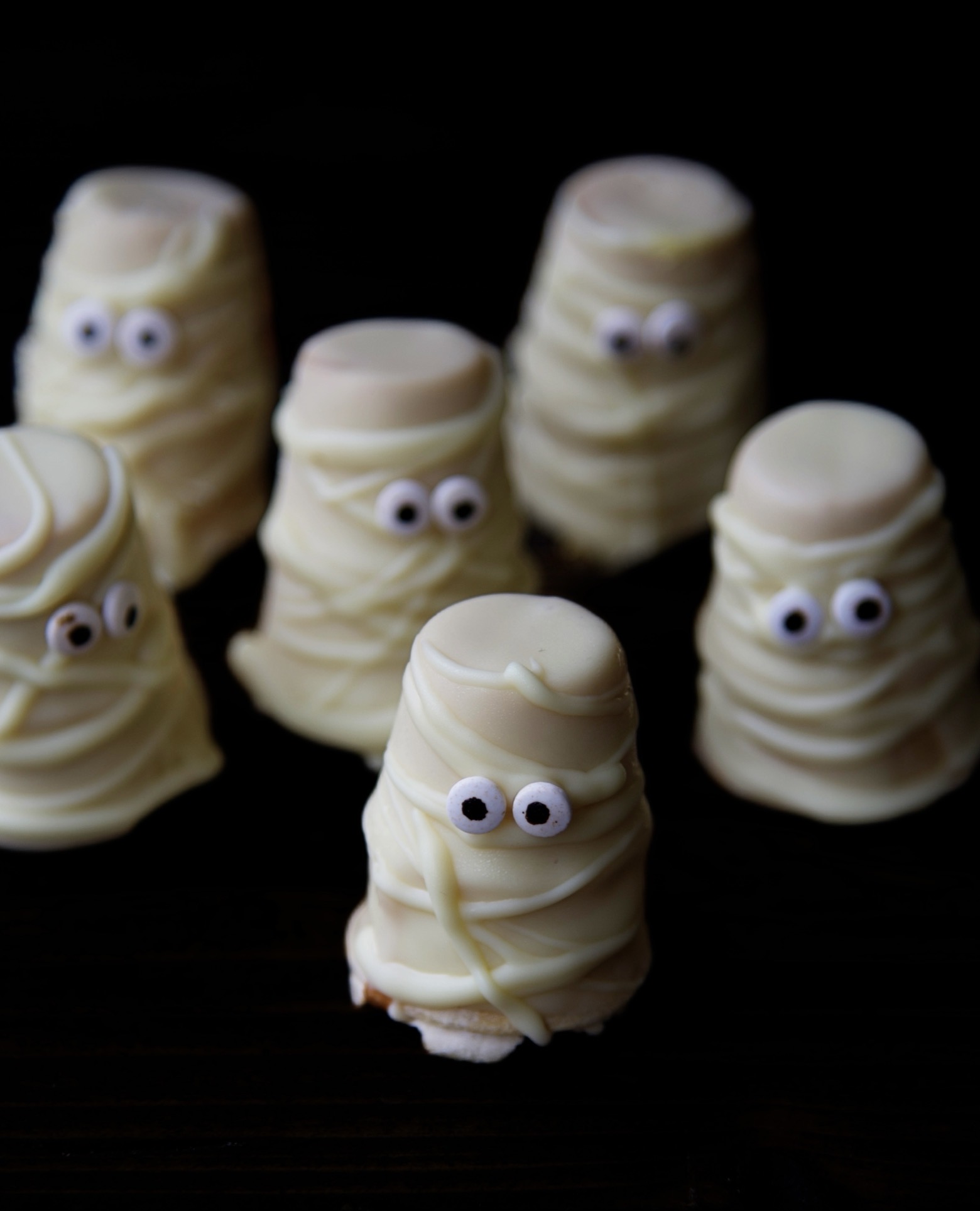 HAPPY HALLOWEEN!!!
Welcome to 2023's #HalloweenTreatsWeek event!
If you're new here, Welcome! If you're a returning haunt, welcome back!
#HalloweenTreatsWeek is a yearly Halloween blogging event that is hosted by Angie from Big Bear's Wife . You'll find that this fun and spooky event is an online, week-long event that is filled with some frightfully fun Halloween treats and recipes from some fantastic Halloween loving bloggers!
For this years 6th annual #HalloweenTreatsWeek event we have 18 hauntingly talented bloggers that are sharing their favorite Halloween recipes throughout the week! You can following the hashtag #HalloweenTreatsWeek on social media to collect all of these frightful recipes to use at your own Halloween parties and events!
Make Sure to check out all of the fun Halloween recipes that we're sharing this week!
Today's Halloween Offerings: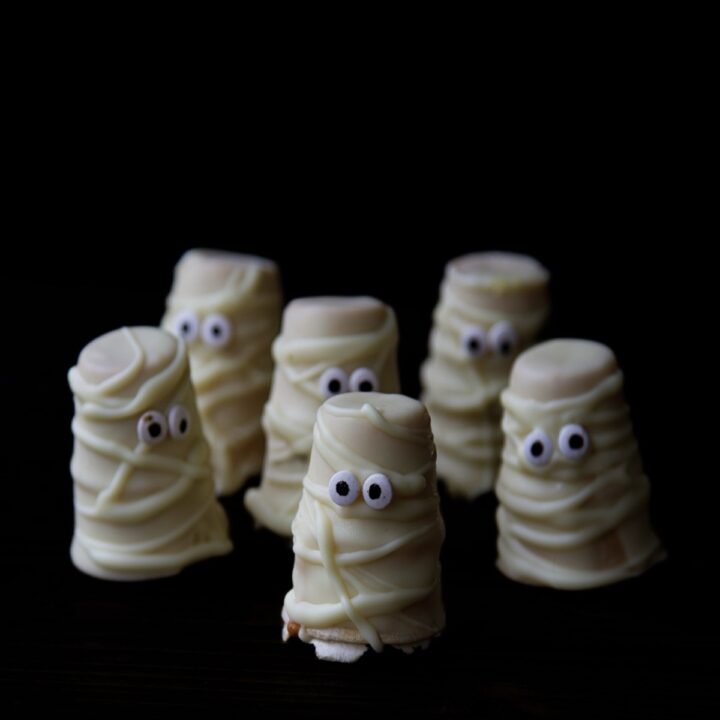 Maple Mummy Cupcake Cones
Ingredients
For the Cupcakes:
1 package 15.25 oz yellow cake mix
3 eggs
1 cup whole milk
1/2 vegetable oil
1/3 cup maple syrup
1 tsp maple extract (if you want more maple flavor)
42 mini ice cream cones (you can find them at Walmart or Safeway)
For the Coating:
16 oz. white chocolate, finely chopped, divided
4 TBSP vegetable oil, divided
42 candy eyeballs
Instructions
Preheat oven to 350 degrees F.
Spray 2 mini muffin tins with non-stick spray.
Place on a flat surface. Place a mini ice cream cone in each well.
In a large bowl mix add the cake mix, three eggs, milk, oil, maple syrup, and maple extract.. Mix until fully combined.
Place batter into a piping bag.
Pipe a small amount of batter in mini ice cream cone until it's 1/2 full, otherwise the cupcakes will overflow out of the cones.
Place very carefully in the oven so you don't tip the cones over. Cook for about 12 minutes, or until the tops are golden brown.
Remove the mini muffin tins from the oven carefully and allow to cool completely.
For the Coating:
Combine 8 oz white chocolate and 2 TBSP oil in a medium heat-proof bowl set over a medium saucepan of barely simmering water; stir until melted and smooth.Let cool about 5 minutes.
Dip the entire cone into the white chocolate coating, doing your best to coat all the outside of the cone. Place on a wire rack and let set up. Repeat with all of them.
Let chocolate completely set before dipping the next layer.
Combine 8 oz white chocolate and 2 TBSP oil in a medium heat-proof bowl set over a medium saucepan of barely simmering water; stir until melted and smooth.
Transfer to a small bowl. Let cool about 5 minutes.
Place into a piping bag. and drizzle over the cupcakes to give the impression of bandages. Be sure to have a spot for the eyes.
Before the coating sets up add candy eyeballs to the cones.
Let them fully set up and then enjoy.
Did you make this recipe? Snap a photo and leave a comment! 
Be sure to follow bakerpeabody on instagram and tag #bakerpeabody with your photo! You can also post a photo of your recipe to the Sweet ReciPEAs Facebook page. I'd love to see what you make!