These White Chocolate Pumpkin Blondies have a white chocolate blondie based that is topped with a pumpkin spice blondie layer.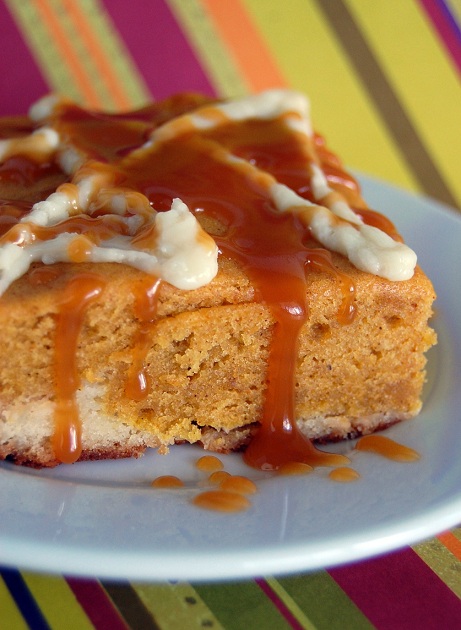 If you are missing canned pumpkin at your store and can't seem to find it, blame your local food blogger.
We have all been sufficiently scared of the fact that our canned pumpkin supply will be limited this year due to bad pumpkin crops.
And thus sets in the panic among bakers everywhere.
I have become the great pumpkin hoarder.
When I am in the store and I see a can or two (or ten), I buy them.
If you like pumpkin baked goods, I suggest you do this too!
Or else you won't be able to make things like White Chocolate Pumpkin Blondies.
I think I scare the poor check out girl.
She probably thinks I'm trying out the new tanning technique.
You know, instead of being orange like Snooki (I have never watched the show but I'm appealing to my younger audience here…for us old people, think Umpa Lumpa) on the outside, you can eat so much canned pumpkin you can turn yourself orange from the inside.
Same effect, less skin damage.
I think this new trend will catch on. 🙂
First off let me address what you are probably thinking…yes, I now have ads on this site now.
Truth is that I was totaling up how much the blog has cost me this last year and almost fell over.
And I haven't done nearly as much as I used to.
So with that, yes, ads are on here.
They should hopefully only be food related ads and so you might not hate me as much.
One other change that has nothing and yet something to do with the blog.
I'm going back to work.
For years I have been out of the teaching realm and have decided to dip my feet into the pool so to speak and substitute teach.
And who knows, I may eventually try to get a full time teaching job again.
Having said that, gone will be my days of leisurely waking up and baking, unless of course no one needs a sub that day.
I will however still be baking.
Still running the blog.
Still writing with the same crappy grammar.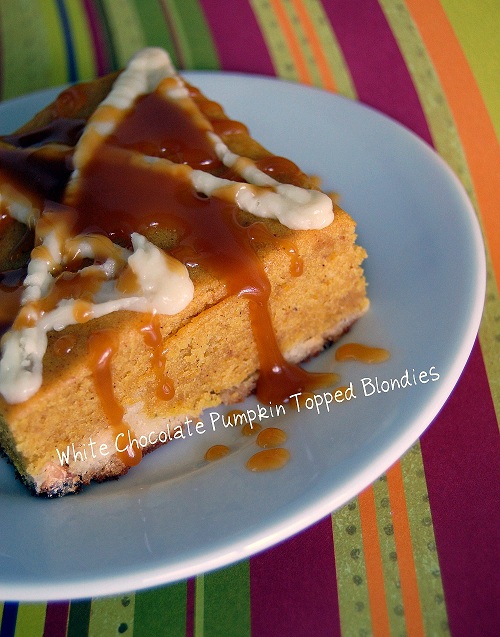 There are a ton of new baking books that will be hitting the bookstores in the coming months, as Fall officially has started! YAY!!!
Reminder my cookbook is one of those books coming out. 🙂
The first of the ones to arrive off of my pre-purchased Amazon list was Fat Witch Brownies.
I had heard of this place and they sell the mixes (for an INSANE amount of money) at my local high end food store so I was curious to see what the fuss was about.
Then I found a pumpkin bar recipe that had a brownie bottom and decided that I wanted to go white chocolate instead.
Absolutely love white chocolate and pumpkin together.
So with a few changes they were made. I would love to tell you what these taste like.
But I have a sinus infection.
A darn good one.
I can't really taste a thing.
Which if I was smart I would eat healthy food since I can't taste anything, but no, I keep eating the bad stuff. 😀
I do know that these were very moist and from the few taste buds that were working they tasted good to me.
Happy pumpkin hoarding.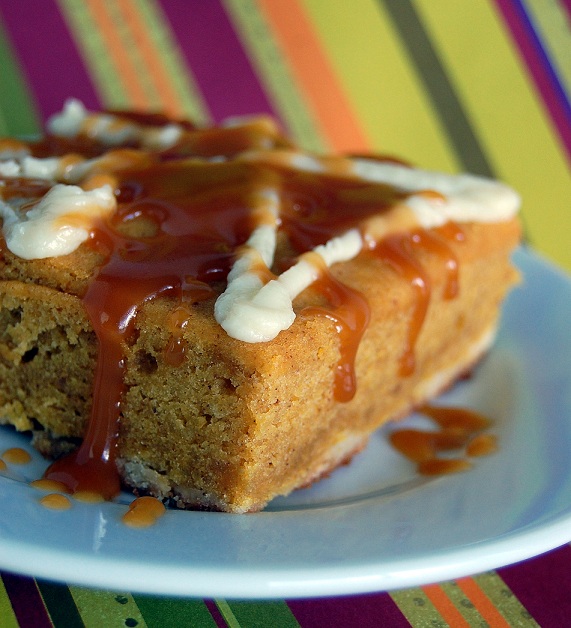 Want More Pumpkin Recipes?
Pumpkin Spice Latte Russian Tea Cake Cookies
Salted Caramel Frosted Pumpkin Cupcakes
Chocolate Cinnamon Frosted Pumpkin Cupcakes
Mini Pumpkin Toffee Bundt Cake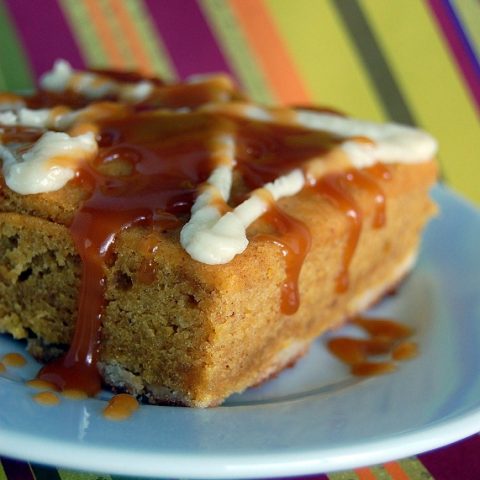 White Chocolate Pumpkin Blondies
Ingredients
White Chocolate Blondie Base:
4 ounces (1 stick) unsalted butter
½ cup white chocolate, chopped finely
½ cup granulated sugar
2 eggs
½ tsp. vanilla extract
1/3 heaping cup all-purpose flour
Pinch of salt
1/3 cup white chocolate chunks or chips
Pumpkin Top:
6 TBSP unsalted butter, at room temperature
1 cup granulated sugar
2 large eggs
½ tsp. vanilla extract
1 cup canned pumpkin puree
1 ¼ cups all-purpose flour
½ tsp. baking powder
Pinch of salt
1 heaping tsp. Pumpkin Pie Spice
Instructions
Grease a 9-x-9-inch pan with baking spray.
Preheat oven to 350F.
Blondie Bottom:
Melt white chocolate and butter together in a small saucepan over low heat, stirring frequently. White chocolate does not melt as smooth and pretty as dark or milk chocolate. Don't worry. Set aside to cool.
Using a stand mixer with the paddle attachment (or a large bowl with beaters) beat together the sugar, eggs, and vanilla together until smooth on medium high speed. Add the cooled chocolate mixture and continue beaten until well combined.
Add flour and salt to batter, and mix on low speed until combined, with no trace of the dry ingredients in sight.
Spread batter evenly in the prepared pan. Sprinkle white chocolate chunks/chips evenly over the top of the blondie batter. Set aside.
For Pumpkin Top:
Using a stand mixer with the paddle attachment beat together the butter and sugar on medium high speed until light and fluffy, about 3 minutes. Add eggs and vanilla and continue beating until well combined.
Add the pumpkin and beat until thoroughly combined.
Add the flour, baking powder, salt, and spice to the pumpkin mixture. Mix until well combined and no trace of the dry ingredients remains.
Pour pumpkin top evenly (do the best you can) over the blondie layer in prepared pan. Bake for 30-34 minutes or until a toothpick inserted in the center comes out clean or with only crumbs, not batter, on it.
Remove from oven and let cool on a rack for 1 hour.
Top with more white chocolate and maybe a little caramel if you would like.