This Chocolate Chocolate Chip Sourdough Banana Bread is studded with chocolate chips and with cocoa powder and is a great way to use sourdough starter.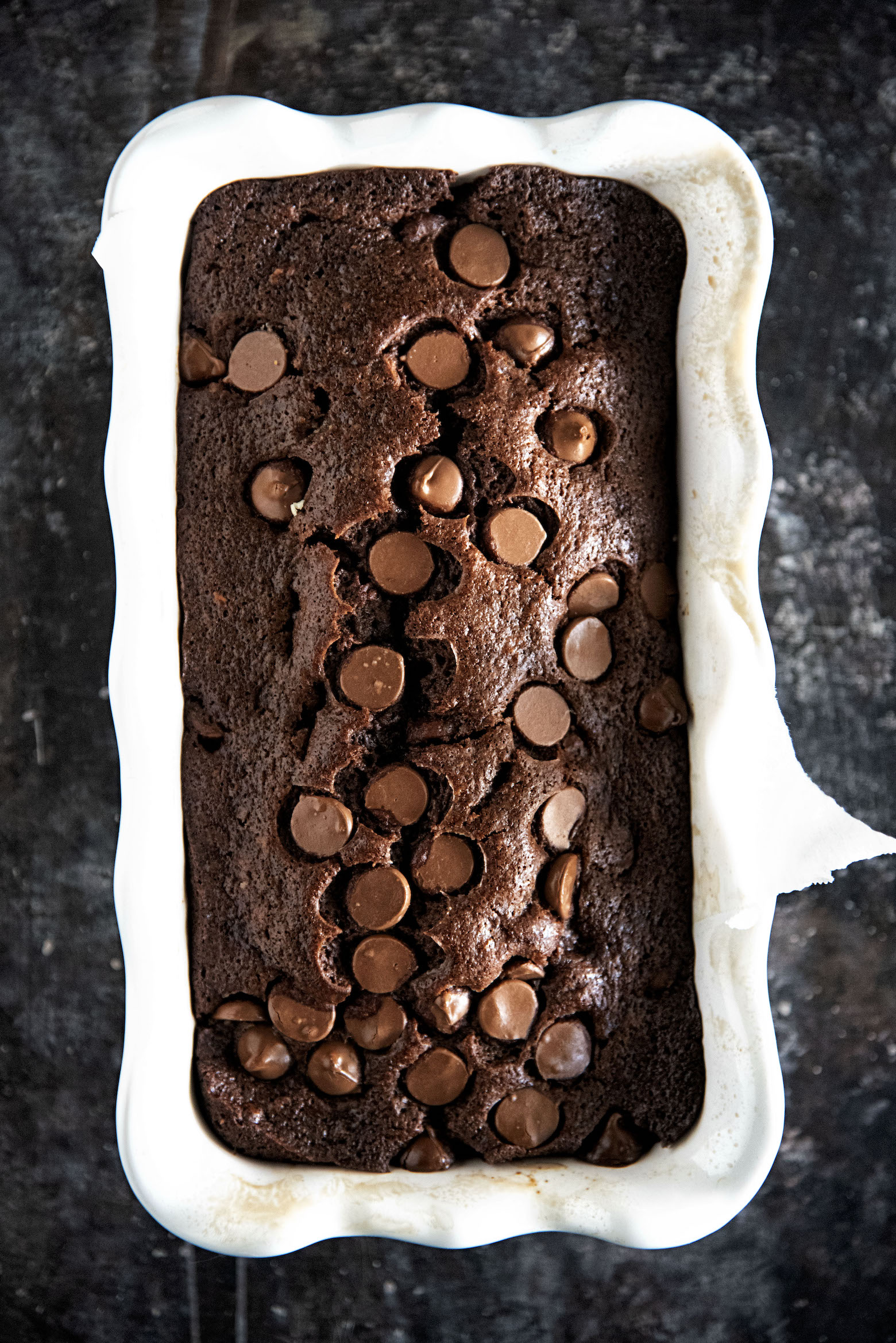 My first sourdough starter I ever had I started the summer before I went to college.
I dragged it off to NAU for undergrad school.
I'm sure my dorm mate thought I was insane taking up valuable space in the mini fridge for it.
It made dreadful loaves of bread, not because of the starter, but because the oven that was in the dorm kitchen was beyond sad.
Hot on one side and cool on the other side.
Not ideal for baking bread or much else for that matter.
After undergrad my starter followed me to my first apartment.
It survived almost dying a few times but each time I was able to salvage it.
I was proud for keeping something alive so long.
I certainly couldn't do it with plants. 😛
Then I had a teacher friend stay with me for a month.
She was between places and so she stayed with me.
As a thank you for letting her stay…she cleaned my apartment.
And my fridge.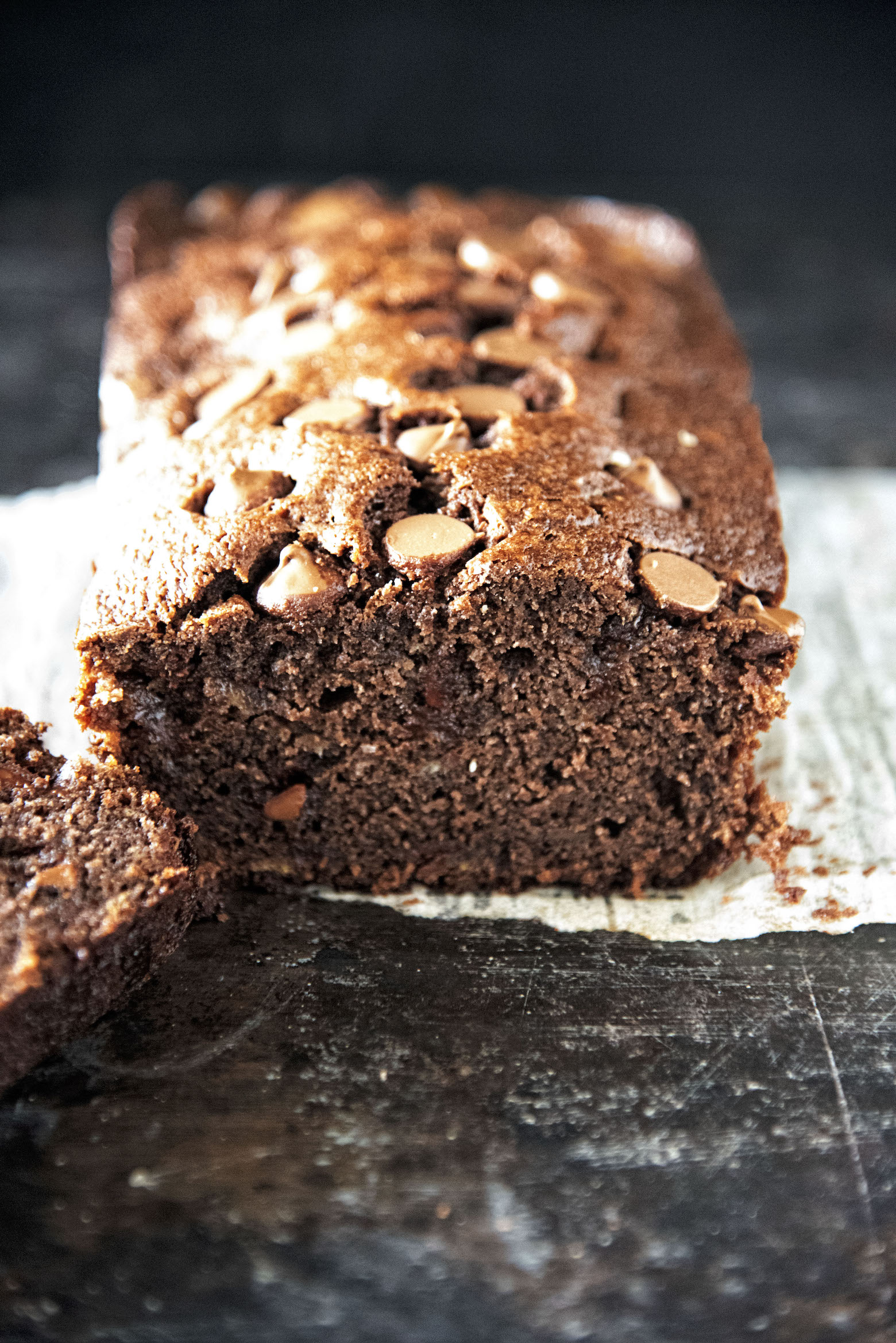 My poor baby starter was tossed out because she didn't know what it was and of course instead of asking she just threw it away and told me she would buy me another one.
But you can't just buy a well fed sourdough starter.
I was beyond bummed, I won't lie, I even cried a little.
That was in 1997.
I tried again when I lived in my house with the picky eater.
But I kept forgetting to tend to it and it would die and I would start all over.
Then I moved to apartments ovens again and well, there was no point.
About a month ago I decided to start again.
I just ordered the fresh starter off of the King Arthur Flour site because it was easy to do.
This bread is really good.
You don't get an overwhelming sourdough taste but it's fantastic for using your sourdough starter in.
Because once you commit to having a starter again you commit to having to make a bunch of sourdough recipes.
While I love just sourdough bread you do just want to branch out.
So if you have some starter in your fridge this recipe is for you!
P.S. I made one loaf but when I make this again I will use the three mini. I didn't use the mini this time because I made this at the same time I was making the Creamsicle Crumb Cakes.
Last but not least…it's a great time to order my cookbook. 😀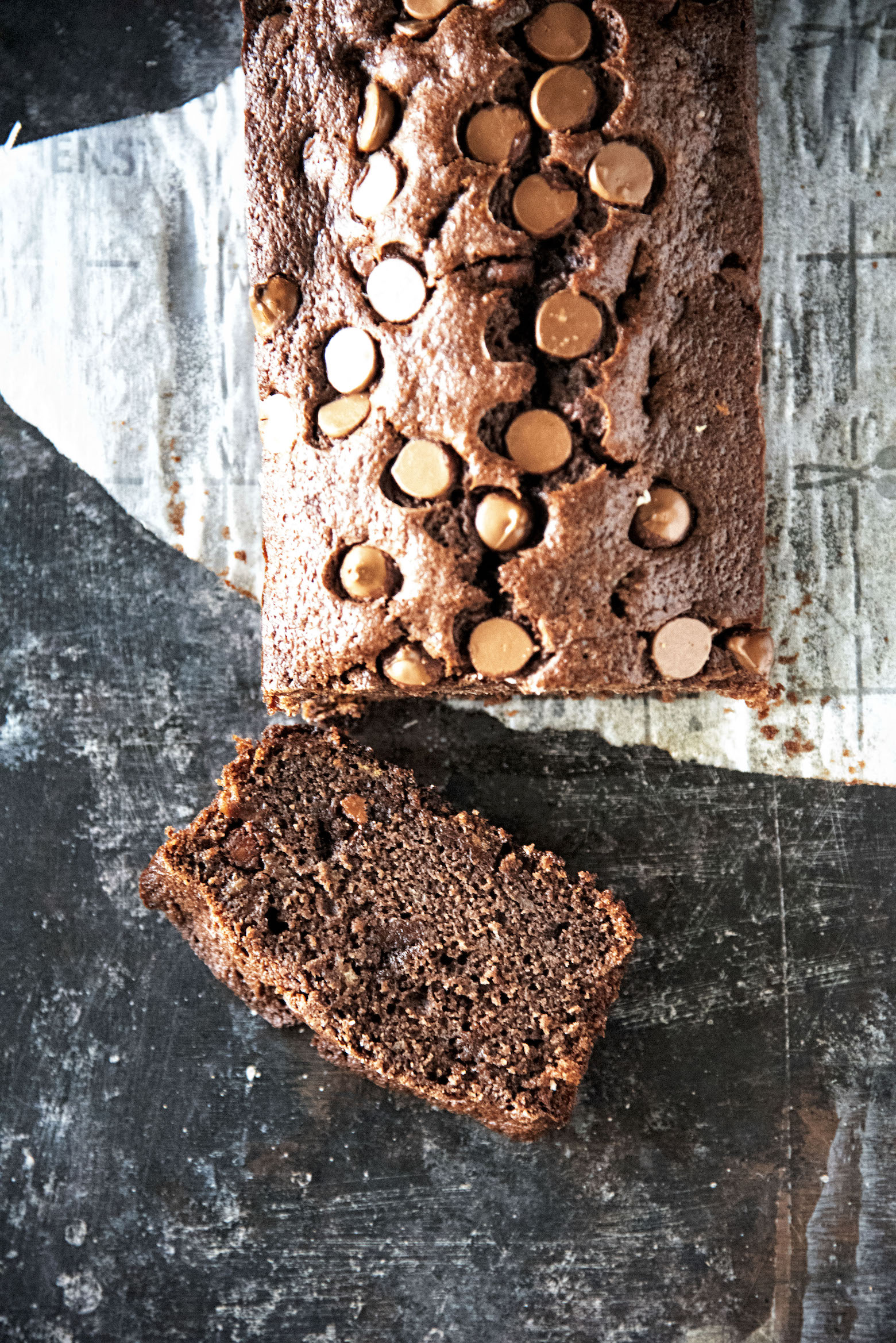 Want more Banana Bread Recipes?
Chocolate Chocolate Chip Sourdough Banana Bread
Dark Chocolate Sea Salt Caramel Banana Bread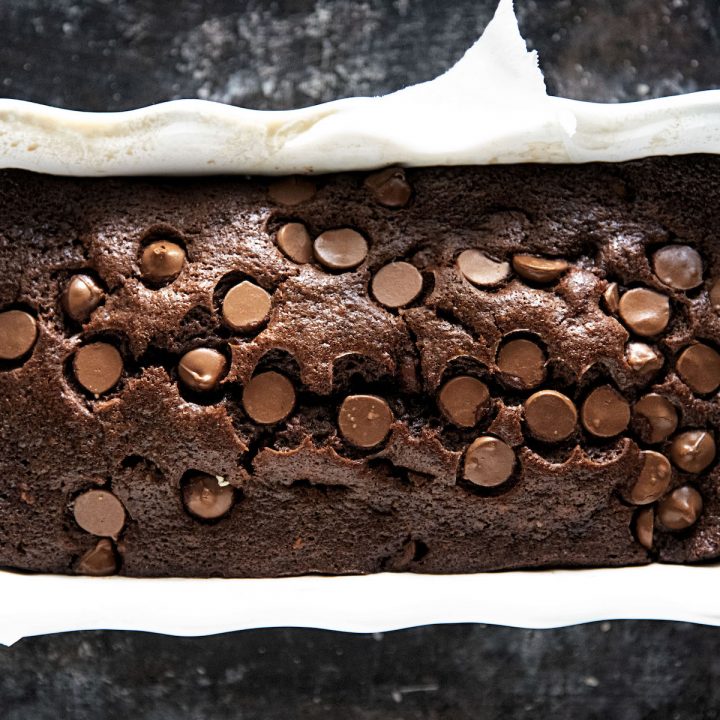 Chocolate-Chocolate Chip Sourdough Banana Bread
Ingredients
1 cup all-purpose flour
1/2 tsp. baking soda
1/2 tsp. salt
2 TBSP unsweetened cocoa powder
1/2 cup unsalted butter, at room temperature
1 cup granulated sugar
1 large egg
1 tsp. vanilla extract
1 cup fresh sourdough starter
1 1/4 cup ripe banana, mashed
1 1/2 cups milk chocolate chips
Instructions
Pre-heat oven to 350°F.
Lightly grease 1 large loaf pan or three mini loaf pans with butter or spray with baking spray.
Sift together flour, baking soda, salt, and cocoa powder into a bowl and stir to mix them thoroughly.
In the bowl of a stand mixer using the paddle attachment, add the butter and sugar and beat until light and creamy, about three minutes.
Add the egg and vanilla and continue beating until fully incorporated.
In another bowl, mash the bananas, then stir in the sourdough starter.
Add the banana/starter mixture to the butter mixture and mix together at low speed.
Then slowly add the dry ingredients.
Don't over-mix.
Finally, slowly add the chocolate chips and mix until incorporated.
Pour the batter into the loaf pans and place the mini loaf pans, if using, on a baking sheet to make getting them in and out of the oven easier.
Bake for 45 minutes (mini loaf pans) to an hour (1 large loaf pan).
Use a cake tester or toothpick to insert into the center. If it comes out clean, the bake is done.
Remove from the oven and let rest in the loaf pan on a rack for 10 minutes, then carefully remove the breads from the pan and place on the rack to completely cool.