This Sweet Tea and Lemonade Icebox Pie is made up of sweet tea ice cream and frosted lemonade ice cream. No bake and perfect for summer.
Canada and the South have some things in common…I noticed this when I was down in Nashville.
First off, everyone is friendly and helpful.
Oh, sure, you are going to have some people who are not but overall people were downright friendly.
Only in Canada and in the South have I gone to a hockey game and strangers told me if I didn't have a place to stay to feel free to stay at their place.
Ummm, okay complete stranger…that sounds good?
The other thing is tea.
In Canada, ice tea is sweetened and usually, has a little lemon flavor (and usually comes in a can).
The south sweet tea is pretty much everywhere.
I will never forget the first time I had ice tea in AZ (sun tea there) not realizing everyone doesn't sweeten their tea.
One I can only assume I made the bitter beer face from the fine Keystone beer commercials.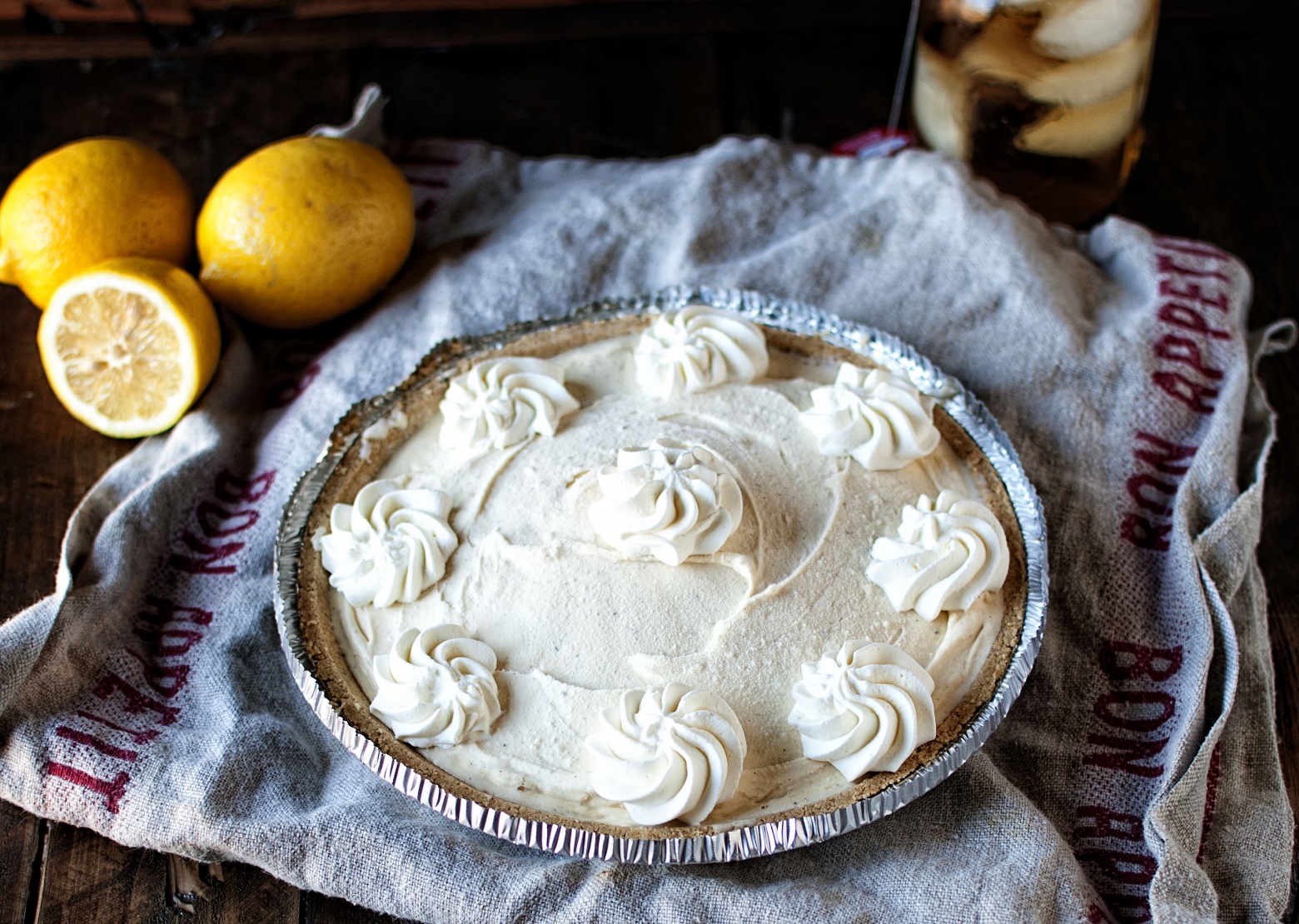 I have been working on a sweet tea cupcake for a while now.
Our goalie on our team loves sweet tea and I wanted to make some for him.
I'm still not sure I have it right but in working on the cupcakes I have had a lot of infused cream.
So it hit me, why not make ice cream?
Searched the Internet to see if someone had come up with the recipe.
And Taste of South had as well as Cookie Dough and Oven Mitt but both of those recipes used eggs, and I prefer and eggless ice cream.
I had just got a copy of No-Bake Treats: Incredible Unbaked Cheesecakes, Icebox Cakes, Pies, and More by Julianne Bayer (Beyond Frosting) and decided that it would be fun to make an icebox pie using sweet tea.
Also decided to add a frosted lemonade (like you get at Chick-fil-A) layer on top.
And then garnish with a sweet tea and lemonade whipped cream…because why not.
Given that this is the time of year I rarely want to turn on the oven, this Sweet Tea and Lemonade Icebox Pie is a perfect pie.
If you are like me and don't want to turn on the oven I highly suggest checking out the book.
There is an Iced Animal Cookie (aka circus cookie) Cheesecake that you know I will be making.
Something called a Hot Mess Nutella Snickers Pie which, I mean, with a name like that you have to try.
Apple Pie Lasagna.
Birthday Cake Lasagna.
Oatmeal Cream Pie Ice Cream Bars.
Raspberry Mojito Pops.
Strawberry Margarita Cheesecake Bites.
If you still want treats this summer but don't want to melt by turning on the oven then this is the cookbook for you!
Speaking of cookbooks…It's a great day to order my cookbook.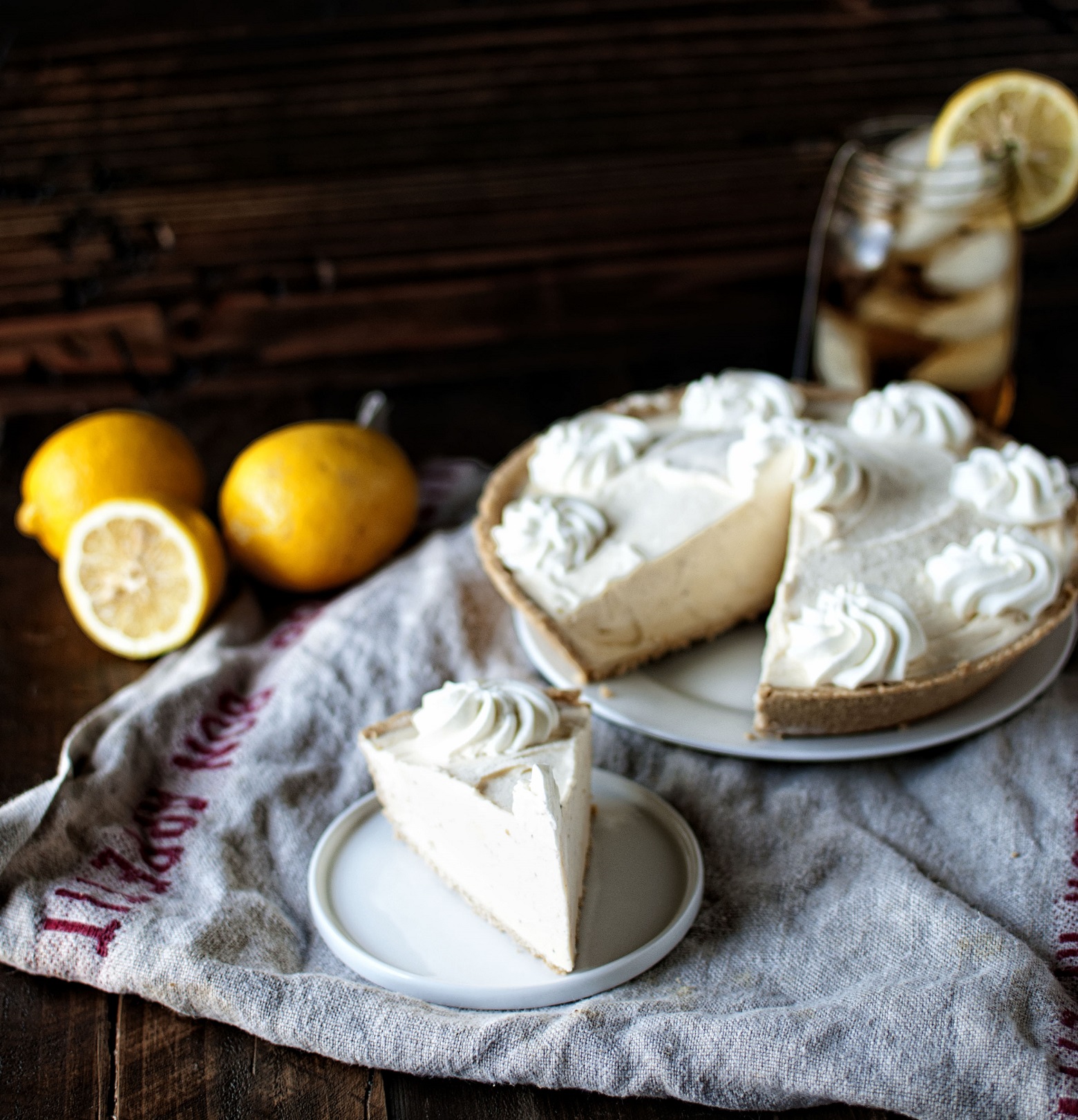 Want More Pie Recipes?
Cinnamon Toast Crunch Apple Slice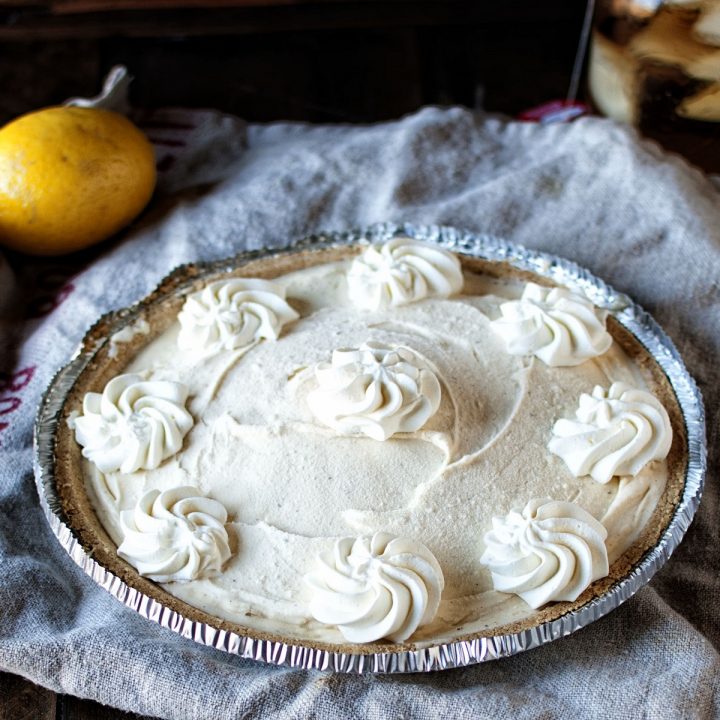 Sweet Tea and Lemonade Icebox Pie
Ingredients
½ batch Sweet Tea Ice Cream
1 batch Frosted Lemonade Ice Cream
Sweet Tea and Lemonade Whipped Cream
1 prepared graham cracker crust
For the Sweet Tea Ice Cream:
2 cups milk
4 black tea bags
4 tsp. cornstarch
1 1⁄4 cups heavy cream
2⁄3 cup sugar
2 tbsp. light corn syrup
1⁄4 tsp. kosher salt
3 tbsp. cream cheese, softened
For the Frosted Lemonade Ice Cream:
3 cups vanilla bean ice cream
½ cup frozen lemonade concentrate
For the whipped cream:
1 cup heavy whipping cream
2 TBSP frozen lemonade concentrate
¼ cup sugar
1 black tea bag
Instructions
For the sweet tea ice cream:
In a 4-quart saucepan heat up the two cups of milk and bring to a boil.
Once it reaches a boil, remove from heat and add the tea bags.
Let the tea bags steep for 5 minutes and then remove tea bags.
In a bowl, stir together 1⁄4 cup tea milk and the cornstarch; set slurry aside.
Add the cream, sugar, syrup, and salt to the remaining tea milk.
Bring to a boil over medium-high heat.
Cook for 4 minutes; stir in slurry.
Return to a boil and cook, stirring, until thickened, about 2 minutes.
Place cream cheese in a bowl and pour in 1⁄4 cup hot milk mixture; whisk until smooth.
Then whisk in remaining milk mixture.
Pour mixture into a plastic bag; seal, and submerge in a bowl of ice water until chilled.
Pour mixture into an ice cream maker; process according to manufacturer's instructions.
Spread half of the sweet tea ice cream on to the bottom of the graham cracker crust.
Smooth out the ice cream with a spatula and place into freezer for 30 minutes.
The other half you can put into a freezer safe container to enjoy later.
For the Frosted Lemonade Ice cream:
Using a stand mixer with the paddle attachment beat together the ice cream and frozen lemonade concentrate.
Remove the pie from the freezer and pour the frosted lemonade ice cream onto the sweet tea ice cream layer. Smooth with a spatula.
Place back into freezer to set up, about 2 hours.
For the whipped cream:
Heat the cream in a small saucepan and bring to boil.
Remove from heat and add tea bag.
Let steep for 5 minutes and remove bag.
Place cream into a storage container with a lid and place into fridge to cool down for 2 hours. Do this while the pie freezing.
Remove from fridge and using a stand mixer with the whisk attachment, whisk the heavy cream to soft peaks.
Add the sugar and lemonade concentrate.
Whip until stiff peaks form.
Pipe onto pie.
Serve cold…since it's an ice cream pie and all. 🙂