These Double Stuffed Brownie Bites have a brownie base, homemade double stuffed cream filling, and chocolate dipped with a mini Oreo on top.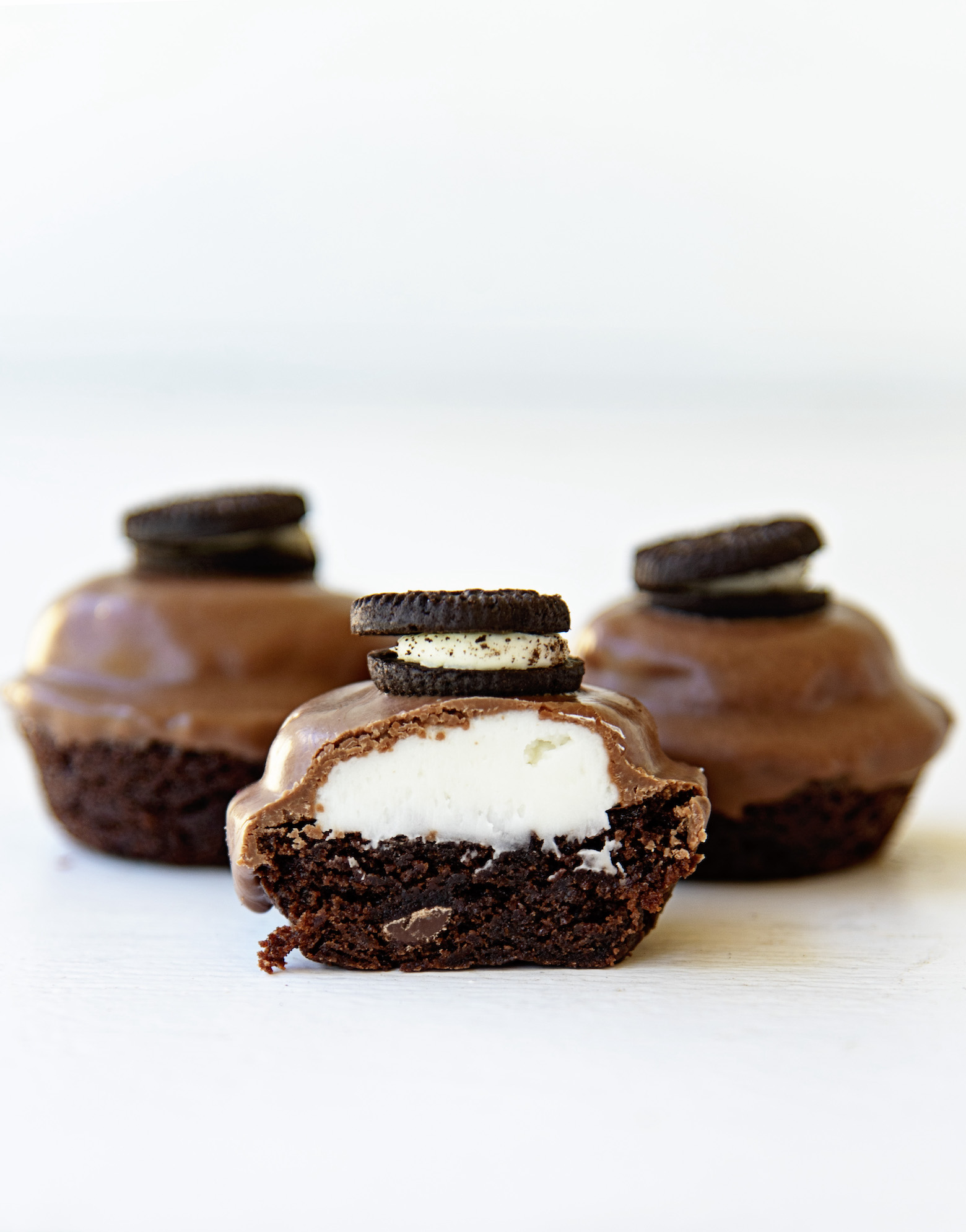 These Double Stuffed Brownie Bites serve a very important purpose.
They were made to celebrate my blog turning 18.
Yes, 18.
This blog has been around now for eighteen years.
It's honestly a little surreal to think about and sometimes hard to believe.
I had no idea what it would become to me when I started.
So much has changed since I started this blog.
And somethings have stayed the same.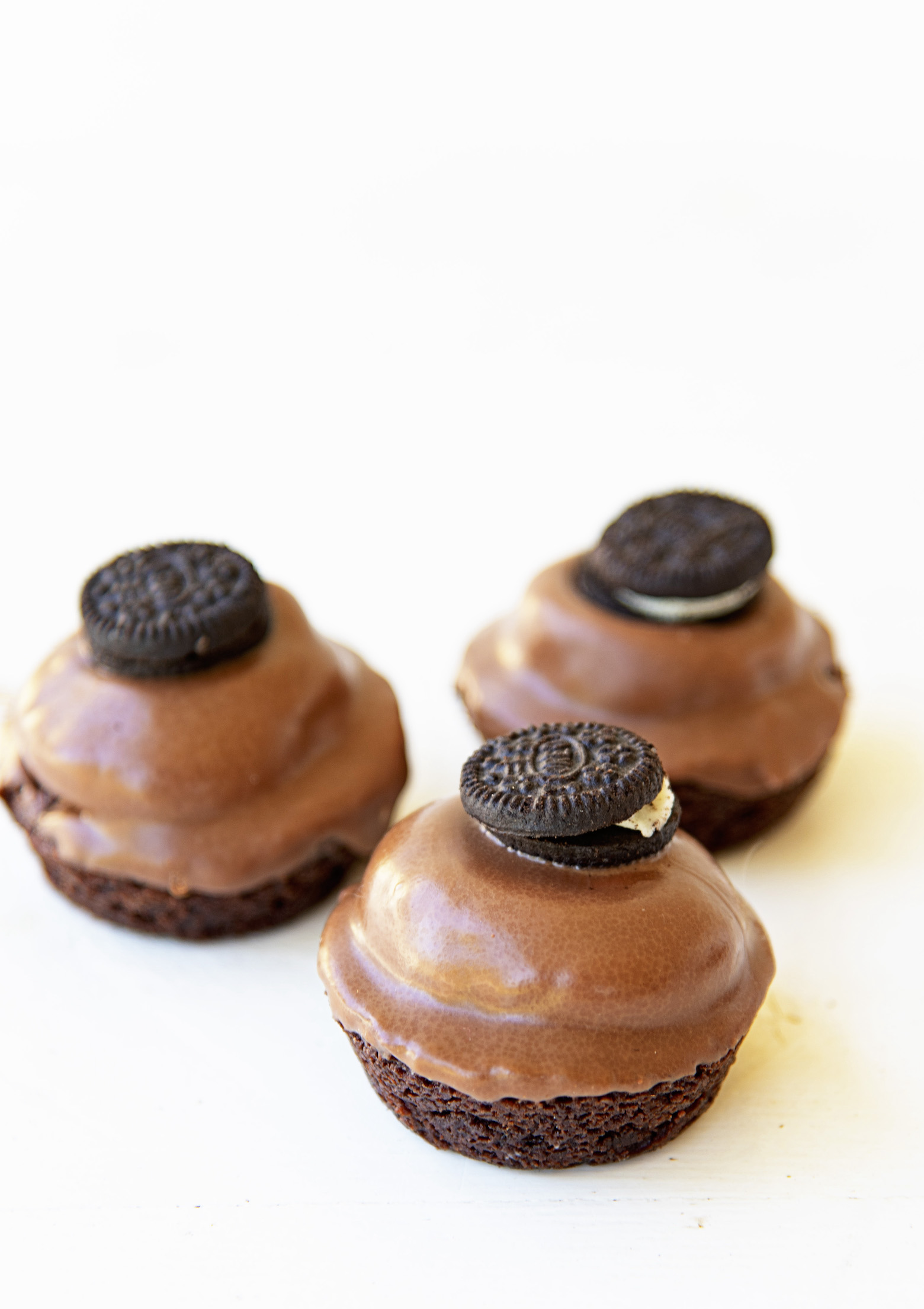 When this blog started I was married to the picky eater.
Which is why this blog was started.
As a creative outlet because he always wanted to eat the same things and I got bored with that.
While we are no longer married, I still consider him family.
My husband considers him family.
He still runs the back end of this blog.
Which sadly for him often means a text or panicked phone call when something goes wrong with the blog. 🙂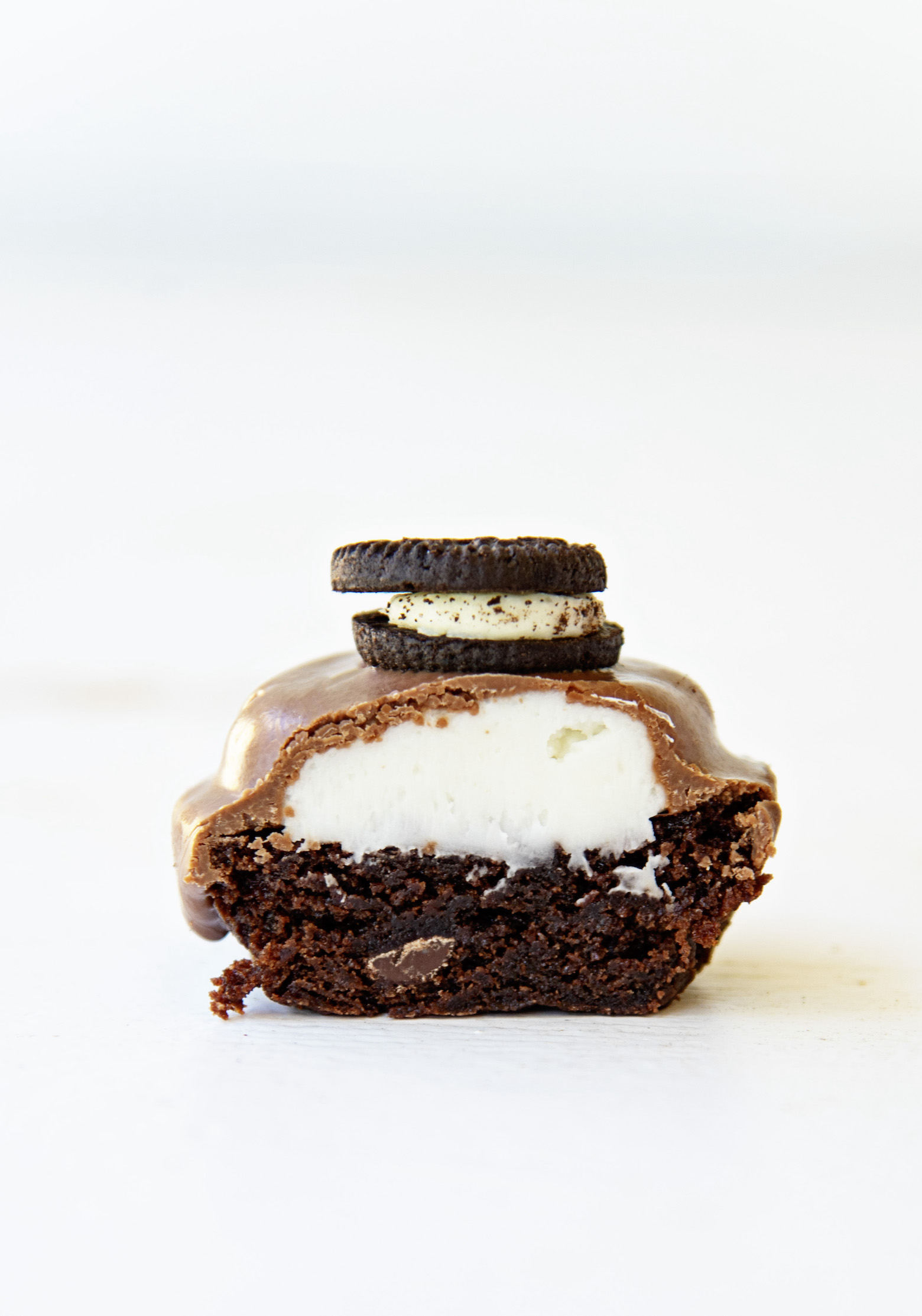 How I share the blog has changed.
I used to be you wrote a post and pushed publish and people came to your blog.
To read your blog.
Which, there are still plenty of people who still READ the blog.
Blogs tell stories.
They tell about people's lives.
Nowadays people confuse recipe blogs and recipes sites.
Recipe sites just have a recipe and nothing else.
I am still a recipe blog.
So, I still ramble on.
That is not going to change.
But I realize that not everyone wants to read my ramblings and so I do have a JUMP TO RECIPE button at the top of each post.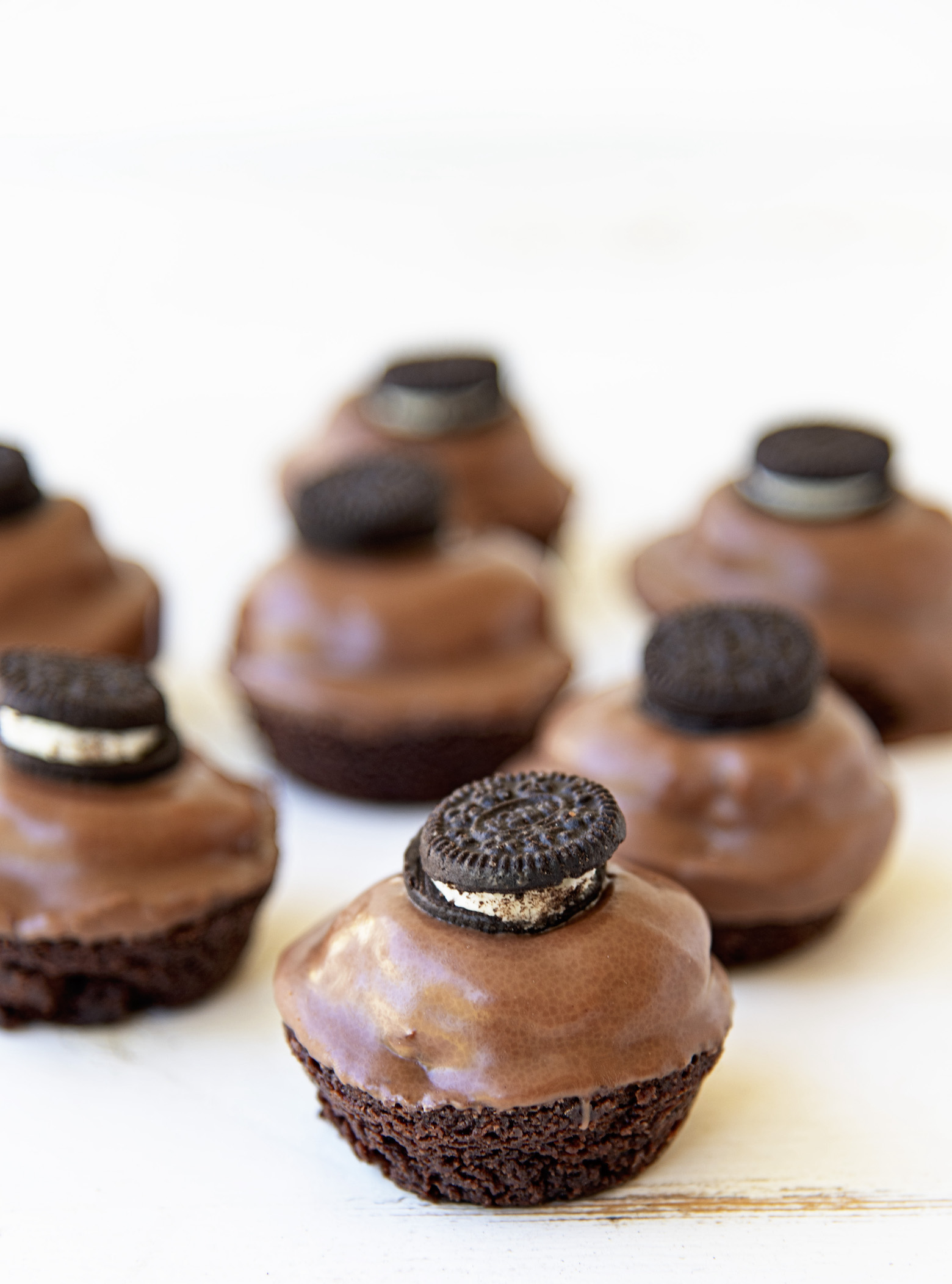 Nowadays though we share almost all through social media.
Sure, you still have to come to the blog to get the recipes, but it's not the same.
Comments that used to be left in the comment section of my blog are now scattered across a variety of platforms.
Too many platforms.
I really only still post on Facebook, Instagram, and Pinterest.
And I spend the majority of my time on Facebook.
Why?
Because that seems to be the people who make my recipes.
Pinterest people make my recipes too.
But there really isn't a way to interact on there.
And Instagram while pretty doesn't have a good way to share my recipes.
They don't want you to link to your blog.
They want you to make a video and put it on their site.
Which doesn't help the blogger at all.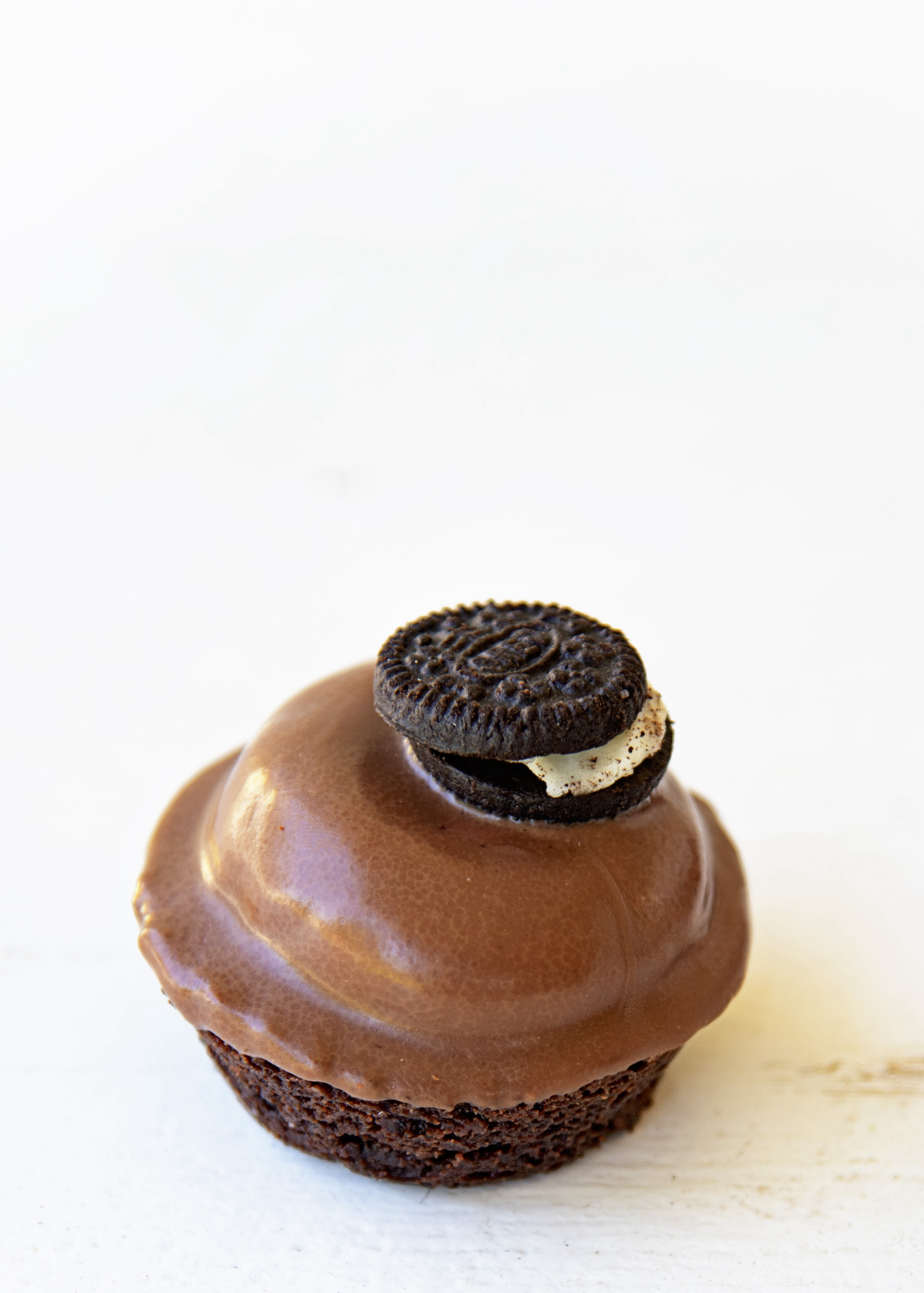 Often on Facebook someone will complain that I just need to post the recipe right on Facebook.
No.
Why?
Because I'm a small business.
This is my income.
It's how we pay for all our special needs spaniels .
And it's how I can afford to keep the blog going.
I test each recipe at least three times.
Ingredients, as you know, are even extra expensive as of late.
Paying for the site, server, equipment, etc.
It all adds up and it's not cheap.
I would never want to deny you income at your job, so I ask you not to try and deny me my income.
Sincerely, I don't feel asking you to push the JUMP TO RECIPE button at the top or spending a few seconds scrolling down to the free to you recipe is asking too much.
And really, you aren't going to find recipes like mine.
I kind of do unique stuff.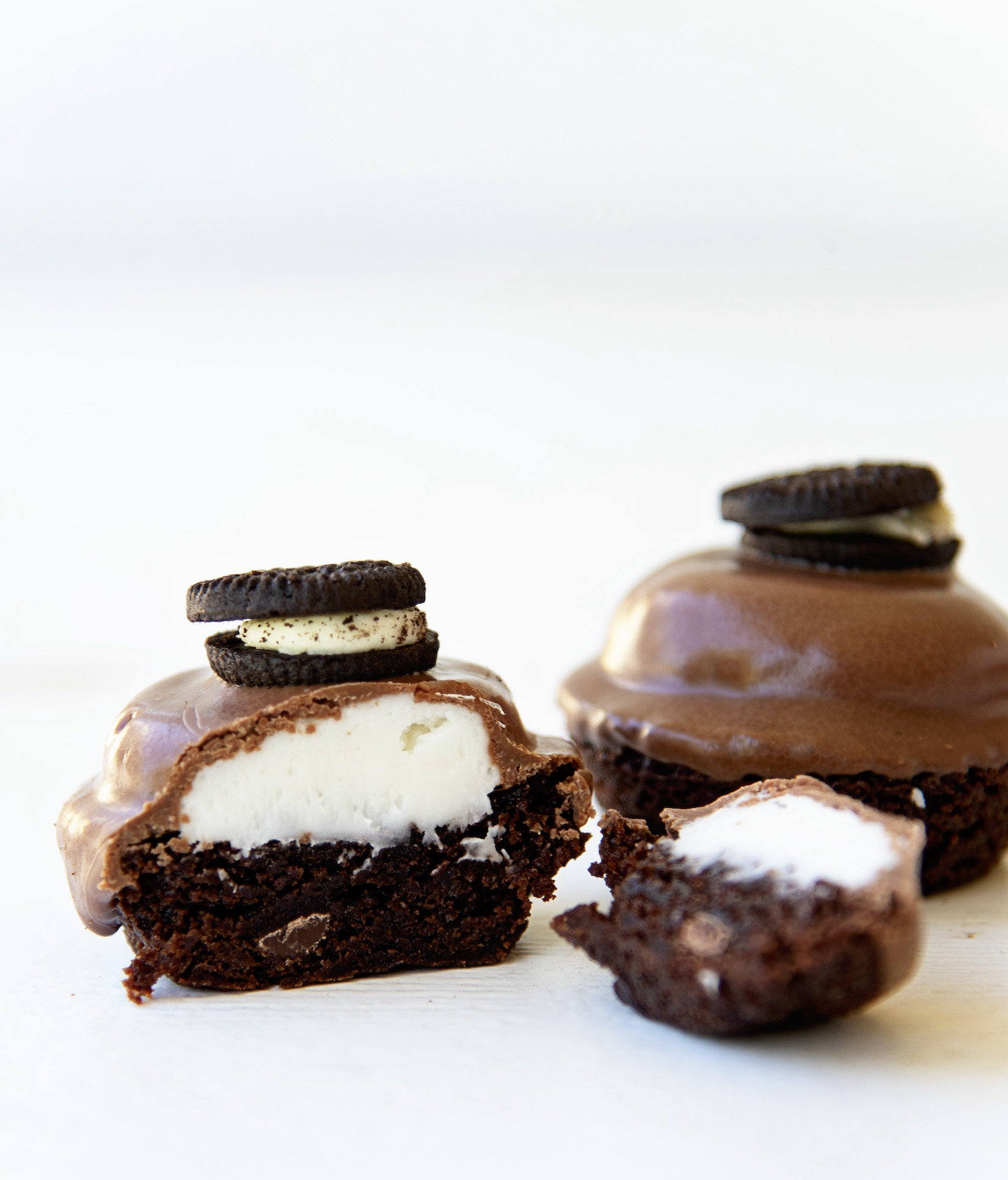 Speaking of unique stuff let's talk these brownie bites.
I always wonder what to make for a blog anniversary/birthday.
These were deemed by my hockey team as quite possibly the best thing I have ever made.
Which, my team has been around since 2009…so they have eaten A LOT of my baked goods.
It didn't hurt that I did use some high end chocolate to dip them in.
This was for 18 years of having a blog after all, so I did break out the good stuff.
Since I know someone will ask, you can use boxed brownies.
You will get fewer bites though so be aware of that. So happy 18 years Sweet ReciPEAs (formerly Culinary Concoctions by Peabody).
To all my readers and followers, I thank you so very much for being with me!!!
Don't forget to buy my cookbook.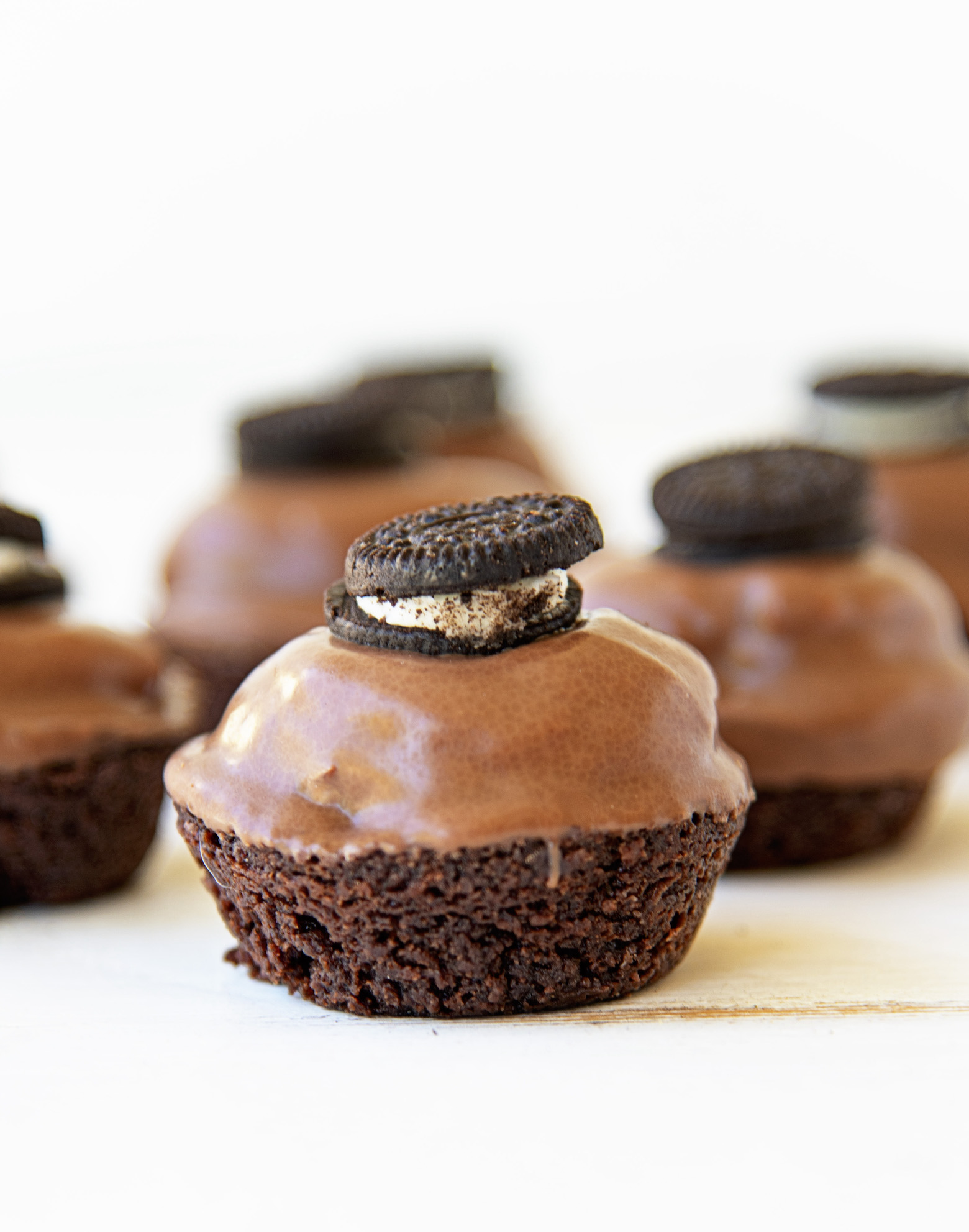 Want More Brownie Recipes?
Hot Chocolate Marshmallow Brownie Bars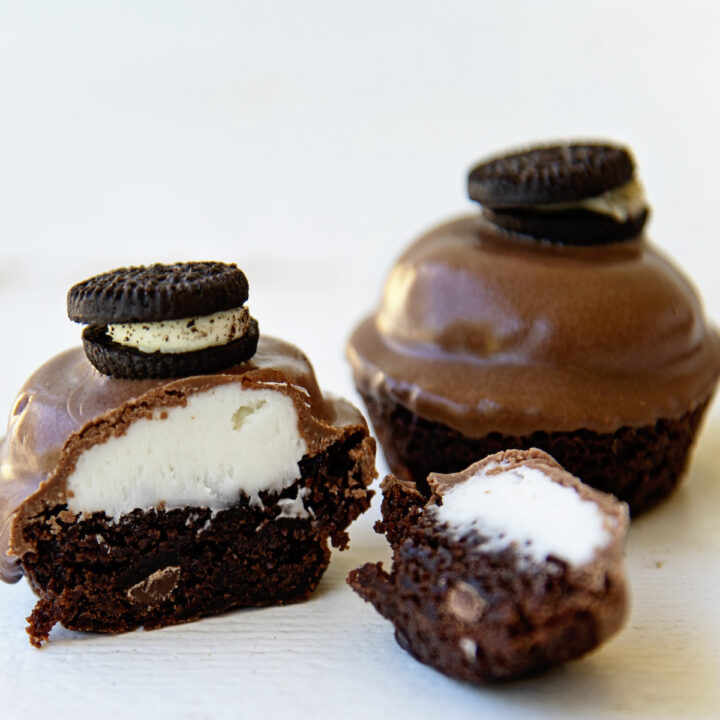 Double Stuffed Brownie Bites
Yield:
40-ish Really depends on how big you make your brownie
Ingredients
For the Brownie Bites:
4 ounces unsweetened chocolate, finely chopped
4 ounces bittersweet chocolate, finely chopped
8 ounces unsalted butter
5 eggs
2 cups granulated sugar
1 cup light brown sugar, firmly packed
1 vanilla bean, seeds scraped, pod discarded
1 2/3 cup flour
1 tsp salt
3/4 cup mini chocolate chips
For the Double Stuffed Filling:
1/2 cup shortening
1 tsp. vanilla extract
2 1/2 cups powdered sugar
Milk to thin
For the Chocolate Coating:
12 oz finely chopped milk or semisweet chocolate (depending on preference)
3 TBSP canola or vegetable oil
mini Oreos
Instructions
For the Brownie Bites:
Preheat oven to 325F.
Grease 2 mini muffin pans.In a double boiler, melt together butter and chocolate.
When completely melted, whisk to combine and set aside to cool.
Using a stand mixer with the paddle attachment, mix together the eggs, sugars, and vanilla bean.
Mix until a pale yellow color forms, about 5 minutes.Add in cooled chocolate mixture and beat for 2 minutes.
With the mixer on low, add flour and salt and mix just until incorporated.
Fold in the mini chocolate chips.
Using a mini muffin scoop, scoop batter into prepared pans.
Bake for 14-18 minutes depending on how gooey you like your brownie.
For the Double Stuffed Filling:
Using a stand mixer with the paddle attachment, cream the shortening, then beat in the vanilla and the powdered sugar, a ½ cup at a time, beating until the mixture is light and creamy.
Thin with milk as needed. You want a consistency that you can pipe. You can fill them using a teaspoon but I find piping the filling the easiest.
For the Chocolate Coating:
Combine chocolate and oil in a medium heat-proof bowl set over a medium saucepan of barely simmering water; stir until melted and smooth.
Transfer to a small bowl, and let cool about 10 minutes.
To Assemble the Bites:
Take the brownie bite that has been piped with the double stuffed filling.
Holding each brownie bite by its bottom, dip the brownie bite into the chocolate to coat the double stuffed cream filling, allowing excess to drip off.
Transfer to a baking sheet fitted with a wire rack.
Place a mini Oreo on top if using.
Let set up for 15 minutes or until chocolate if firm. The cooler it is in the house the faster the firm up.