These Carrot Cake Cream Cheese Muffins are full of carrots and have the cream cheese frosting inside of the muffin for a fun surprise.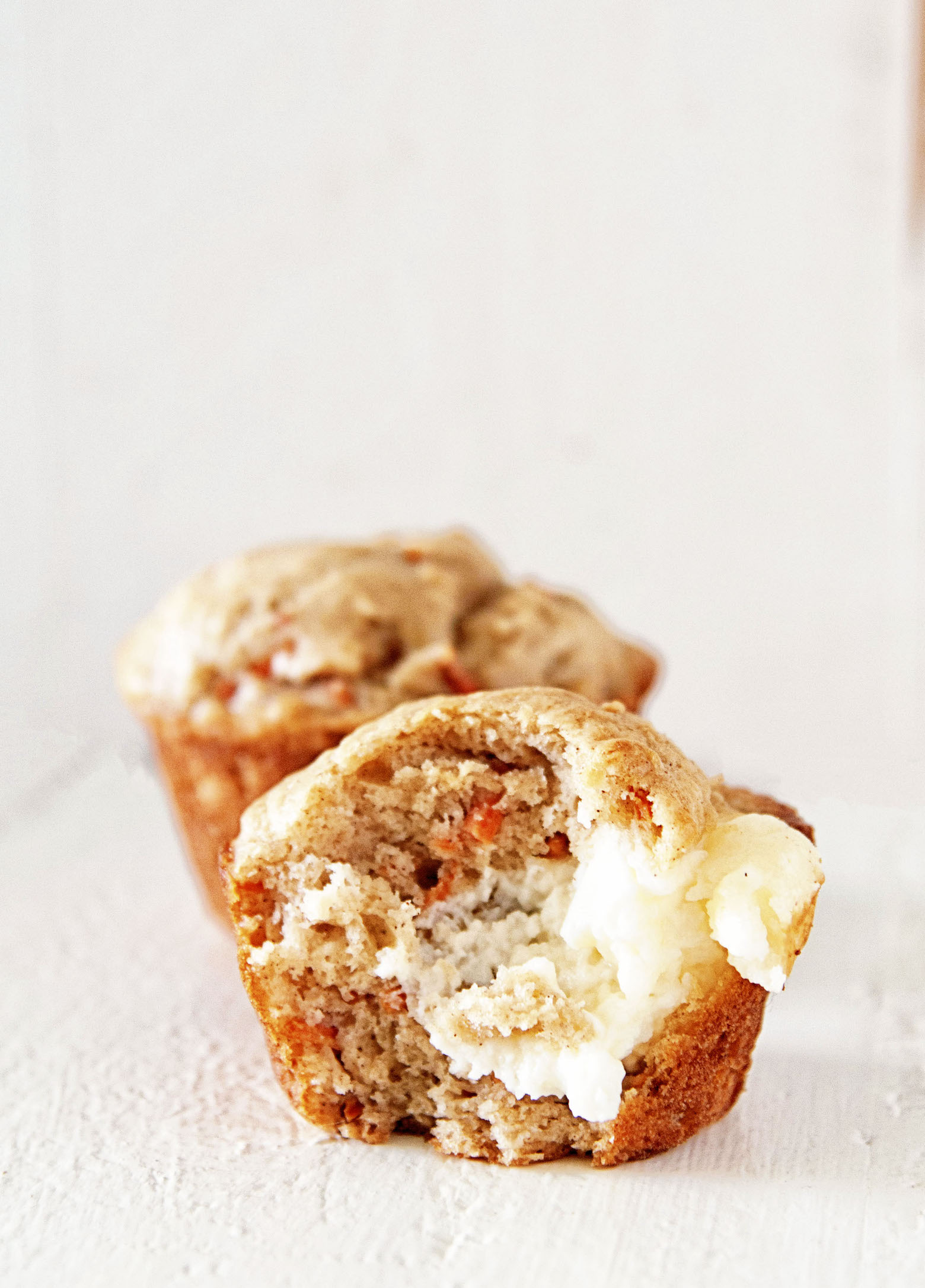 These Carrot Cake Cream Cheese Muffins are the best way to have dessert for breakfast.
Since the frosting is inside you can call them a muffin.
See…healthy.
Plus they have carrots in them.
So extra healthy. 🙂
Growing up my mother made a carrot cake covered in cream cheese frosting.
For Christmas.
To this day that makes no sense to me.
It's a good carrot cake.
But it's more dense than most.
And my mom's ratio of raisins to batter was impressive.
She also used to make extra frosting so that we could put even more frosting on it.
It was a loaf cake so you only got frosting on the top and sides.
So extra was needed. 🙂 And for Easter? When most people have carrot cake?
We had coconut cake.
With a little coconut green nest with jelly bean eggs in the middle.
I on the other hand do a lot of carrot cake like recipes around Easter and in spring.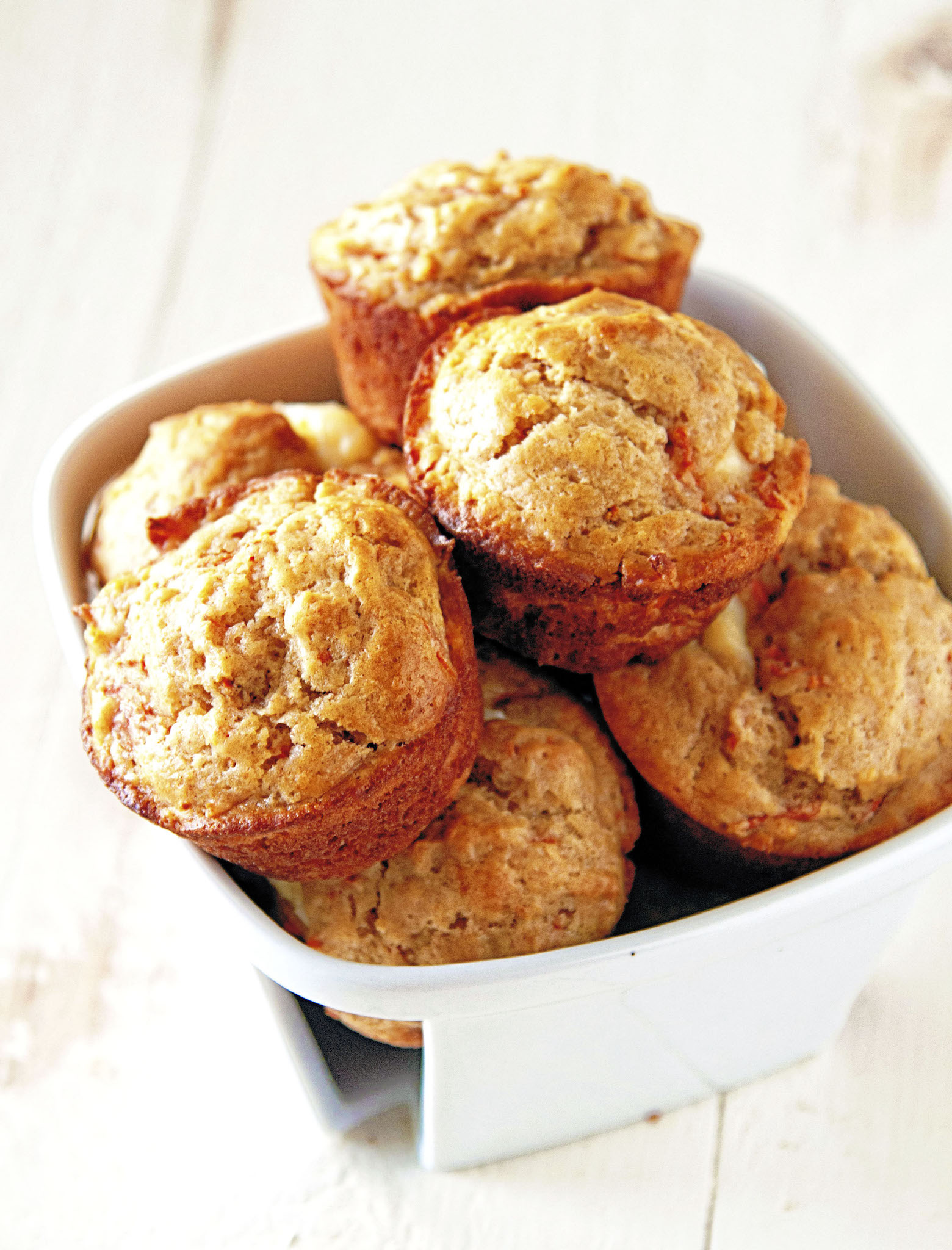 Starbucks was really the first to make shoving cream cheese into muffins a thing.
But I've been doing it way longer than they have.
Except I've always shoved cream cheese frosting in them.
Because it's me.
And I like to make things slightly worse for you. 🙂
But it tastes really good.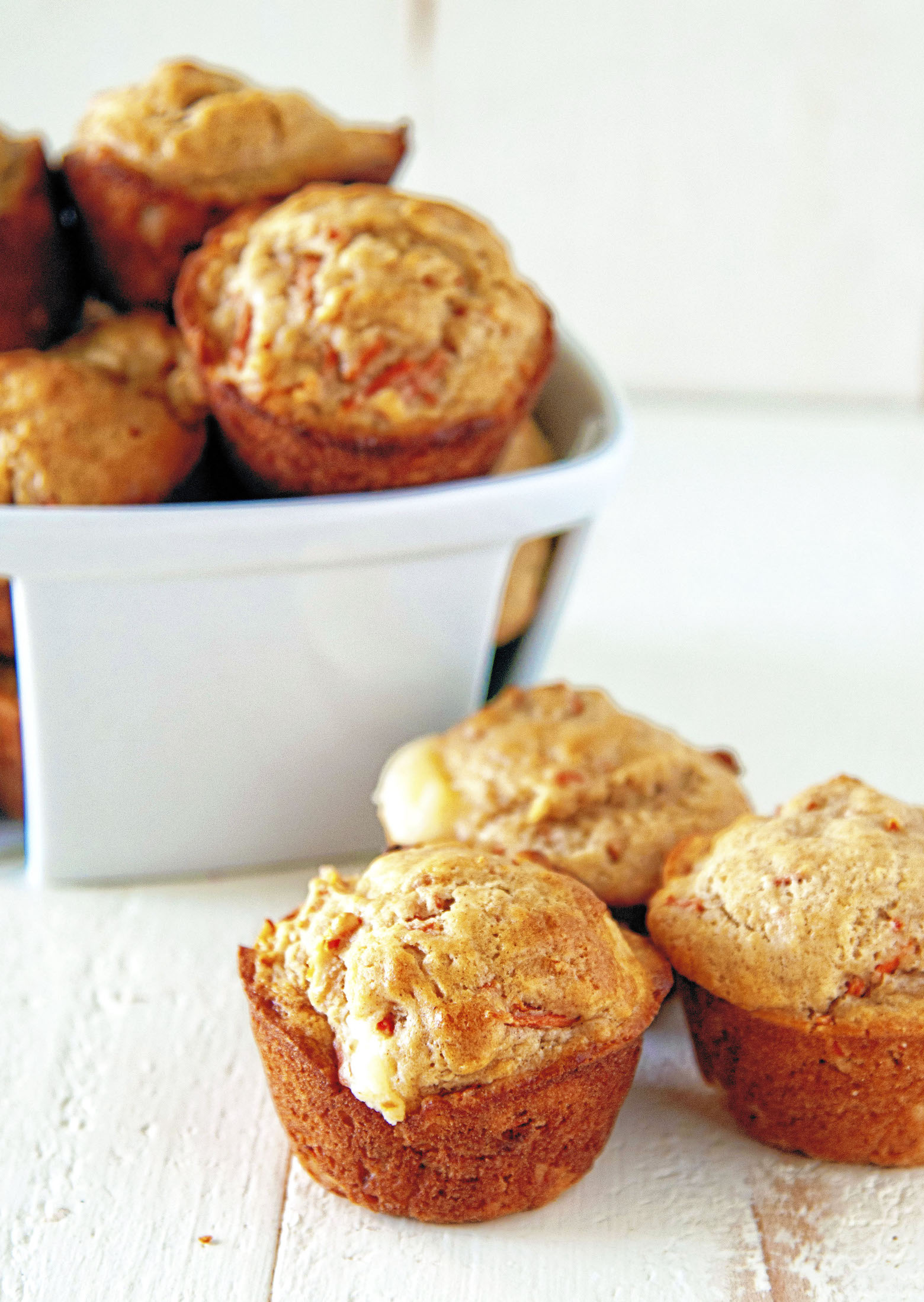 The recipe calls for full fat buttermilk, and yes you need to use full fat.
If you can only find low fat buttermilk than I suggest using 1/2 cup low fat buttermilk and 1/2 cup full fat sour cream.
Whisk them together and use that as a sub for the full fat buttermilk.
The recipe calls for 6 TBSP of butter.
If you would prefer to use vegetable oil (some do) that is fine.
It's just a normal swap of 6 TBSP butter for 6 TBSP vegetable oil.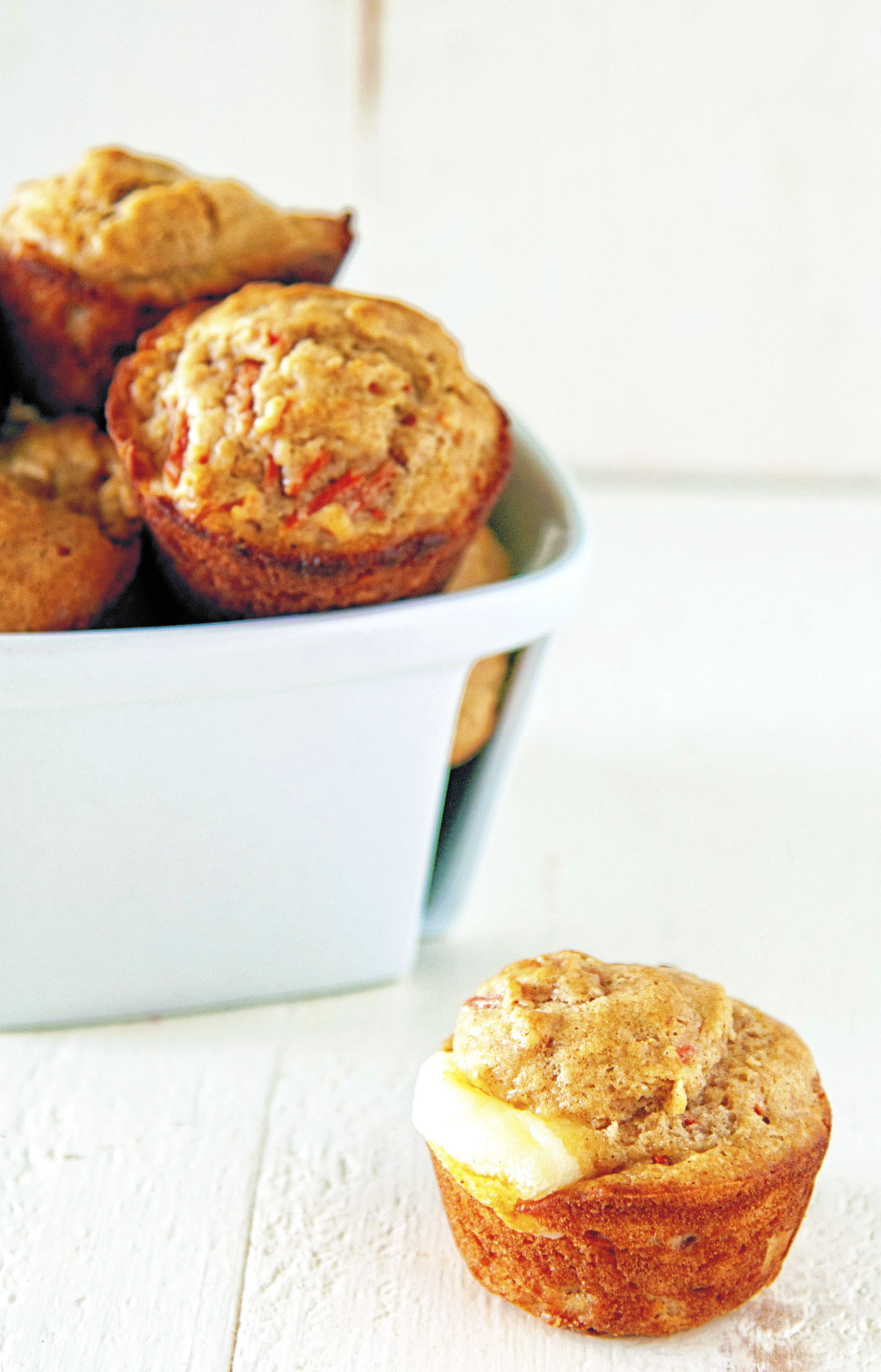 As we roll into brunch season, these muffins most definitely need to make it on to your table.
Especially an Easter brunch….or if you're my mom…Christmas morning. 😀
P.S. It's a great day to buy my cookbook Holy Sweet!
Want More Muffin Recipes?
Clementine Chocolate Chip Muffin
Cider Glazed Apple Fritter Muffins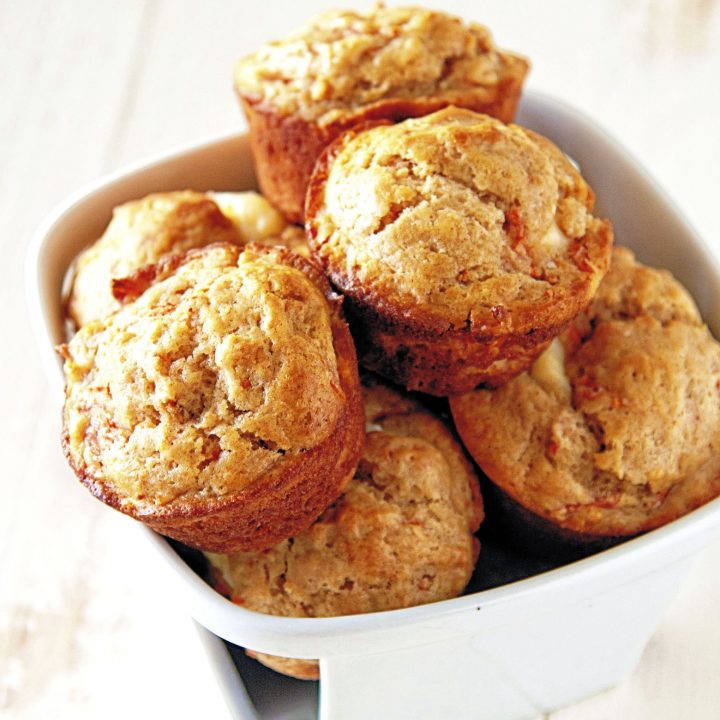 Carrot Cake Cream Cheese Muffins
Ingredients
For the Cream Cheese Frosting Filling:
8 oz cream cheese, at room temperature
1 cup powdered sugar
1/4 tsp vanilla extract
For the Muffin Batter:
2 cups all-purpose flour
2 tsp baking powder
½ tsp baking soda
¼ tsp salt
1 tsp ground cinnamon
½ tsp ground ginger
2 large eggs, room temperature
⅔ cup firmly packed light brown sugar
1 cup full fat buttermilk
6 TBSP unsalted butter, melted
2 large carrots, peeled and finely shredded (1 1/2 cups)
Instructions
For the Filling:
Using a stand mixer with the paddle attachment beat together the cream cheese, powdered sugar, and vanilla extract.
Spoon the mixture into a thin log on to plastic wrap.
Make the log be about 12-inches in length.
Cover fully with plastic wrap and roll a few times to get rid of air bubbles.
Place in freezer for at least four hours.
Preheat an oven to 425°F.
Spray a muffin tin with baking spray.
For the Muffins:
In a large bowl, stir together the flour, baking powder, baking soda, salt and spices.In another bowl, whisk together the eggs and brown sugar until blended.
Whisk in the buttermilk and butter.
Add the egg mixture to the flour mixture and, using a rubber spatula, stir just until evenly incorporated.
Do not over-mix.
Fold in the carrots just until evenly distributed.
Spoon the batter into the prepared cupcake pan, filling them 1/3 of the way full.
Remove the cream cheese frosting log from freezer and divide/slice into 12 equal parts.
Place a piece of the frozen cream cheese frosting on top of and in the middle of the cupcake batter.
Top each cupcake with another 1/3 of the batter, right on top of the cream cheese frosting piece. Since the muffins are only being filled 2/3 of the way in the muffin tin that is why it's 1/3 and a 1/3
Bake until the cupcakes are golden brown, 15 to 18 minutes.
Transfer the pan to a wire rack and let cool for 2 minutes, then turn the cupcakes out onto the rack.
Let cool and serve.