This Vanilla Mint Mousse Cake is a light and fluffy no bake dessert made with Baileys Vanilla Mint Milkshake liqueur.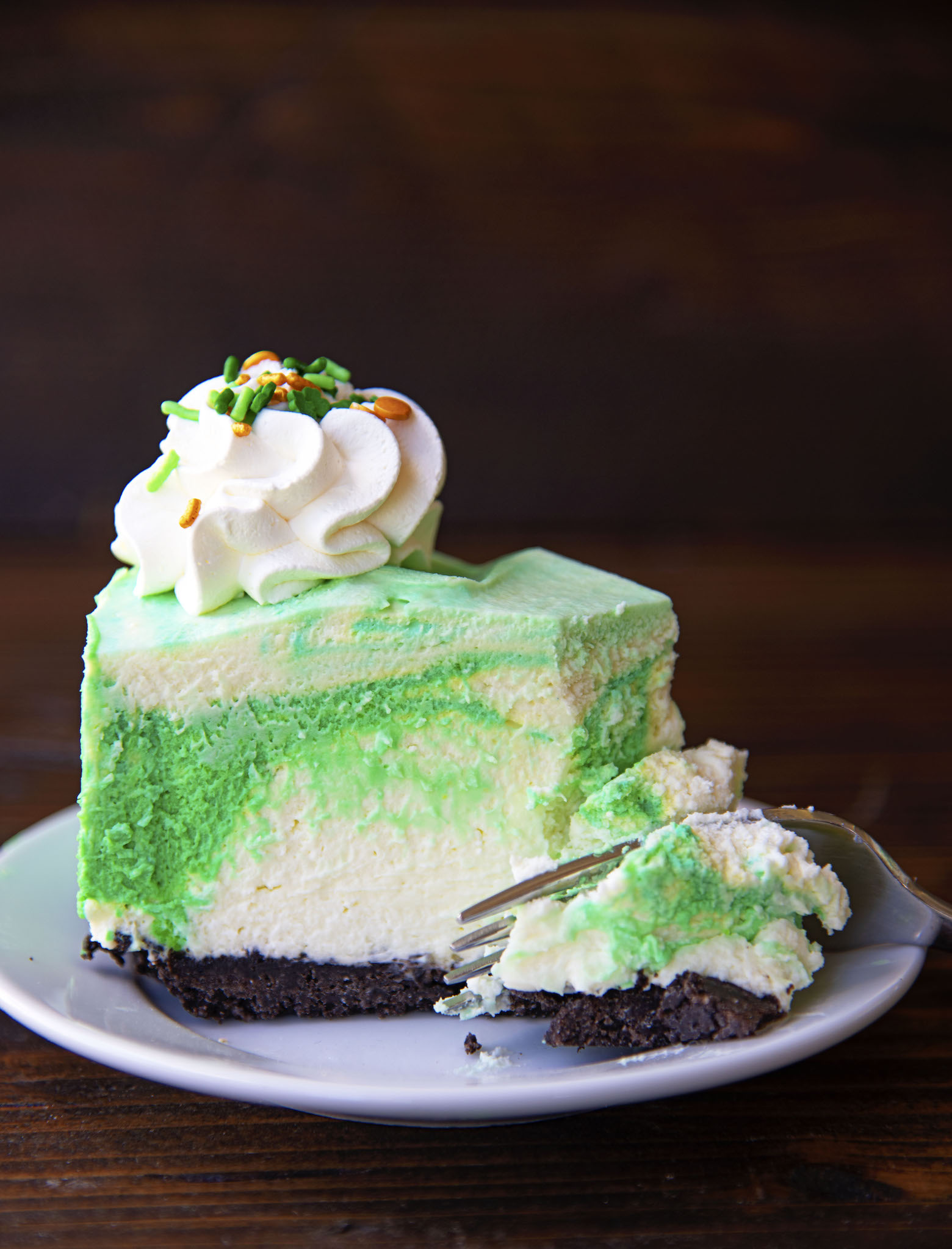 With swirls of green and white this Vanilla Mint Mousse Cake is perfect for St. Patrick's Day.
It's also perfect for a Tuesday.
Or Bastille Day (July 14th if you are wondering).
Perfect for brunch.
Dinner.
2am drunk snack.
Breakfast (I ate a piece yesterday and today for breakfast).
You see where I'm going here.
Sure, it's a St. Paddy's Day treat but it's so much more.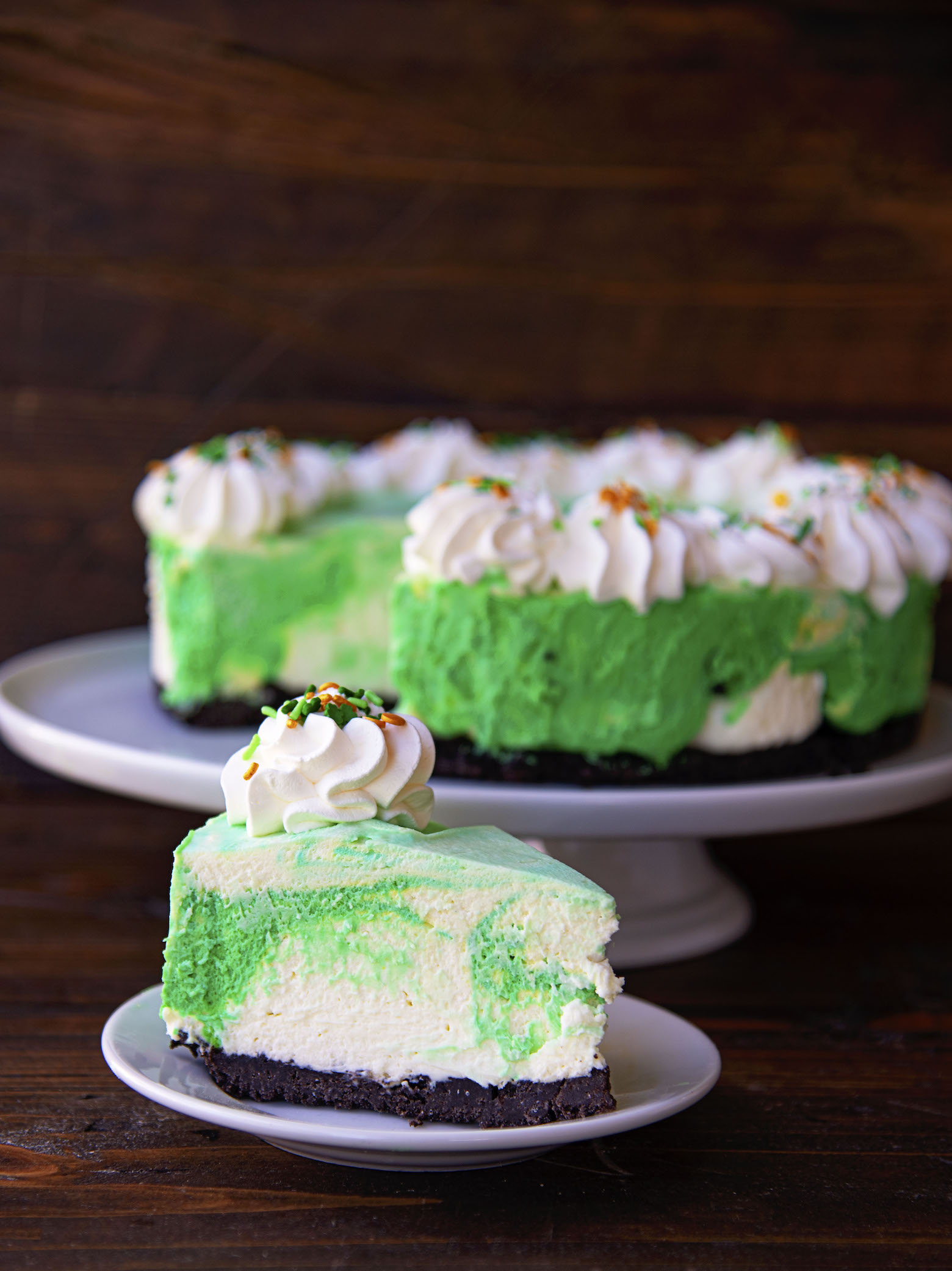 Baileys came out with another new flavor not too long ago.
I have bought every flavor they have come out with and so I hunted it down.
I found mine at Total Wine.
And I know our BevMo had it as well I'm told.
It says that it's vanilla and mint with a hint of chocolate.
I'm not sure I really taste the chocolate.
I did the first time I had it…but then again I had it in hot chocolate. 🙂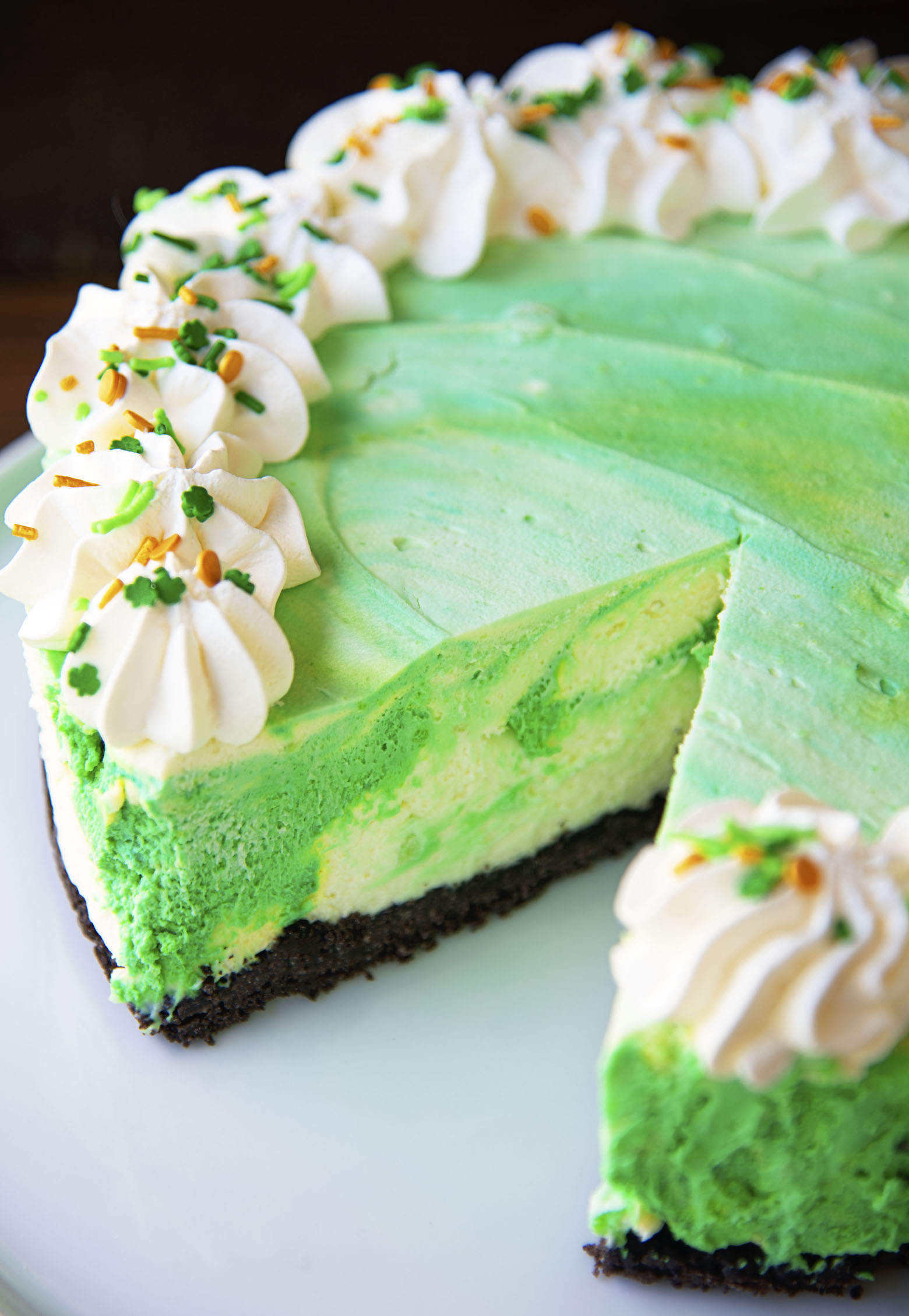 For the last couple of months I have been going through old posts on the blog.
Having a blog for almost 18 years, there are a lot of recipes to go through.
Thousands and thousands to be exact.
And I forgot about so many of them.
It's been fun actually.
And a little depressing.
Depressing because I used to write pretty good blog posts.
That had nothing to do with the food.
That's what blogs were when I first started out.
And you had a community.
I had so much of a community that readers made things for my wedding back in 2014.
That's how involved my community used to be.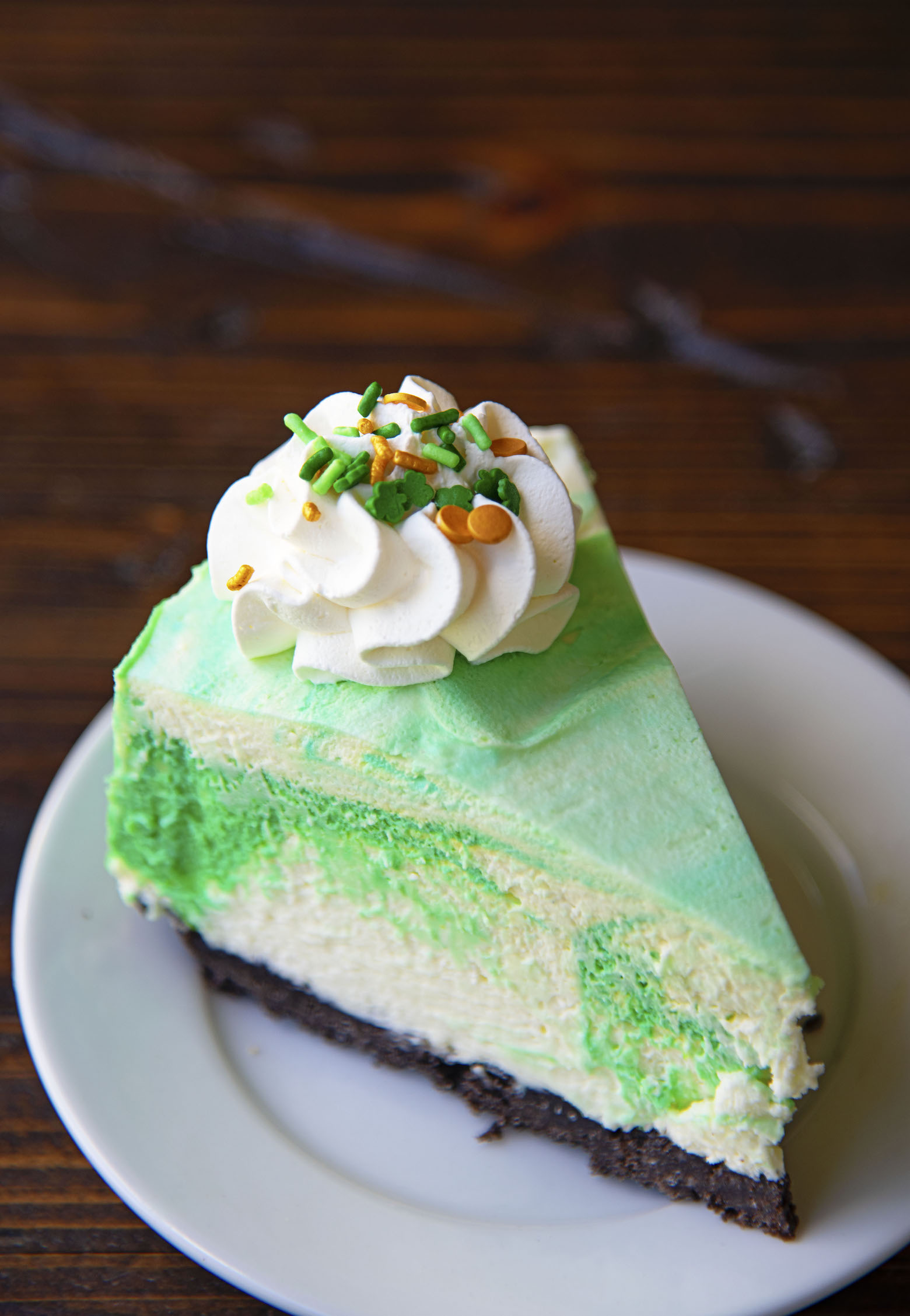 I also ran across a mousse cake.
Which reminded me how much I like mousse cake.
This one is cream cheese based.
Which makes it kind of a touch cheesecake-ish.
But not really.
As heavy cream is the main ingredient.
Even though it has rich ingredients it's actually light and refreshing.
That's the mint.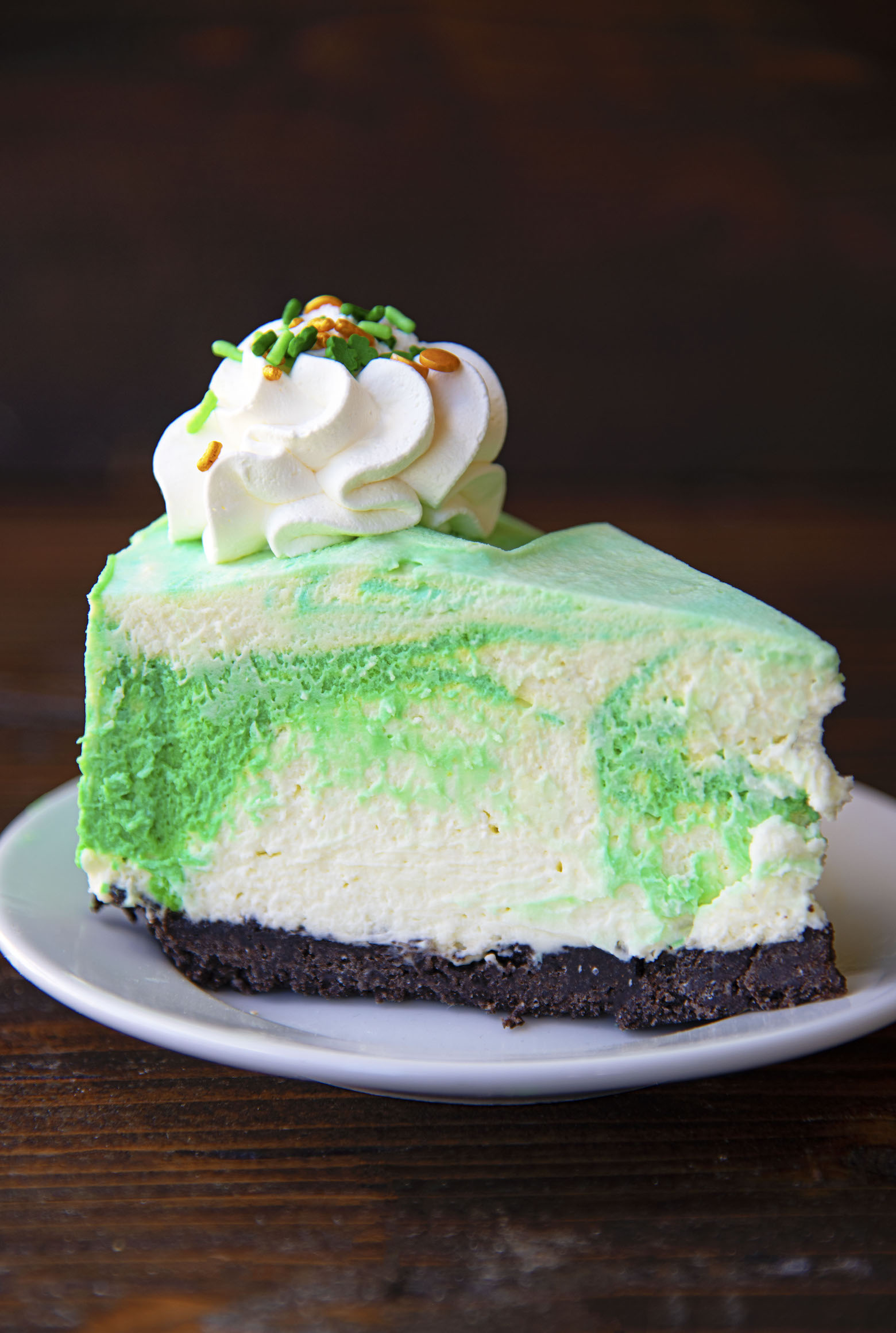 If you don't want to use the Baileys because you don't do alcohol or can't find it you can sub milk for the 6 TBSP of booze.
Or you can sub a different mint liqueur if you want.
If you skip the booze all together you may also want to up your peppermint and vanilla extract amount.
And yes, this recipe has added peppermint and vanilla.
As the liqueur alone does not have enough punch to flavor the whole cake.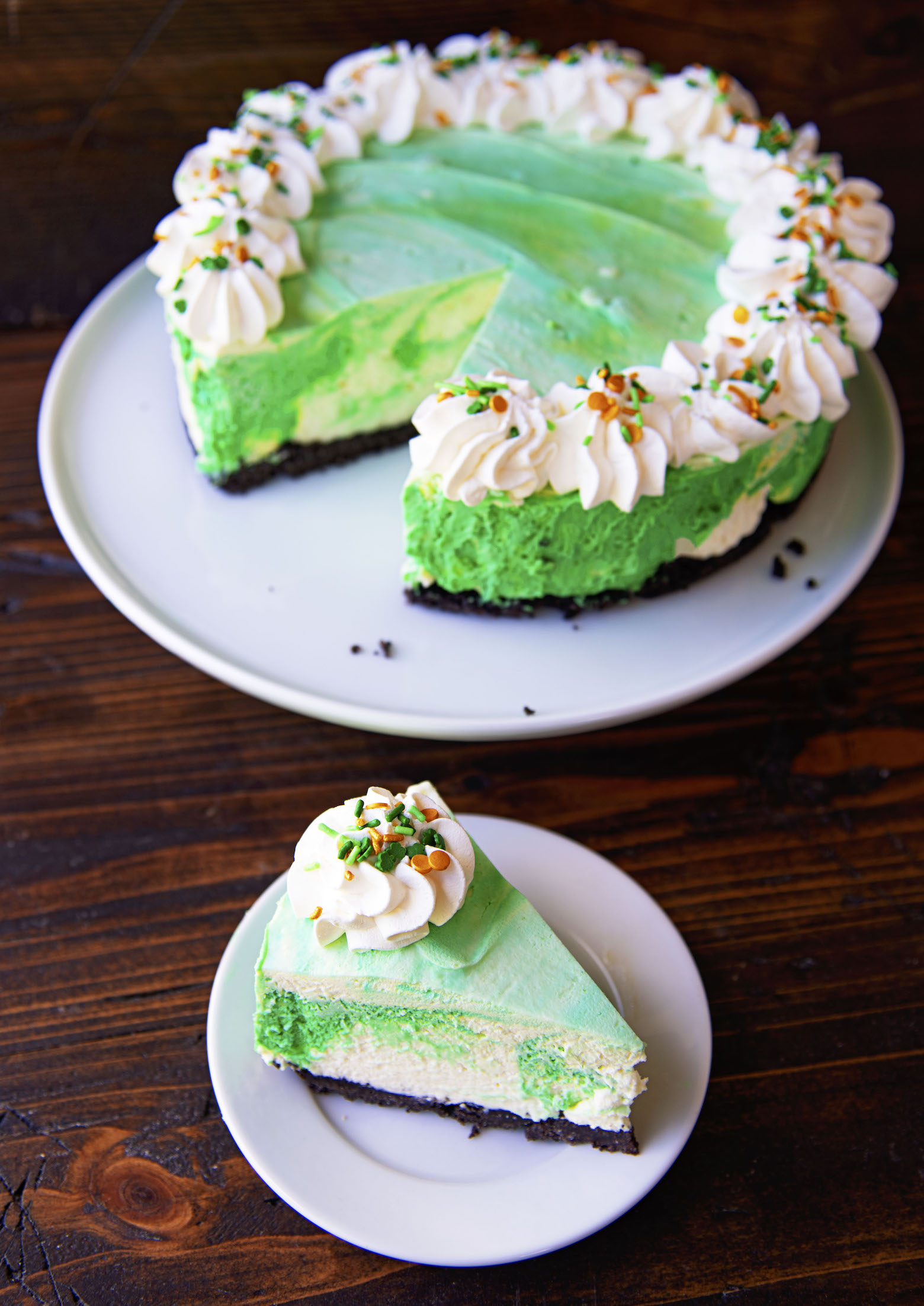 This recipe uses a Oreo cookie bottom.
I find that I like the Oreo Thins the best for crust these days.
You don't bake the crust so this mousse cake truly is fully no bake.
And as always it's a great day to order my cookbook. 
Want More Mint Recipes?
Chocolate Mint Frappuccino Cookies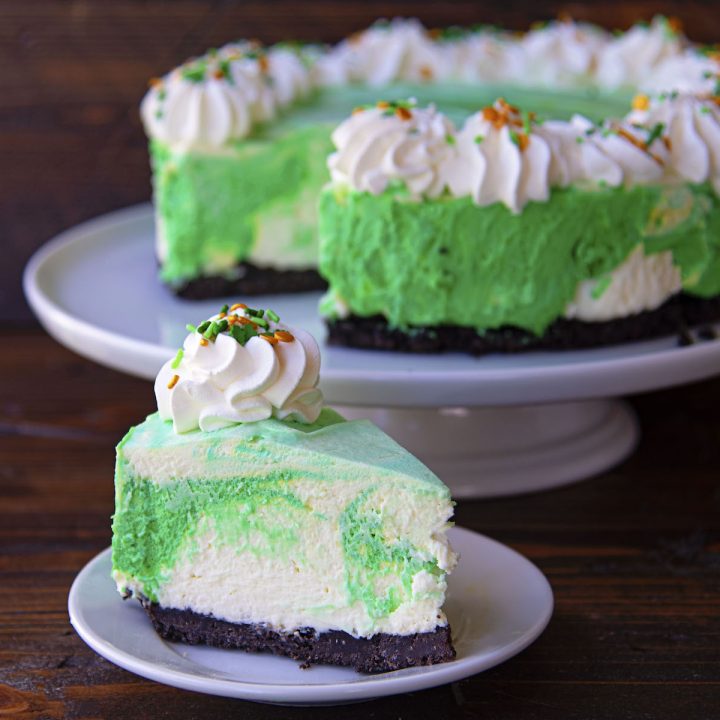 Vanilla Mint Mousse Cake
Ingredients
For the Crust:
2 cups crushed chocolate sandwich cookies (I used Oreo Thins)
½ cup unsalted butter, melted
2 TBSP granulated sugar
For the Filling:
6 TBSP Baileys Vanilla Mint Milkshake liqueur
1 envelope (about 2 ¼ tsp) unflavored gelatin
2 ½ cups heavy whipping cream, divided
10 ounces white chocolate, chopped
24 ounces cream cheese, at room temperature
1 cup granulated sugar
1 1/2 tsp vanilla extract
1 1/2 tsp peppermint extract
green food gel (optional)
Whipped cream for garnish
sprinkles for garnish
Instructions
For the crust:
In a medium bowl, combine the Oreos, butter, and sugar.
Press into the bottom and 1-inch up sides of a 10-inch springform pan. Set aside.
For the filling:
In a large bowl, combine the Vanilla Mint Milkshake liqueur and gelatin; let stand for 2 minutes.
Bring ½ cup cream to a simmer in a small saucepan.
Remove from heat, and add white chocolate, stirring until smooth.
Stir in the gelatin mixtures, and allow to cool.In a large bowl (or use a stand mixer), beat cream cheese, sugar, vanilla extract, and peppermint extract at medium speed with an electric mixer until combined.
Slowly beat cooled white chocolate mixture into the cream cheese mixture.In a large bowl, beat remaining cups cream at high speed with an electric mixer until soft peaks form.
Fold into white chocolate mixture.
Remove half the mixture and place in a medium sized mixing bowl. Set aside.
Add green food gel to the remaining mousse and mix until the mousse is green throughout.
Alternate adding the two mousses into prepared springform pan.
Swirl with a knife.
Cover and refrigerate overnight.
Remove from fridge and gently run a knife around the edges of the pan to release the crust from the side of the pan.
Garnish with whipped cream and sprinkles.
Cut into wedges with a knife that has been dipped into hot water.