This Christmas Tree Cake Cheeseball is a festive holiday treat with creamy cheesecake dip filled with Christmas Tree Cake pieces.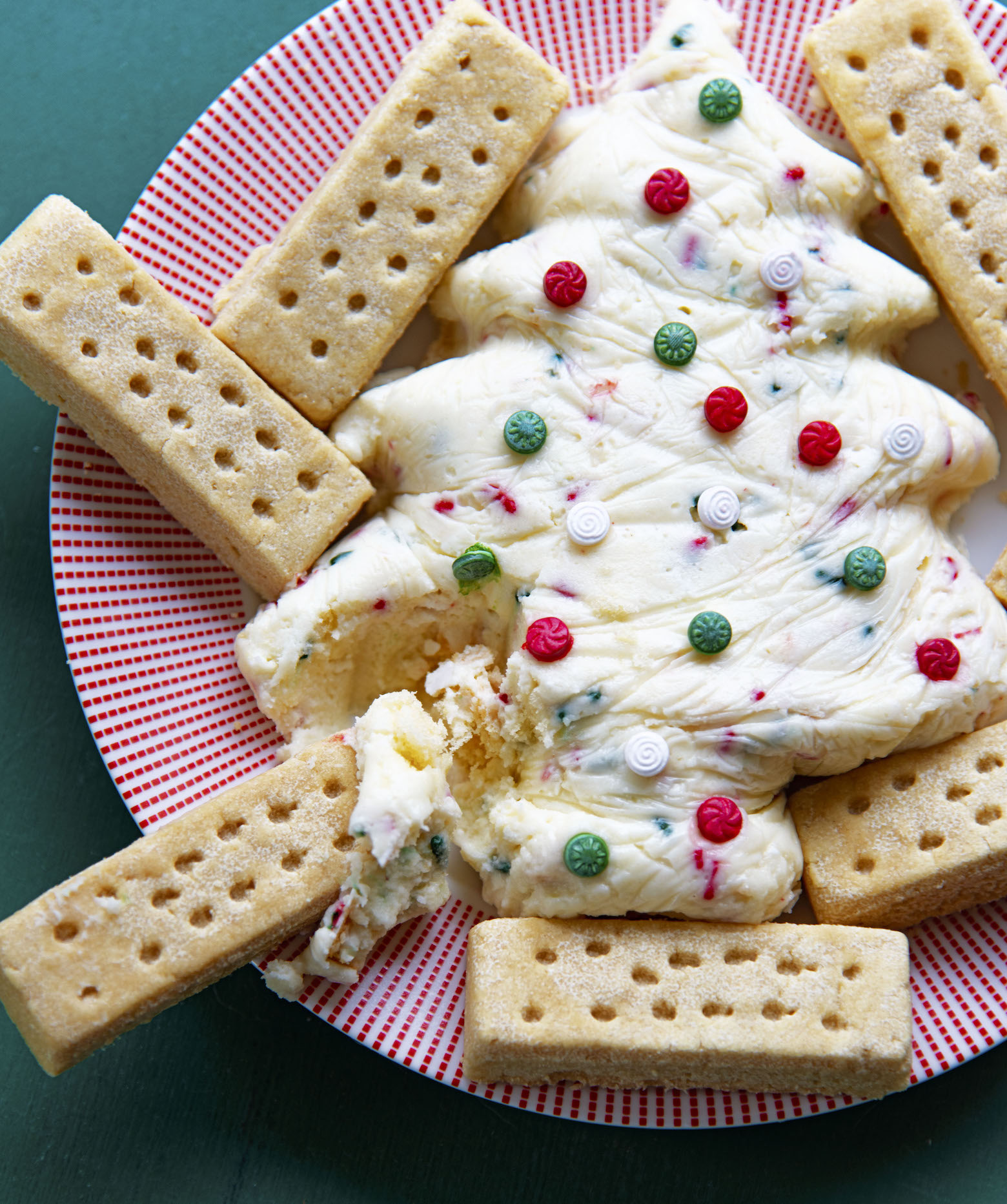 So I know you are looking at this Christmas Tree Cake Cheeseball and saying the obvious.
That's not a cheeseball.
Technically, it's not ball shaped.
But it's exactly how I make my cheesecake cheeseballs.
I just chose to put it in a tree shaped mold this time.
To mimic the Little Debbie Christmas Tree Cakes that I used in the cheeseball.
You can make yours into a ball if you really want.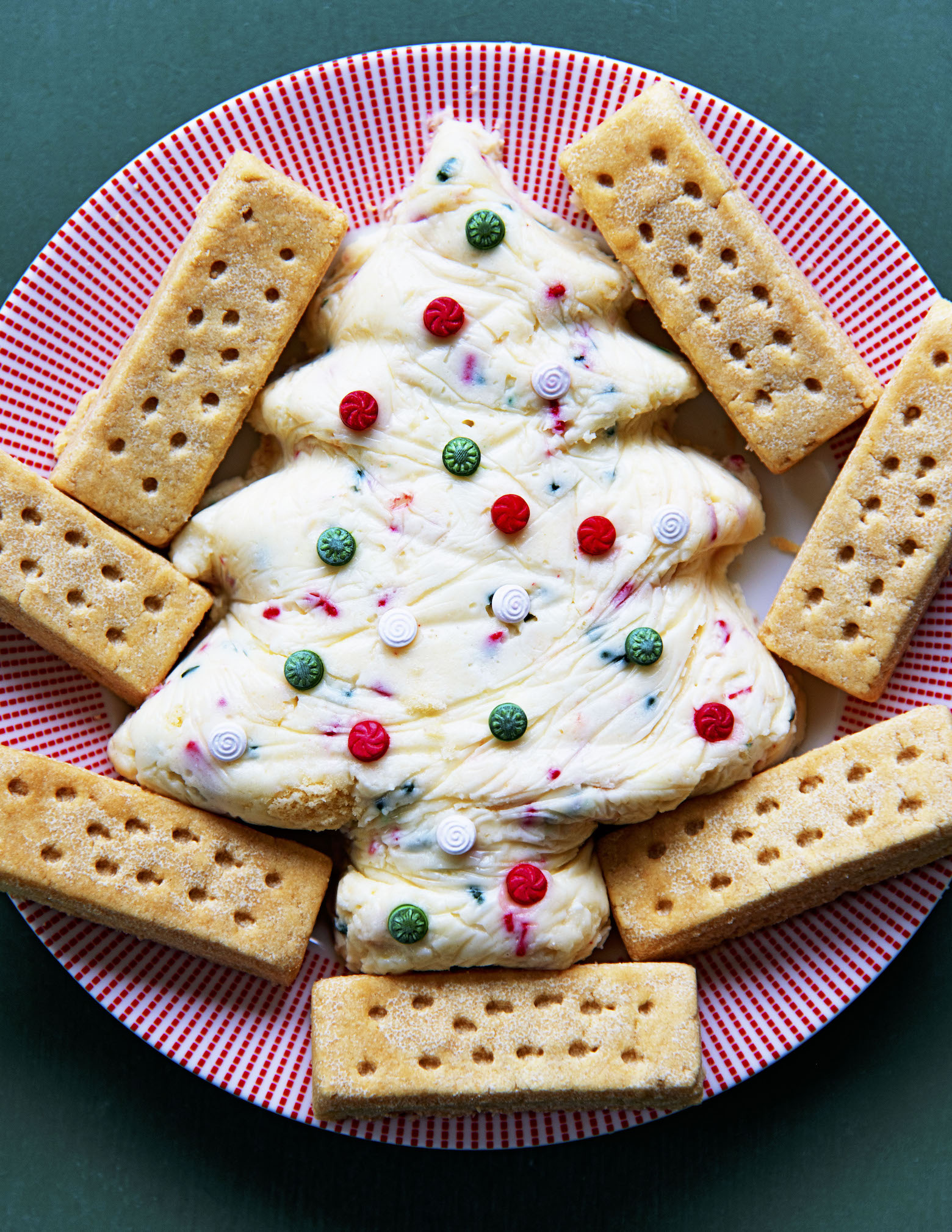 This is a pretty basic dip.
Cream cheese.
Butter.
Powdered Sugar.
Cake batter extract.
And yes, you really do need that.
It gives the cheeseball the cake flavor you want.
Some vanilla extract.
And, of course, chopped up pieces of Little Debbie Christmas Tree Cakes.
Now, if you are making this not at holiday time or you can't find the Christmas Tree Cakes just use Zebra Cakes.
They are basically the same thing.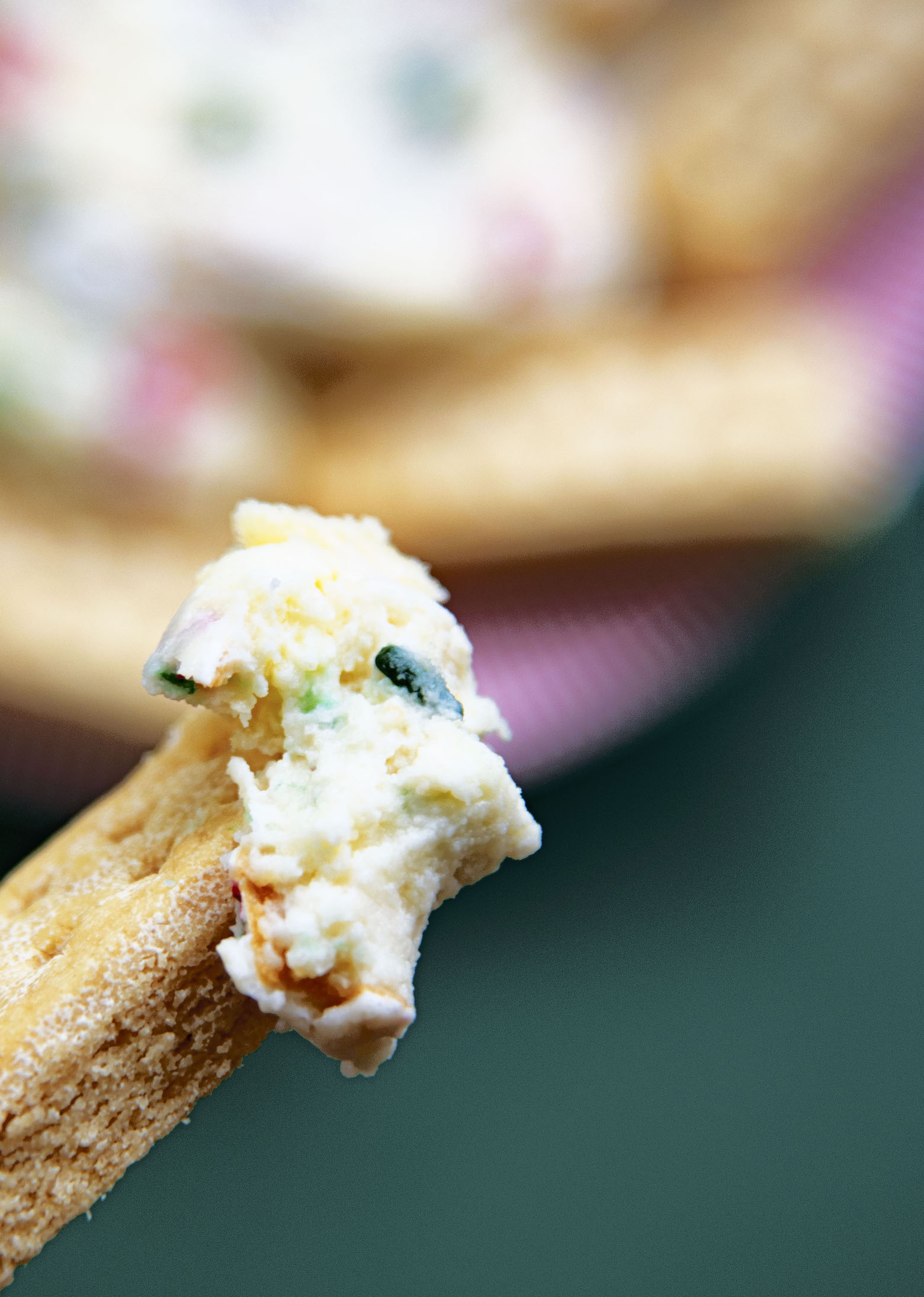 The tree molds I used were three mini tree silicone molds.
But sadly they don't sell those anymore. I can only find similar ones which I linked in the recipe.
You don't have to but I chose to use cling wrap laid down instead of going directly into the mold.
Since when I tried it in the past the cheesecake sort of stuck to part of the mold and I wanted to avoid that from happening.
I thought about covering it with white sprinkles and then pipe some red buttercream on it.
To look like the actual Christmas Tree Cakes.
But this years theme around here is lazy Christmas.
So I skipped that.
Feel free to do that if you want.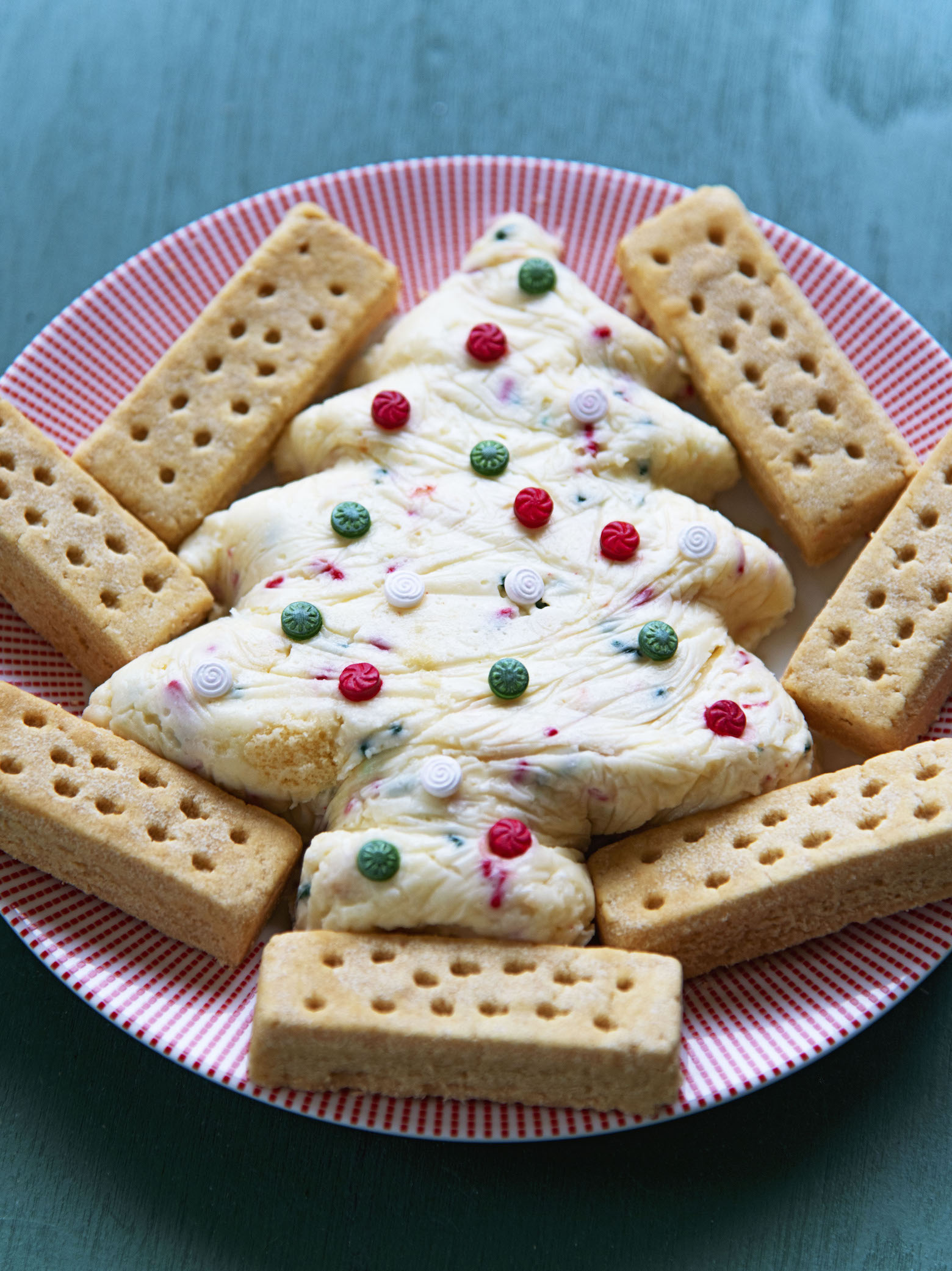 How many tree cakes you use is up to you.
I used six but I really like cake. 🙂
You can use more or less depending on your tastes.
I served this with shortbread cookies.
Mostly just because that's what we had on hand.
But vanilla wafers, Golden Oreos, graham crackers, wafer cookies, etc would all work great.
P.S. It's a great day to buy my cookbook Holy Sweet!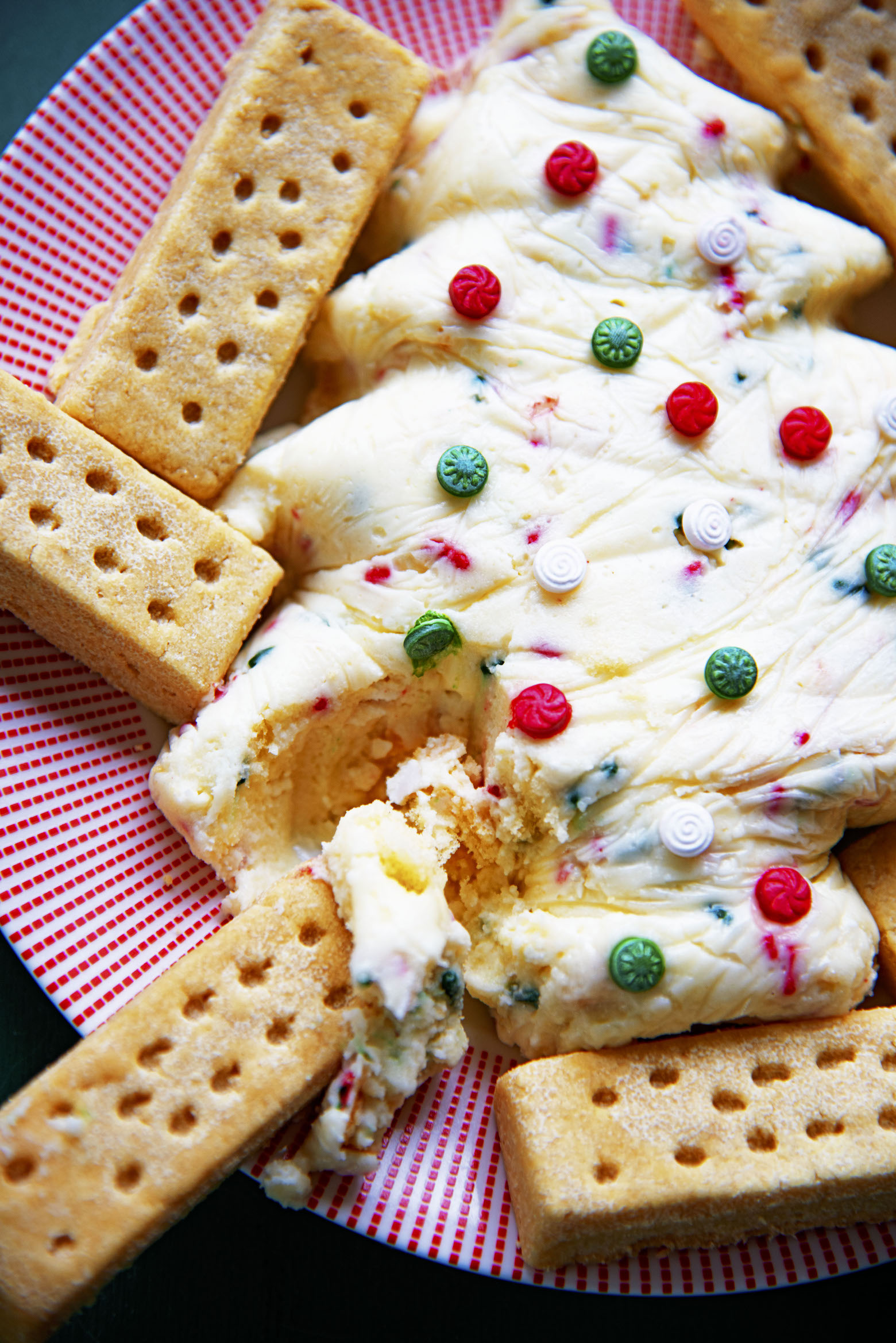 Want More Cheesecake Cheeseball Recipes?
Cake Batter Cheesecake Cheeseball
Banana Split Cheesecake Cheeseball
Sugar Cookie Cheesecake Cheeseball
Gingerbread Cheesecake Cheeseball
Circus Animal Cookie Cheesecake Cheeseball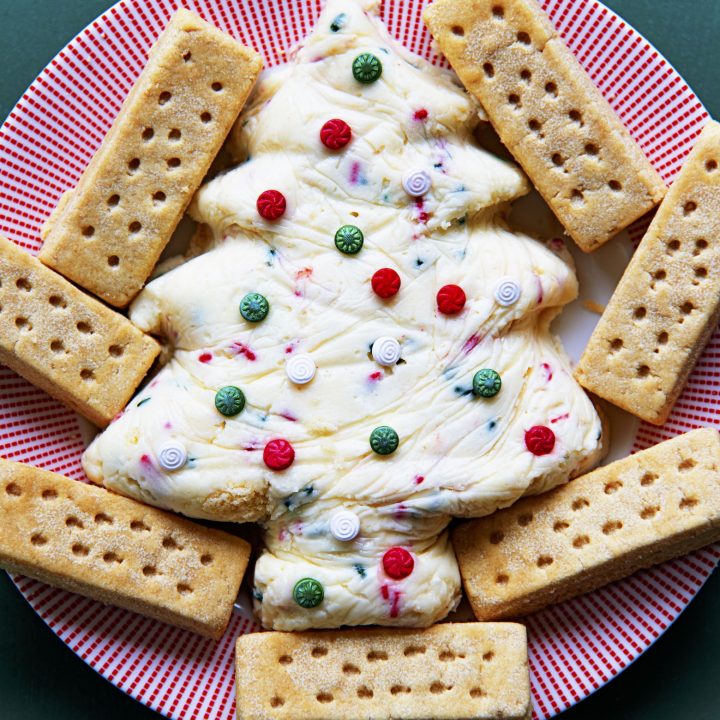 Christmas Tree Cake Cheeseball
Ingredients
16 oz. cream cheese, at room temperature
1 cup unsalted butter, at room temperature
½ tsp. vanilla extract
1 ½ cups powdered sugar
4-6 Little Debbie Christmas Tree Cakes (or Zebra Cakes)
1 cup holiday colored sprinkles
Instructions
Using a stand mixer with a paddle attachment beat together the cream cheese and the butter until fully incorporated.
Add the powdered sugar, cake batter extract, and vanilla extract and beat until fully incorporated.
Fold in the cake pieces and sprinkles. Mix until fully combined.
Lay out a piece of plastic wrap into the christmas tree mold. and scoop the cream cheese mixture into the mold. I used three small tree molds.
You can also just make it into a ball shape. Simply lay out a piece of plastic wrap and scoop the cream cheese mixture onto it. Do your best to form a ball, then wrap up the ball in the plastic wrap. Do an extra layer of plastic wrap to help it keep its shape.
Freeze for about 2 hours.
Take the tree molds or ball out of the freezer and unwrap.
If making trees decorate with some festive round sprinkles to look like ornaments.
If making the ball.
Place the sprinkles in a low shallow baking dish or jelly roll pan (I find a plate too small).
Roll the ball in the sprinkles making sure you cover as much of it as you can.
Wrap the ball back up into some plastic wrap and place in the fridge.
If not serving that day, place back in the freezer and then take out an hour before serving to come up to room temperature.
Serve with assorted cookies.