These Orange Gingerbread Cinnamon Rolls have a gingerbread dough filled with cinnamon sugar and topped with orange glaze.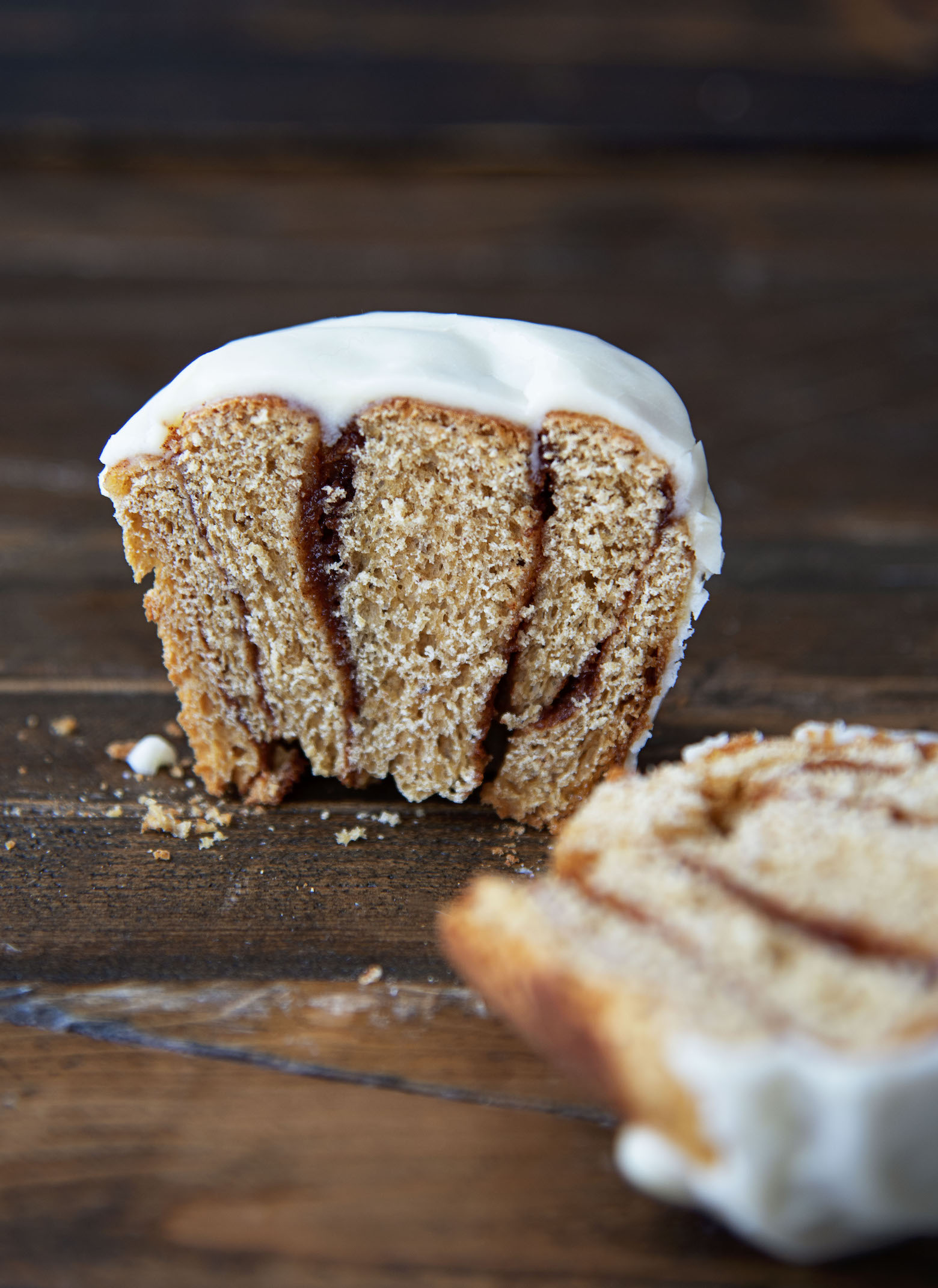 These Orange Gingerbread Cinnamon Rolls were made for holiday brunch.
While the tradition Christmas breakfast at my house is two frosted sugar cookies and hot chocolate with a candy cane in it (Buddy the Elf would be jealous).
However, we do have brunch later on that day.
Nothing too fancy as I am usually busy making things for Christmas dinner.
But they always involve cinnamon rolls.
Mostly because you can make them ahead of time.
And, of course, because they are yummy.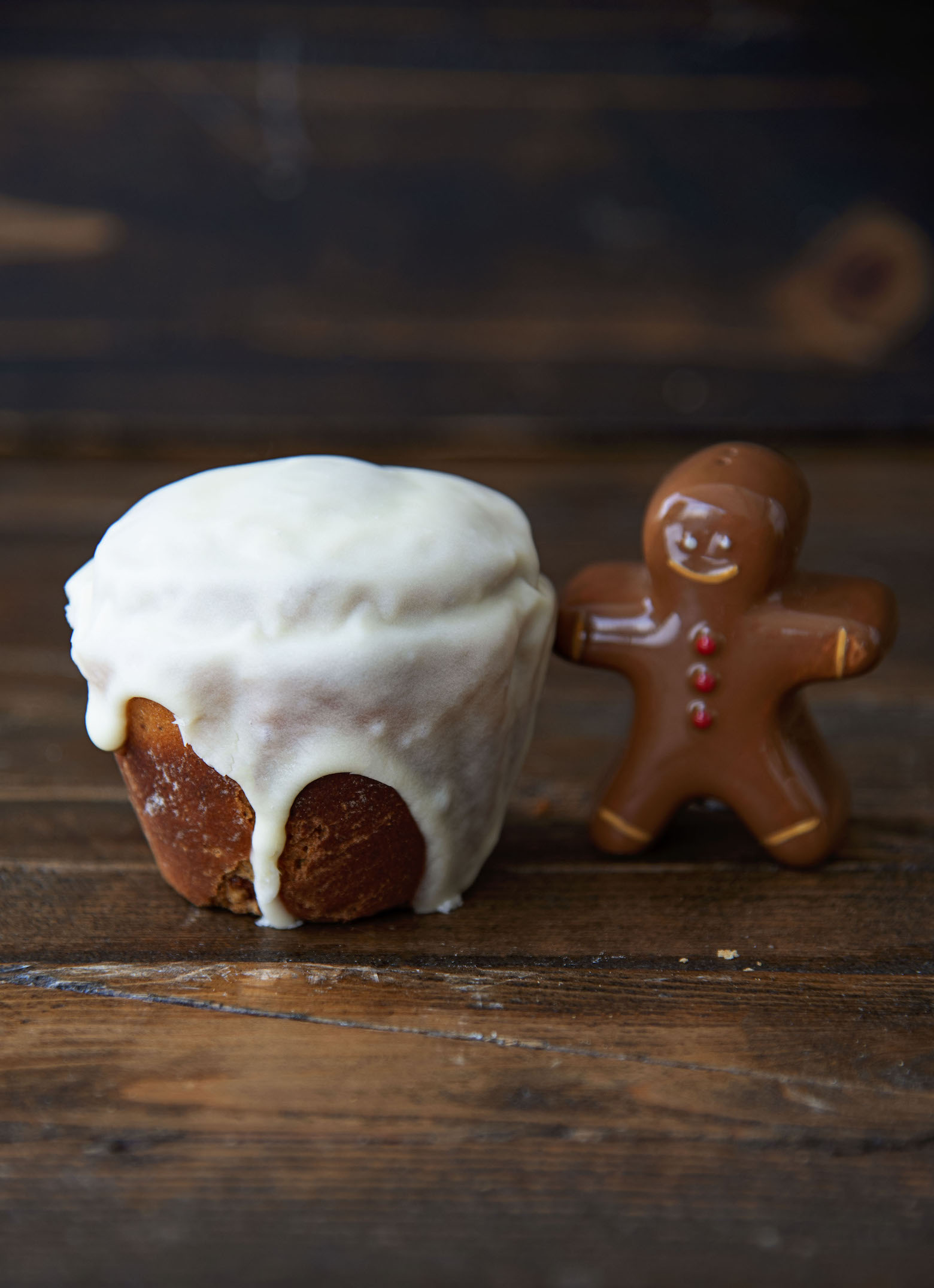 Every year I do a different variation.
This year we are going the gingerbread route.
Gingerbread and orange is one of my favorite combos.
Plus growing up we always had Pillsbury orange rolls instead of plain cinnamon rolls.
Because we loved the orange frosting.
I made two different thicknesses for the icing.
A thick one that you can see in most of the photos.
And a very thinned down one.
I did the thinned down one because it shows the swirls of the cinnamon rolls.
However, being a frosting loving gal I iced most of my rolls with the thicker icing.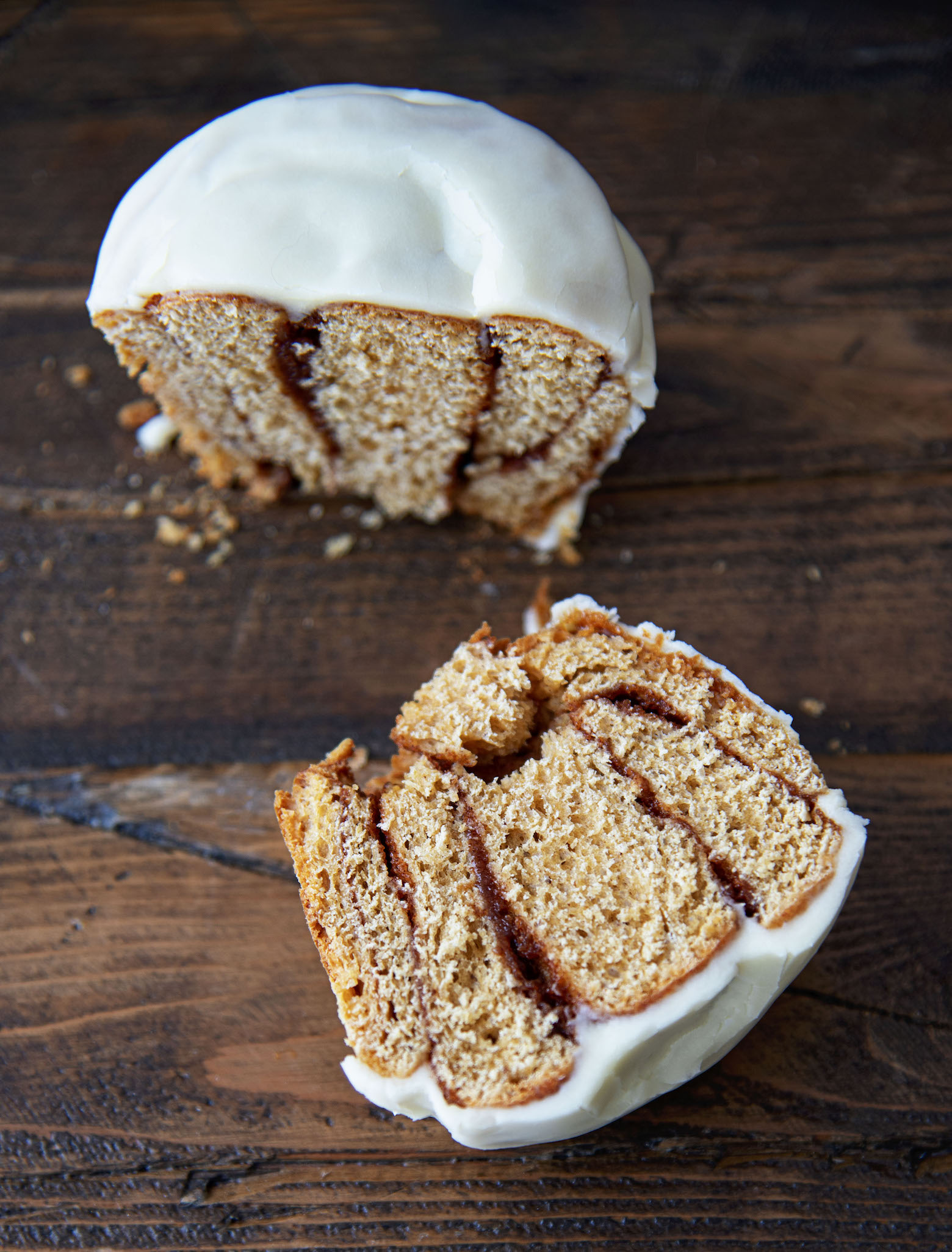 If you want fresh from the oven cinnamon rolls you can make this recipe right up to the point where you slice them and place them in the muffin tins.
Then instead of letting them rise, place them in the fridge for a slow rise overnight.
The next morning, take them out of the fridge, and let sit at room temperature for about 20 minutes.
Then bake them off just like it says in the instructions.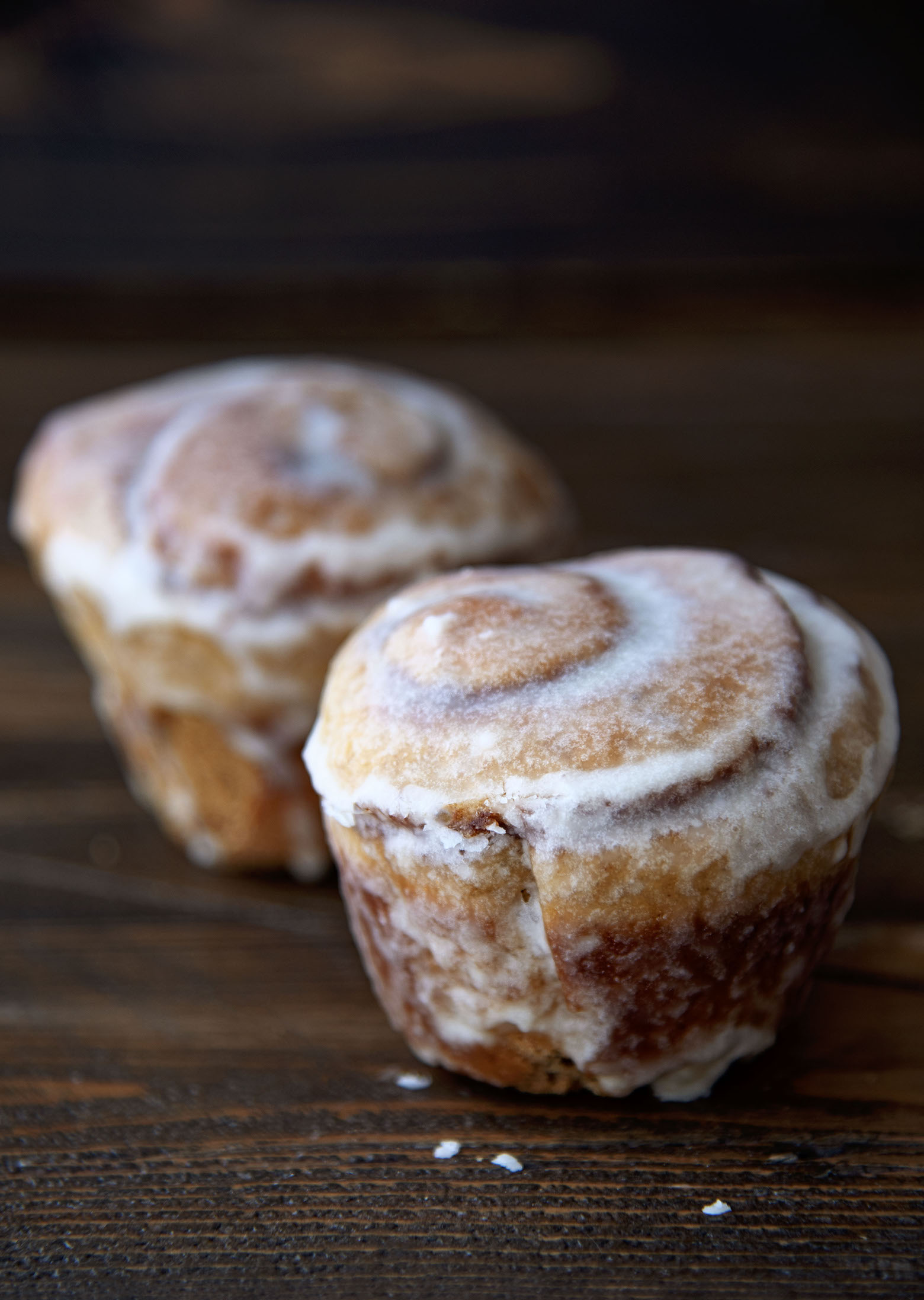 Things to Remember when Baking with Yeast:
Don't be afraid of it.
A lot of people are intimidated by yeast and end up not making yummy recipes because of it.
If your yeast baked goods are not rising it is most likely two culprits.
You didn't check the expiration date.
Or the water was too hot.
The expiration date is important and not a guideline.
Yeast is a living thing and it does expire.
So always check the date.
The other big killer of yeast is water way too hot.
If it's too hot for you to touch, then it's too hot for the yeast.
Dough not rising and you checked the date and you didn't use too hot of water/milk?
Most likely it's just cooler in your house then you realize.
My yeast bakes always take longer to rise if I don't use my proofer.
Yes, I own a proofer and I love it.
But if I do room temperature it's never the 75F when I bake…unless of course it's summer.
But I most bake with yeast in the fall and winter.
P.S. It's a great day to buy my cookbook Holy Sweet!
Want More Sweet Roll Recipes?
Peanut Butter and Jelly Sugared Buns
Creamsicle Crumb Topped Cinnamon Rolls
Bourbon Brown Sugar Caramel Peach Sweet Rolls
Cream Cheese Frosted Gingerbread Sweet Rolls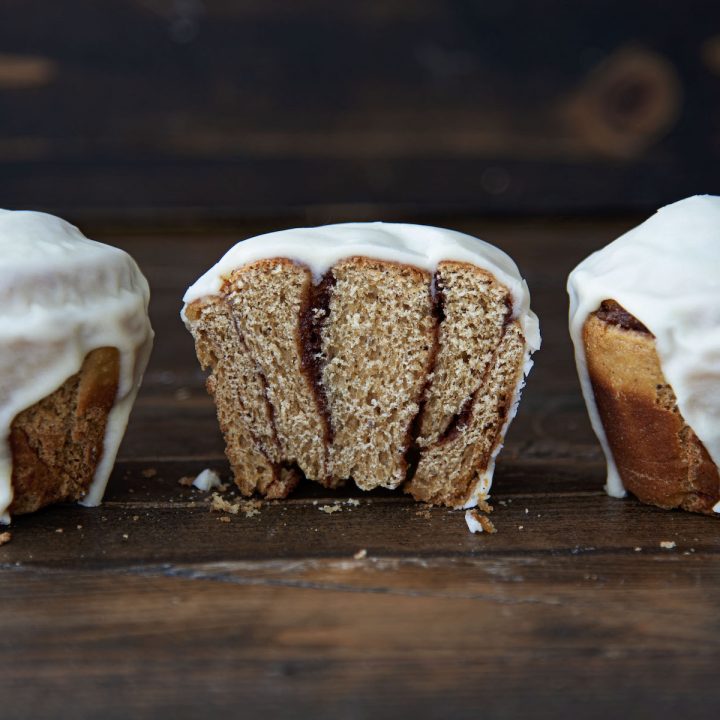 Orange Gingerbread Cinnamon Rolls
Ingredients
For the rolls:
1/2 cup warm milk, 110 - 115F
tap here
1 TBSP active dry yeast (I used Red Star Yeast Platinum)
1/2 cup whole fat buttermilk, at room temperature
2 large eggs
zest of one orange
1/3 cup plus 1/2 tsp granulated sugar, divided
1/3 cup molasses
1 TBSP gingerbread spice (I used McCormick)
1 tsp. salt
1 tsp. vanilla extract
6 TBSP unsalted butter, melted and slightly cooled
3 1/2 - 4 cups bread flour
For the filling:
6 TBSP unsalted butter, super soft but not quite melted
1 cup packed brown sugar
2 TBSP cinnamon
For the Glaze:
2 TBSP melted butter
1 ½ cups powdered sugar
1/4-1/2 cup orange juice
Instructions
For the Buns:
Using a stand mixer with the paddle attachment add the yeast, warm milk, and 1/2 tsp. granulated sugar.
Let rest for 5-10 minutes to proof…the batter will puff up. If it does not then your yeast is bad and rolls won't rise so best to throw out and start again with different yeast.
Add in buttermilk, eggs, orange zest, 1/2 cup granulated sugar, molasses, gingerbread spice, salt, vanilla, and melted butter and mix until fully combined.
Add in 2 1/2 cups of the flour and mix until fully combined.
Switch to a hook attachment then add another 1 cup flour. Knead mixture until combined.
Continue to knead on low speed about 5 - 6 minutes while adding a little more flour as needed to reach a soft and moist dough (Dough shouldn't stick to the sides of the bowl but does stick to the bottom).
Transfer dough to an oiled bowl, cover with plastic wrap (I find press and seal works best) and let rise in a warm place until doubled in volume, about 1 1/2 hours.
Punch dough down.
Dust a working surface lightly with flour and turn dough out onto surface.
Sprinkle top of dough with a little flour then roll dough out into an 20 by 18-inch rectangle.
In a small mixing bowl whisk together butter, maple syrup, brown sugar, and cinnamon. Sprinkle and spread cinnamon maple mixture evenly over the buns.
Beginning on an 18-inch side tightly roll dough into a cylinder. Pinch the seam to seal (brushing a little egg white underneath helps if needed or I just use a toothpick).
Cut into 12 equal portions using a large sharp knife (they should be 1 1/2-inch each).
Transfer the log to a baking sheet, cover with plastic wrap and freeze for 10 minutes. This will make cutting the buns clean and even.
Remove from freezer, cut buns into 1 ½-inch pieces, you should get around 12.
Place them into a standard muffin pan with cupcake liners. I use THESE because they help the bun rise up not out.
Wrap with plastic wrap and let rise at room temperature for 1 ½ to 2 hours. The cooler your house is the longer it will take.
Bake at 350F for 25-30 minutes.
Remove from oven and cool slightly on wire rack.
Remove buns from muffin tins (and liners). The buns will be very soft. Let them cool on a baking sheet and they will get a little more firm.
For the Dusting:
Mix together the 1 cup maple sugar and 1/2 tsp sea salt.
Brush the buns liberally with melted butter and gently roll in maple sugar mixture.
While buns are cooling make glaze.
For the Glaze:
Simply whisk together the butter, powdered sugar, milk, maple syrup, and salt in a medium bowl.
When buns are cool pour glaze over the top of them.
Let it firm up, which will take about 30 minutes.