This Gingerbread Peach Dump Cake has a peach pie filling bottom and topped with a crisp gingerbread cookie crust. Easy to make!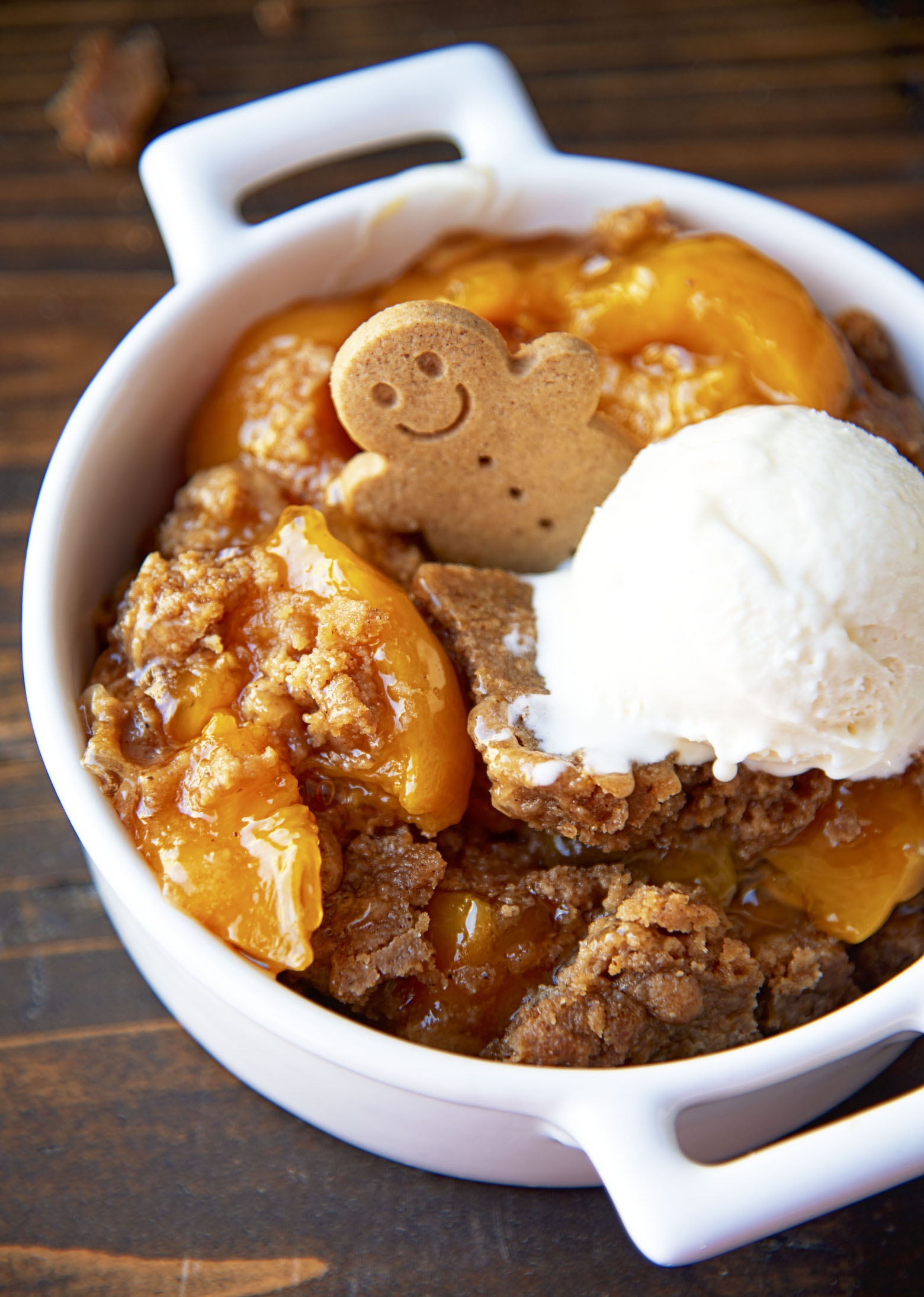 If easy is what you are looking for then this Gingerbread Peach Dump Cake is perfect for you.
Don't worry it's tasty too.
But I know the closer we get to Christmas the less complicated I want.
And you can't get less complicated than a dessert with only three ingredients.
Yep, three.
Canned Peach Pie Filling.
Gingerbread Cookie Mix.
And Unsalted Butter.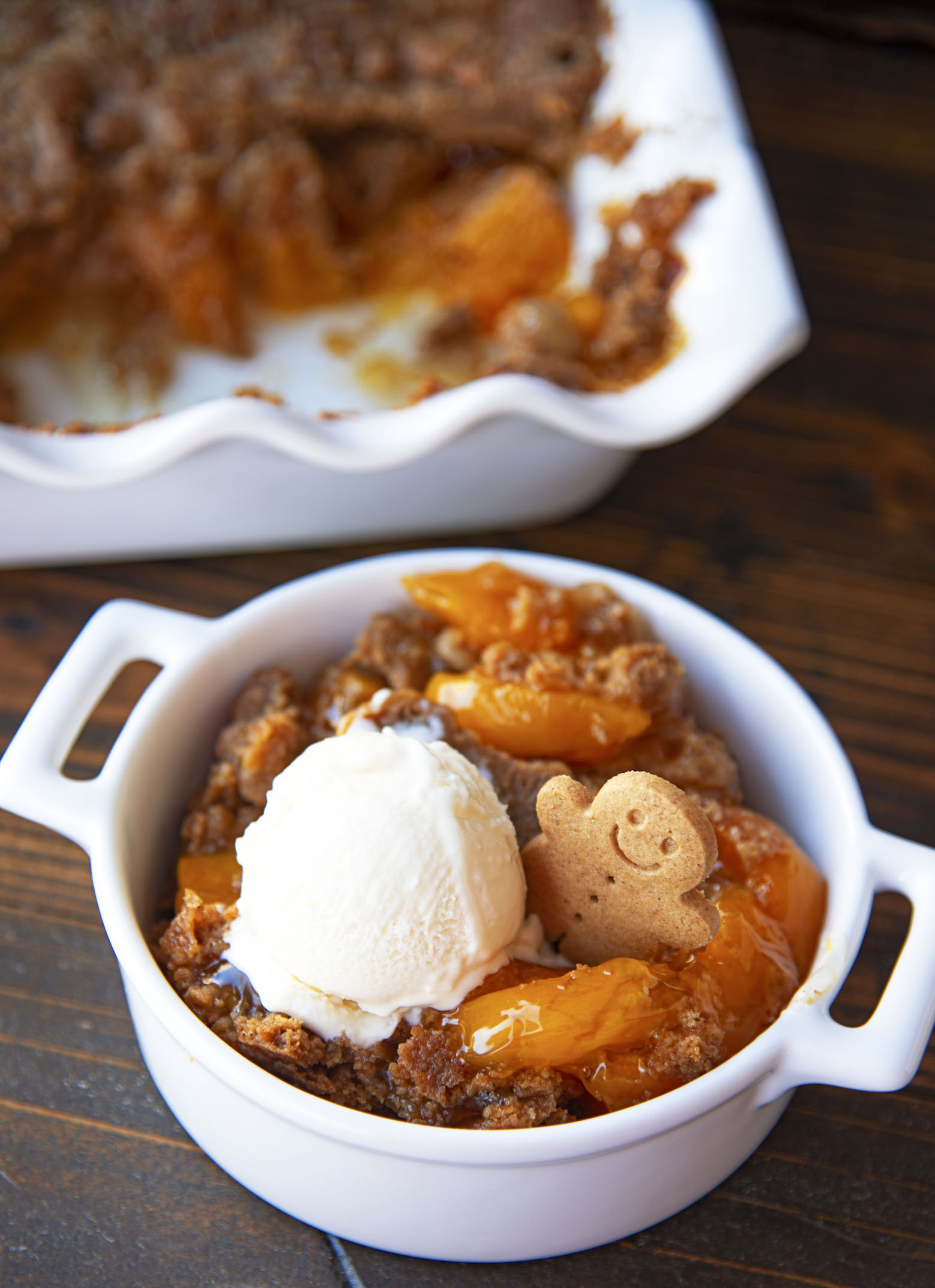 Does it have to be peach pie filling?
Technically no.
But I have experimented with a few pie fillings and peach is by far the winner.
Peach and ginger just go together.
So it makes sense that peach and gingerbread would go together.
If you change the pie filling flavor just make sure the can sizes are the same as used in the recipe.
Do I have to use gingerbread cookie mix?
That is also a no.
You can use gingerbread cake mix.
This is called dump cake after all.
However, I find the cookie mixes give make for a nice crunch topping.
If you use the cake mix expect a softer top.
Do I have to use all the butter?
That is up to you.
Some like less butter.
I am not that person. 🙂
You need enough butter to completely cover up the dry cookie mix.
If you can do that with less butter feel free.
But if you can't…you need all the butter.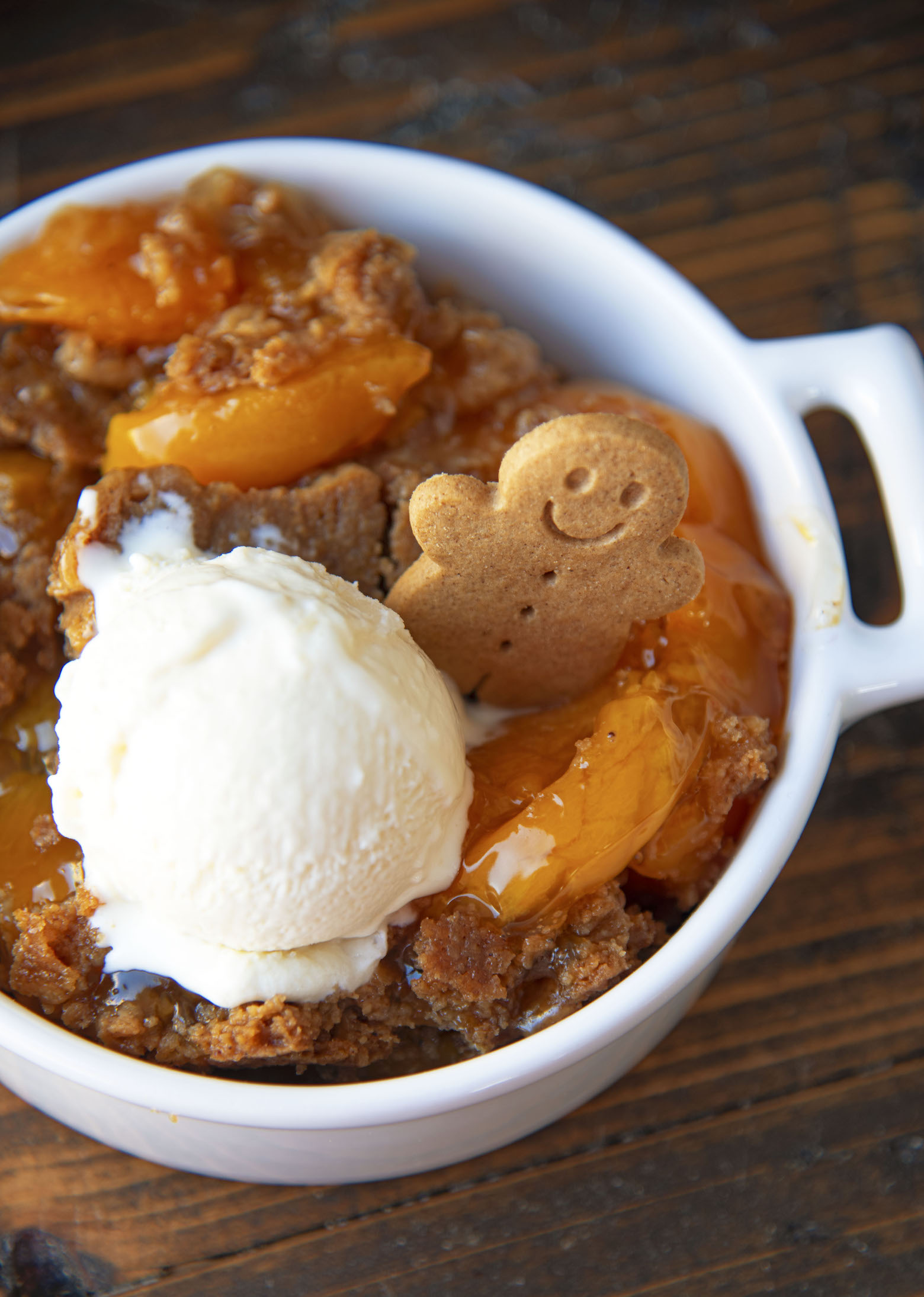 What if I don't have a 9-x-9-inch pan?
You can bake this in either an 8-x-8-inch pan but may have to bake it longer if you do.
Or you can bake it in a 9-x-13-inch pan but you will have a more shallow dump cake.
And have less fruit per scoop.
Dump cake can be served warm or at room temperature.
I prefer room temperature.
And I have been known to eat it cold out of the fridge.
You can serve it with either ice cream or whipped cream.
And I suggest also serving it with a little gingerbread man cookie for each person.
P.S. It's a great day to buy my cookbook Holy Sweet!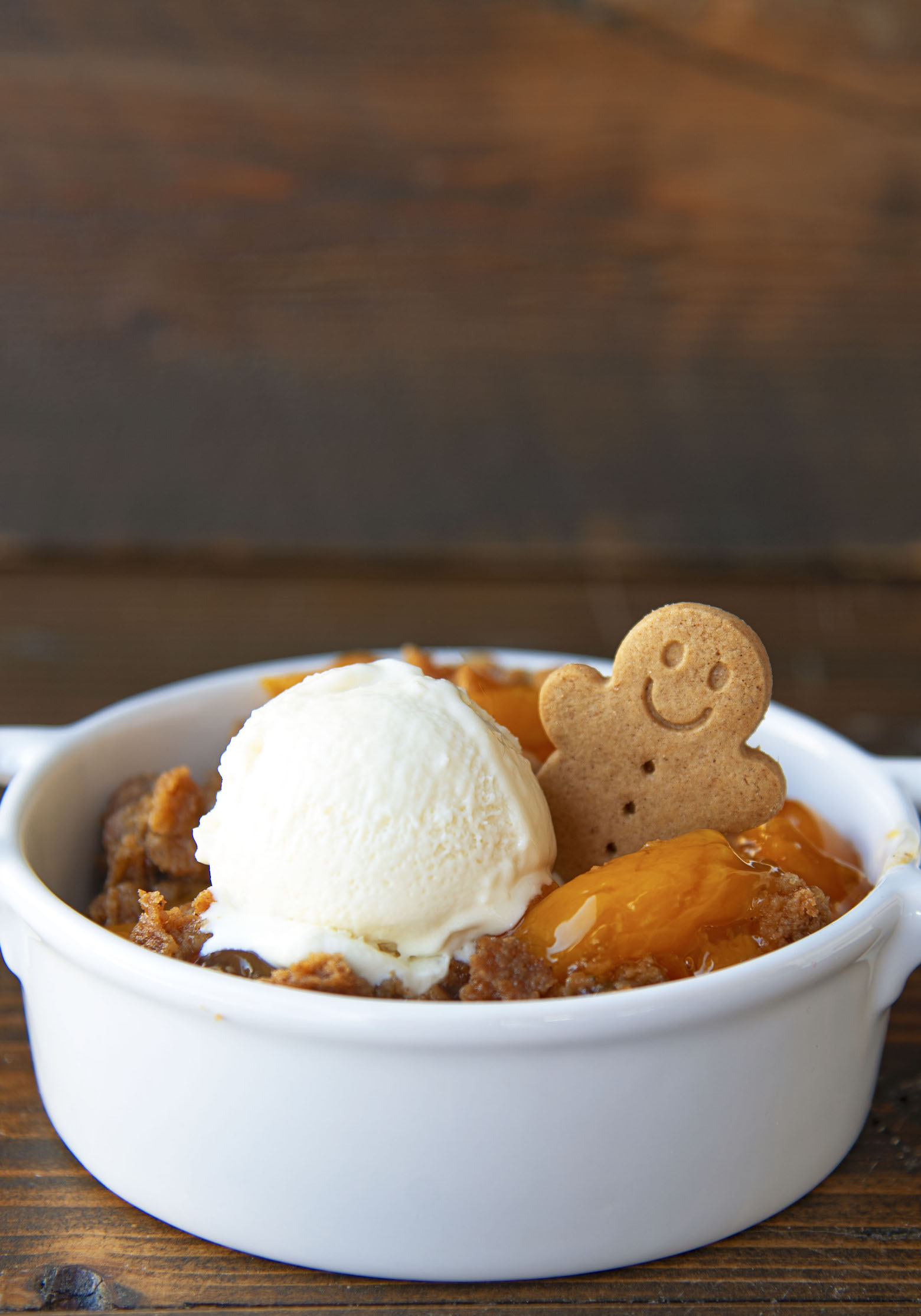 Want more Dump Cake recipes?
Peach Blackberry Oatmeal Cookie Cobbler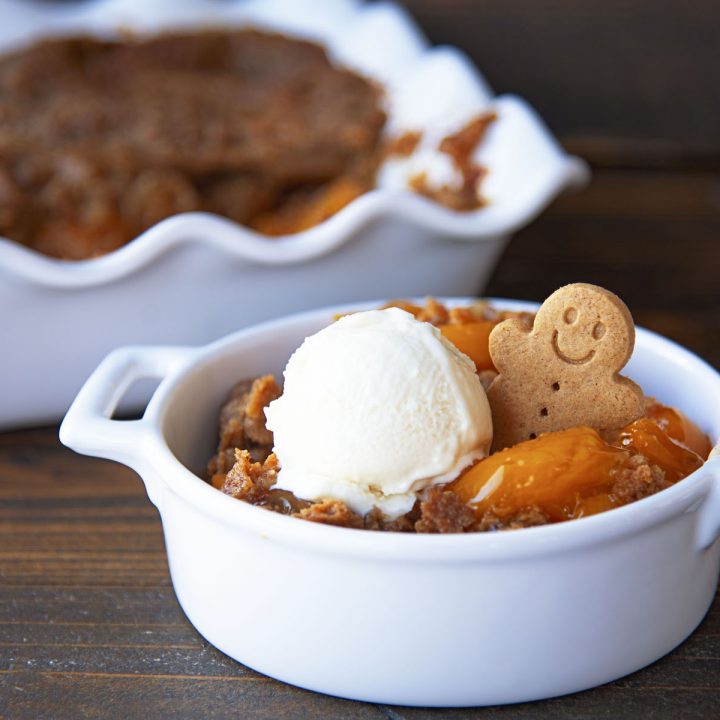 Gingerbread Peach Dump Cake
Ingredients
1 (17..5 oz) box Gingerbread Cookie Mix
2 (.21 oz ) cans peach pie filling
8oz (1 cup) salted butter, melted
gingerbread men cookies
Instructions
Heat oven to 350F.
Spray a 9×9 inch pan with baking spray.
Dump the cans of peach pie filling into the pan.
Spread the fruit around with a spatula to make even.
Sprinkle cookie mix over peach pie filling doing your best to evenly distribute the mix.
Pour butter evenly as best you can over the cake mix.
Bake for 50-60 minutes.
Remove from oven.
You can serve dump cake either warm, room temperature, or cold. I prefer Room temperature or cold but that's just my opinion.
I serve it with either whipped cream or ice cream and a gingerbread man cookie