This Sweet Corn Upside Down Cake is a twist on a classic using fresh sweet corn all topped with salted caramel and ice cream.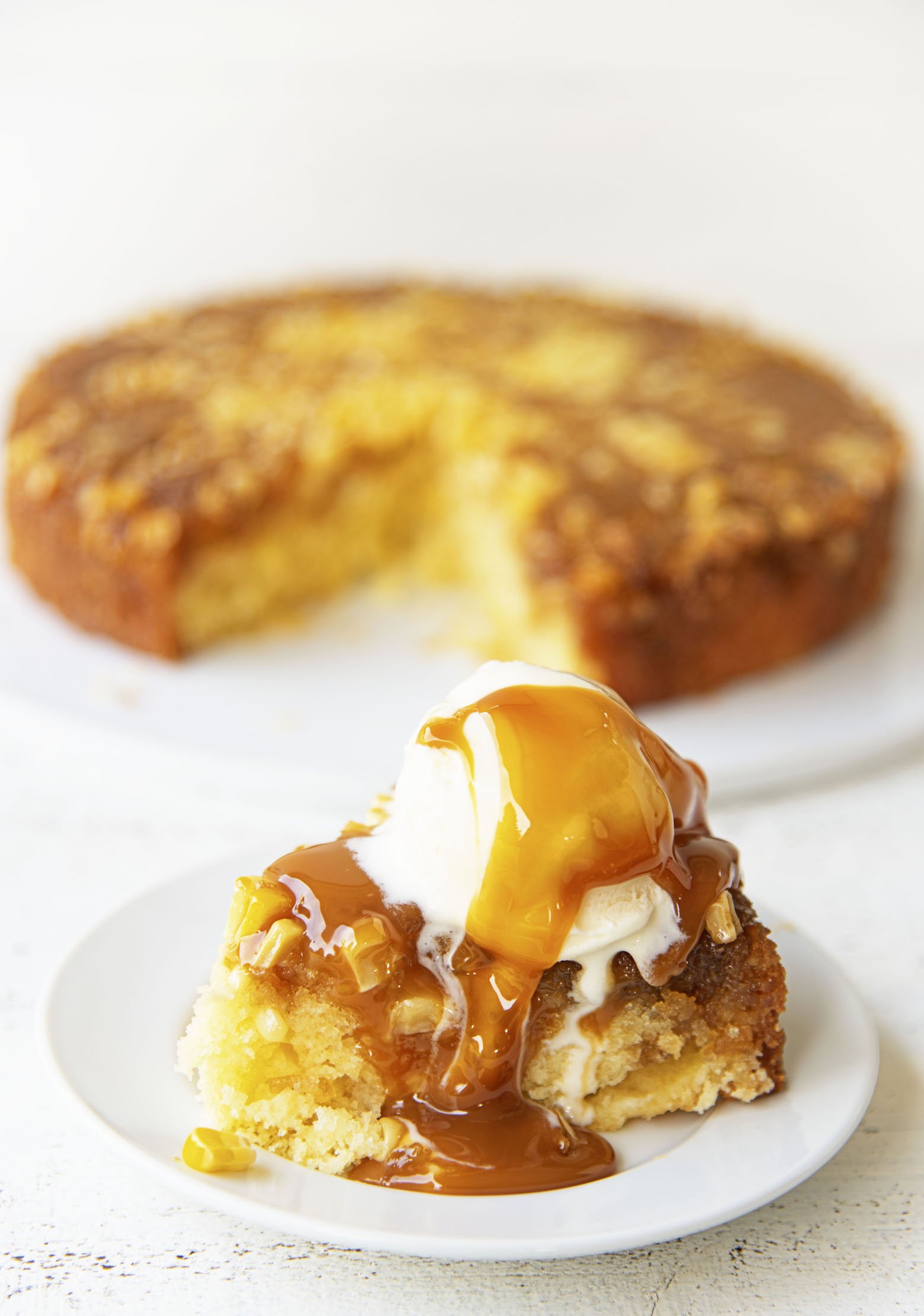 This Sweet Corn Upside Down Cake is a baking experiment that turned out fantastic!
It's still corn season around here because we had an insane summer.
And man oh man did it mess with our poor farmers.
I try really hard to be a local girl and only use local produce.
Usually, it's all timed out.
Summer goes, strawberries, then raspberries and tayberries (regional), cherries (and other stone fruits), then blackberries.
Then sunflowers and corn.
Apples follow.
And, then of course, the biggie…pumpkins.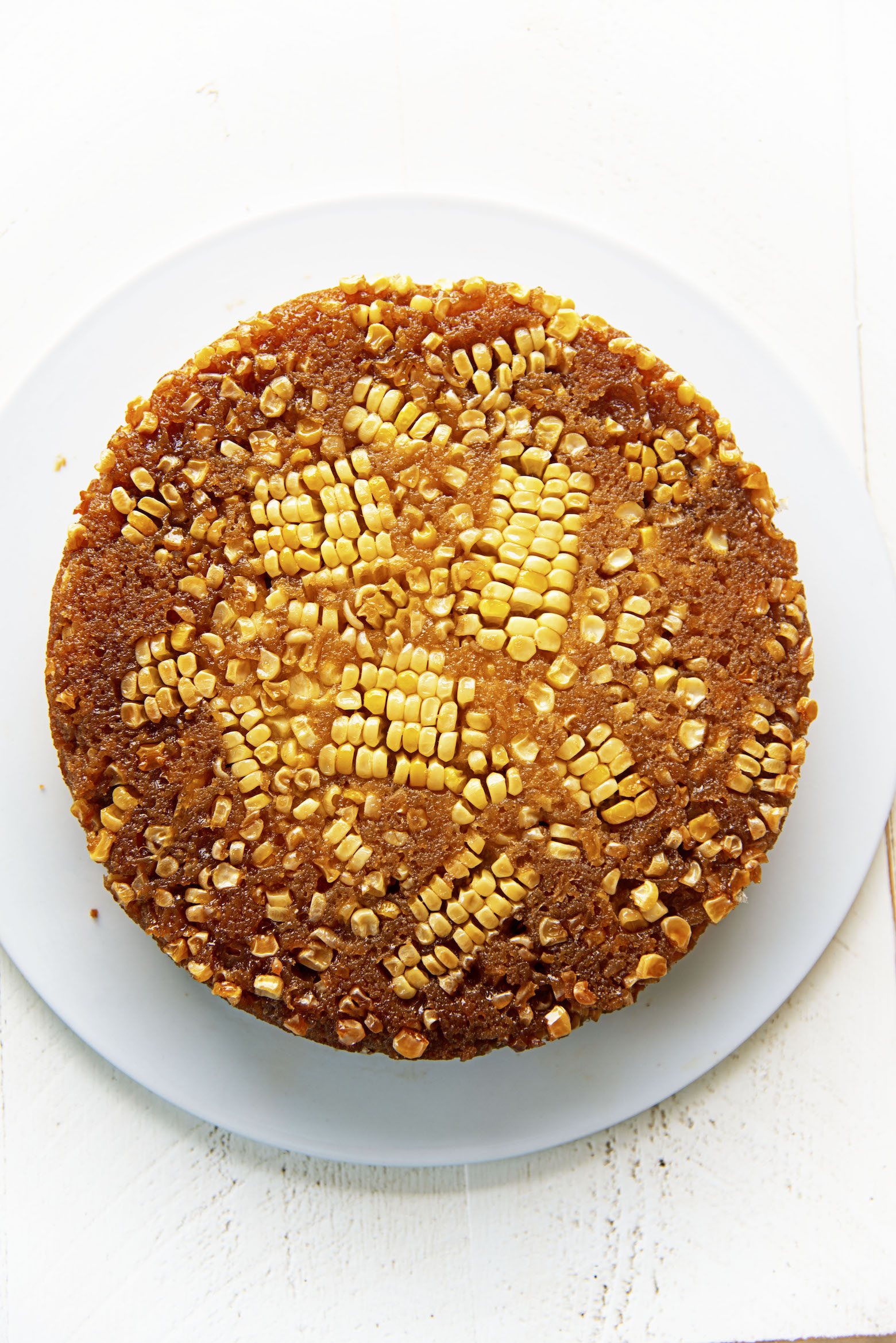 I plan my baking around it all.
All of June the farmers were thrown off because we had 50F weather and rain.
Which we tend to get rain but not that cool of weather and not every day.
Granted, I loved it because it was great baking weather.
The farmers not so much.
So the strawberries were super late because they didn't get sun.
Then when the sun did decide to show up around the PNW it turned up the dial.
And then the dial broke off.
Giving us the hottest summer on record as far as consecutive days go.
That gave us all the berries and cherries all at once.
I was frantic trying to get all the fruit I could.
Our bottom freezer broke (the fridge part works fine) in the middle of summer so we bought an upright freezer.
Man, I love that thing.
So I was able to freeze some raspberries, blackberries, black currants, gooseberries, and tayberries.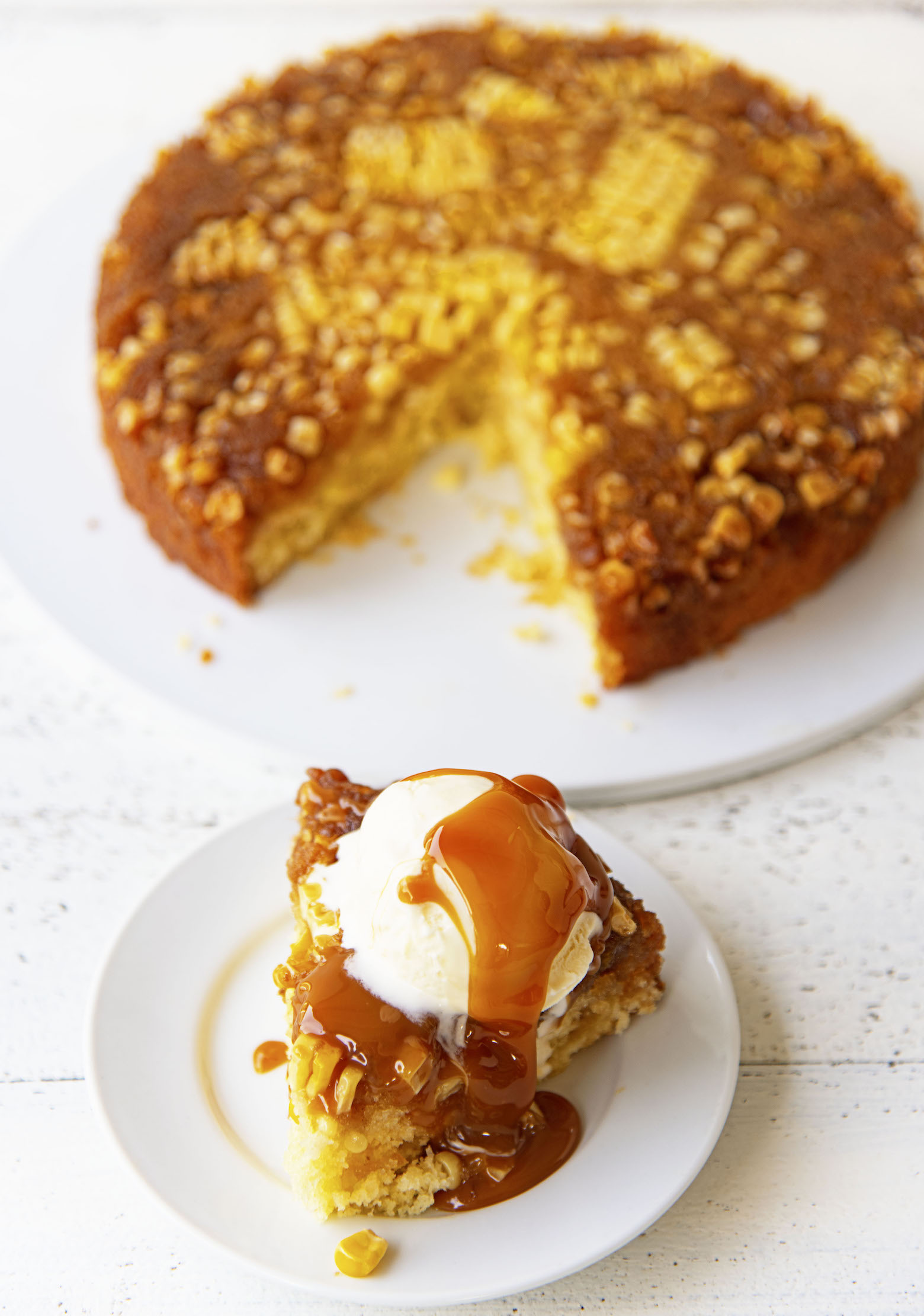 Sunflowers were all messed up this year.
The got the sun but not enough water so they didn't grow as tall…until all the festivals for them were over.
And we are just now finishing with the sweet corn.
Granted you can always get corn around here until October but it's a more hearty corn.
It's not the super sweet corn that everyone loves.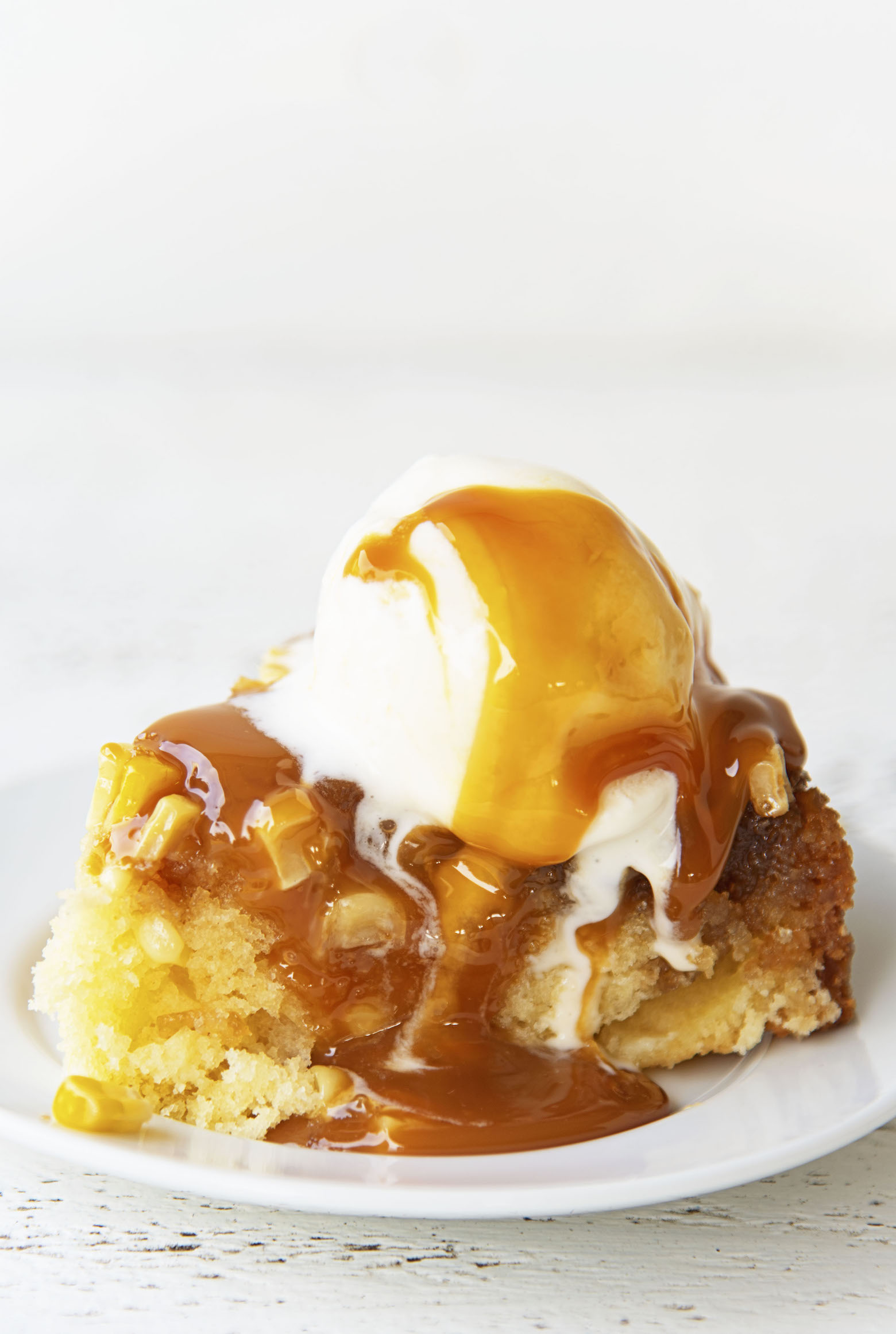 I often rewatch British Bake Off reruns on Netflix.
Even broke down and bought the seasons they no longer have on DVD.
I'm a GBBO nerd, what can I say.
They just happened to be making upside down cake at the time.
Which I thought, well, I make a lot of baked goods with corn, why not upside down cake.
And boy am I glad I got that idea.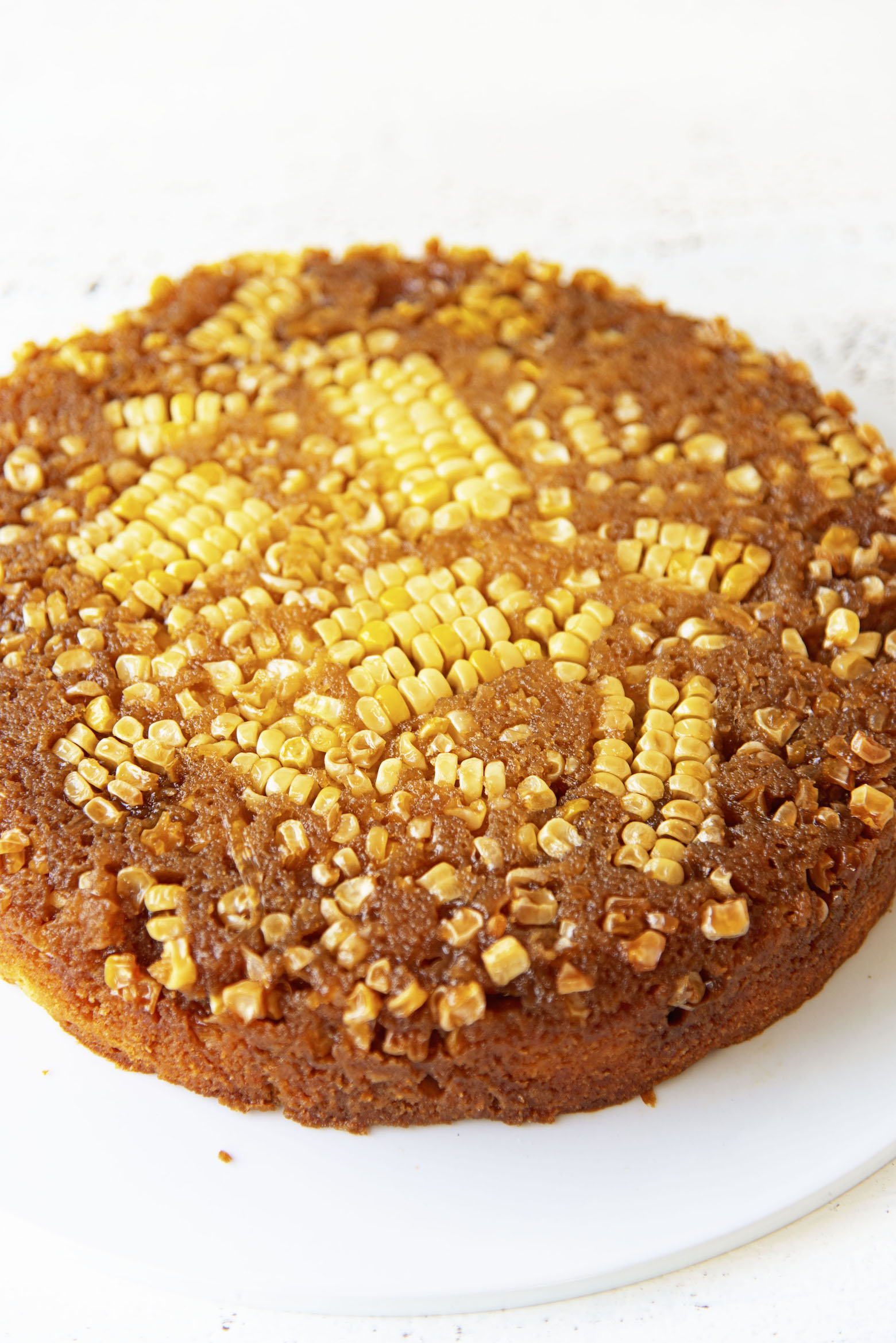 Now this is not a cornbread kind of cake.
It's cake.
That does happen to have some fresh corn in it.
But no cornmeal was used.
It's basically just cake batter with the corn folded in.
Can you skip adding the corn?
Probably.
But then you are missing out on the corn flavor.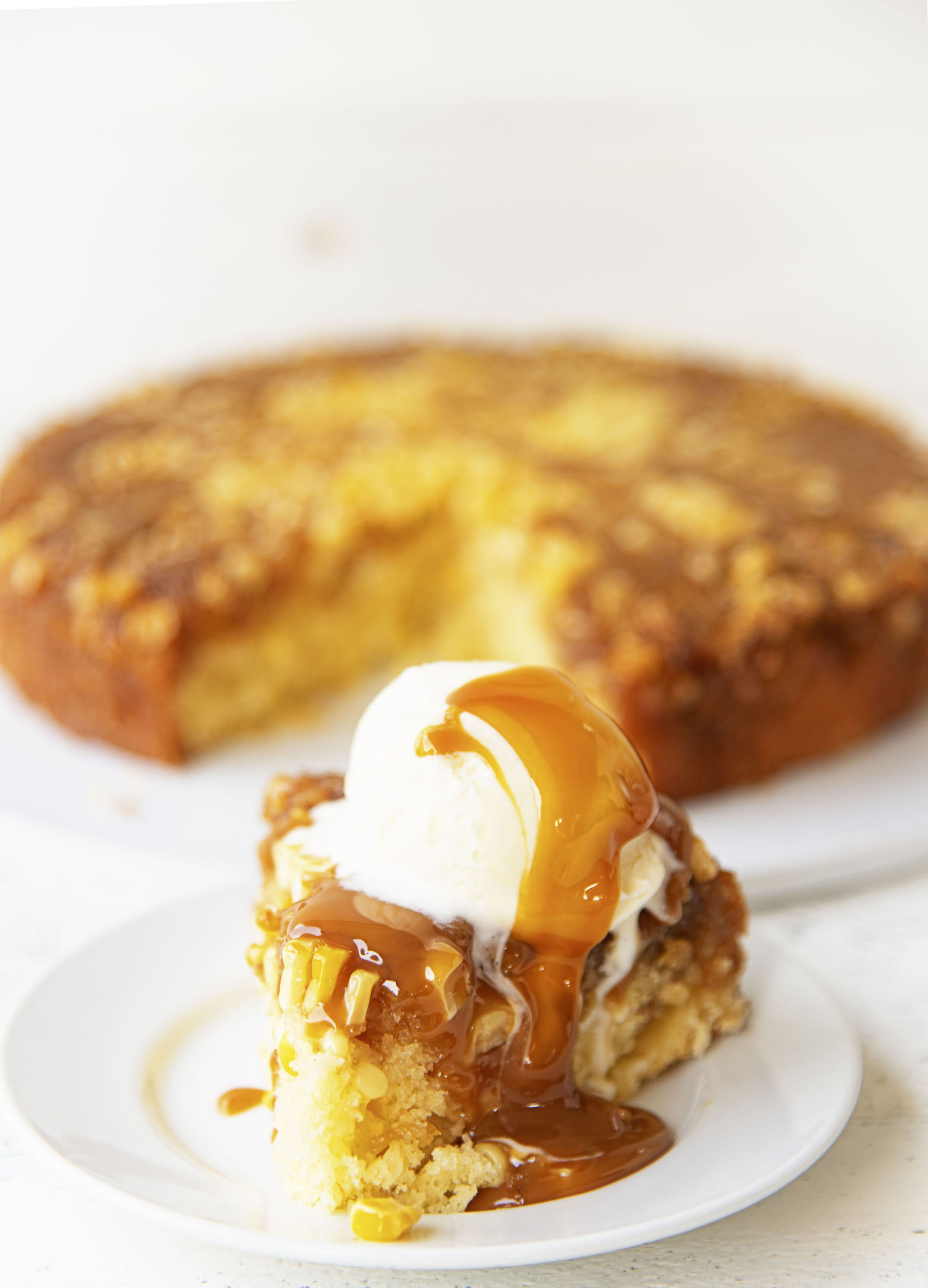 I've made a variety of sweet corn baked goods.
I even make sweet corn caramels each year.
So I know I love sweet corn in baked goods and I like it with caramel.
Therefore, having a caramelized sweet corn top with sweet corn cake below sounded like a winner.
And it is.
I did my best to keep some of the corn all together.
Just for a pattern on the cake.
You don't have to do that but I think it's fun for effect.
It does not matter how you arrange the corn pieces for taste.
I would know…I've made this cake three times now. 🙂
Can you use frozen corn instead?
Yes, you can use frozen if it's not the time of year for fresh sweet corn.
I would however, NOT use canned corn.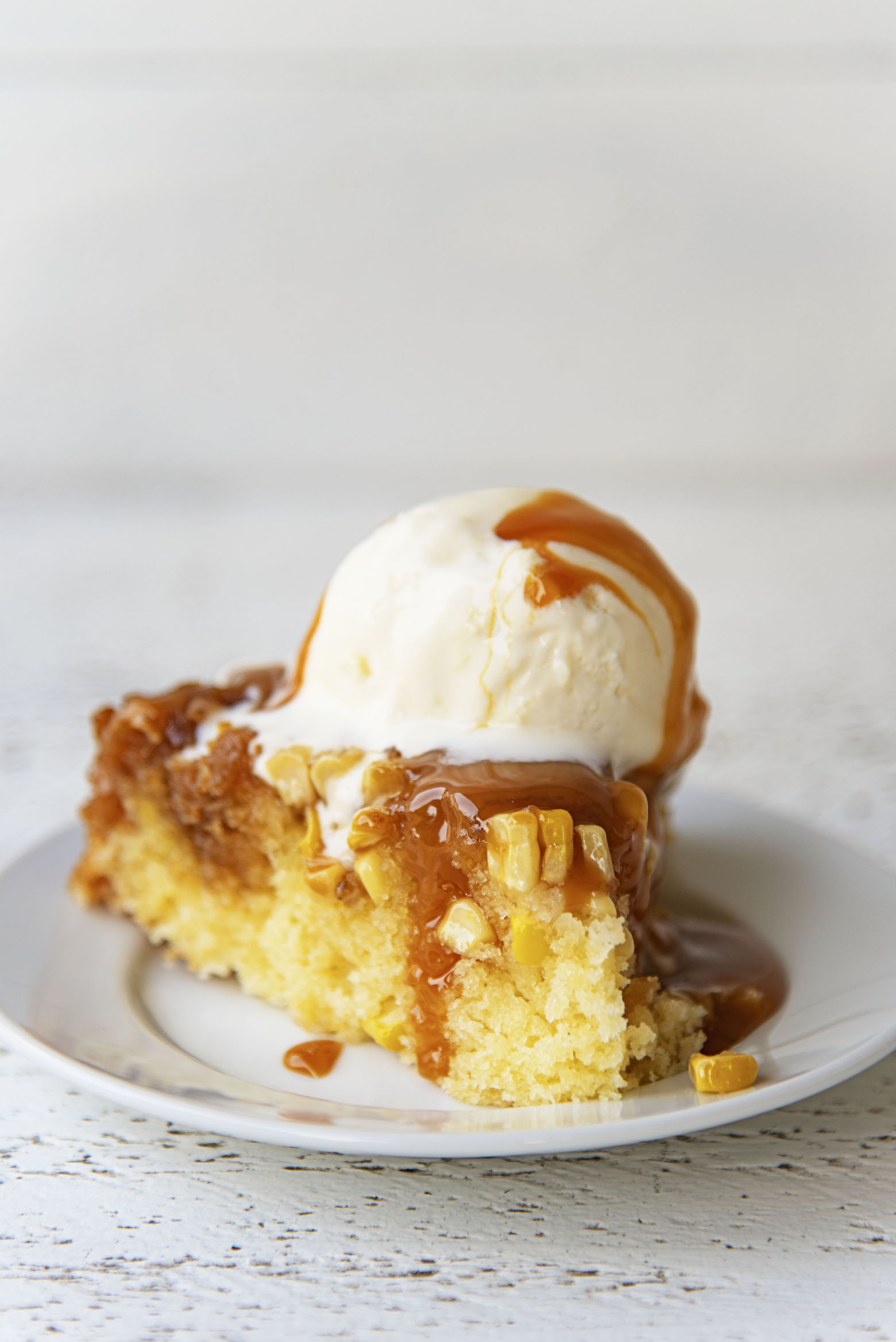 To serve the cake I chose to add some vanilla ice cream and some salted caramel sauce.
I suggest you do the same.
The combo is all sorts of yummy.
P.S. It's a great day to buy my cookbook Holy Sweet!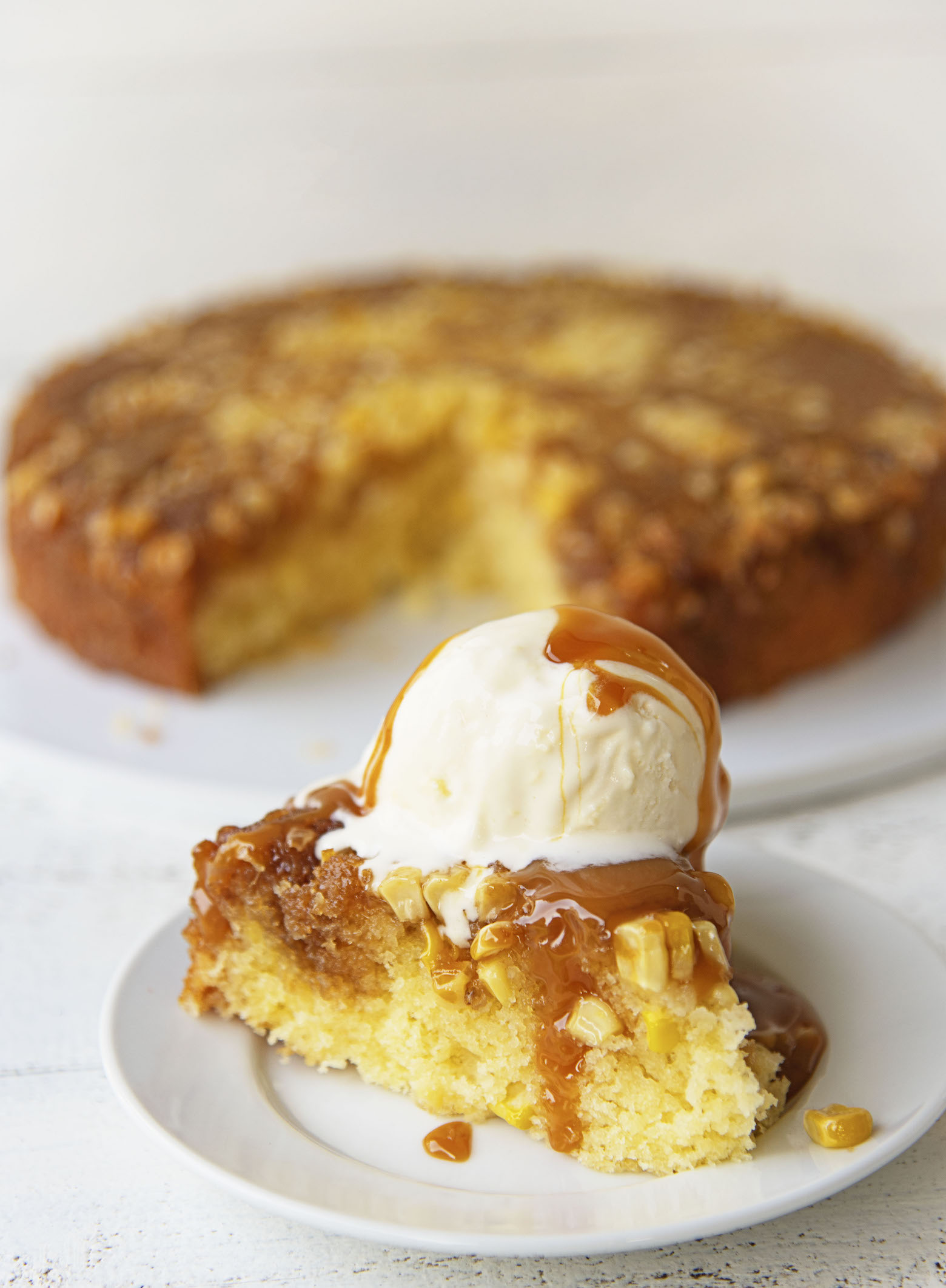 Want More Sweet Corn Recipes?
In cake form: Sweet Corn and Berry Sugared Donut Cake
Sweet Corn and Raspberry Layer Cake
A Twist on Shortcake: Sweet Corn Strawberry Cornbread Shortcake
Ice Cream: Sweet Corn and Raspberry Swirl Ice Cream
And for Dinner: Ricotta Corn Lemon Cheese Tortellini
Sweet Corn Upside Down Cake
Ingredients
For the Brown Sugar Sweet Corn Layer:
1/3 cup butter, melted
2/3 cup packed brown sugar
2 cups sweet corn, cut off the cob
For the Cake Batter:
1 1/2 cups granulated sugar
1/4 cup shortening
1/2 cup unsalted butter, at room temperature
3 large eggs
2 1/4 cups cake flour
2 1/2 tsp baking powder
1 tsp salt
3/4 cup whole milk
1 1/2 tsp vanilla extract
1 1/2 cups cut sweet corn
Instructions
For the Brown Sugar Sweet Corn Layer:
In an ungreased 9-in. Round baking pan, combine butter and brown sugar.
Arrange the cut corn a single layer over sugar and set aside.
For the Cake Layer:
Using a stand mixer with the paddle attachment, cream together the sugar, shortening, and butter until light and fluffy.
Add in the eggs, one at a time, and mix until incorporated. Scraping down the bottom and sides of bowl after each egg addition.
Sprinkle in the flour, baking powder, and salt and mix until just combined.
Add in the milk and vanilla extract and beat until all the ingredients are fully combined and no lumps are in the batter.
Remove bowl from mixer.
Fold in the sweet corn and do your best to evenly distribute the corn throughout the batter.
Pour (it's a thicker batter so pouring might need a nudge) and spread cake batter evenly over topping spread it out with an offset spatula.
Bake for 30 minutes.
Then tent foil on top of the cake (to prevent the top from over-browning before the center has a chance to fully cook) and bake for another 15 minutes. The cake is done when a toothpick inserted into the center of the cake comes out mostly clean…a couple moist crumbs are okay.
Remove cake from the oven and cool on a wire rack for just 20 minutes.
Run a butter knife around the inner edge of the cake pan.
Put a plate or serving platter over the cake, then flip. Tap base and shake pan gently and then lift slowly.
Cool completely at room temperature before serving.
Top with salted caramel sauce and vanilla ice cream.