This Apple Crumb Cinnamon Roll Loaf has cinnamon apples and a crumb topping that can be made either as a loaf or cinnamon rolls.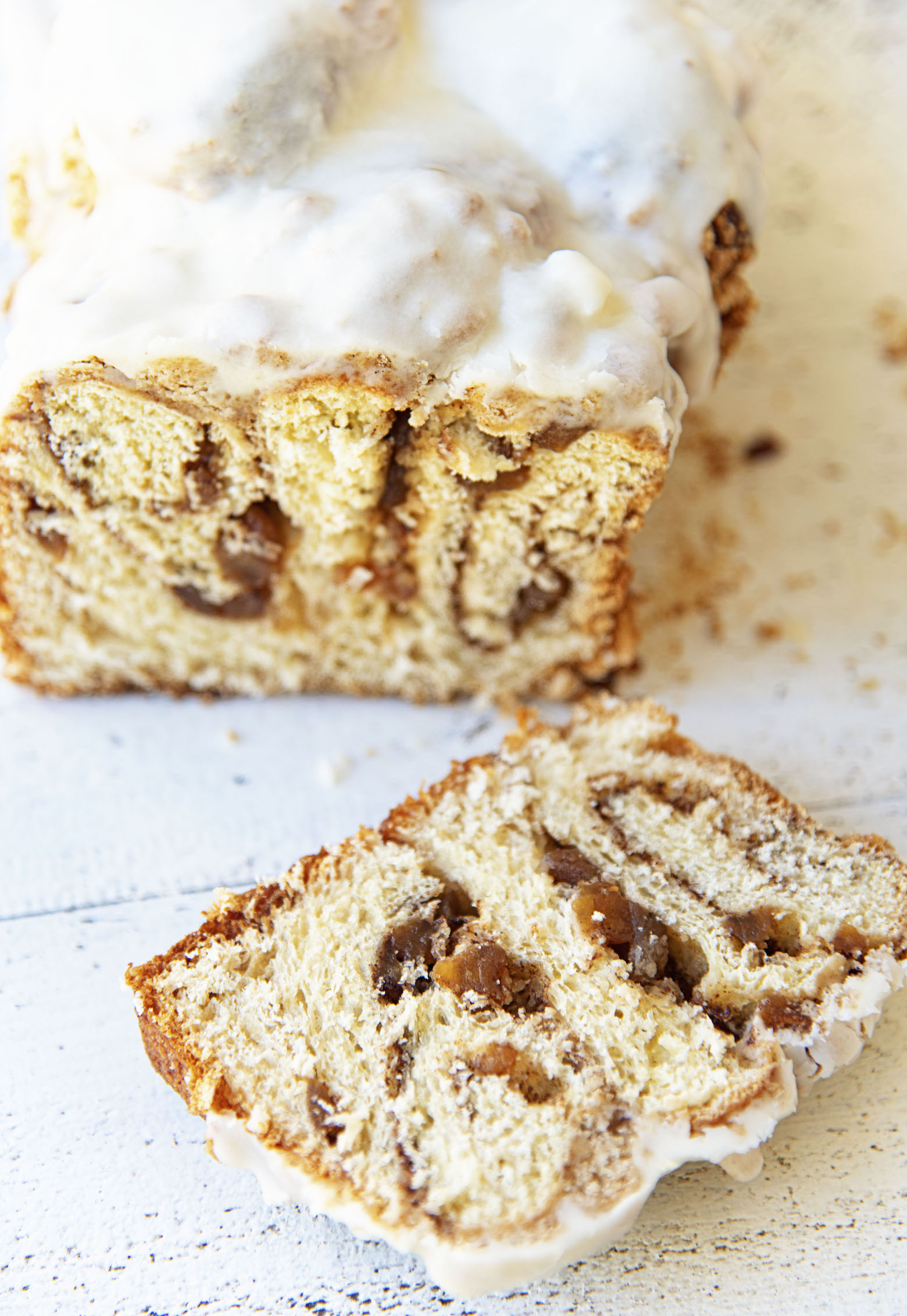 This Apple Crumb Cinnamon Roll Loaf is the ultimate in comfort.
It's also great because you can make it as just cinnamon rolls.
Or as two loaves.
Or both cinnamon rolls and a loaf.
As you can see by the pictures, I did both.
Despite the West Coast's dreadful heatwave, I was determined to bake something with yeast.
I did have to wait for it to cool down into the 70's though…I'm not totally crazy.
It's September now and it should be cooler darn it all!
Even though most people are thinking about pumpkin spice this time of year, I'm usually thinking about apples.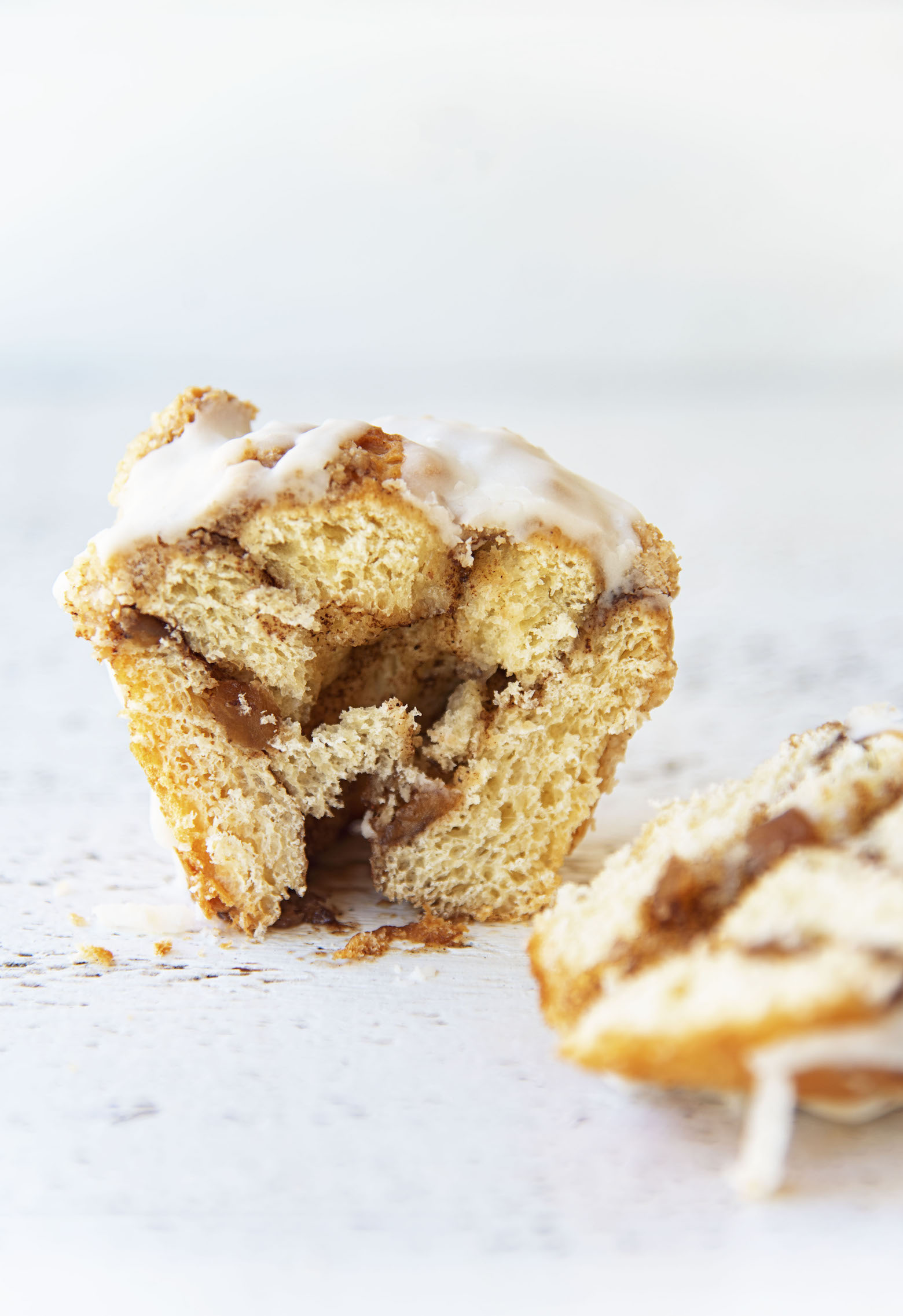 I absolutely love cinnamon rolls.
Also, I love apple pie.
I love anything crumb topped such as crumb topped apple pie.
So why not put it into one whole bake?
This particular batch of dough makes some very large cinnamon rolls if you use all the dough for cinnamon rolls only.
Big fluffy ones.
But like I said, I chose to do both ways.
Why? Because I love to make the loaf into French Toast.
Yep, with the glaze and all.
So good.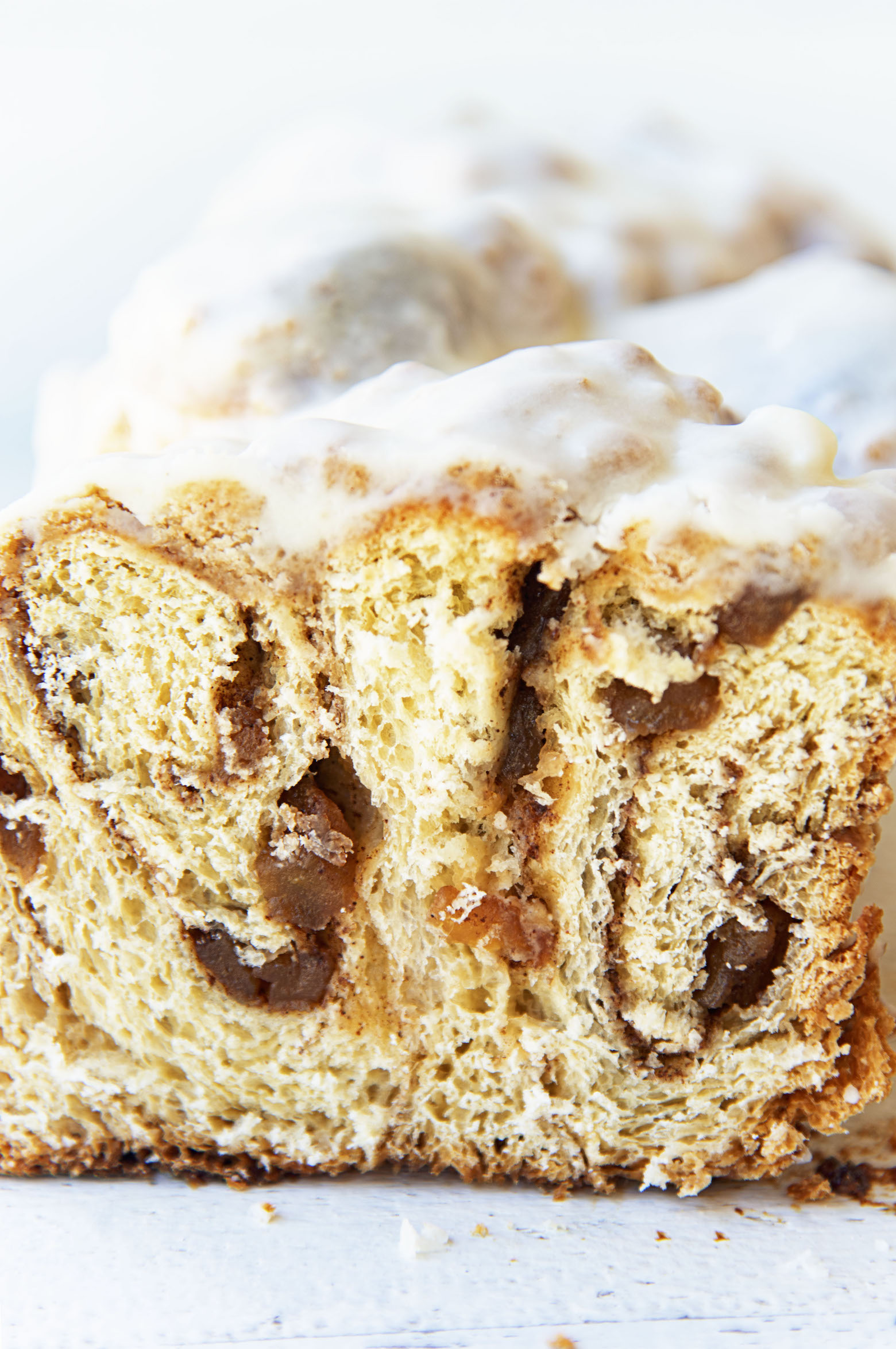 If you want smaller rolls, I like to make those in a muffin pan…they swirl up so nicely in them.
You will want to roll out your dough even longer if that is the case because you need a smaller size dough roll.
And you will need to cut 24 if you are just making cinnamon rolls.
However, if you are doing both rolls and loaf you will get 12 rolls and one loaf.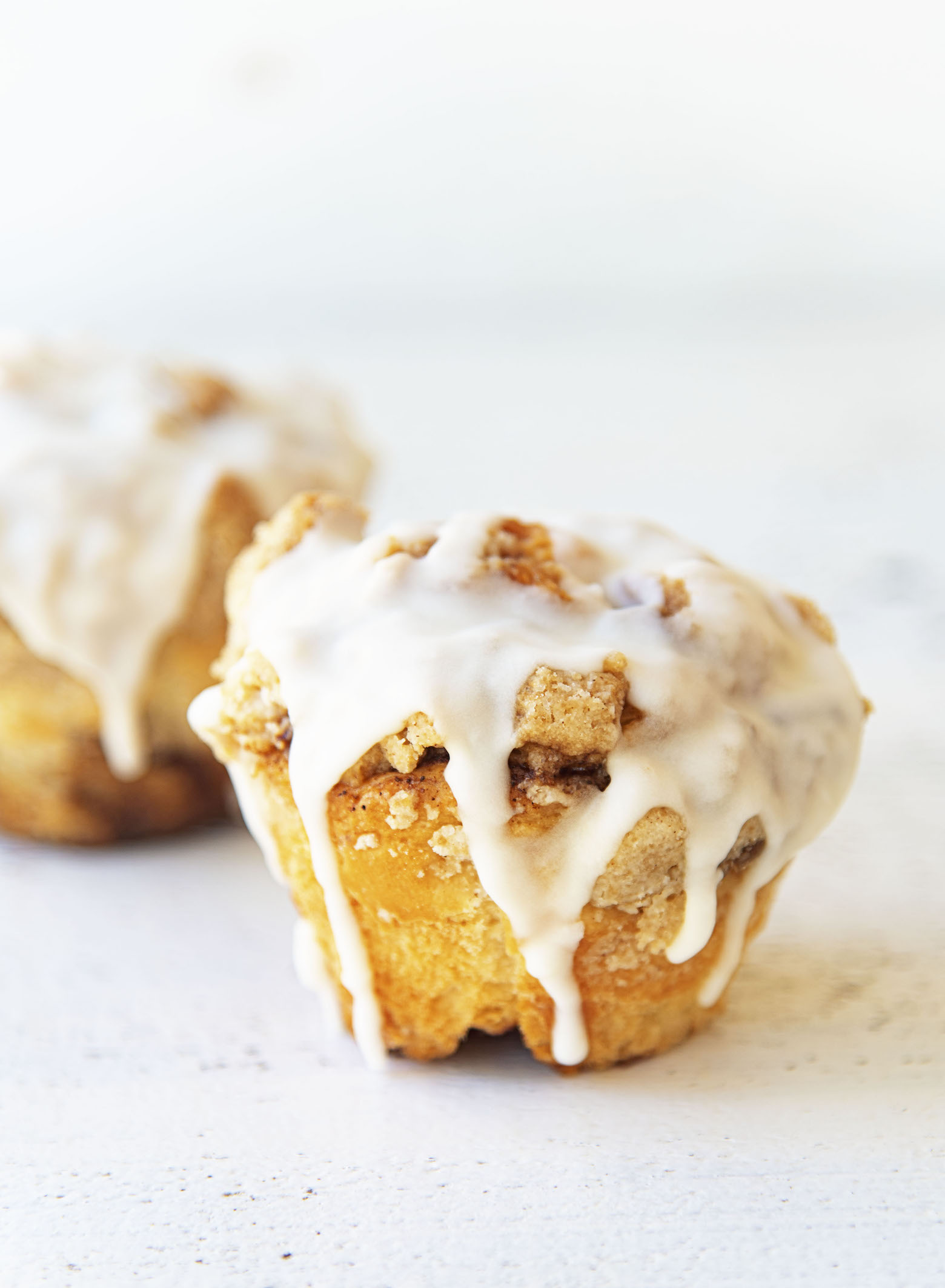 The loaf actually came about years ago when I had leftover scraps of roll dough.
It's a great way to use the misshapen rolls that are not the same size as the rest of the rolls, like the end pieces.
I couldn't stand the waste of just tossing the leftover dough out.
Now, if I have any leftover cinnamon rolls not baked I throw them in a loaf.
If there isn't enough for a full loaf, I use mini loaf pans.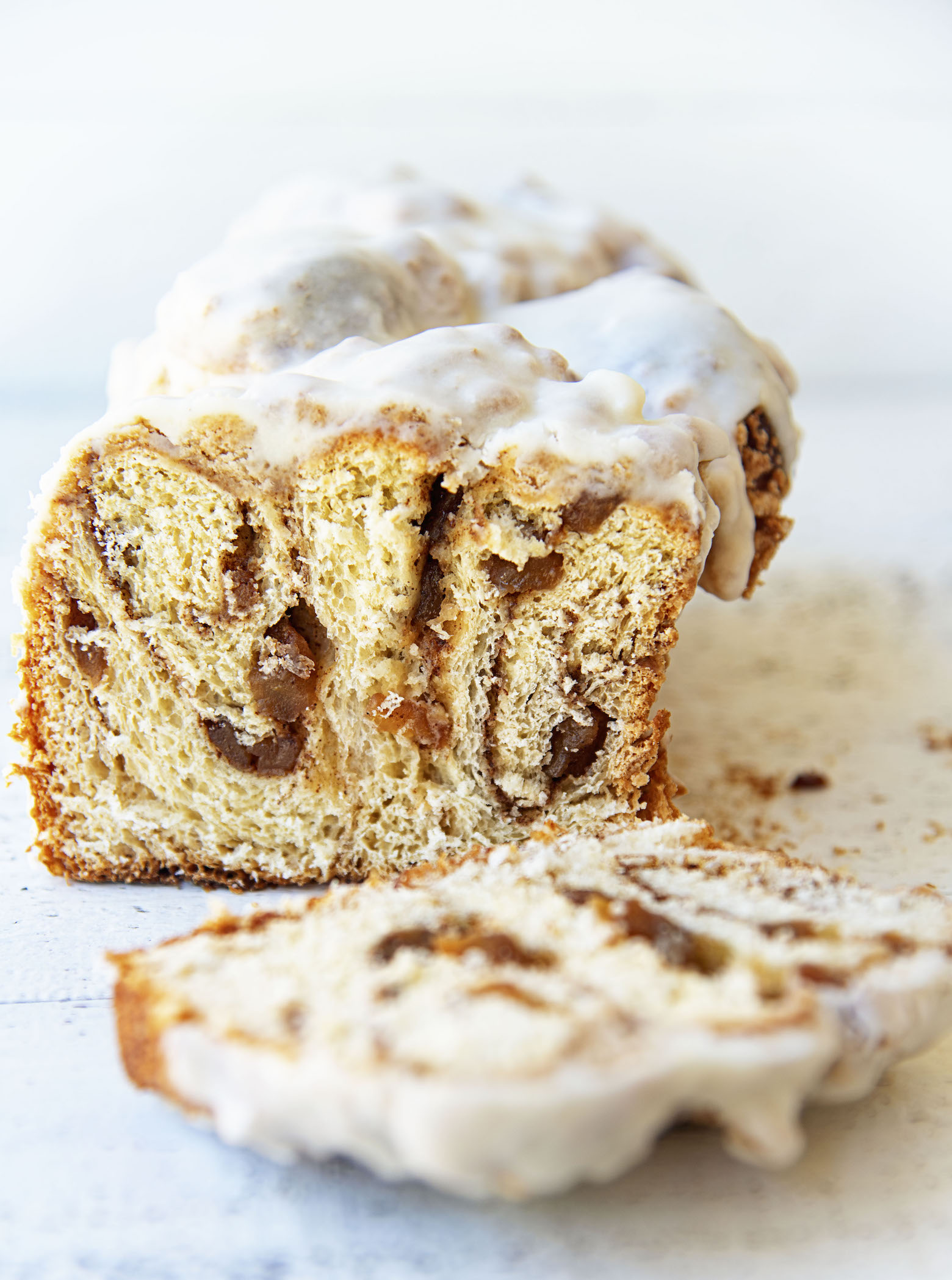 Do you have to make the crumb topping?
No.
But I feel it really adds something to these rolls and to the loaf.
The loaf especially because you can get so much more crumb topping on those compared to the rolls.
Do I have to make a glaze?
If you are making the crumb topping then yes you need the glaze.
With crumb topping, so many times, the crumb, well crumbles, before it makes it to your mouth.
When you add a glaze over the top of them it helps keep the crumbs in place.
At least until they get to your mouth.
P.S. It's a great day to buy my cookbook Holy Sweet!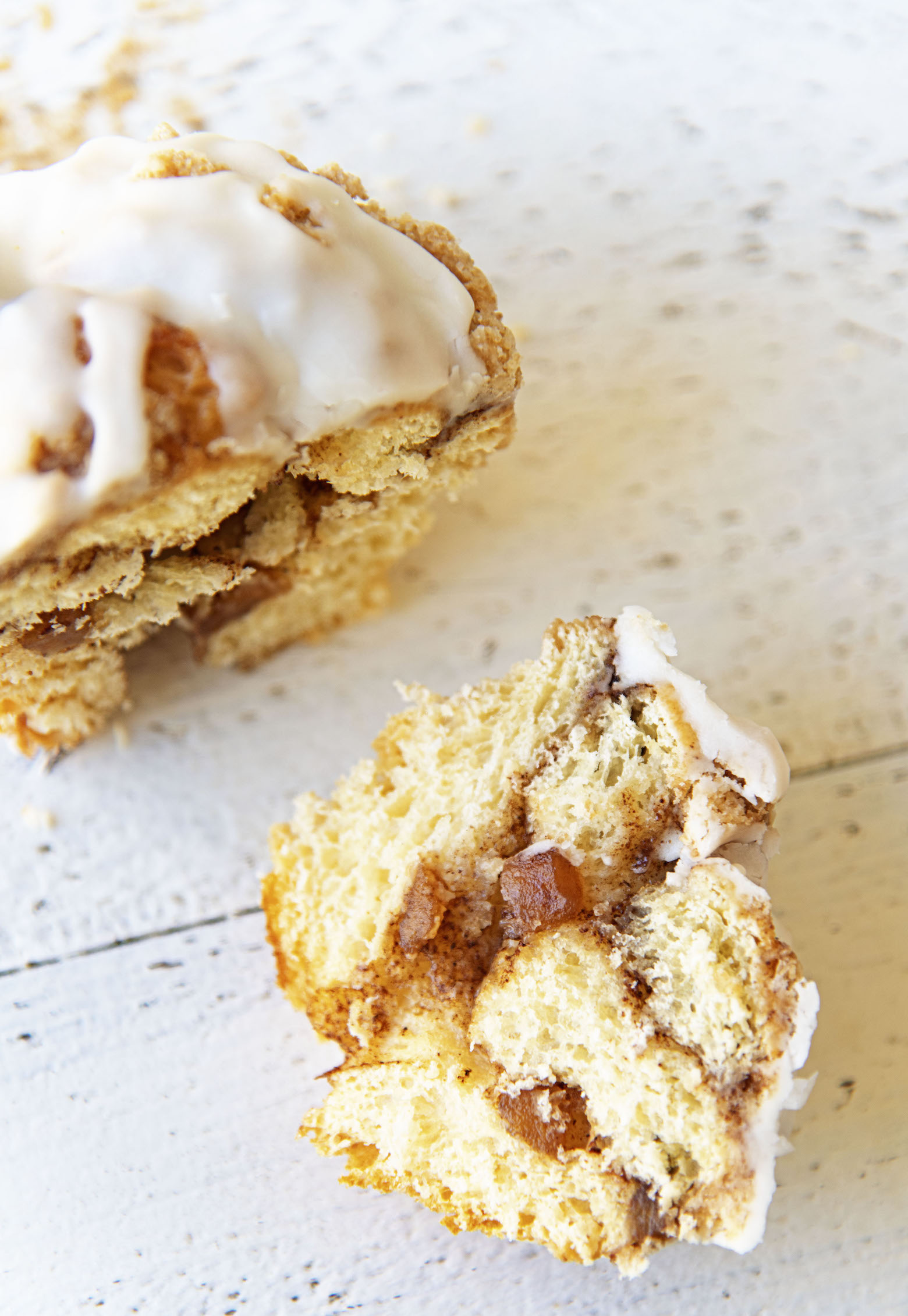 Want more recipes like this?
Orange Blossom Chocolate Chip Challah Bread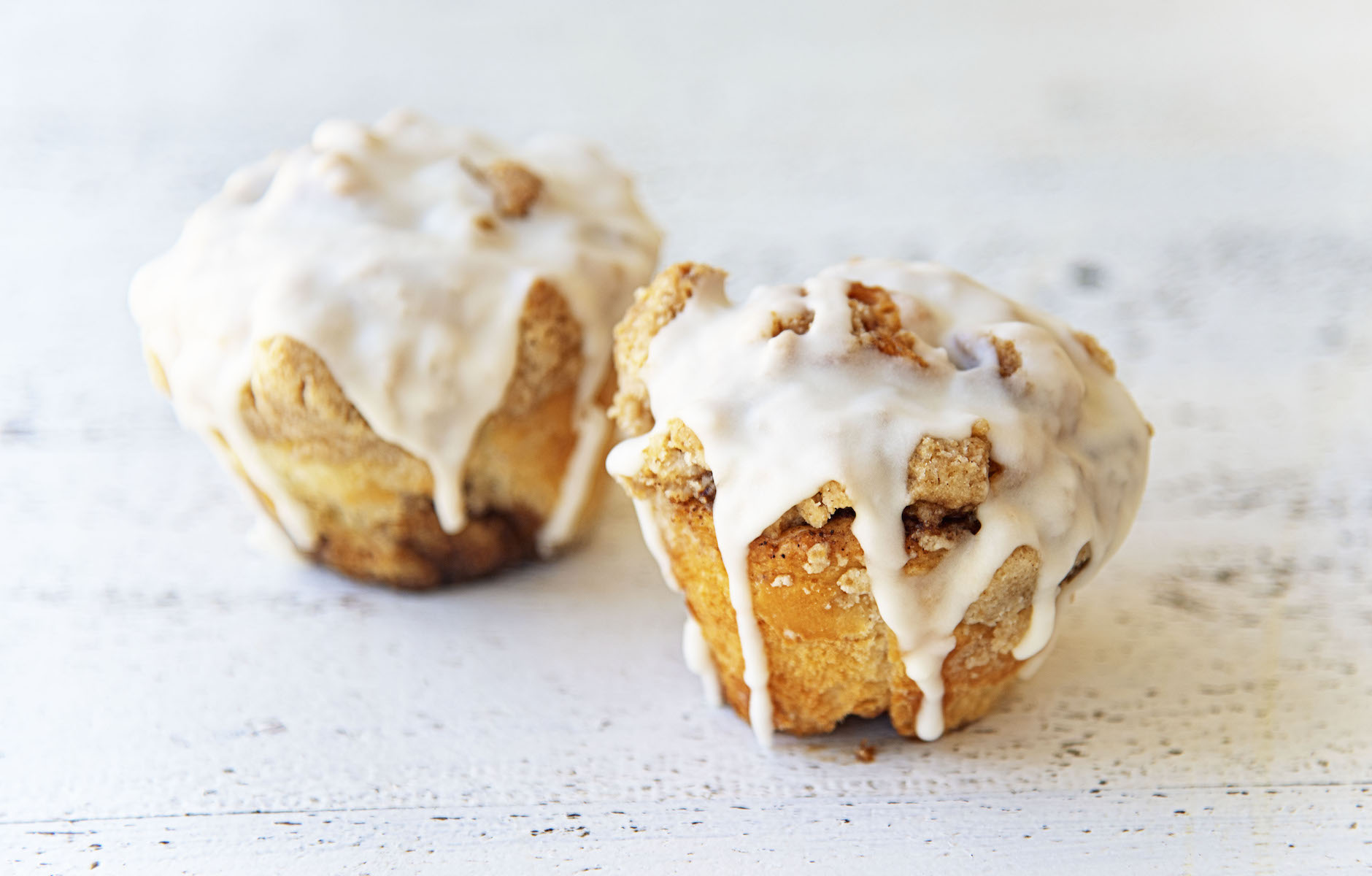 Apple Crumb Cinnamon Roll Loaf
Ingredients
For the Dough:
1/2 cup warm apple juice, 110 – 115F
1 TBSP active dry yeast (I used Red Star Yeast Platinum)
1/2 cup whole fat buttermilk, at room temperature
2 large eggs
1/2 cup plus 1/2 tsp granulated sugar, divided
1 tsp. salt
1 tsp. vanilla extract
6 Tbsp unsalted butter, melted and slightly cooled
3 1/2 – 4 cups bread flour
For the Apple Filling:
2 large baking apples (I used a variety), peeled, cored, and cut into thin slices
1/4 cup brown sugar
1 tsp fresh lemon juice
1 TBSP all-purpose flour
1/4 tsp ground cinnamon
1/4 tsp salt
For the Cinnamon Filling:
6 TBSP unsalted butter, super soft but not quite melted
1 cup packed brown sugar
2 TBSP cinnamon
Crumb Topping:
1/3 cup granulated sugar
1/3 cup brown sugar, packed
¼ tsp. salt
¾ tsp. cinnamon
8 TBSP unsalted butter, melted and cooled
1 ¾ cup cake flour
For the Glaze:
2 cups powdered sugar
5 TBSP apple juice
2 TBSP melted butter
1/4th tsp vanilla extract
pinch of salt
Instructions
For the Dough:
Using a stand mixer with the paddle attachment add the yeast, warm apple cider, and 1/2 tsp. granulated sugar.
Let rest for 5-10 minutes to proof…the batter will puff up.
Add in buttermilk, eggs, 1/2 cup granulated sugar, salt, vanilla, and melted butter and mix until fully combined.
Add in 2 1/2 cups of the flour and mix until fully combined.
Switch to a hook attachment then add another 1 cup flour. Knead mixture until combined.
Continue to knead on low speed about 5 – 6 minutes while adding a little more flour as needed to reach a soft and moist dough (Dough shouldn't stick to the sides of the bowl but does stick to the bottom).
Transfer dough to an oiled bowl, cover with plastic wrap (I find press and seal works best) and let rise in a warm place until doubled in volume, about 1 1/2 hours.
For the Apple Filling:
Toss together apples, brown sugar, lemon juice, flour, cinnamon, and salt in a large bowl.
In a medium saucepan add 2 TBSP unsalted butter until it melts over medium heat.
Add the apple mixture and add 1/2 cup apple cider/juice.
Cook down the mixture until apples can be mashed. If the apples are not getting soft, add more juice if it evaporated before the apples got soft enough.
Mash apple mixture with a fork and let cool.
For the Cinnamon Filling:
Mix together the cinnamon and sugar and set aside.
To make the rolls:
Punch dough down.
Dust a working surface lightly with flour and turn dough out onto surface.
Roll into a 30-inch by 20-inch rectangle.
Spread butter to within 1-inch of edges.
Sprinkle the cinnamon sugar on top of the butter.
Then scatter the cooled apple filling over the cinnamon sugar.
Roll up from one long side; pinch seams and ends to seal.
At this point you have three options: make cinnamon rolls only, make two loaves, or make half batch cinnamon rolls and one loaf. I chose to do both cinnamon rolls and one loaf. The loaf is great for making French toast.
If making cinnamon rolls:
Cut into 12 equal portions using a large sharp knife (they should be 1 1/2-inch each). These will be very LARGE cinnamon rolls. Arrange rolls, spacing evenly apart on a baking sheet lined with parchment paper.
If making the loaves:
Cut into 24 equal portions using a large sharp knife (1/2-inch each). These are thin rolls.
Divide the rolls into two. Using 12 rolls, place them into a greased standard size loaf pan. Repeat with the remaining dough.
If making both rolls and a loaf: Cut into 24 equal portions using a large sharp knife (1/2-inch each). I use a muffin tin when making smaller rolls. You can use that or you can place them on a baking sheet lined with parchment paper.
For the Crumb Topping:
In a medium sized bowl, put sugars, salt, and cinnamon and stir until combined.
Add the melted and cooled butter and then cake flour and mix (hands work best for this). Set aside in the fridge until ready to use.
Evenly divide crumb topping (as evenly as you can) into pieces over top of the cinnamon rolls/loaves.
Cover with plastic wrap loosely.
Let rise in a warm place until doubled in volume, about 1 1/2 hours. Preheat oven to 350F near the last 20 minutes of rolls rising.
Bake at 350F,
If making the Cinnamon Rolls: Bake rolls in preheated oven until centers are no longer doughy, about 25-30 minutes.
If making the loaves: This will take 45-55 minutes (you will need to watch carefully as it varies by oven). If the loaf is browning too quickly, cover it lightly with a piece of foil. (The internal temperature should be at least 190 degrees F.)
Cool on a wire rack.
For the Glaze:
Whisk together the ingredients of the glaze in a medium bowl.
Glaze cinnamon rolls/loaf while still warm.