These Chocolate Cinnamon Frosted Pumpkin Cupcakes are pumpkin spice cupcakes topped with chocolate-cinnamon Swiss Meringue Buttercream.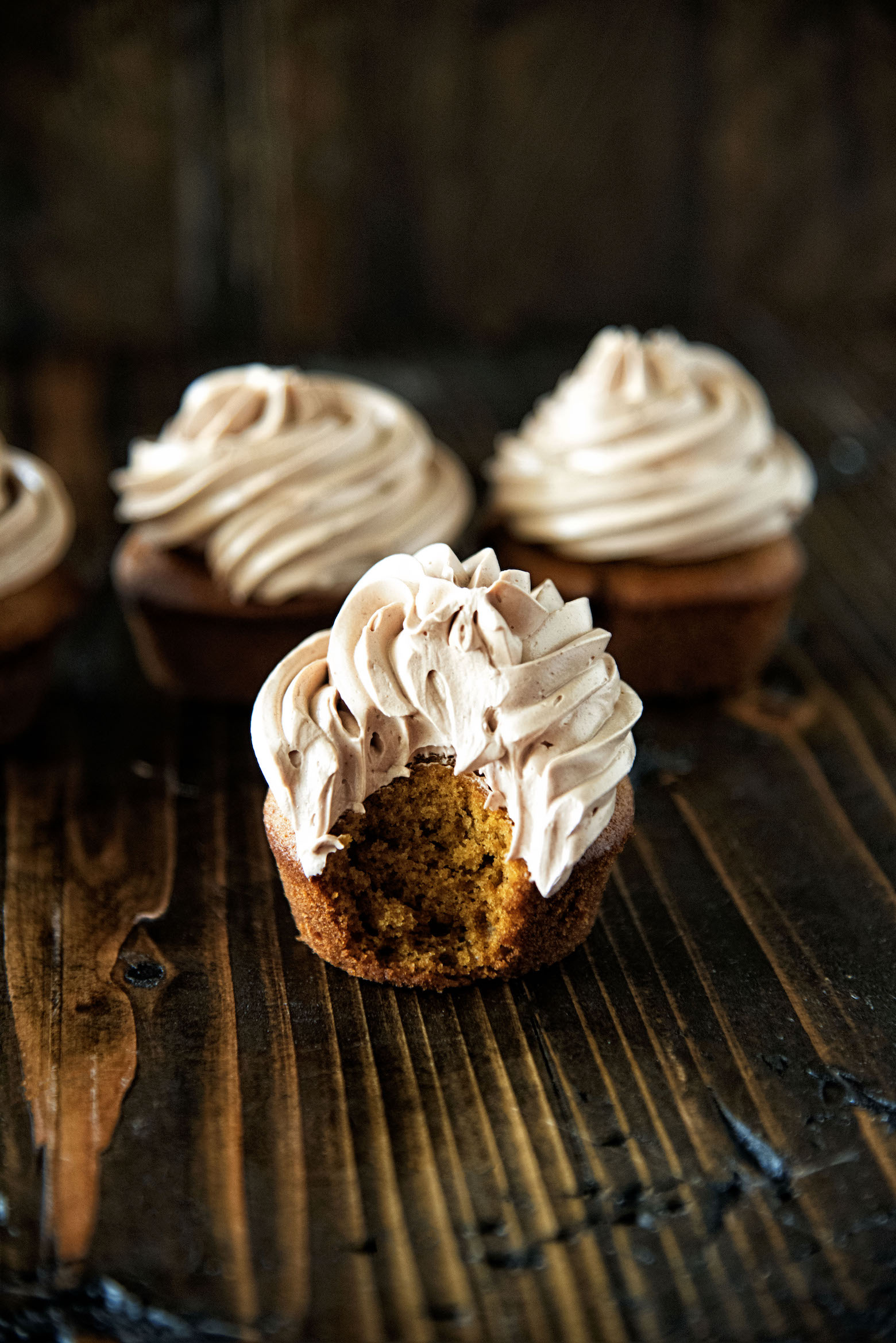 Pumpkin Spice Lattes came out yesterday.
Amazingly I did not go and get one.
I am however going and getting one today. 😛
So many of you will have strong opinions that it's too early.
Oh well. 😛
I'm going to ignore you and enjoy my drink.
Especially since we are supposedly getting a little fall preview weather coming our way.
Our mornings are turning crisp.
Apples are ripe and ready to pick on my trees.
Fall is almost here.
I'm ready to wear sweats all the time. 😀
It's also the time of year when all the baking cookbooks come out!
A time of year I really look forward too.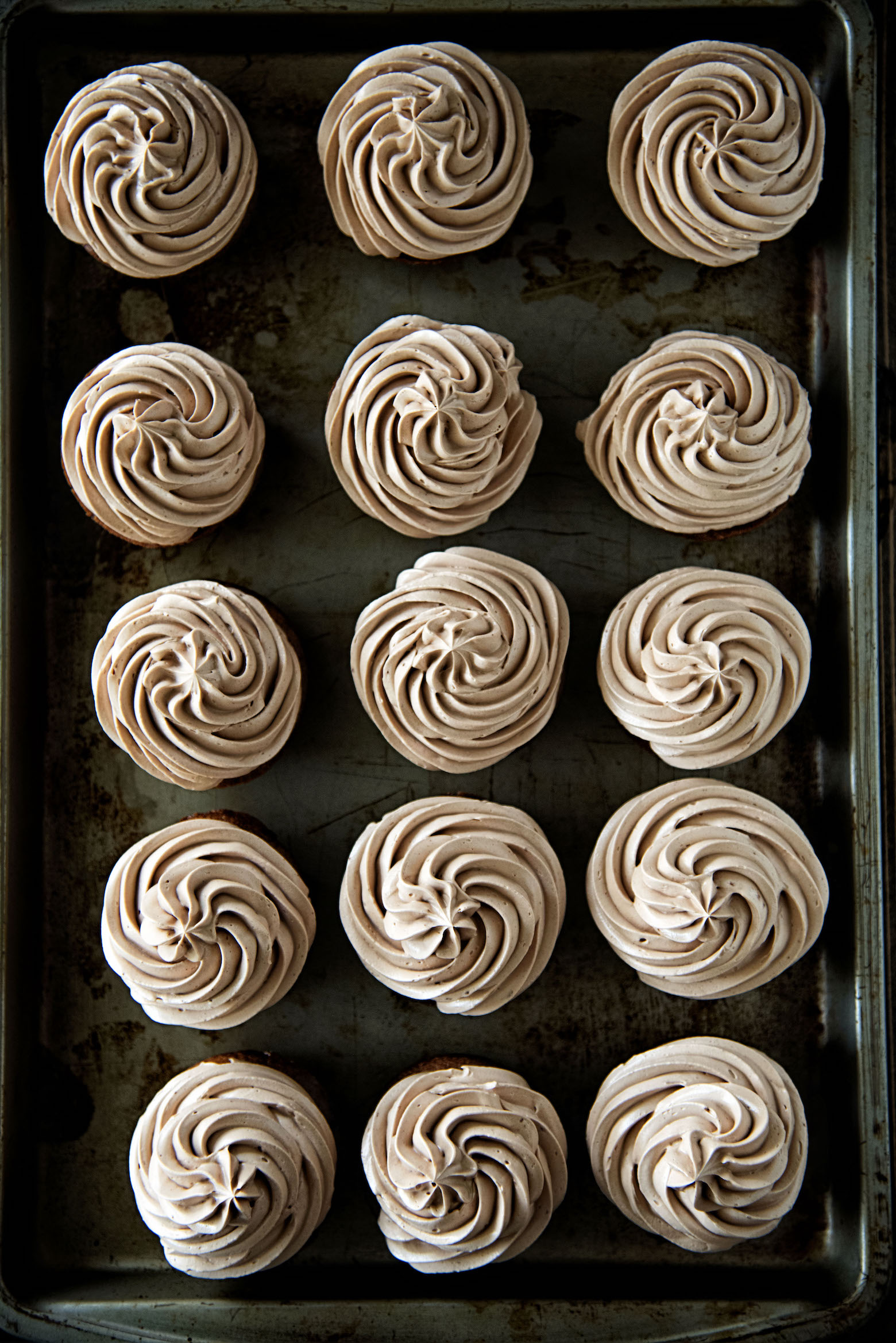 For baking books I have pre-ordered the following ones:
The Bread Collection: Recipes for Artisan Bread at Home.
Milk Bar: All About Cake.
Red Truck Bakery Cookbook.
Fantastical Cakes.
Sister Pie.
I also ordered these cookbooks that aren't baking centric:
Everyday Dorie: The Way I Cook.
Now and Again.
Let's Stay In.
Now those are just my pre-orders.
I'm waiting on a few to see how the reviews go.
What about you?
Is there a cookbook you are looking forward to being released this fall?
Perhaps my cookbook. 🙂?
I really hope it's on your wishlist.
These Chocolate Cinnamon Frosted Pumpkin Cupcakes are a good transition into fall.
Pumpkin spice cupcakes that are covered in Chocolate Cinnamon Swiss Meringue Buttercream.
So good.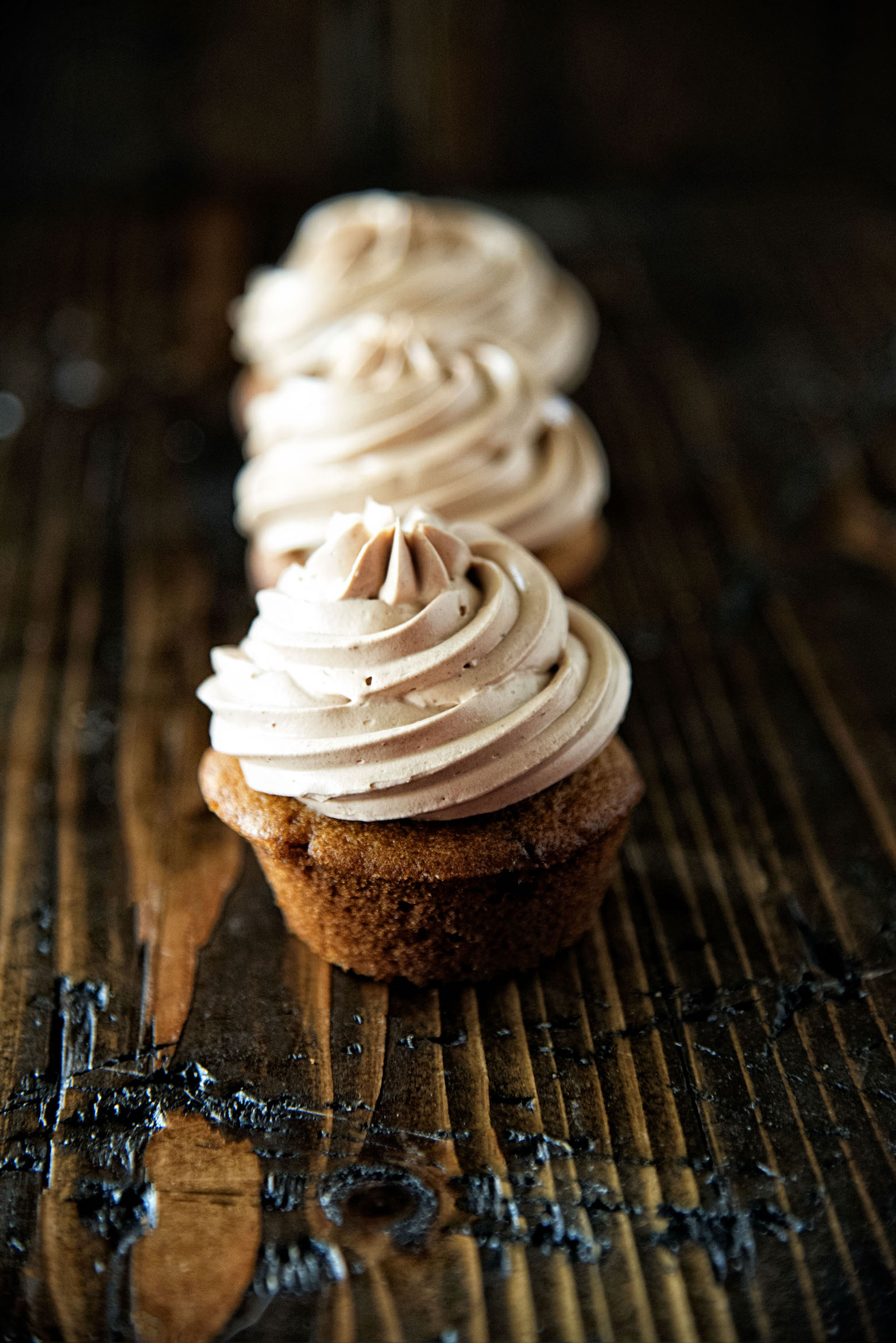 Want More Pumpkin Recipes?
Pumpkin Spice Latte Russian Tea Cake Cookies
Salted Caramel Frosted Pumpkin Cupcakes
Mini Pumpkin Toffee Bundt Cake
Pumpkin Dulce de Leche Magic Cake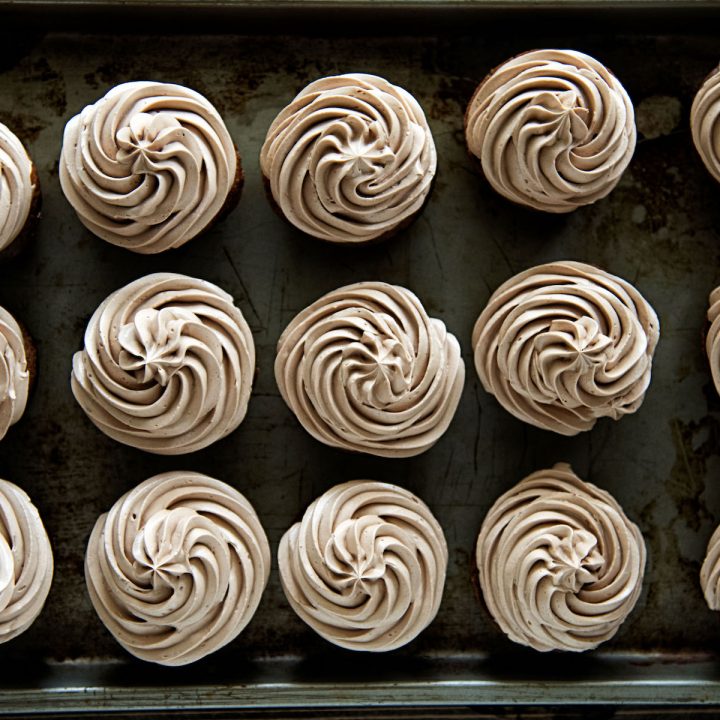 Chocolate Cinnamon Frosted Pumpkin Cupcakes
Ingredients
For the cupcakes:
1 1/2 cups packed pumpkin, canned or fresh roasted
1 cup granulated sugar
1 1/4  cup brown sugar, loosely packed
1 1/4 cups vegetable oil
1 tsp. Vanilla extract
2 cups all-purpose flour
1 tsp. Baking powder
3/4 tsp. Baking soda
1 tsp. Salt
2 tsp. Pumpkin pie spice
4 large eggs, beaten
For the frosting:
1 cup (about 9) egg whites
2 cups granulated sugar
3 cups unsalted butter, cubed and at room temperature
1 tsp. Ground cinnamon
1/2 tsp. Vanilla extract
1/4 tsp. salt
10 oz. semisweet chocolate, melted and cooled slightly
Instructions
For the cupcakes:
Preheat oven to 350F.
Line cupcakes pans with 24 baking cups.
In a stand mixer fitted with the paddle attachment, beat together the pumpkin and sugars on medium speed until well combined.
With mixer on low add the oil and vanilla and mixture until fully combined.
Scrape down the sides and bottom of mixture.
Add the flour, baking powder, baking soda, salt, and pumpkin pie spice to the batter.
Mix on low until just combined.
Then add the eggs.
Mix until fully combined.
Scrape down the sides and bottom of the batter.
Mix one more time to make sure everything is incorporated.
Fill cupcake liners up 2/3 of the way.
Bake in middle of oven for 20-25 minutes, rotating the pan halfway through.
Remove from oven and let cool while you prepare frosting.
For the frosting:
Place the egg whites and sugar in the metal bowl of a stand mixer and set over a small pot of simmering water (the bowl should not touch the water).
Heat, stirring occasionally, until mixture is 160F or hot to the touch.
Transfer bowl to stand mixer and beat on high speed with a whisk attachment to medium stiff peaks, about 8 minutes.
Reduce mixer speed to medium low and add butter a tablespoon at a time, letting it incorporate into the meringue for few moments before adding more.
Add vanilla extract, melted chocolate, cinnamon, and salt and beat on high for 1-2 minutes until smooth and creamy.
Place frosting into a piping bag and pipe on to cooled cupcakes.