These Mountain Dew Jelly Shots are made with pineapple jello, Melon Liqueur, Triple Sec, vodka, and of course, Mountain Dew soda.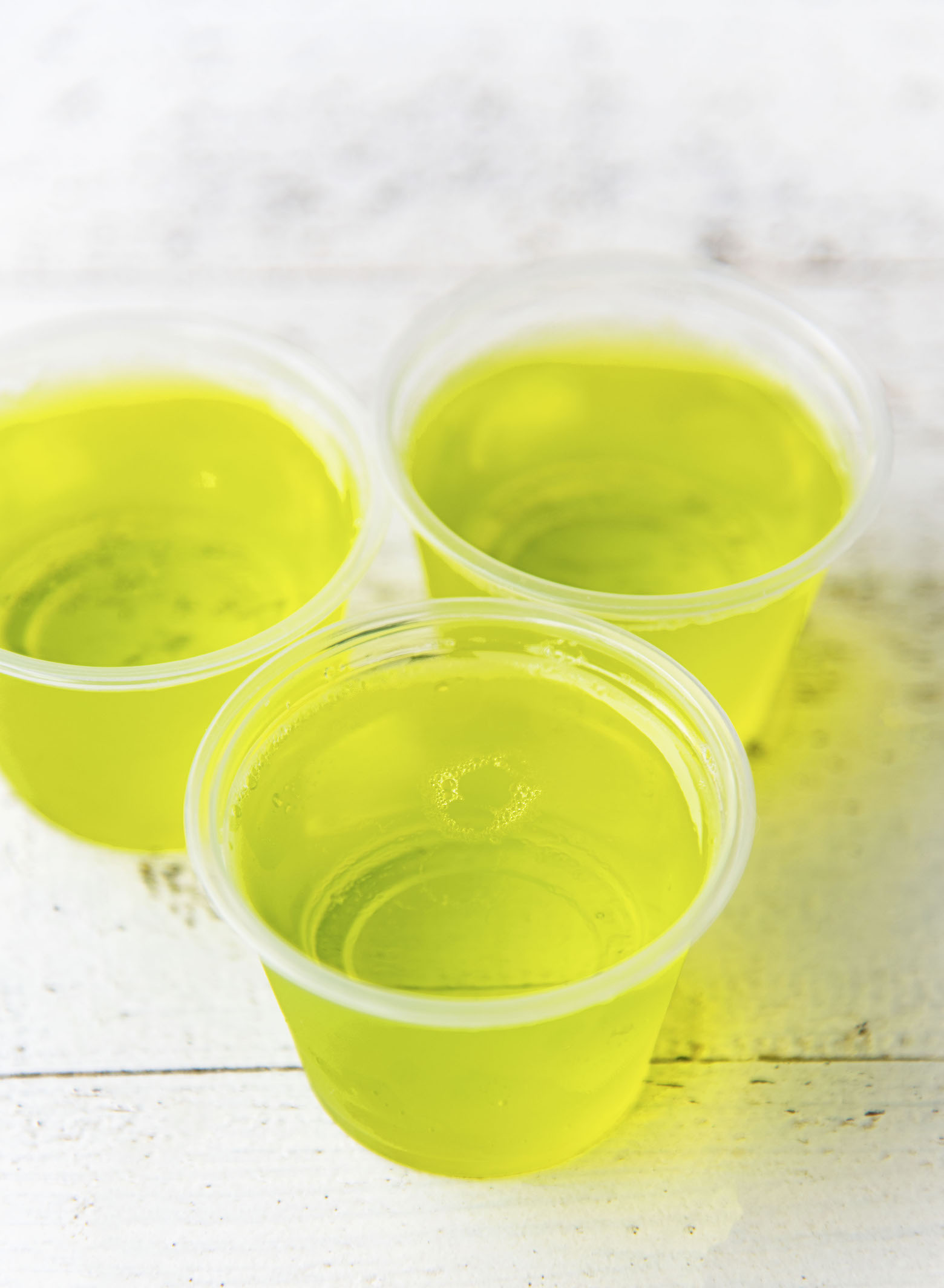 This post is no affiliated or sponsored by Mountain Dew or Pepsi Co it's simply used in the jelly shot to give it flavor.
So these Mountain Dew Jelly Shots are based off of the Mountain Dew Me cocktail.
Yes, I know the name is awful.
Mountain Dew Me.
Ick.
Which is why I skipped it in the name when I named the Jelly Shots.
I just can't even picture being in a bar and ordering that.
Oh, I can picture it if I was in college, especially if I was a frat boy.
Then again, I like the drink Sex on the Beach, but honestly won't order it out.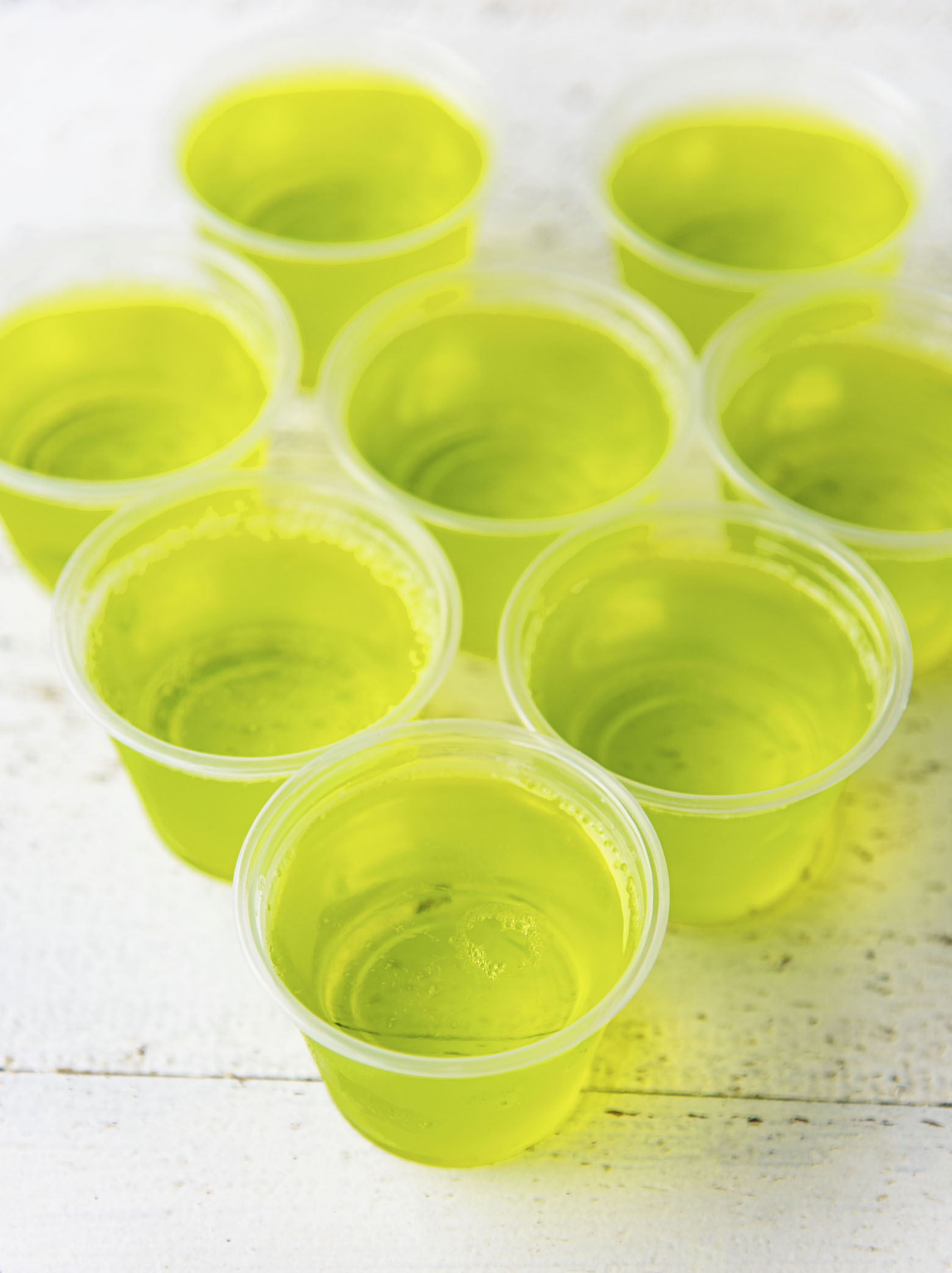 The original cocktail has pineapple juice, Mountain Dew, melon liqueur, and Triple Sec.
In place of pineapple juice for the Jelly Shots I used pineapple gelatin.
Island pineapple gelatin to be exact.
You also want that gelatin because it helps the Jelly Shots keep that neon glow that Mountain Dew gives off. 😀
You can use whatever melon liqueur you want just make sure it's green in color.
I used Midori because I love Midori Sours and so I have that in my house.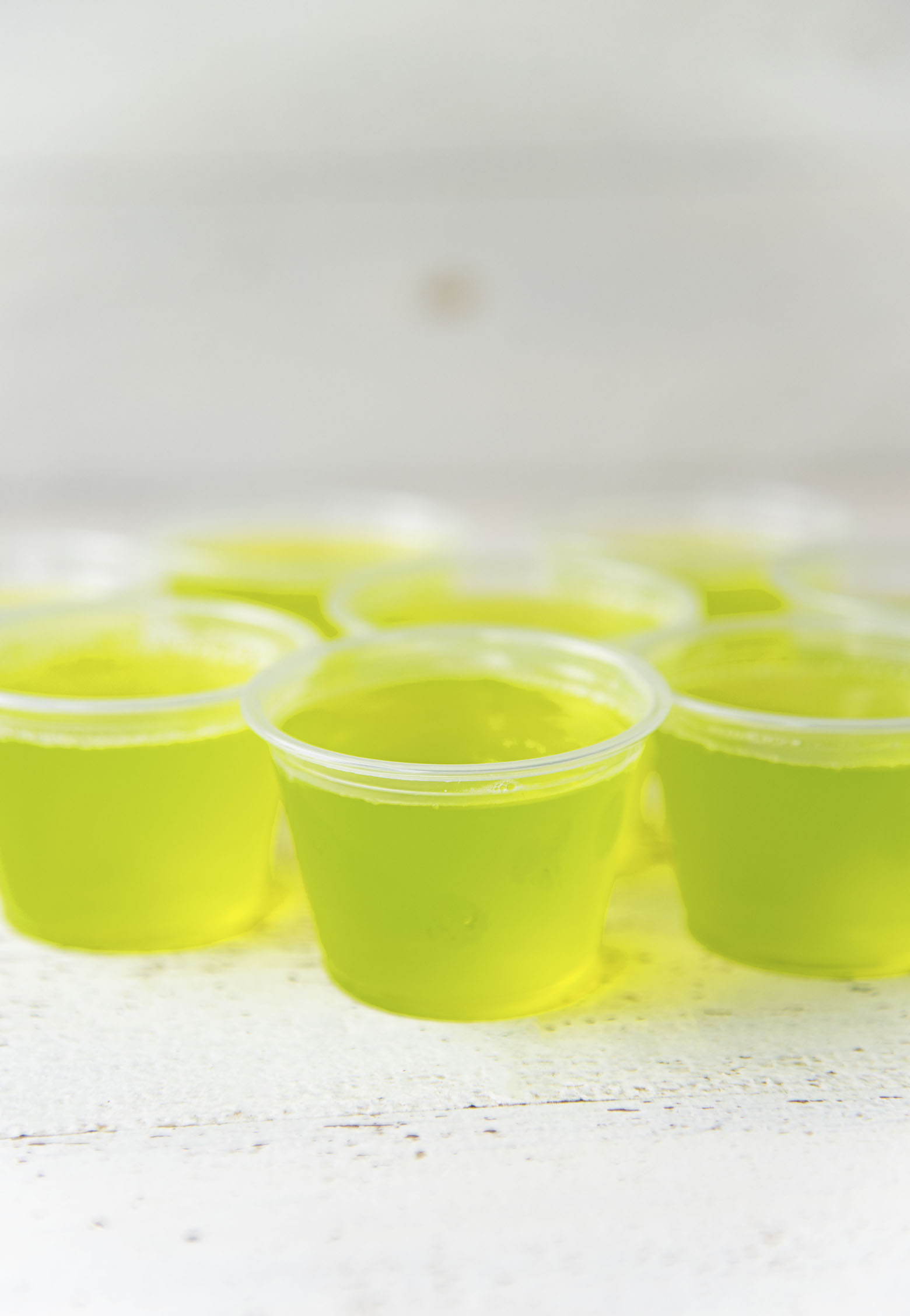 The original cocktail does not have vodka in it.
But I chose to add some to give these a little more punch.
Both Triple Sec and Melon Liqueur are on the sweet side so I thought the straight vodka could help with that.
If you want to stay true to the cocktail you can take the vodka out.
You can either substitute 1/4 cup Triple Sec.
Or 1/4 cup melon liqueur depending on your taste.
So if you are a Mountain Dew fan you will love these…you may even want to Dew them.
Haha, sorry, had to.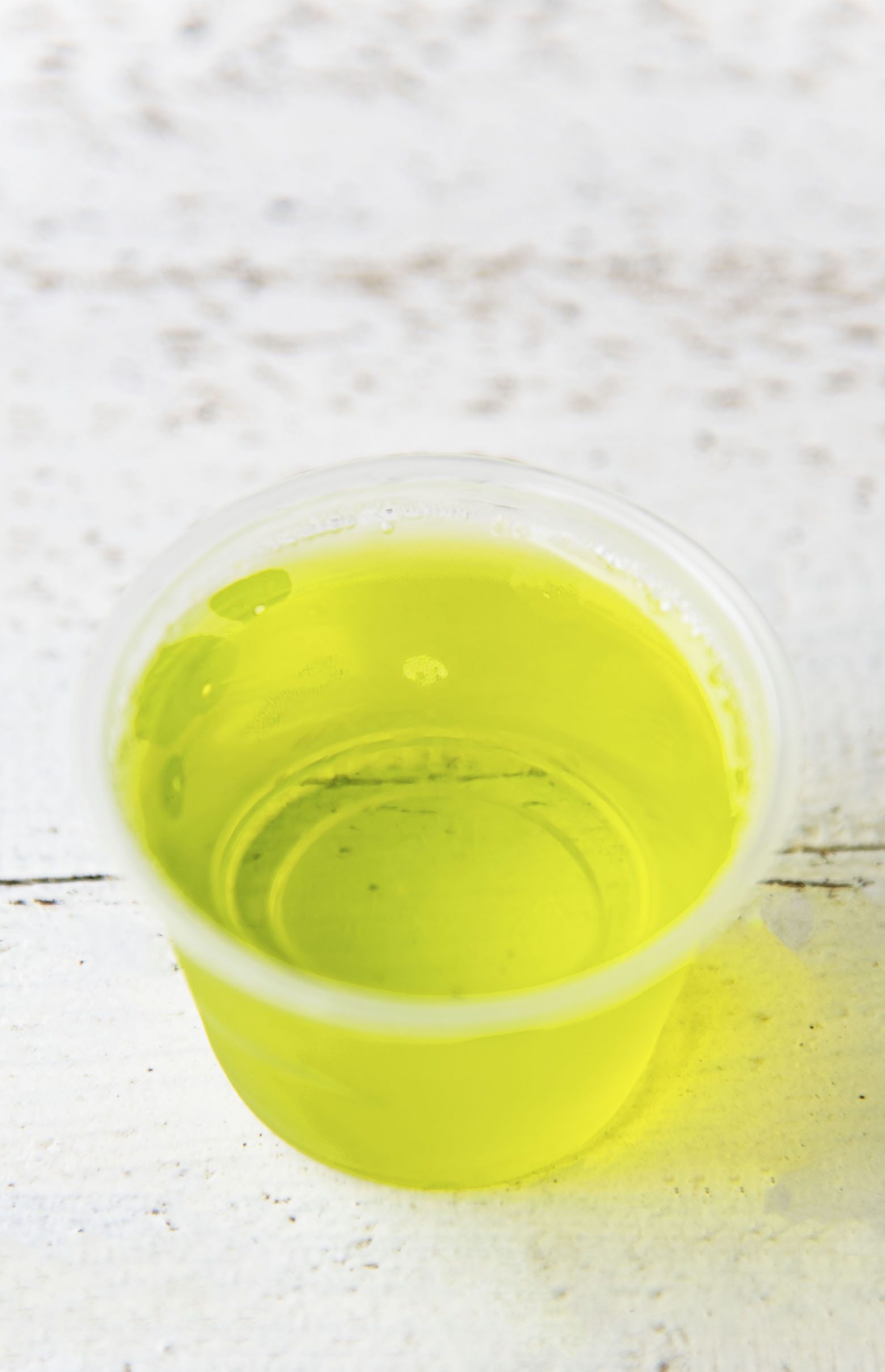 Things to remember when making Jelly Shots.
When throwing a party, you'll probably want to prepare 4-6 Jelly Shots for each guest.
This batch uses 6 ounces of gelatin and so you will get around 18-20 Jelly Shots.
If doing a half recipe and only using 3 ounces of gelatin you will only get 8-10 Jelly Shots depending on how you pour.
If using a garnish, don't place the garnish on the Jelly Shot until just ready to serve.
And as always it's a great day to order my cookbook.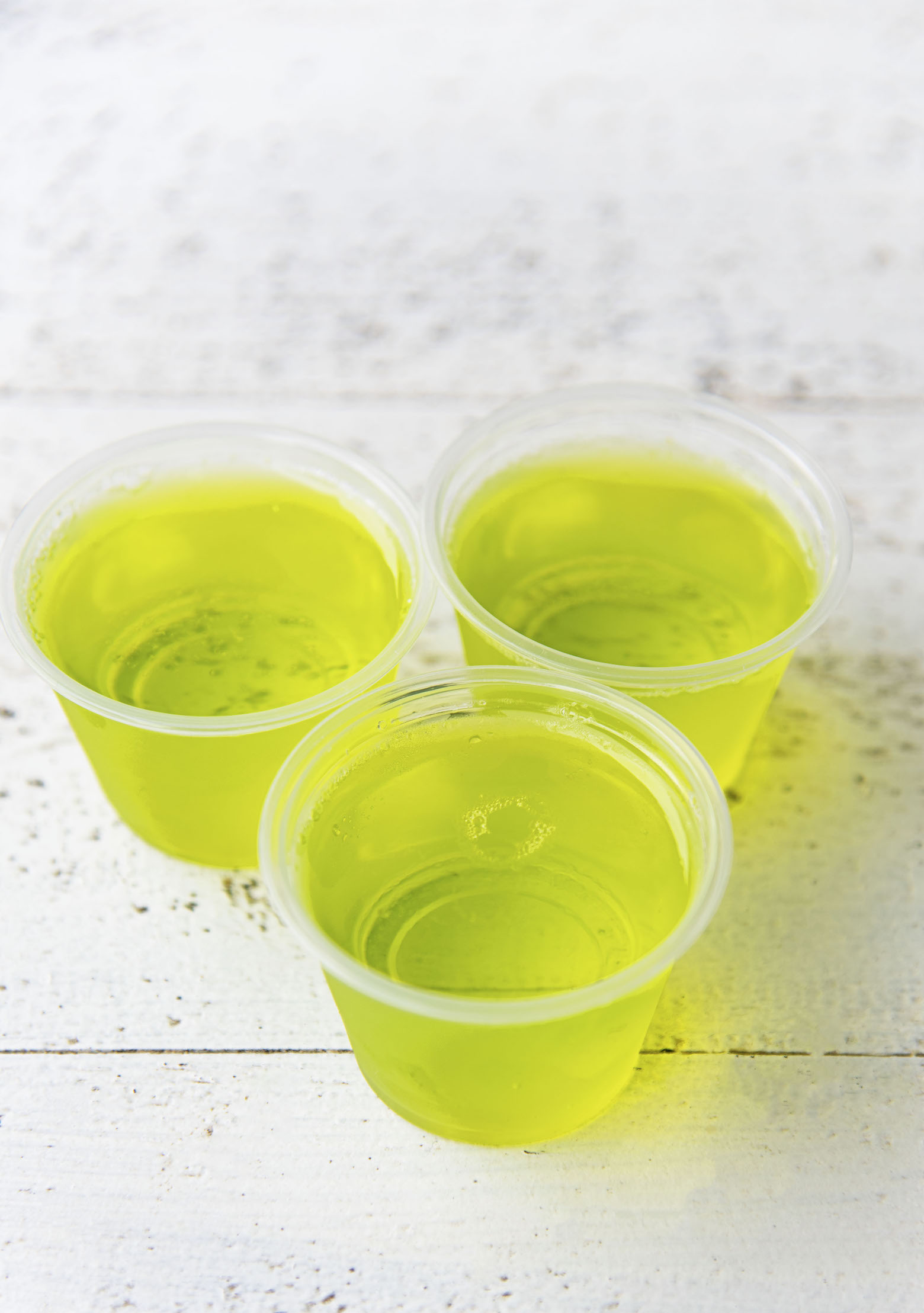 Want More Jelly Shot Recipes?
Peanut Butter Grape Jelly Jelly Shots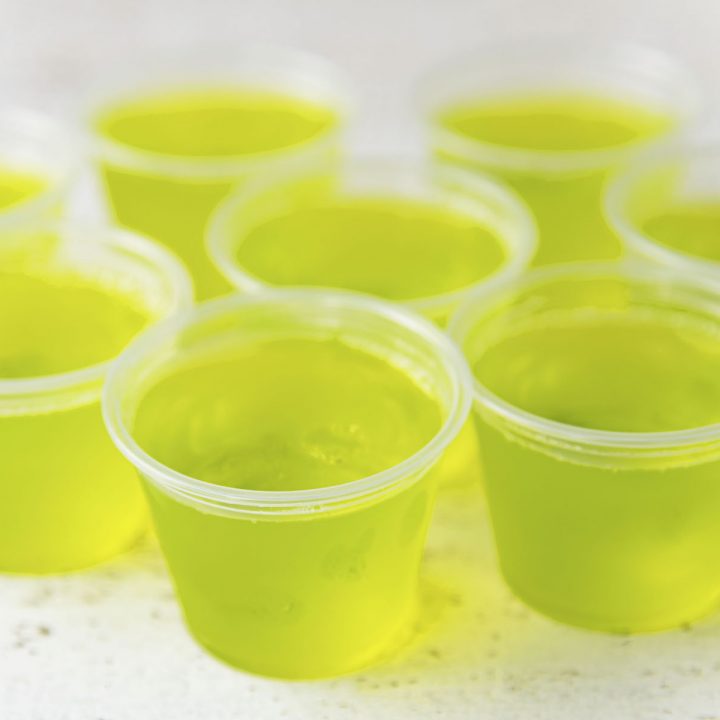 Mountain Dew Jelly Shots
Ingredients
3 cups regular Mountain Dew divided
6 oz pineapple gelatin
1/2 cup Melon Liqueur
1/4 cup Triple Sec
1/4 cup vodka
Instructions
Bring 1 1/2 cups of Mountain Dew to a boil.
Empty gelatin powder into a large mixing bowl and add the boiling Mountain Dew and whisk .
Continue stirring for two minutes or until the jello is completely dissolved.
Add in the cup of cold Mountain Dew, Melon Liqueur, Triple Sec, and vodka.
Stir until mixed and pour into 2oz. cups filled 1/2 to 3/4 of the way.
Let set up in fridge for at least 4 hours before serving.