This Watermelon Cheesecake Cheese Ball may look like a watermelon but it's actually a vanilla chocolate chip flavored dessert cheese ball.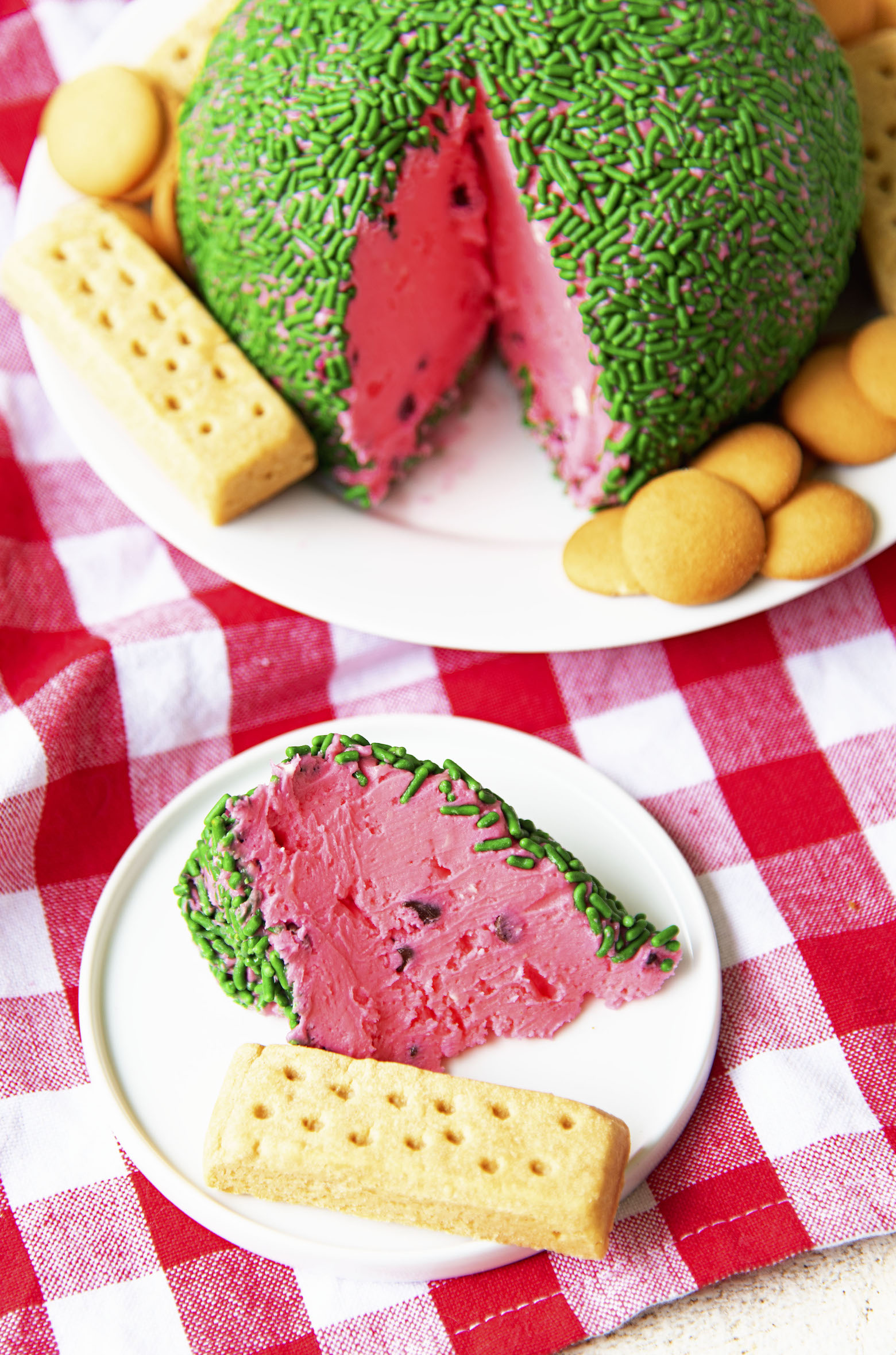 This Watermelon Cheesecake Cheese Ball is perfect for summer.
If you are living anywhere but the Pacific Northwest you may actually be having summer-like temperatures.
Luckily, well, lucky for me, we have been having below weather temperatures.
I say luckily because I love cooler weather but also because last summer was unseasonable hot.
So hot that people died.
Same with the summer before.
The PNW is not made for heat waves.
Most buildings, even businesses, do not have air conditioning.
Now, more and more are getting them due to the fact that each summer it keeps getting hotter and hotter, but in general people don't have it.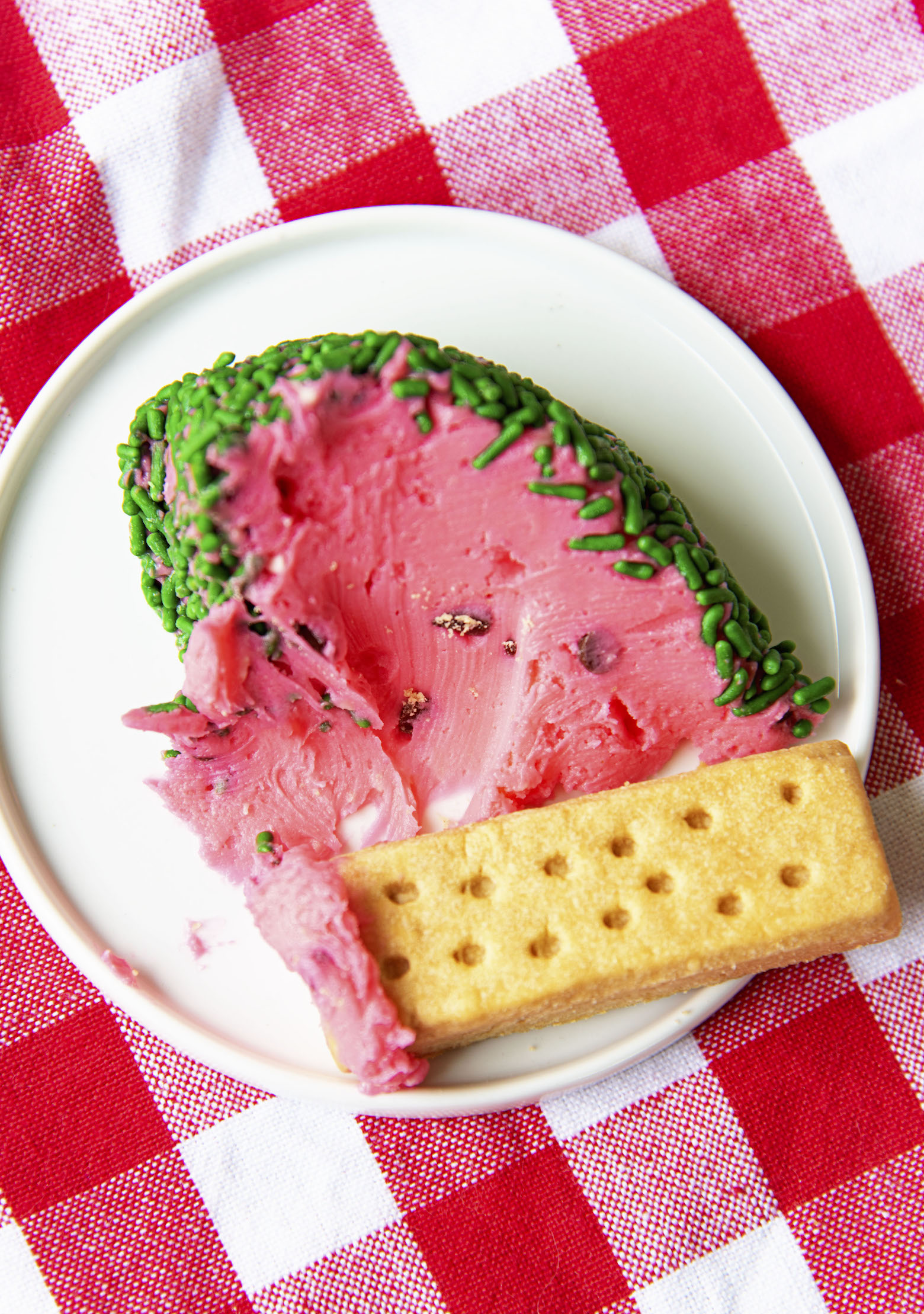 It doesn't help that we tend to get humid here either.
Today it's 74F and sunny.
That's fine.
Lovely in fact.
But when it's misty and 64F it's just this tropical yuck that makes your clothing stick to your body.
On those days, just like most summer days, the desire to turn on the oven to bake is non-existent.
And I end up making a lot of dessert cheese balls.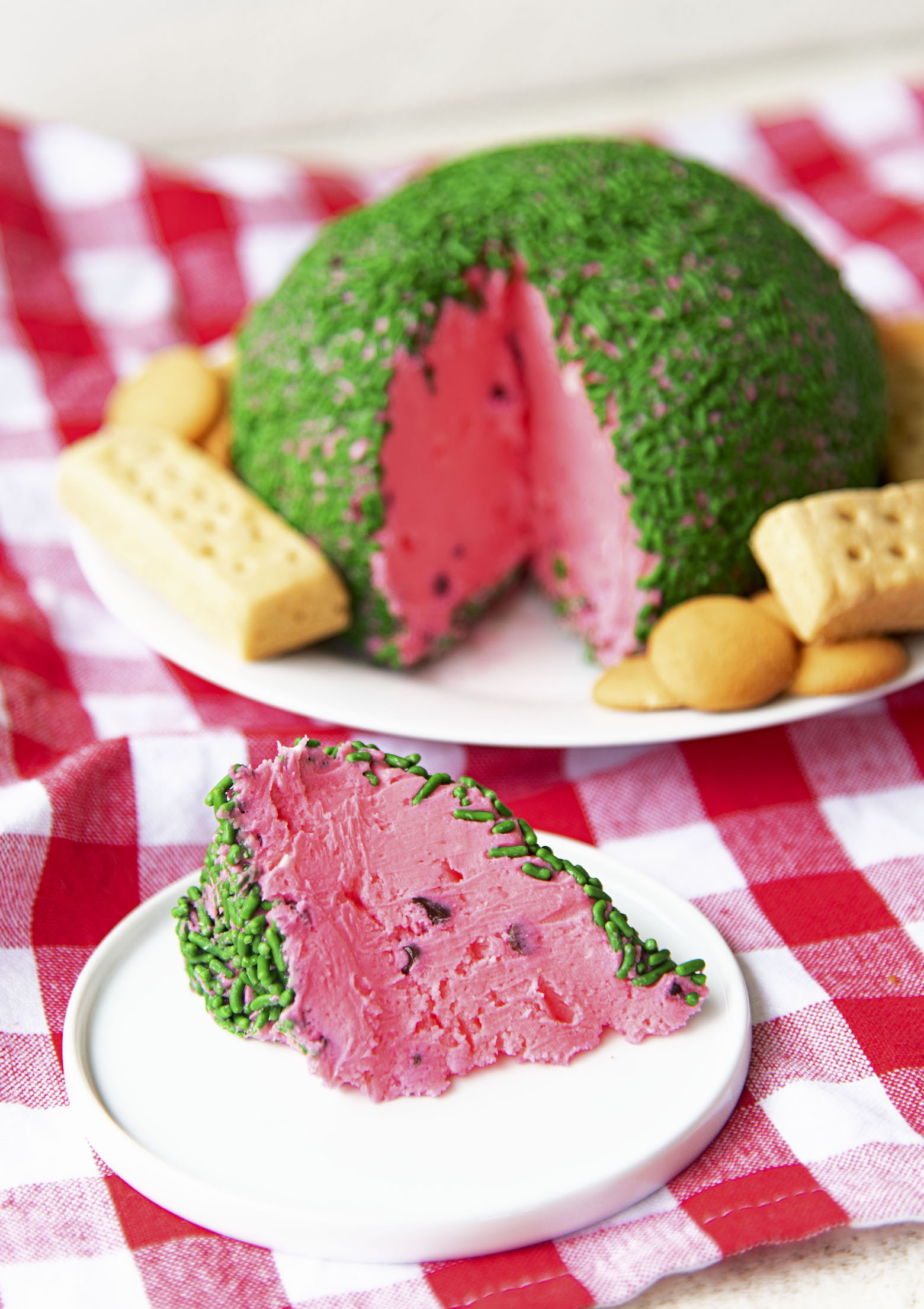 Now, normally when I make something look like another food, I have it taste like that food.
I've even made watermelon cheesecake bites that tasted like watermelon.
But for this I just wasn't feeling like it should be watermelon flavored.
If you want it to be watermelon flavored you can always add a drop or two of watermelon flavoring.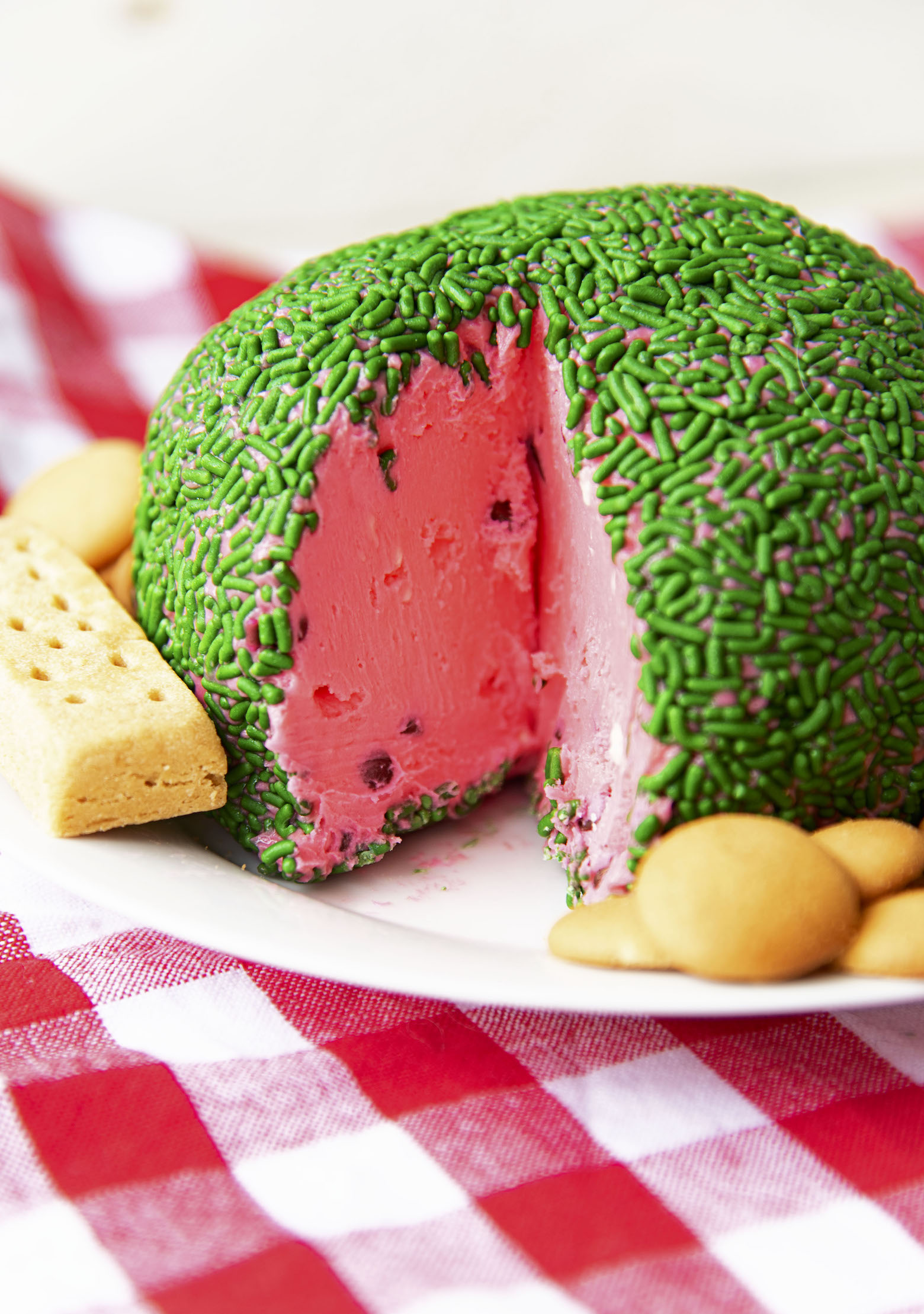 Watermelon and chocolate chips weren't sounding all that great to me and so I decided to stick with vanilla.
My husband loves it because he said it tastes like a giant ball of cream cheese frosting with chocolate chips.
Which is pretty much true.
And there is nothing wrong with cream cheese frosting!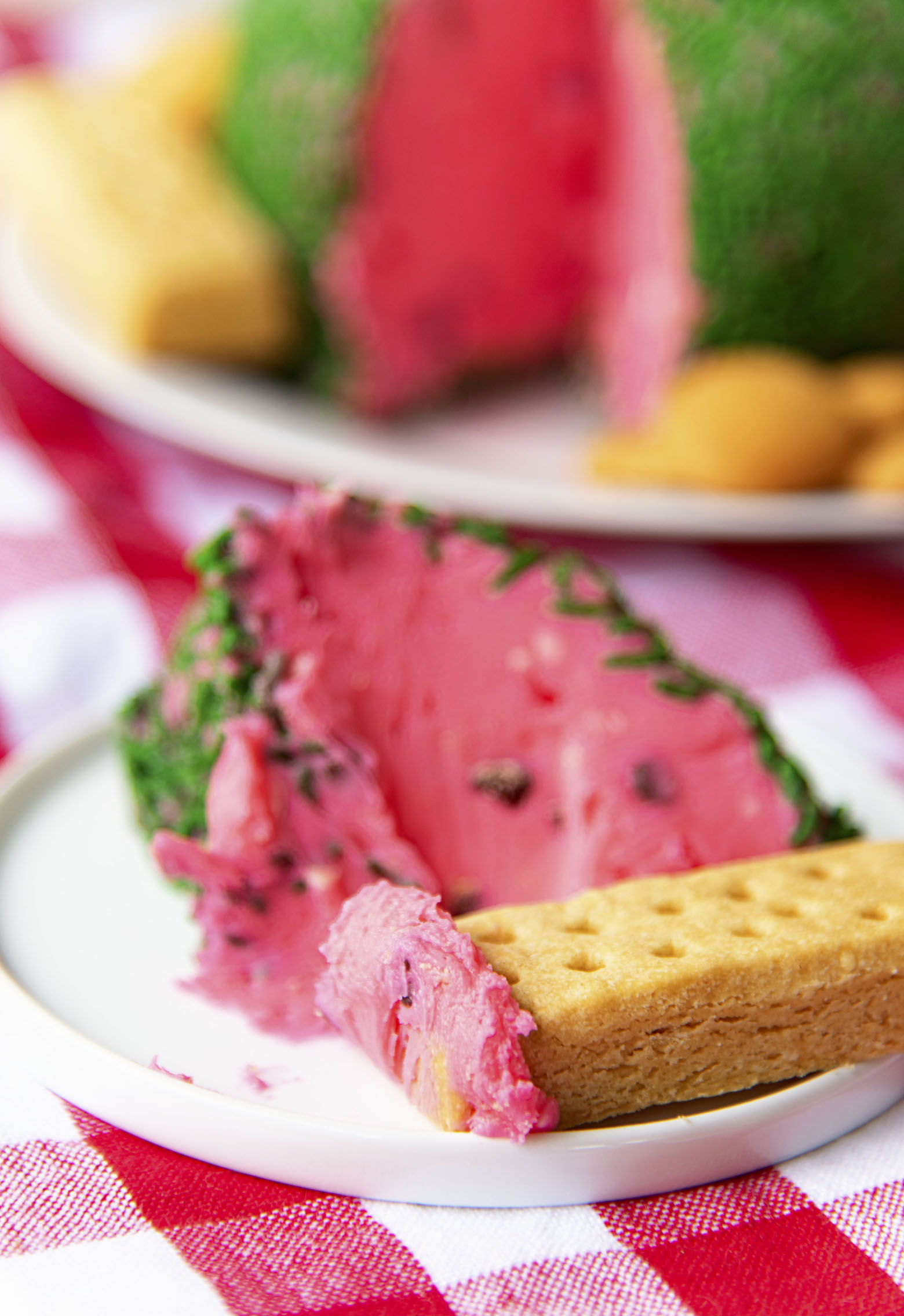 I will admit I made this cheese ball just because it seemed cute.
And would be great for picnics and summer barbeques.
It did turn out just like I thought it would.
If you would prefer a more red center, feel free to add more red food gel.
But I find most watermelon to be more pink than red.
You can also add more or less mini chocolate chips depending on what you like.
If you are not going to serve the cheese ball right away I suggest freezing it.
But if you do keep it in the freezer I suggest holding off rolling in sprinkles until the day you are going to use it.
Not all, but some sprinkles bleed when they are frozen so that is why I wait until the day of.
And as always it's a great day to order my cookbook.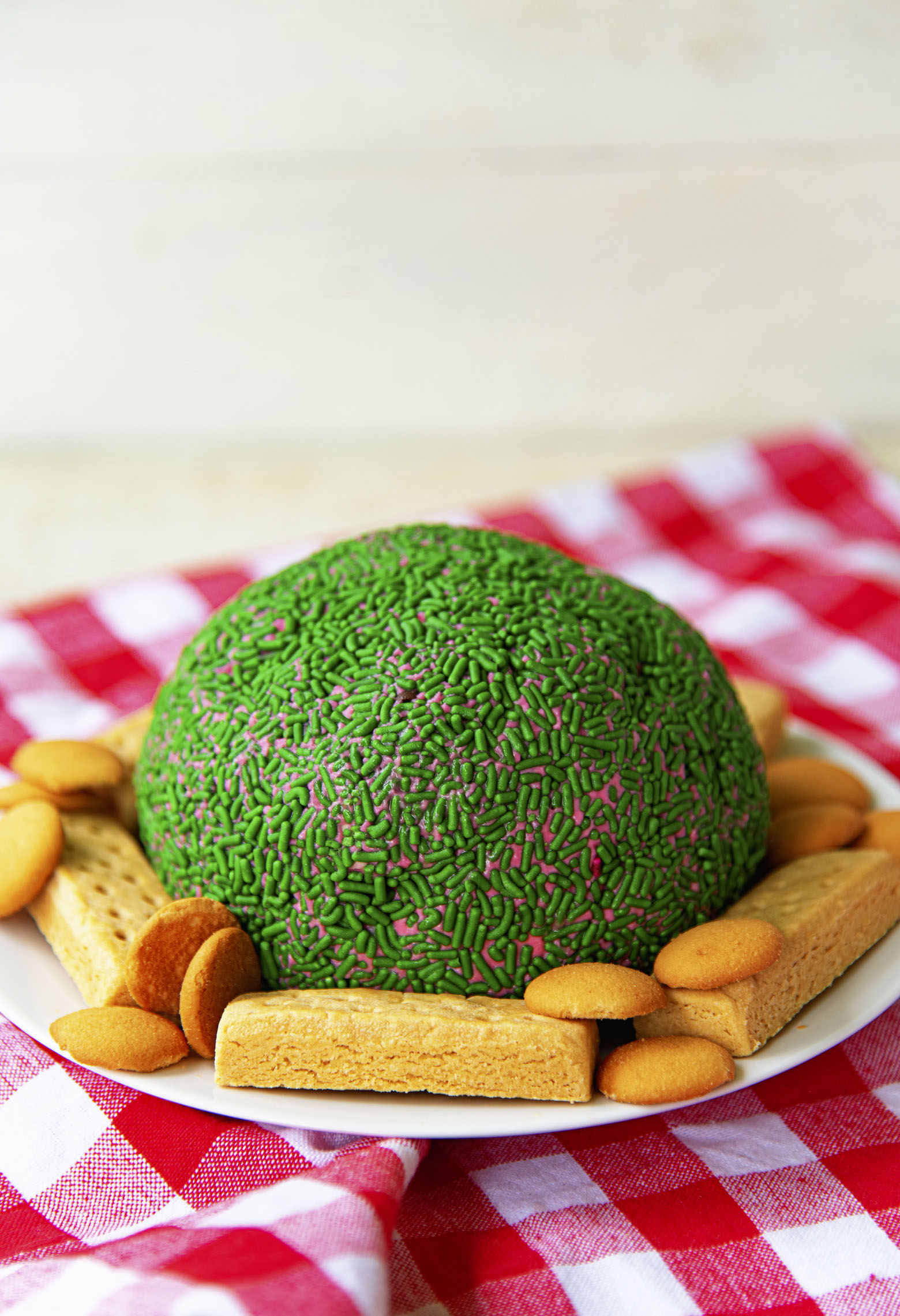 Want More Cheesecake Cheeseball Recipes?
Cake Batter Cheesecake Cheeseball
Banana Split Cheesecake Cheeseball
Sugar Cookie Cheesecake Cheeseball
Angel Food Cake and Strawberry Cheesecake Cheeseball
Circus Animal Cookie Cheesecake Cheeseball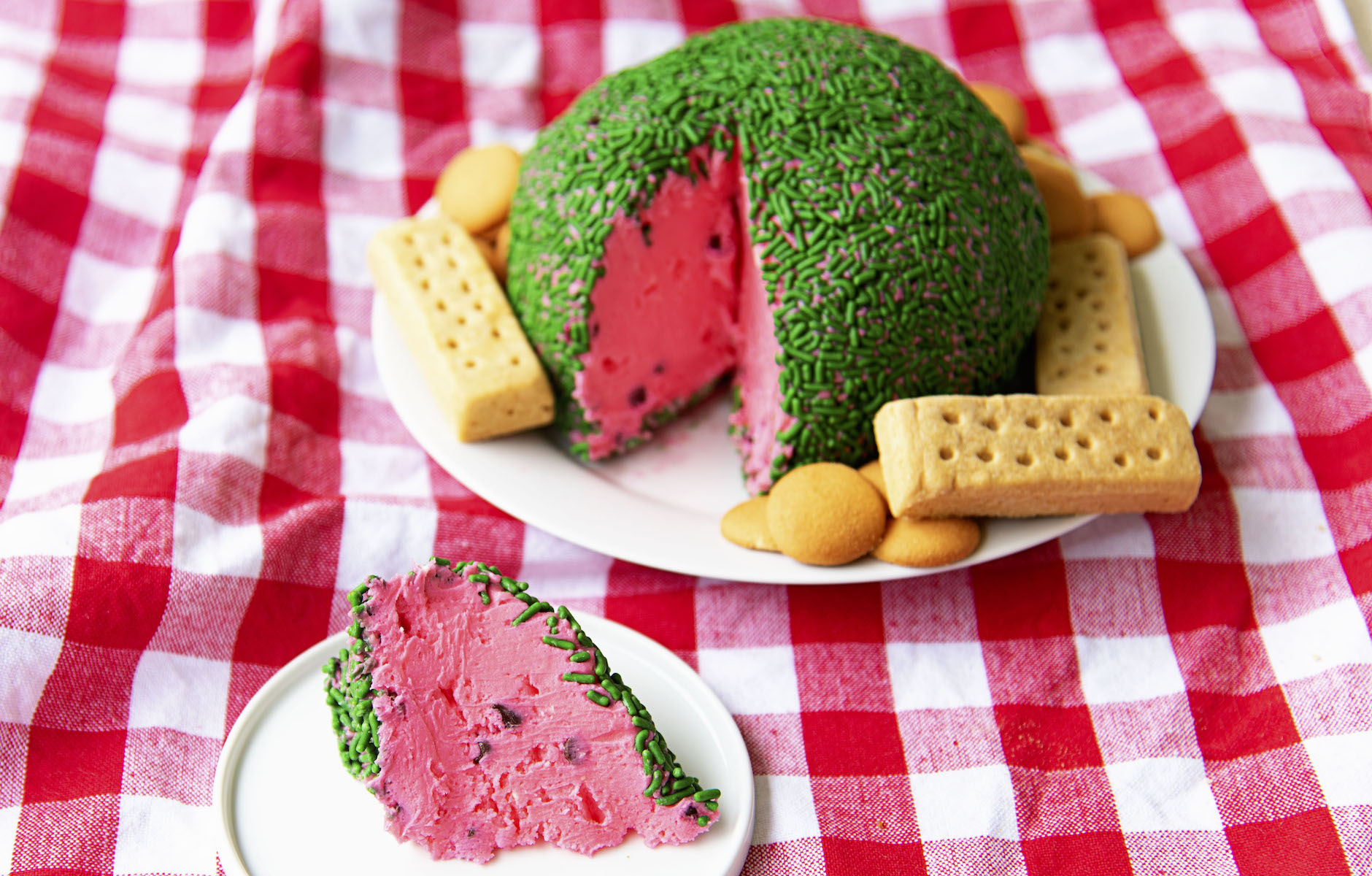 Watermelon Cheesecake Cheese Ball
Ingredients
16 oz. cream cheese, at room temperature
1 cup unsalted butter, at room temperature
1 tsp. vanilla extract
3 1/2 cups powdered sugar
3 drops pink food coloring gel
2 drops red food coloring gel
1 1/2 cups mini chocolate chips
1 cup green sprinkles
Instructions
Using a stand mixer with a paddle attachment beat together the cream cheese and the butter until fully incorporated.
Add the powdered sugar, and vanilla extract and beat until fully incorporated.
Add the food coloring gel and mix until fully incorporated and you have a dark pink color. You can add more red if you want a more reddish color to your cheese ball.
With the mixer on low add the mini chocolate chips and mix until evenly-ish distributed.
Lay out a piece of plastic wrap and scoop the cream cheese mixture onto it.
Do your best to form a ball, then wrap up the ball in the plastic wrap. Do an extra layer of plastic wrap to help it keep its shape.
Freeze for about 2 hours.
Take the ball out of the freezer and unwrap.
Place the sprinkles in a low shallow baking dish or jelly roll pan (I find a plate too small).
Roll the ball in the sprinkles making sure you cover as much of it as you can.
Wrap the ball back up into some plastic wrap and place in the fridge.
If not serving that day, place back in the freezer and then take out an hour before serving to come up to room temperature.
Serve with assorted cookies.