These Baby Yoda Jello Shots are a lemon lime flavored vodka jello shots with lime slices and blueberries to give them a Grogu look.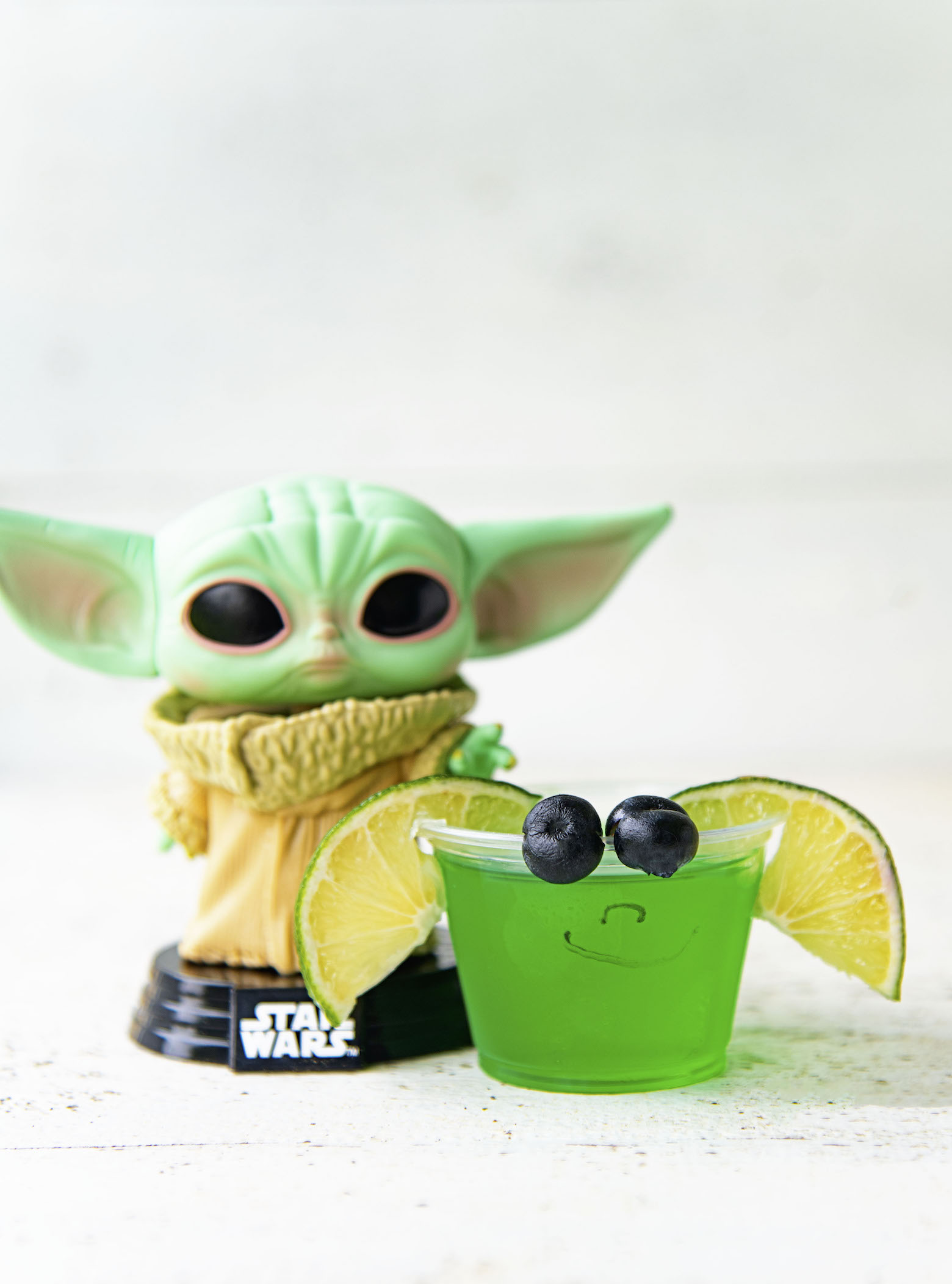 May the Fourth (be with you) is almost here and so I made Baby Yoda Jello Shots.
I am without a doubt a Star Wars nerd.
Now, I'm not one that goes to conventions and what not.
But I have been known to stand in line for quite some time at midnight when the movies release.
While I might not dress up in Star Wars gear, our dogs may be forced to. :D.
They have a lot of Star Wars toys too.
And a Baby Yoda dog bed that sits under my desk.
I had Star Wars elements in my wedding including a remote control R2D2 that roamed around the venue.
Our two officiants went online and became "official" jedi knights. 🙂
We had a lot of I Love You, I Know signs throughout the venue.
Now, for those that don't know, Grogu, aka Baby Yoda comes from the show The Mandalorian.
He was known as The Child for the longest time on the show until they finally revealed his name.
Pretty much everyone fell in love with him immediately, myself included.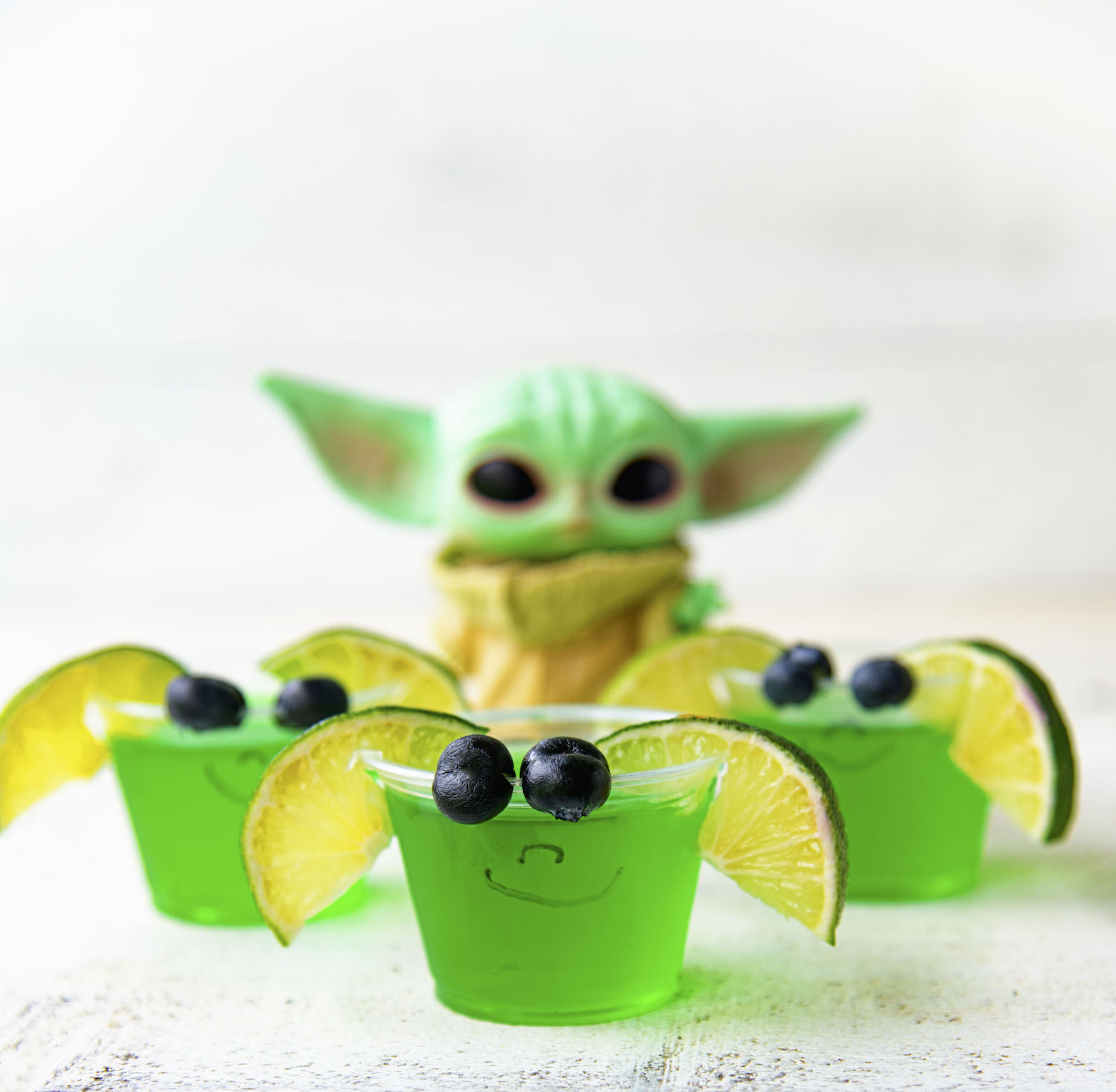 I saw a lot of people make Baby Yoda cocktails.
And the were cute.
But there are so many of them now.
I thought for sure there would be a jello shot version by now.
Apparently not.
At least not when I set out to find one.
So I figured I would make some.
Now, they don't really look like the cute baby Grogu.
It's hard to be as cute as he is.
But the are fun all the same.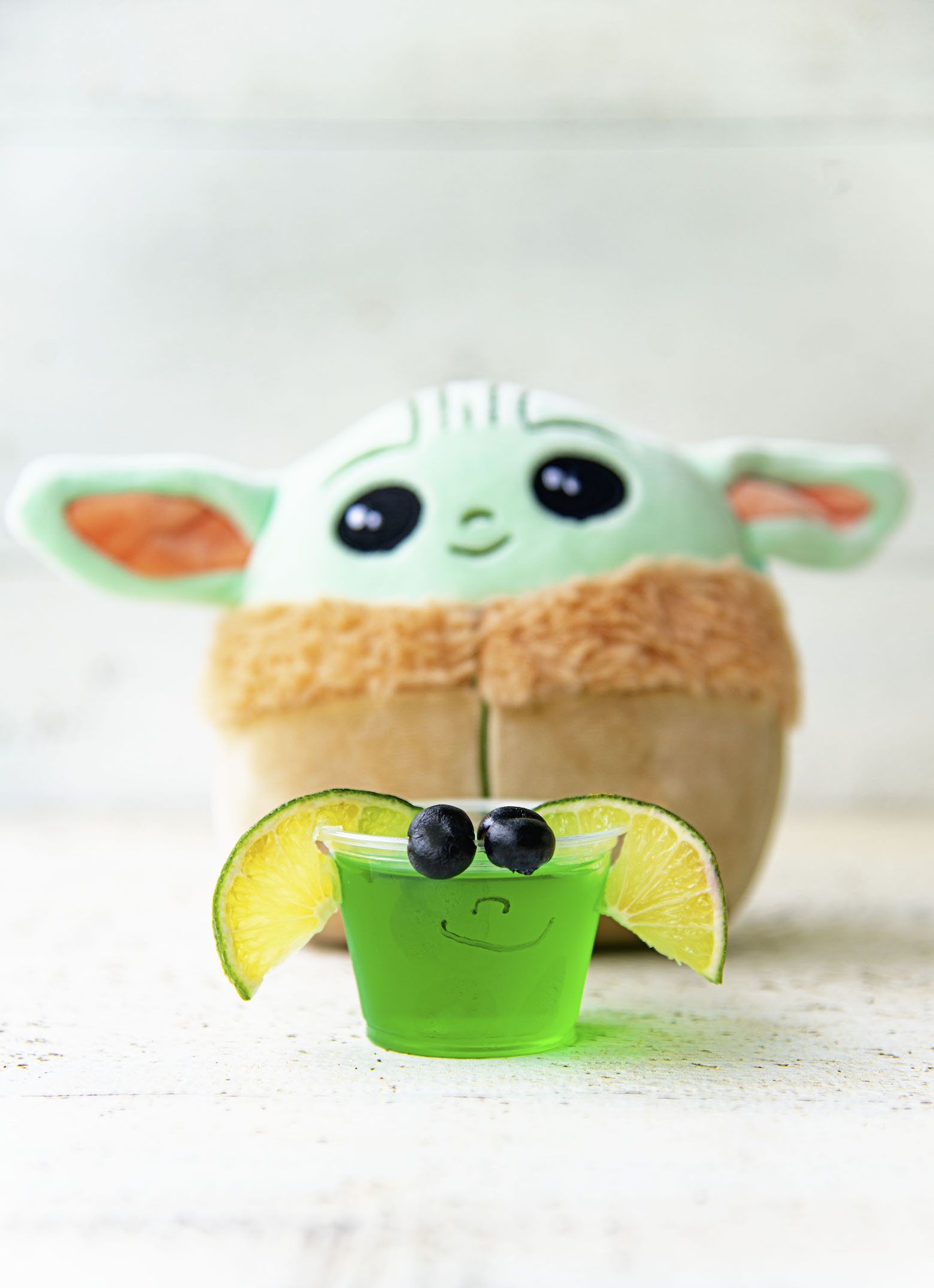 I went with a lemon lime flavor because I needed green jello.
And they don't make frog flavored gelatin…that I know of. 😛
The jello is a lime flavor for the green.
I used a lemon lime soda, in this case, Sprite.
But any lemon lime soda will do.
Vodka is the main booze but I also used limoncello liqueur.
If you don't want to use the limoncello liqueur you can just use all vodka.
Can you make these kid friendly?
Yes, you can make these kid friendly.
You simply just need to use 1 cup of lemon lime soda in place of the alcohol.
So you would have 4 cups of lemon lime soda total.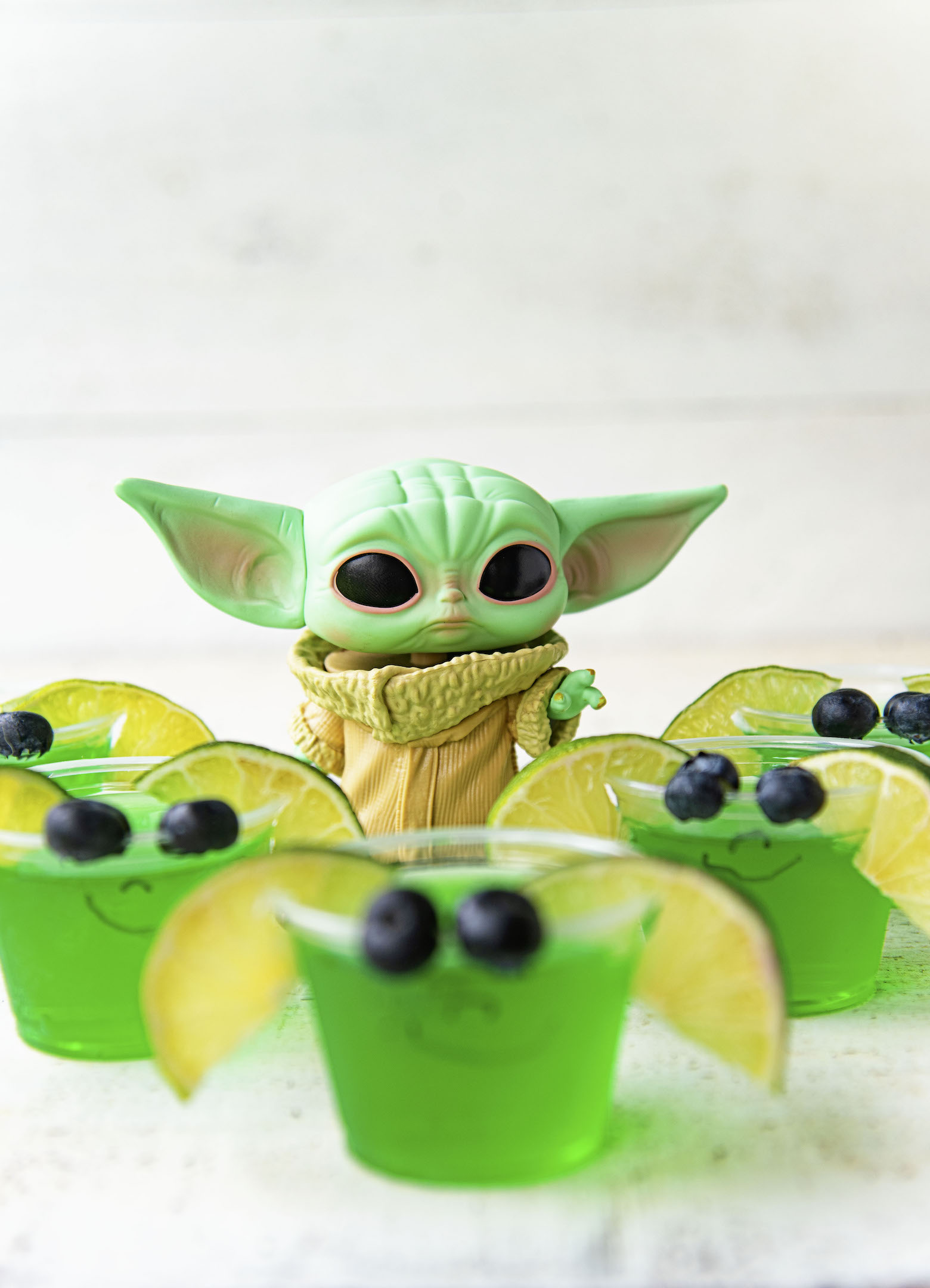 Things to remember when making Jello Shots.
When throwing a party, you'll probably want to prepare 4-6 Jello Shots for each guest.
This batch uses 6 ounces of gelatin and so you will get around 18-20 Jello shots.
If doing a half recipe and only using 3 ounces of gelatin you will only get 8-10 Jello shots depending on how you pour.
If using a garnish, don't place the garnish on the jello shot until just ready to serve.
And as always it's a great day to order my cookbook.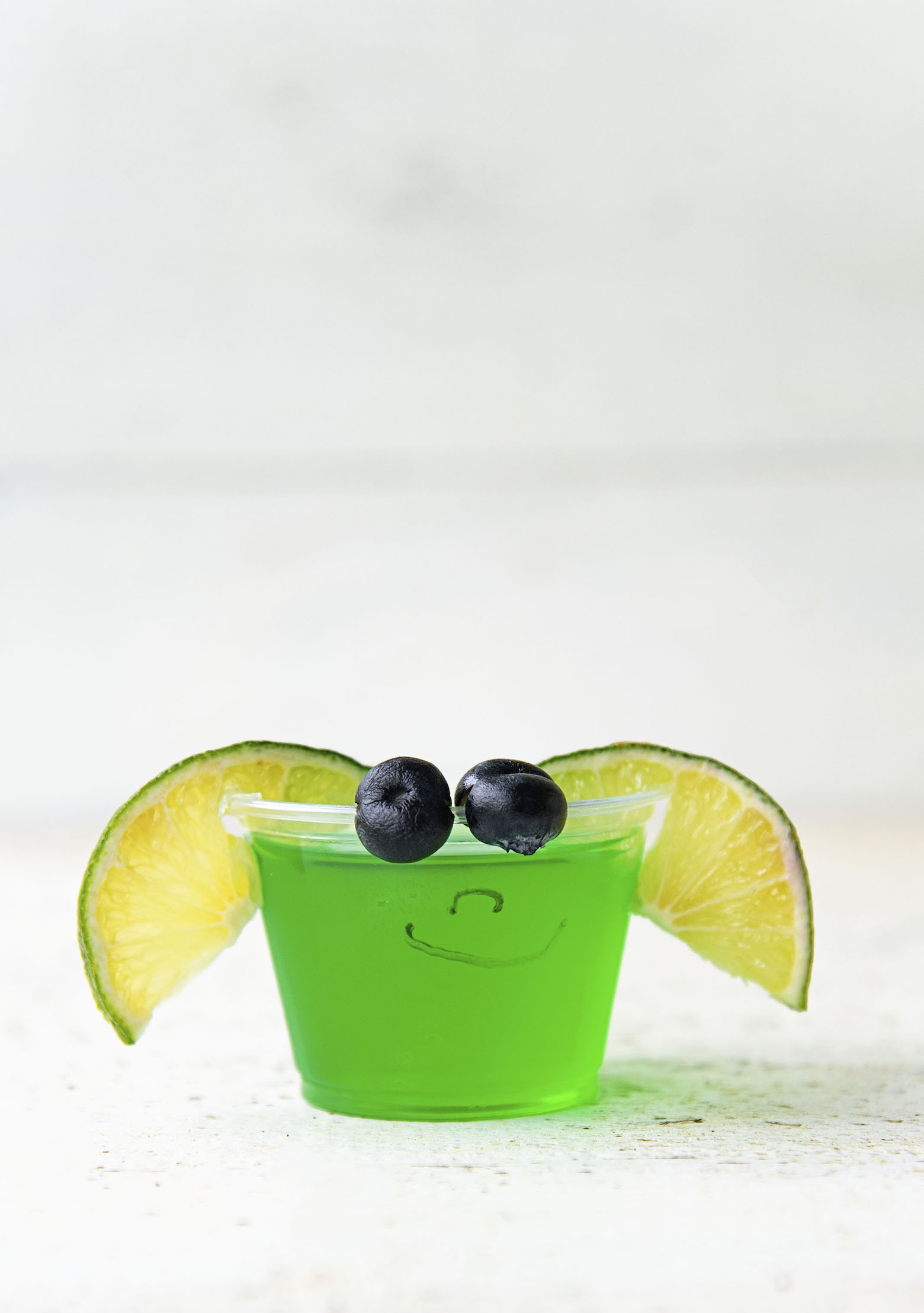 Want More Jello Shot Recipes?
Peanut Butter Grape Jelly Jell-O Shots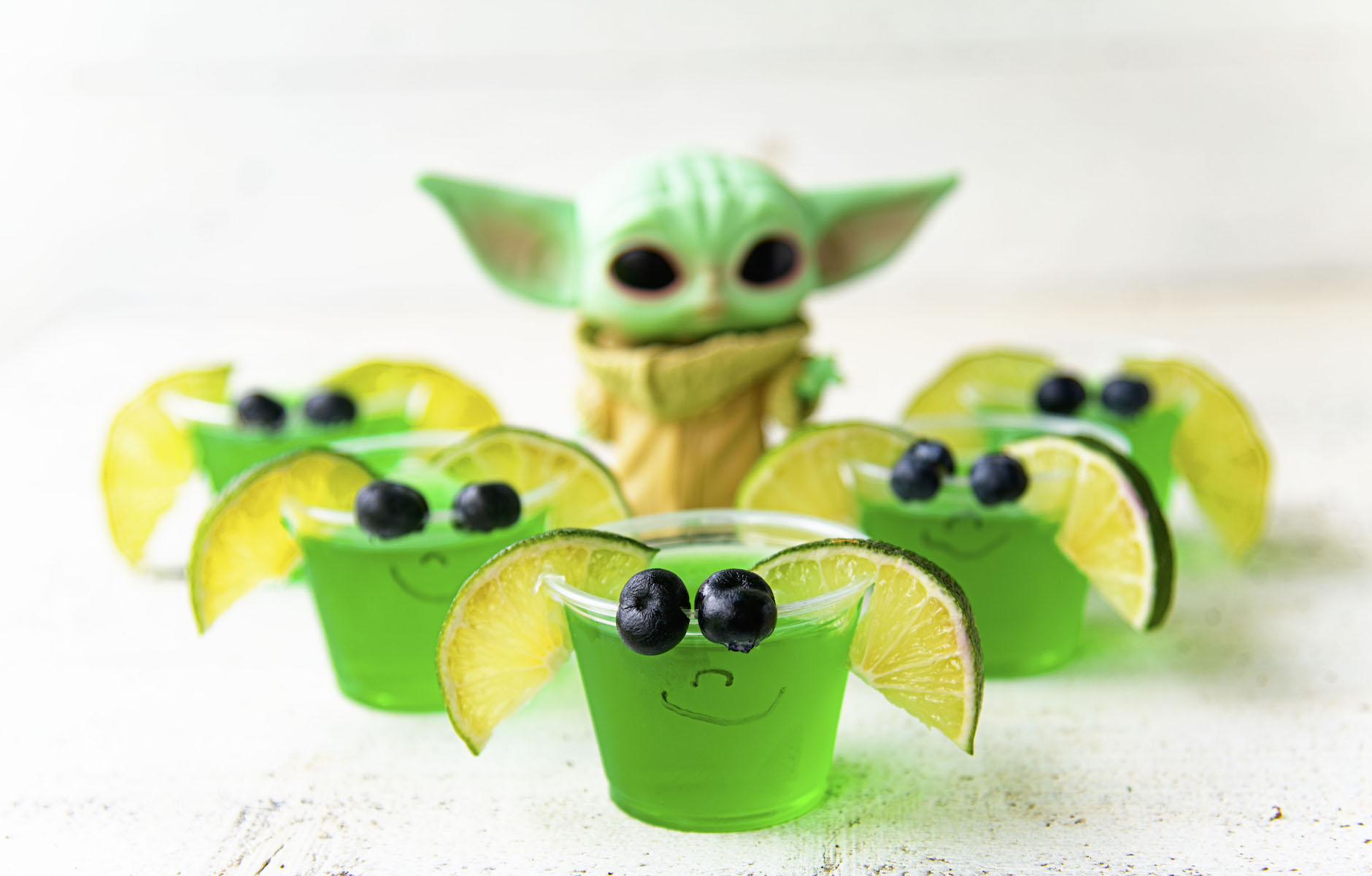 Baby Yoda Jello Shots
Ingredients
3 cups lemon lime soda (I used Sprite), divided
2 (3 oz) packages Lime Jello
3/4 cup vodka
1/4 cup limoncello liqueur
6 limes
30 blueberries
Instructions
Bring 2 cups lemon lime soda to a boil.
Empty gelatin powder into a large mixing bowl and add the boiling lemon lime soda.
Continue stirring for two minutes or until the jello is completely dissolved.
Add in the cup of cold lemon lime soda, vodka, and limoncello liqueur.
Stir until mixed and pour into 2oz. cups filled 1/2 to 3/4 of the way.
Place in fridge for at least 4 hours.
Remove from fridge and decorate.
Cut blueberries on the side and hang them off the side of the glass as eyes. Do the same with limed as ears.
Use a Sharpie marker to make a nose and mouth if desired.