These Strawberry Lemonade Jello Shots are made with strawberry lemonade vodka, lemonade, strawberry gelatin, and strawberry lemonade soda.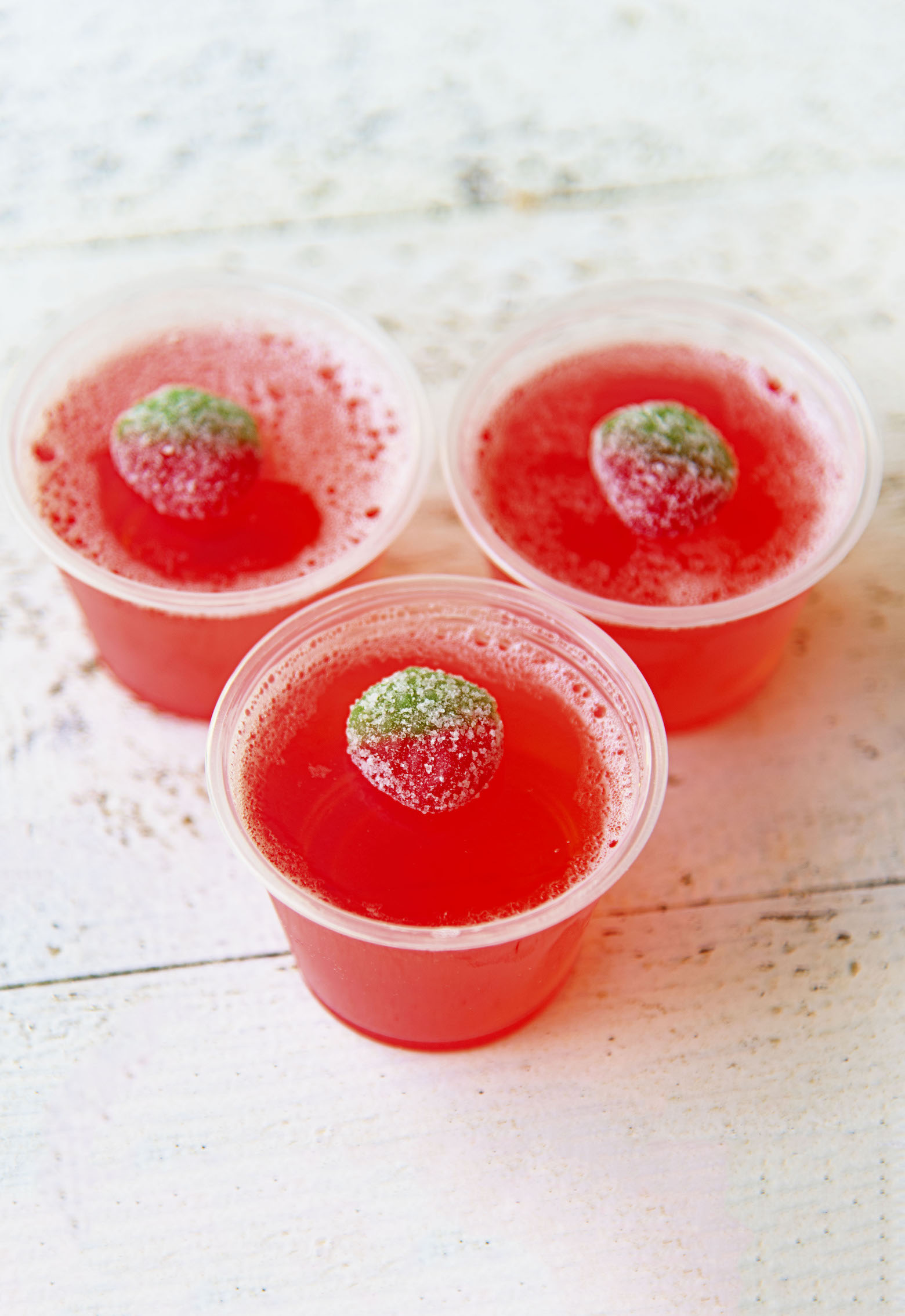 These Strawberry Lemonade Jello Shots are perfect for spring and summer.
Year round too.
But something about strawberry lemonade says summer to me.
Maybe because June is strawberry season (around here) and so you start putting fresh strawberries in your lemonade then.
If you are a long time reader you may remember that I make 400 Jello shots every July for a hockey tournament.
And while we have our core flavors that everyone wants to see, I always introduce new flavors each year.
So I do practice runs to see which ones I'll make for the tournament.
Ironically, the practice shots normally go to my hockey team. 🙂
Those practice runs start around early May.
I'm starting a little early this year.
So expect Jello shots even more this year.
In order to make as many as I do and to practice the flavor combos I have to buy a lot of gelatin.
And also a lot of booze.
A lot.
How much?
Well, I get my alcohol delivered.
My Total Wine has that option.
I live in a farm area which hosts lots of weddings for those wanting the barn/farm theme.
So when the guy delivered my order he commented that the order was large.
So large he assumed he was delivering to one of the wedding venues for a wedding or large party.
Therefore, when I say a lot of booze…I mean it. 😛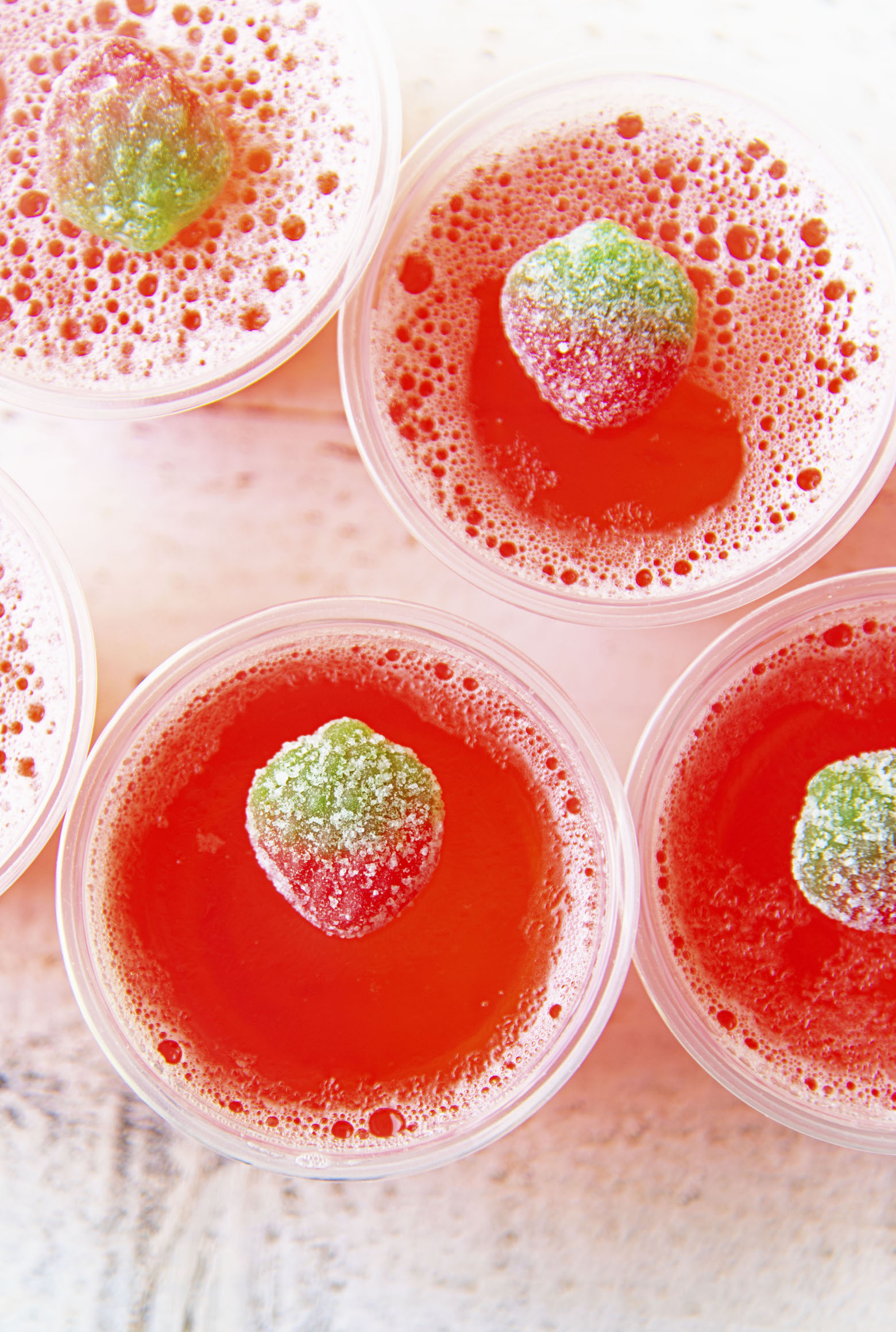 Why would I make so many Jello shots?
Old dogs.
See up until the last two years my favorite charity Old Dog Haven has a walk.
And we raise funds for that walk every year.
This year they are doing a carnival instead but we are still raising funds for it.
And since old dogs are my favorite I do my best to raise money for them.
Old Dog Haven is wonderful and they pay ALL medical bills for the over 300 senior dogs in their care.
They all live in foster homes but those fosters homes are final.
The dog belongs to the family in every sense but legal.
All the dogs have to stay fosters so that Old Dog Haven can pay all the bills.
And boy to they have bills.
I would know, our dog Banjo was an ODH dog.
He was at the vet all the time.
So while Jello shots are fun…there is a reason behind why I make so many.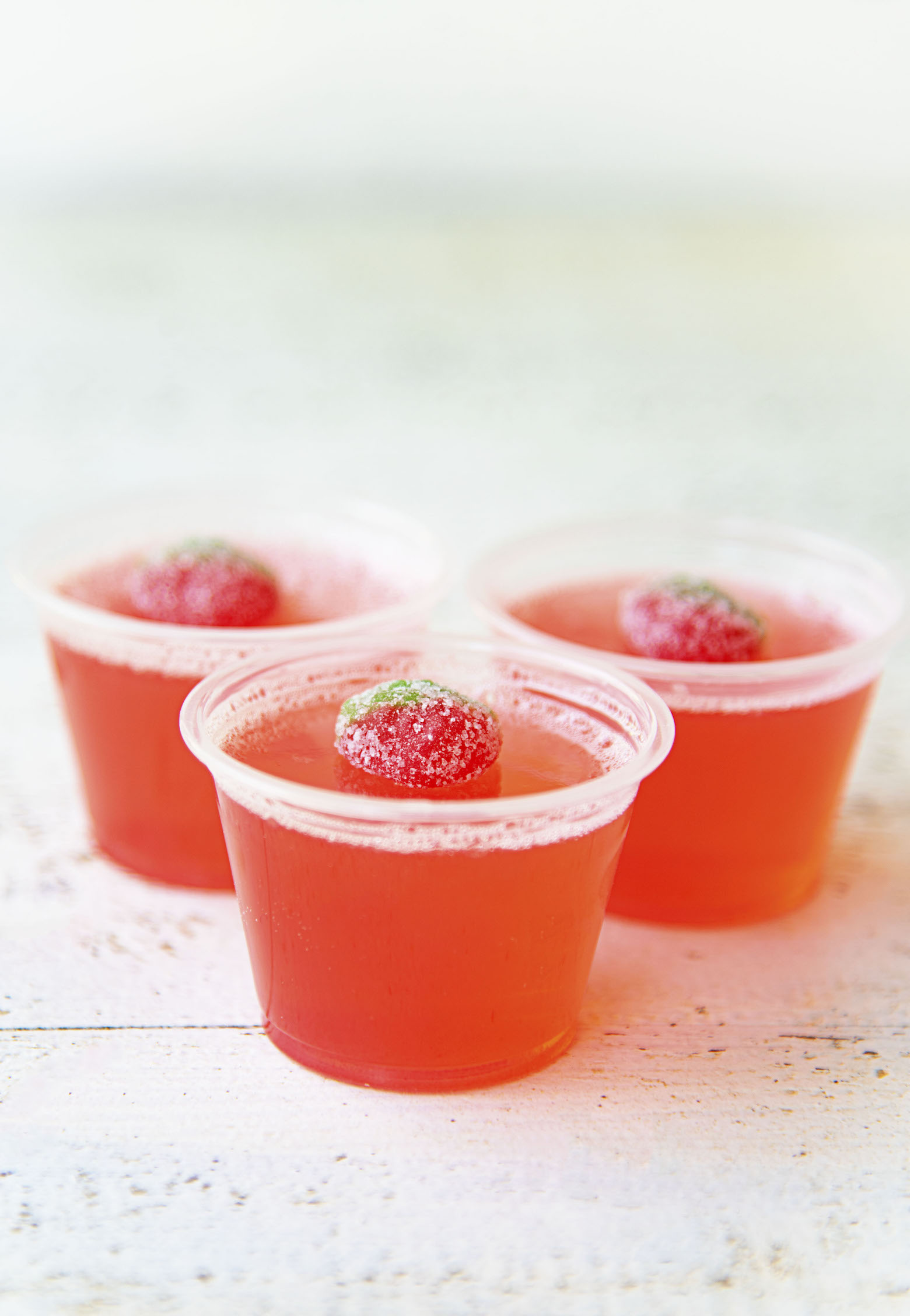 If you can't find the Sunkist Strawberry Lemonade then just use all lemonade for the whole recipe.
If you can't find the strawberry lemonade vodka you can use regular vodka.
Things to remember when making Jello Shots.
When throwing a party, you'll probably want to prepare 4-6 Jello Shots for each guest.
This batch uses 6 ounces of gelatin and so you will get around 18-20 Jello shots.
If doing a half recipe and only using 3 ounces of gelatin you will only get 8-10 Jello shots depending on how you pour.
If using a garnish, don't place the garnish on the jello shot until just ready to serve.
And as always it's a great day to order my cookbook.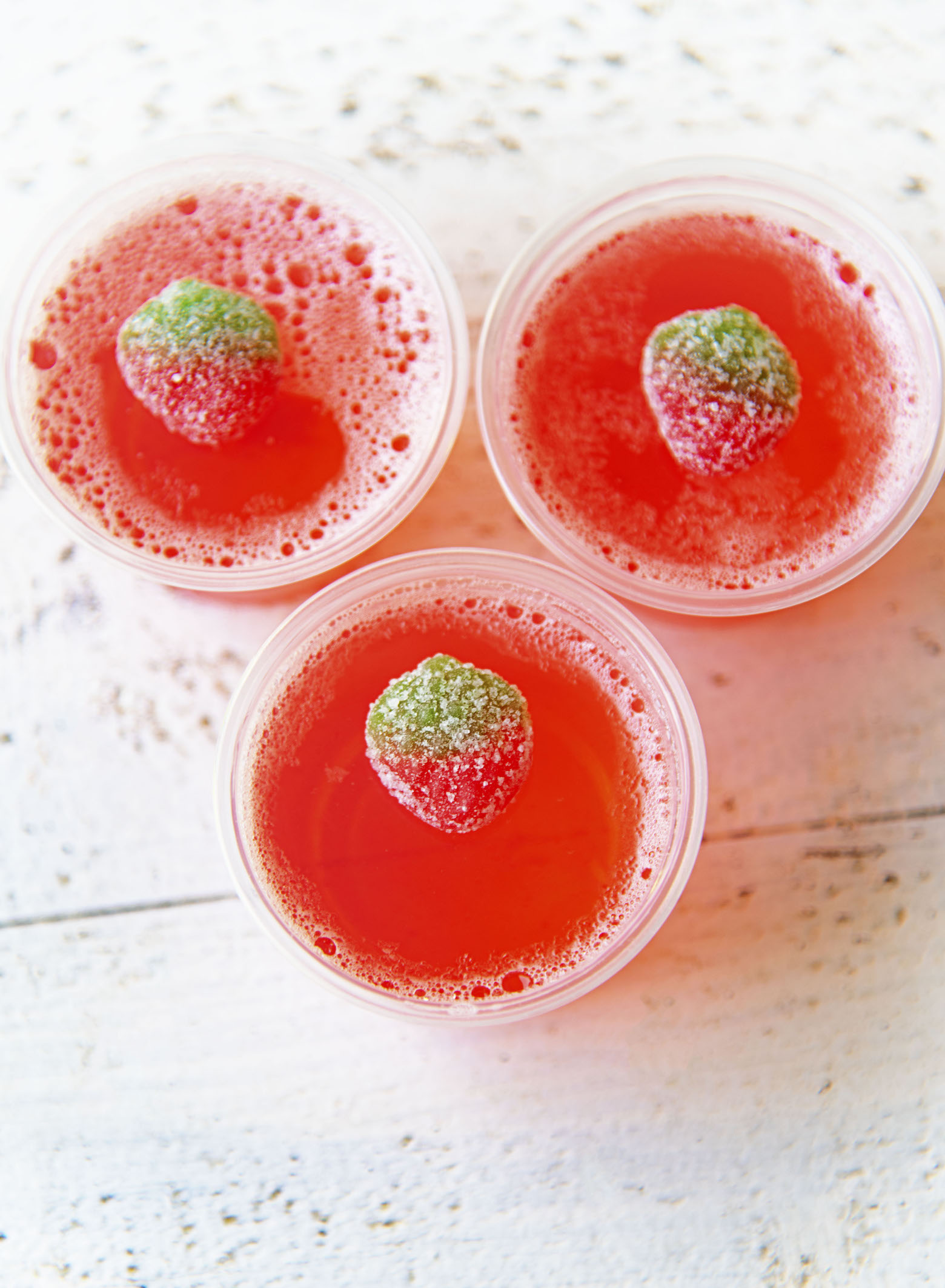 Want More Jello Shot Recipes?
Peanut Butter Grape Jelly Jell-O Shots
Touchdown Red Bull Jello Shots
Painkiller Cocktail Jello Shots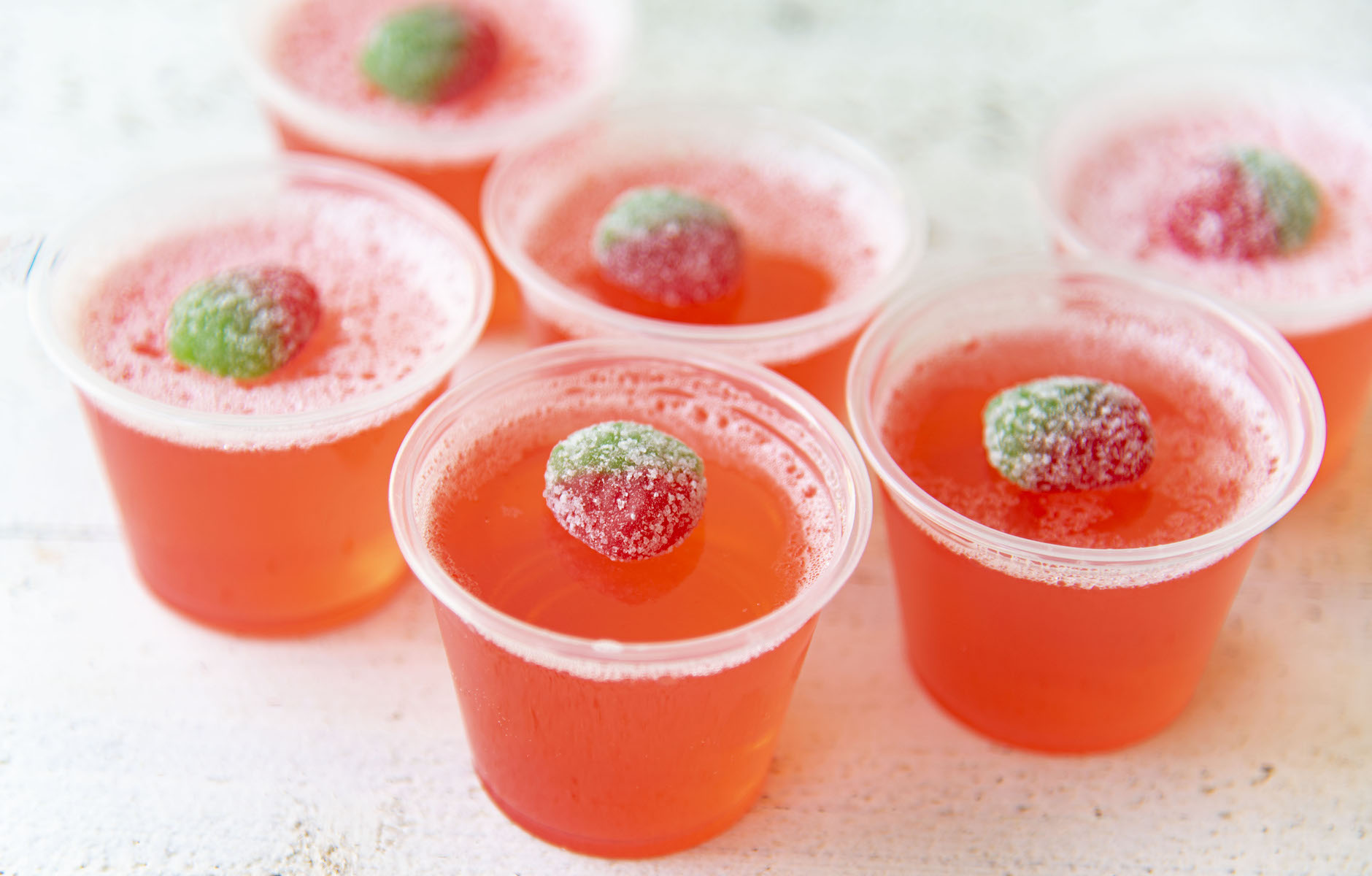 Strawberry Lemonade Jello Shots
Ingredients
2 cups Lemonade
6 oz strawberry gelatin
1 cup Sunkist Strawberry Lemonade Soda (or more lemonade)
1 cup strawberry lemonade vodka
mini sour strawberry gummy candies for garnish if desired
Instructions
Bring 2 cups lemonade to a boil.
Empty gelatin powder into a large mixing bowl and add the boiling lemonade.
Continue stirring for two minutes or until the jello is completely dissolved.
Add in the cup of cold Sunkist Strawberry Lemonade soda and Strawberry Lemonade Vodka.
Stir until mixed and pour into 2oz. cups filled 1/2 to 3/4 of the way.
Top with mini sour strawberry gummy if desired.
Let set up in fridge for at least 4 hours before serving.