These Touchdown Red Bull Jello Shots will help you kickoff your party with mandarin orange vodka, Red Bull, and orange gelatin.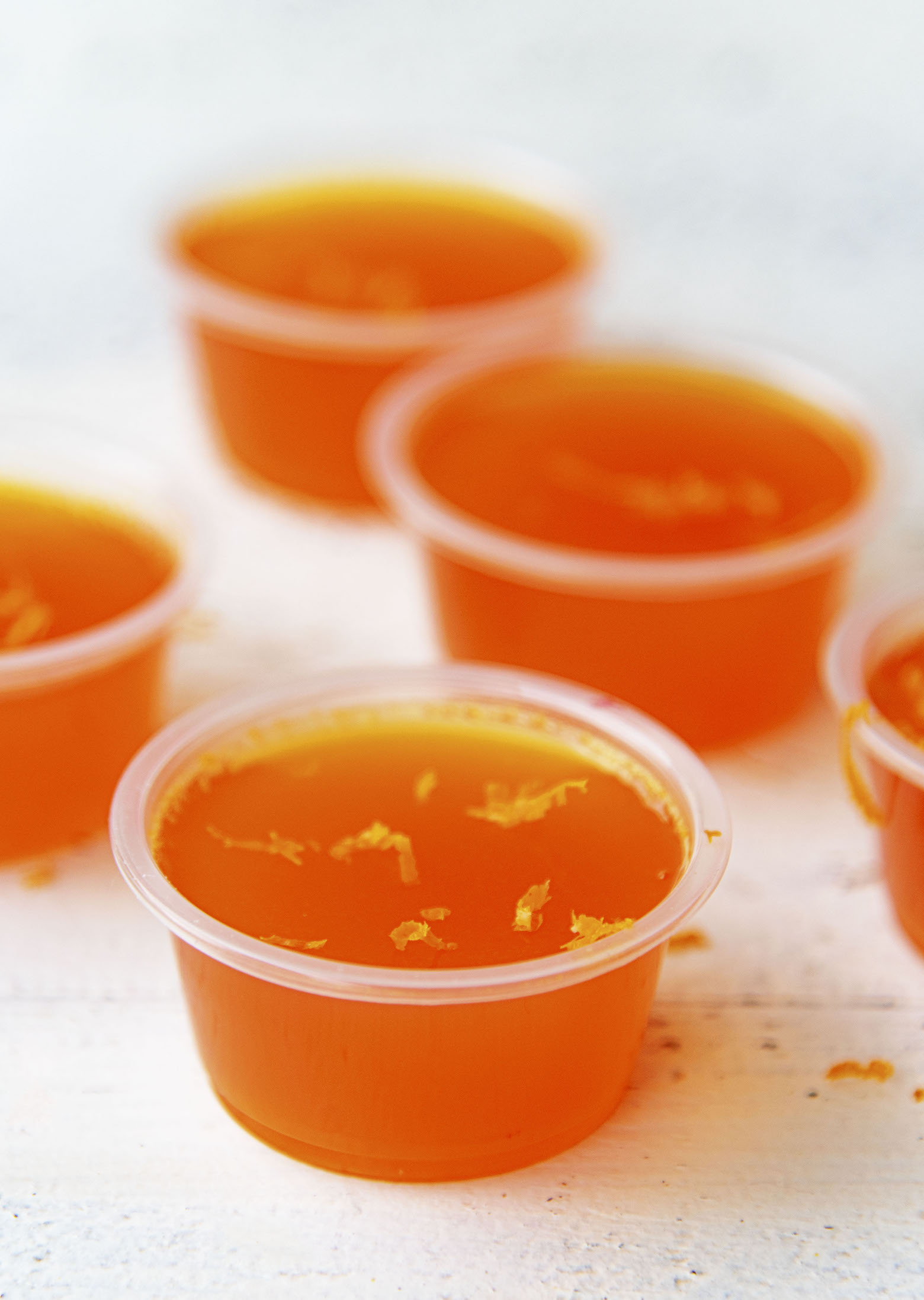 These Touchdown Red Bull Jello Shots are inspired by the liquid shot version.
While they have a football theme name the first time I ever had one was after playing hockey.
Almost all recreational adult league hockey teams goes out drinking after their game.
Luckily, my team plays on Friday nights.
Because going out until 1am during a weekday makes the next day very rough at work.
Most of the time beer is what is ordered.
And food.
If the bar serves food.
Not all do but we try and find places that serve food.
Because when you burn 500 calories skating you really want to eat and drink 3500 calories right after. 🙂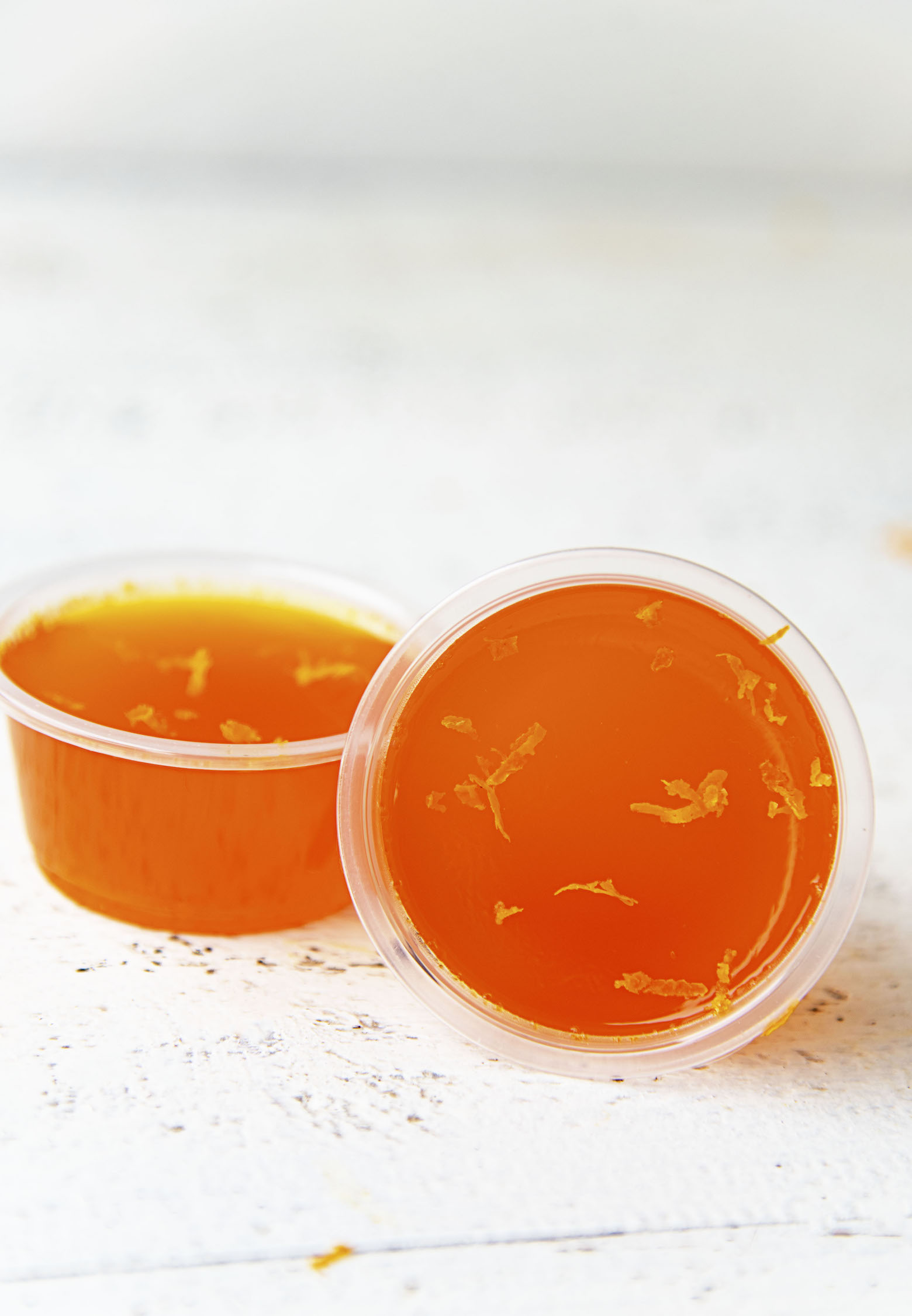 Often a team member will go and buy a pitcher of beer for the team.
And then sometimes, especially the younger guys come back with shots.
Since my husband is the one who drives us to and from hockey, I'm the one who has to be the one to take the shots. 🙂
And I'm a lightweight.
One time, one of our players came back with some yellow-ish shots and I said what's that?
A valid question.
He said these are touchdown shots. I explained that didn't really help me with knowing what it was.
He said it's Red Bull and vodka.
Which is partially true.
It was Red Bull. But the vodka was Mandarin flavored, aka orange flavored vodka.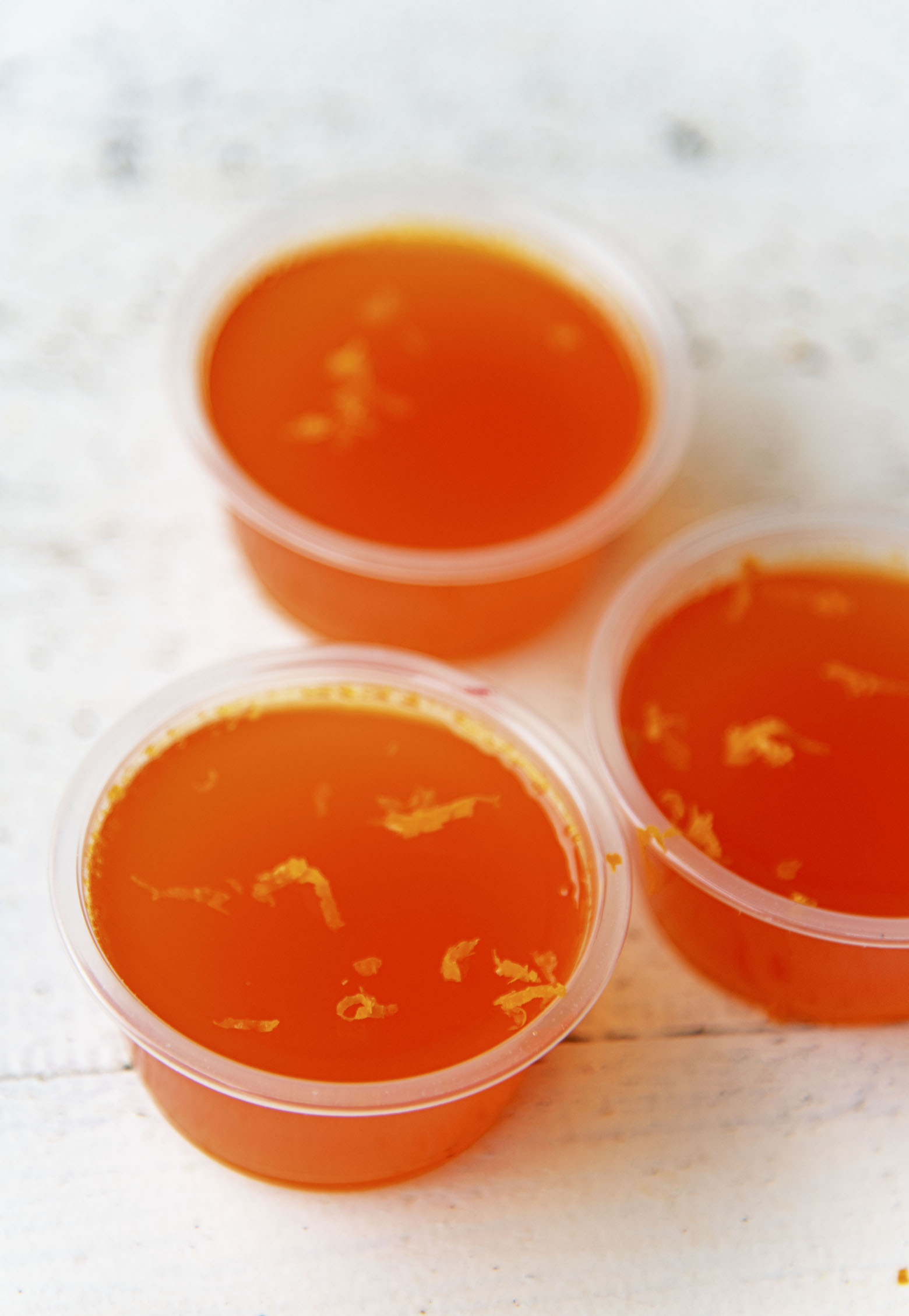 It quickly became one of my favorite shots.
Why?
Because it didn't make me gag. 🙂
Which a lot of shots do. 😛
Do you have to use Mandarin or orange flavored vodka?
No.
Since you are using an orange flavored jello you can use plain vodka.
If you have orange flavored vodka feel free to use it.
But I wouldn't go out and buy it special for these shots.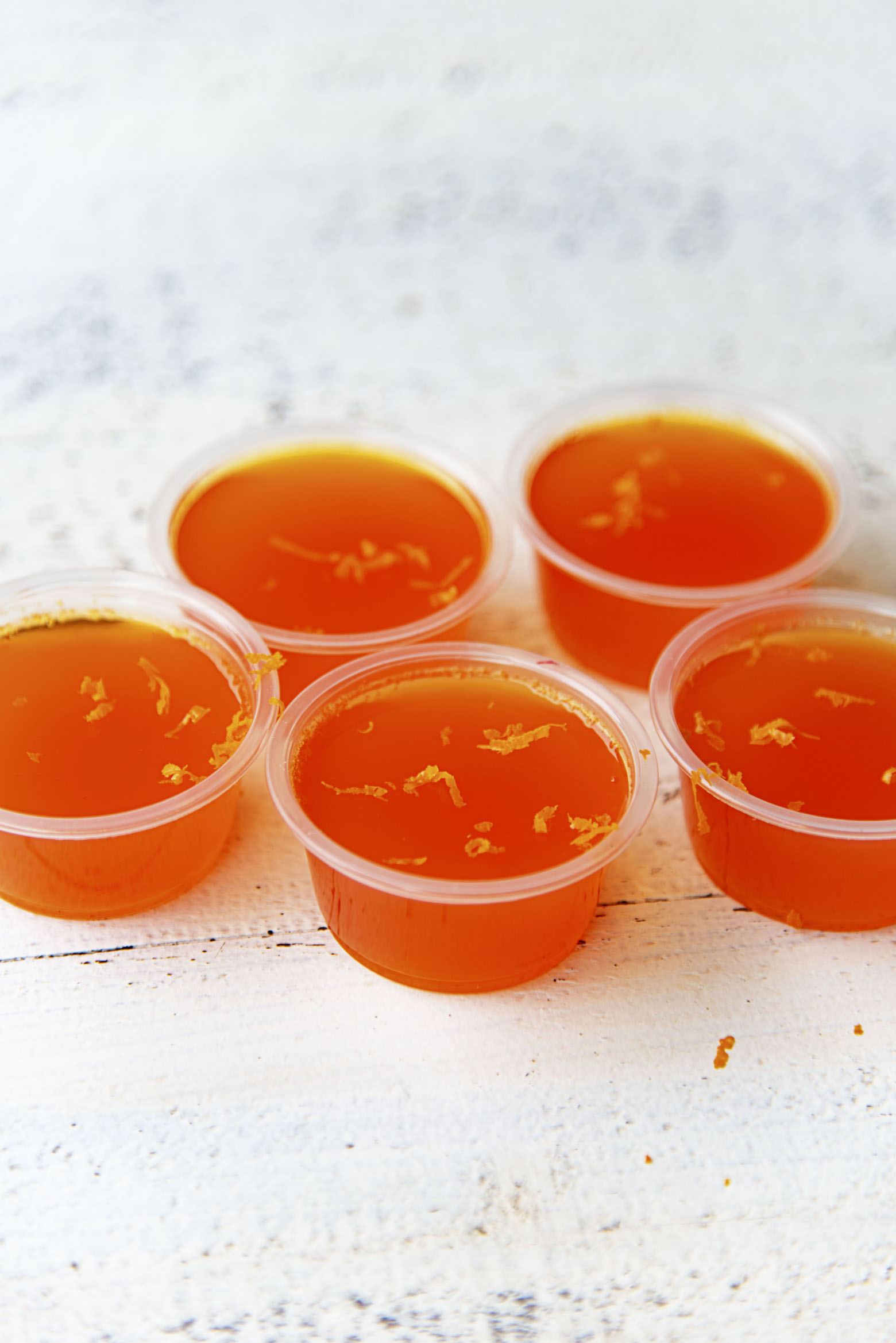 Can I use sugar free Red Bull?
Yes.
Normally, I'm against using diet or sugar free sodas or drinks in jello shots because I'm not using sugar free jello so it makes no sense.
But I have made jello shots with sugar free Red Bull (all we had in house) before and they tasted about the same.
Even though I had these at hockey I'm making them since there is a concert tomorrow that some people are playing some football before and after it. 😀
Some people gather and eat and drink while watching it.
And sometimes those people playing football get touchdowns.
Though these days it always seems to be field goals more than touchdowns.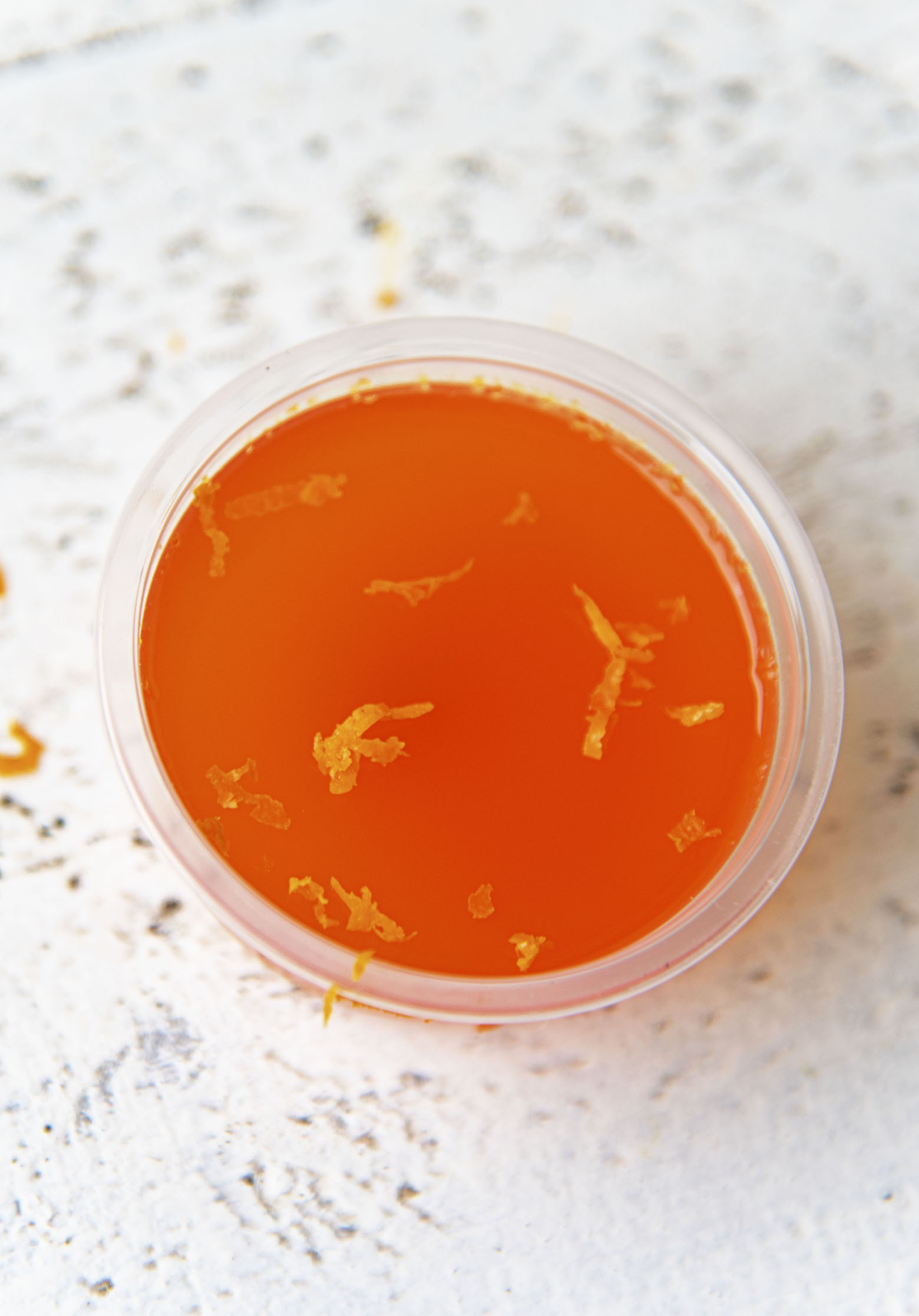 Things to remember when making Jello Shots.
When throwing a party, you'll probably want to prepare 4-6 Jello Shots for each guest.
This batch uses 6 ounces of gelatin and so you will get around 18-20 Jello shots.
If doing a half recipe and only using 3 ounces of gelatin you will only get 8-10 Jello shots depending on how you pour.
If using a garnish, don't place the garnish on the jello shot until just ready to serve.
And as always it's a great day to order my cookbook.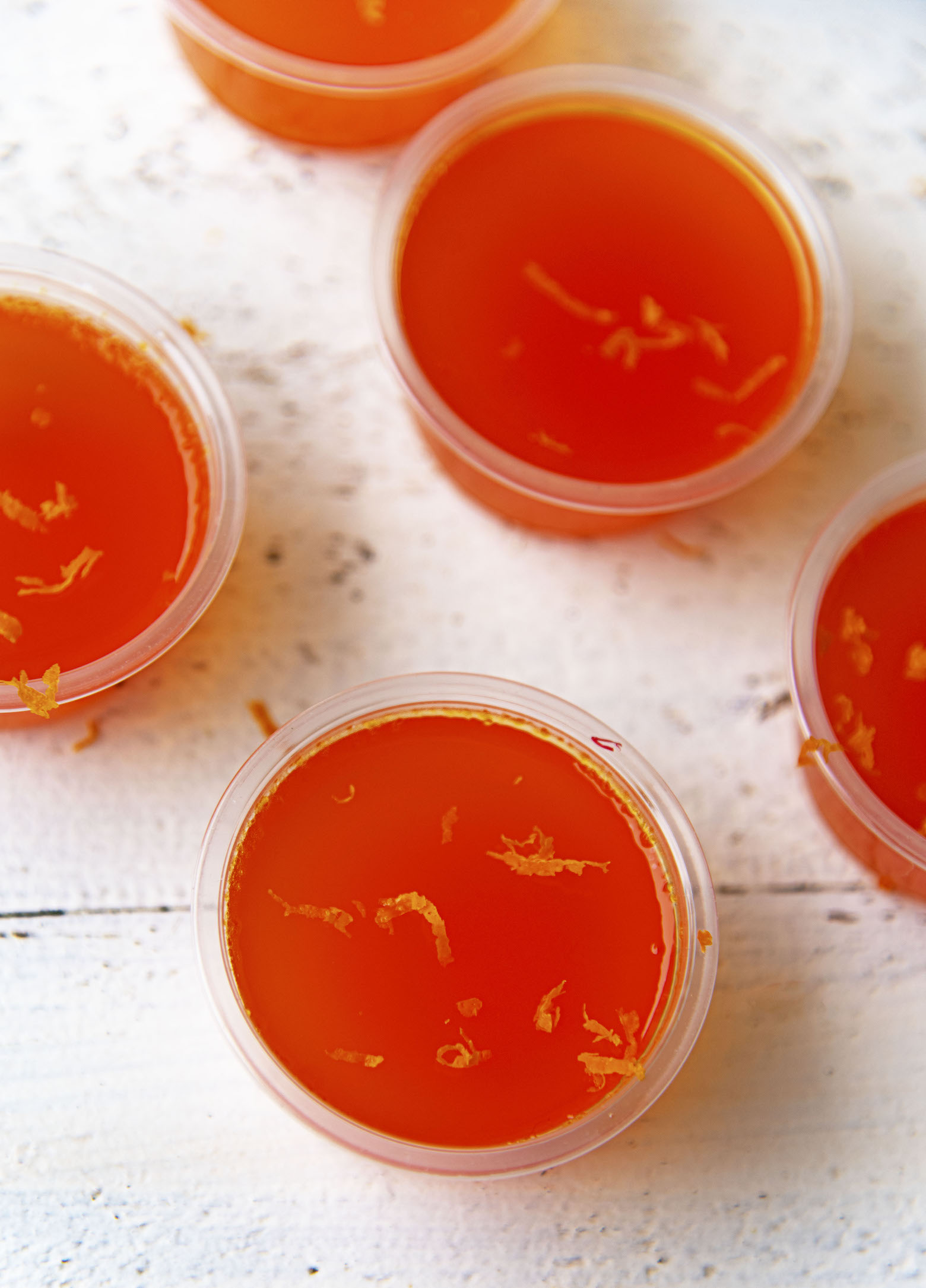 Want More Jello Shot Recipes?
Peanut Butter Grape Jelly Jell-O Shots
Strawberry Ice Cream Jell-O Shots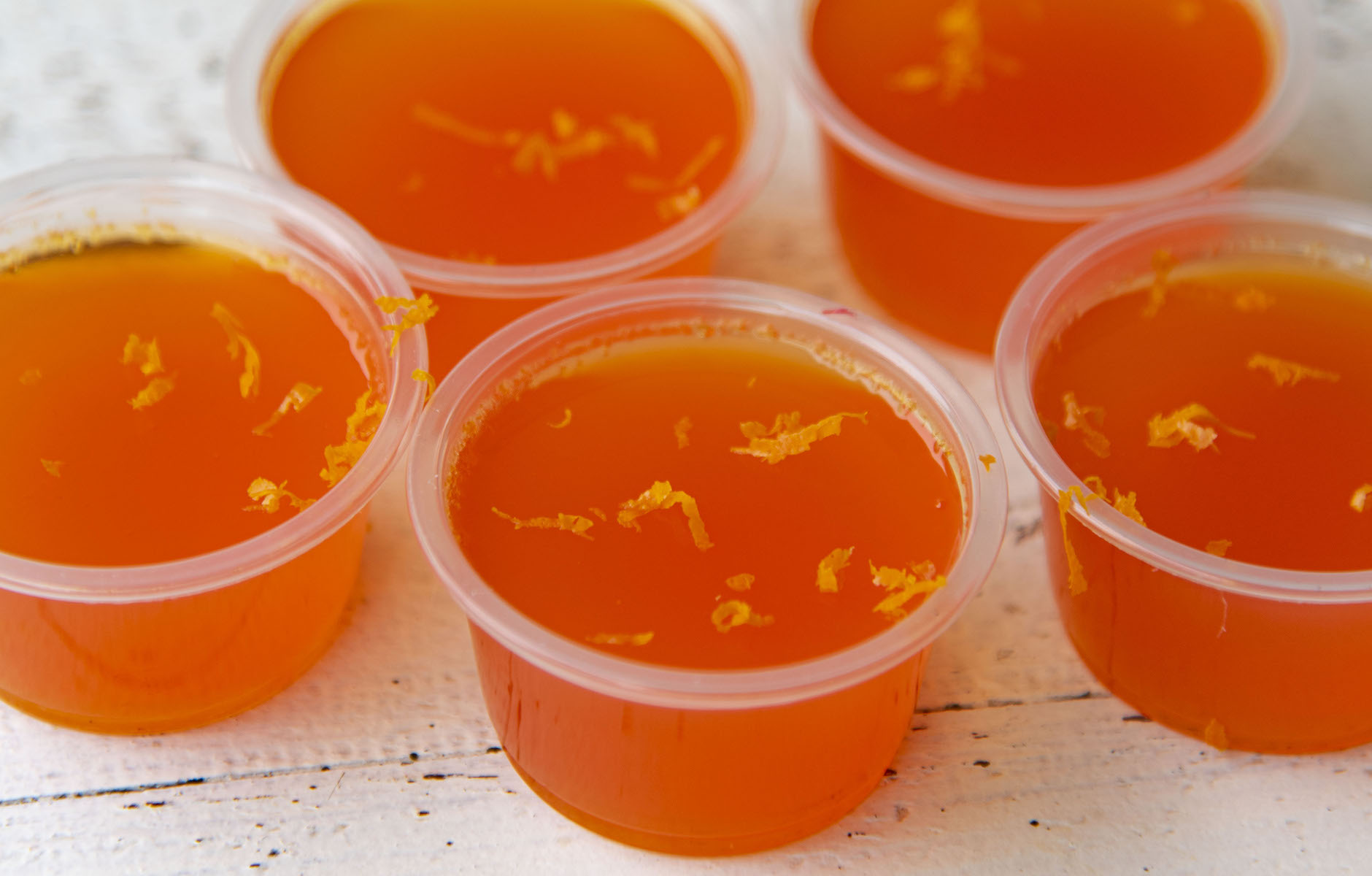 Touchdown Red Bull Jello Shots
Ingredients
3 cups Red Bull, divided
6 oz orange gelatin
1 cup mandarin vodka
Instructions
Bring 2 cups Red Bull to a boil.
Empty gelatin powder into a large mixing bowl and add the boiling Red Bull.
Continue stirring for two minutes or until the jello is completely dissolved.
Add in the cup of cold Red Bull and vodka.
Stir until mixed and pour into 2oz. cups filled 1/2 to 3/4 of the way.
Top with orange zest if desired.
Let set up in fridge for at least 4 hours before serving.