These Hawaiian Punch Jello Shots have vodka, Hawaiian punch, and pineapple jello to make grown up versions of my childhood drink of choice.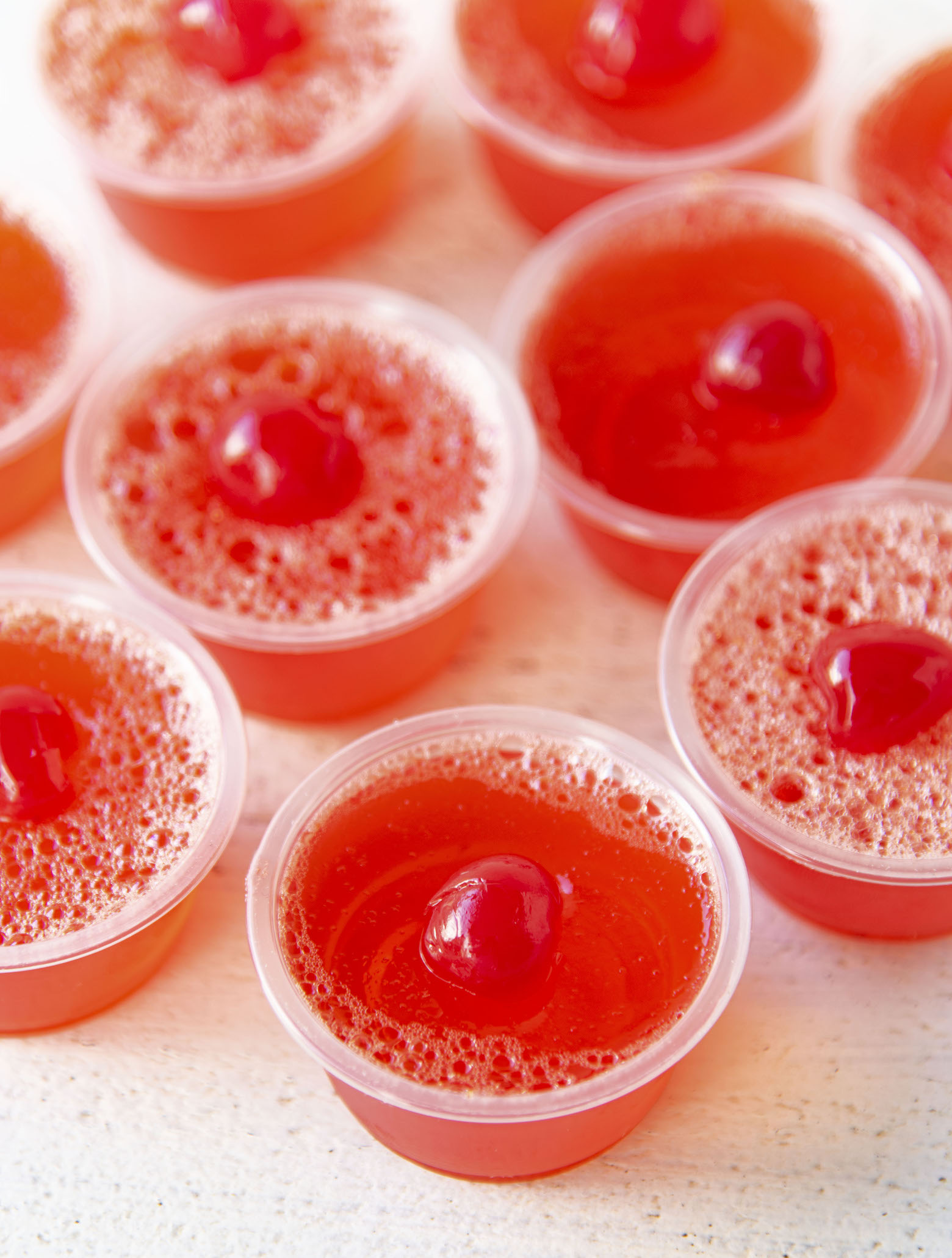 These Hawaiian Punch Jello Shots are a nod to my childhood.
Just like so many things on my blog.
Though I don't always make my childhood favorites boozy.
Then again, sometimes I do. 🙂
I can't remember a birthday party growing up that didn't have Hawaiian Punch.
I mean Hawaiian Punch and birthday cake? The combination of champions.
Well, 8 year old champions. 😀
The funny thing about Hawaiian Punch is that it didn't start as a punch?
Did you know that?
The original product was a syrup made to go on top of ice cream.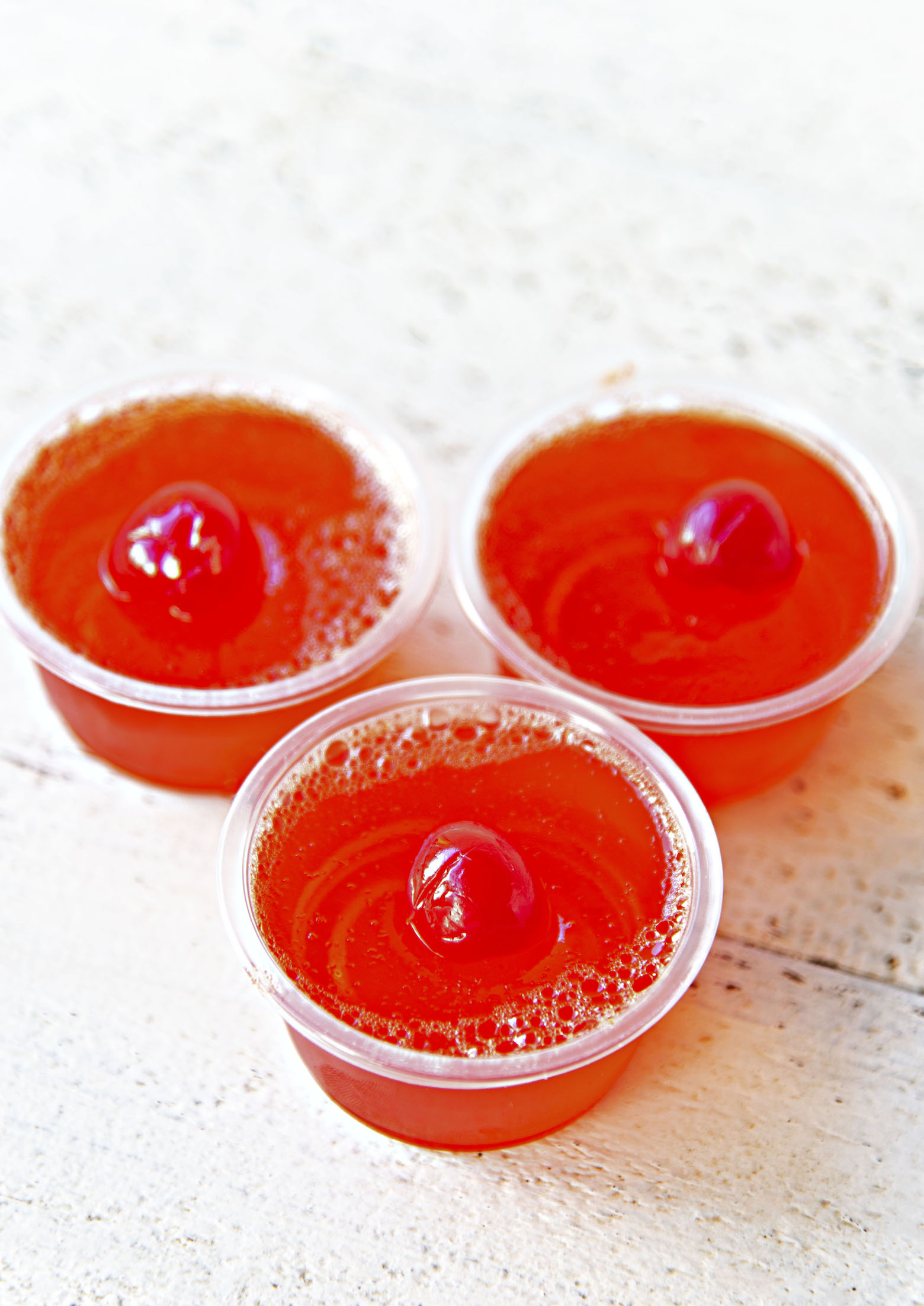 It wasn't until they had customers asking to buy the syrup to mix with water that the company switched marketing.
To that point they were only selling their syrup it to ice cream shops and restaurants.
The syrup only came in large containers and so they started selling premixed punch to consumers.
Though I must admit I'm really curious to see what the syrup would have tasted like on ice cream.
Especially like a pineapple sherbet or something of the likes.
It was also heavily promoted during the 1950's as a fallout shelter necessity since it had a long shelf life.
Which is odd but I guess it makes sense.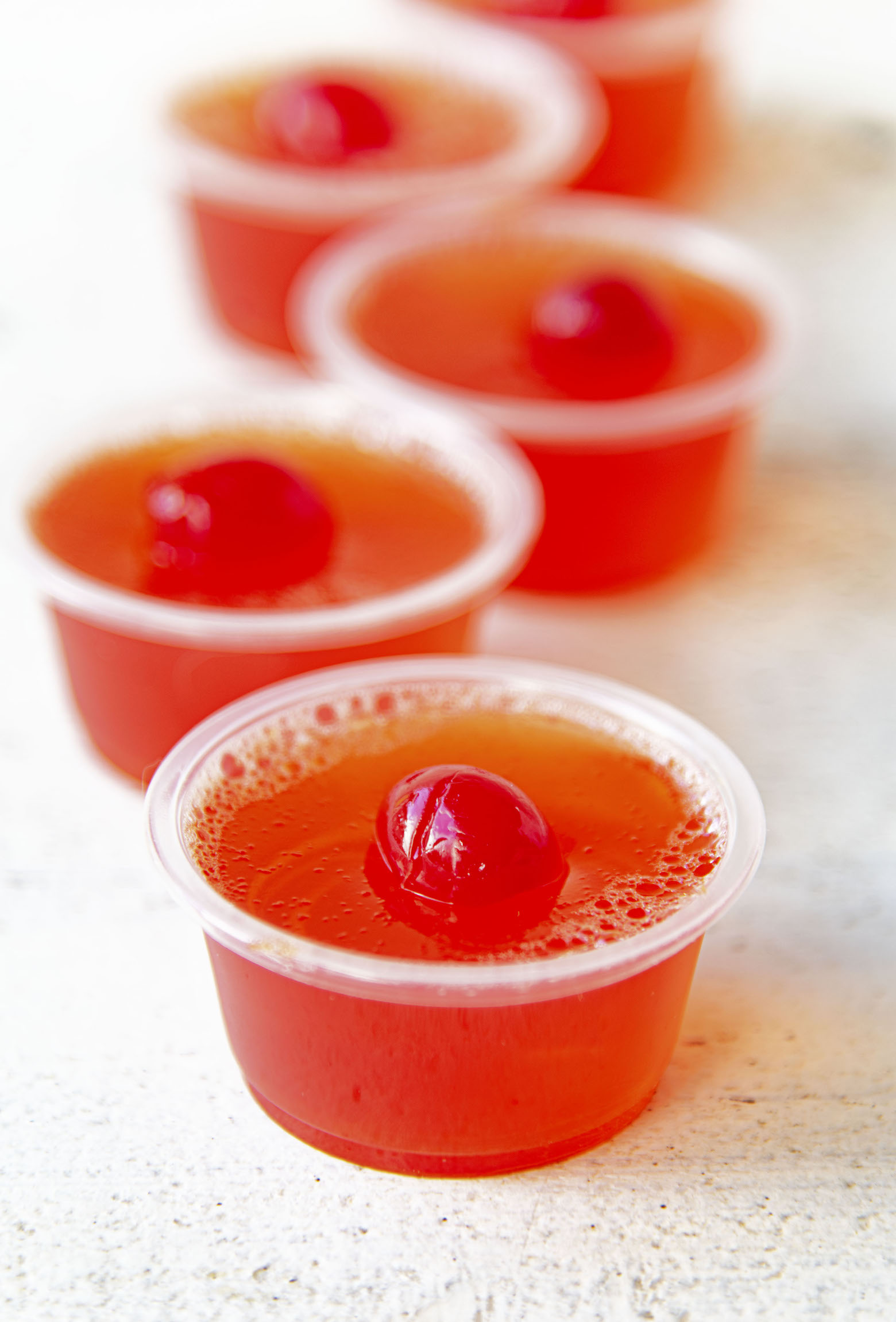 These jello shots are rather straightforward.
Only having three ingredients.
Pineapple jello.
While you don't always find this at the store you can order it online (that's what I do).
They used to make a fruit punch jello but of course stopped making it.
I really wish it was still around.
But I have to work with what I got…and that's pineapple jello.
I used Hawaiian Punch Fruit Juicy Red because that's the original flavor.
And while I like the Wild Purple Smash, Lemon Berry Squeeze, and Berry Limeade Blast I will save those for Jello shots for another day. 🙂
I went with vodka for the booze.
Non-flavored.
Because I wanted the flavor of the fruit punch to shine through.
And it does.
They do make a fruit punch flavored moonshine and that would work well with this too.
But it's way harder to track down.
As where vodka you can just about find anywhere.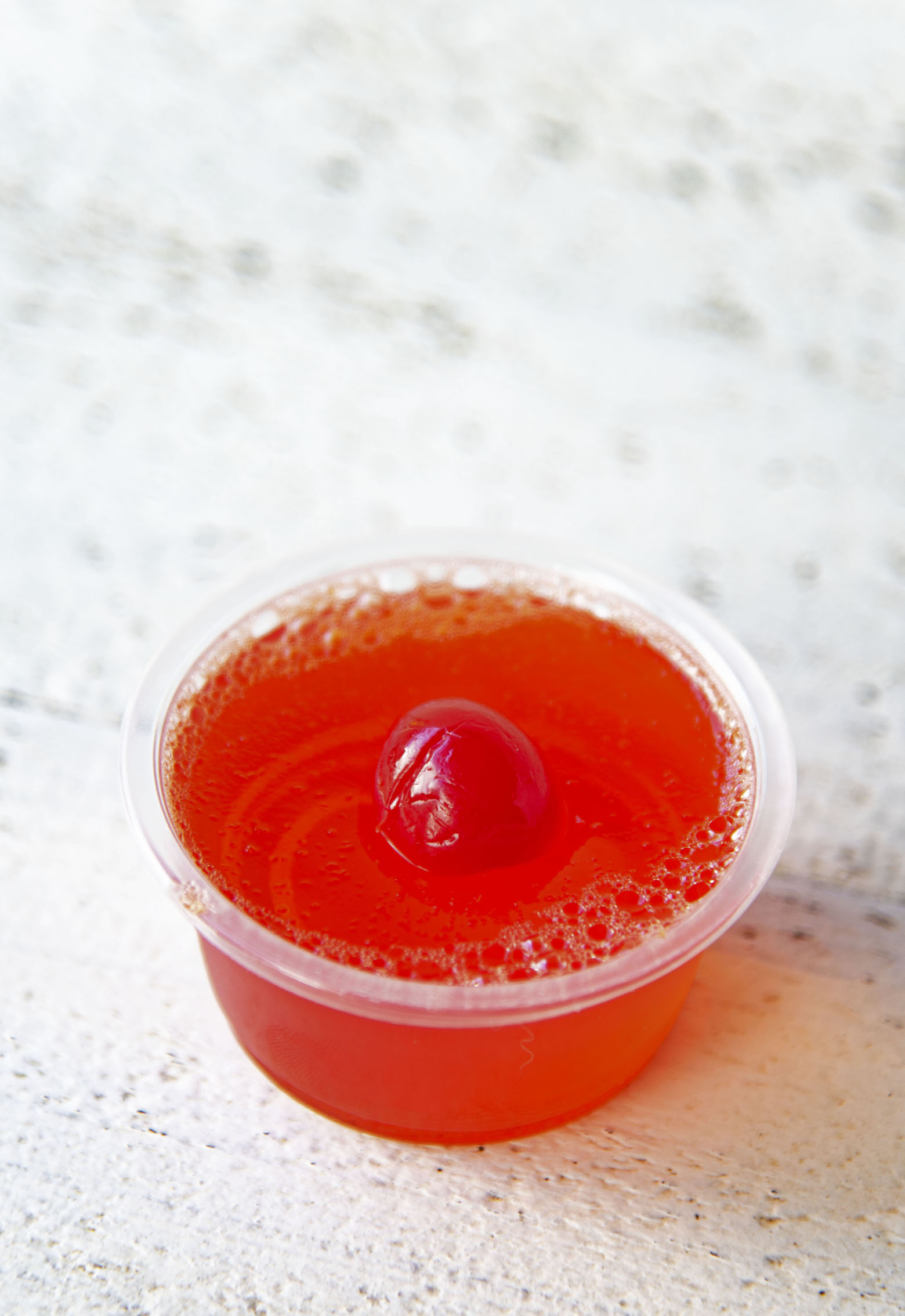 Things to remember when making Jello Shots.
When throwing a party, you'll probably want to prepare 4-6 Jello Shots for each guest.
This batch uses 6 ounces of gelatin and so you will get around 18-20 Jello shots.
If doing a half recipe and only using 3 ounces of gelatin you will only get 8-10 Jello shots depending on how you pour.
If using a garnish, don't place the garnish on the jello shot until just ready to serve.
And as always it's a great day to order my cookbook.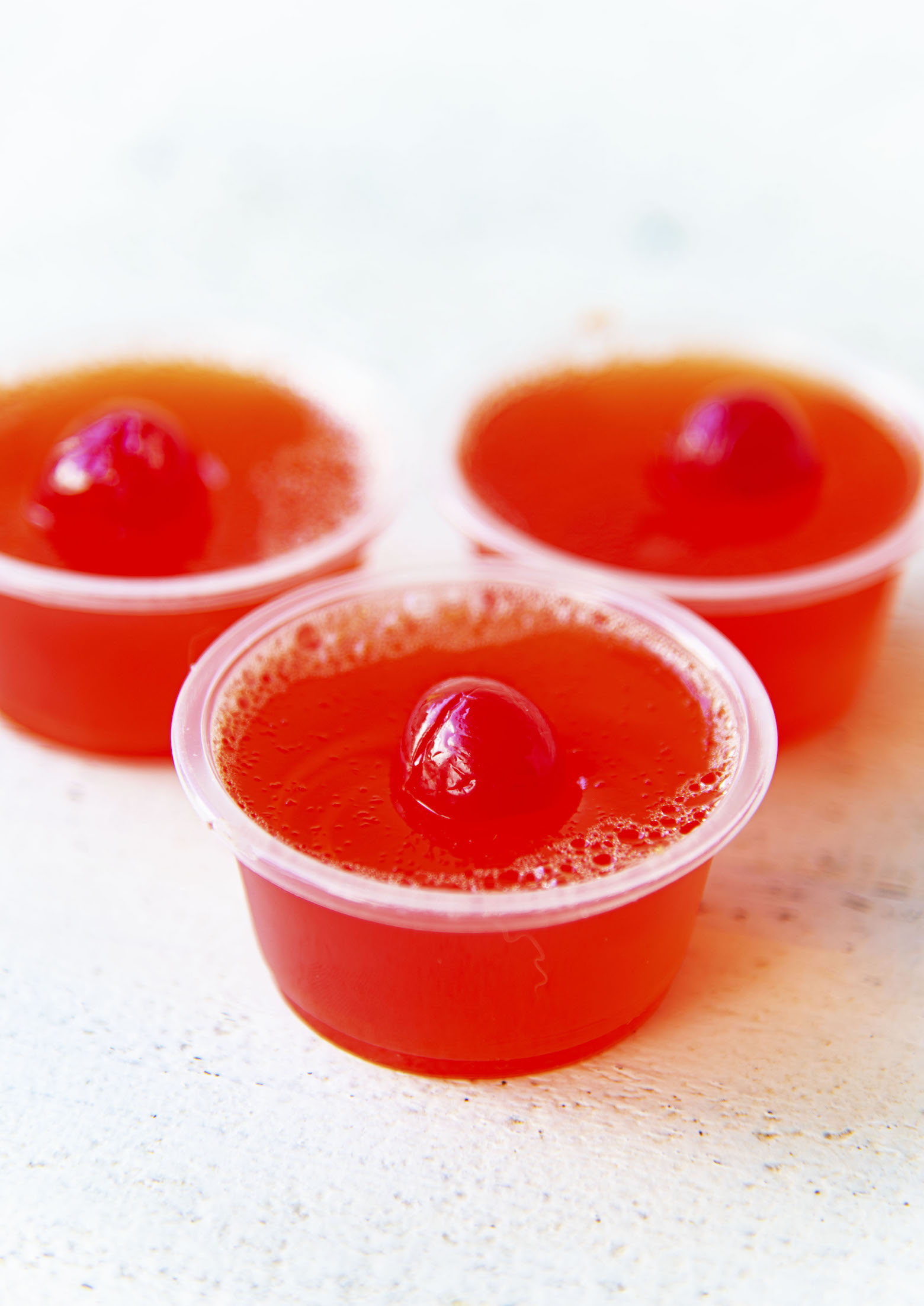 Want More Jello Shot Recipes?
Peanut Butter Grape Jelly Jell-O Shots
Touchdown Red Bull Jello Shots
Painkiller Cocktail Jello Shots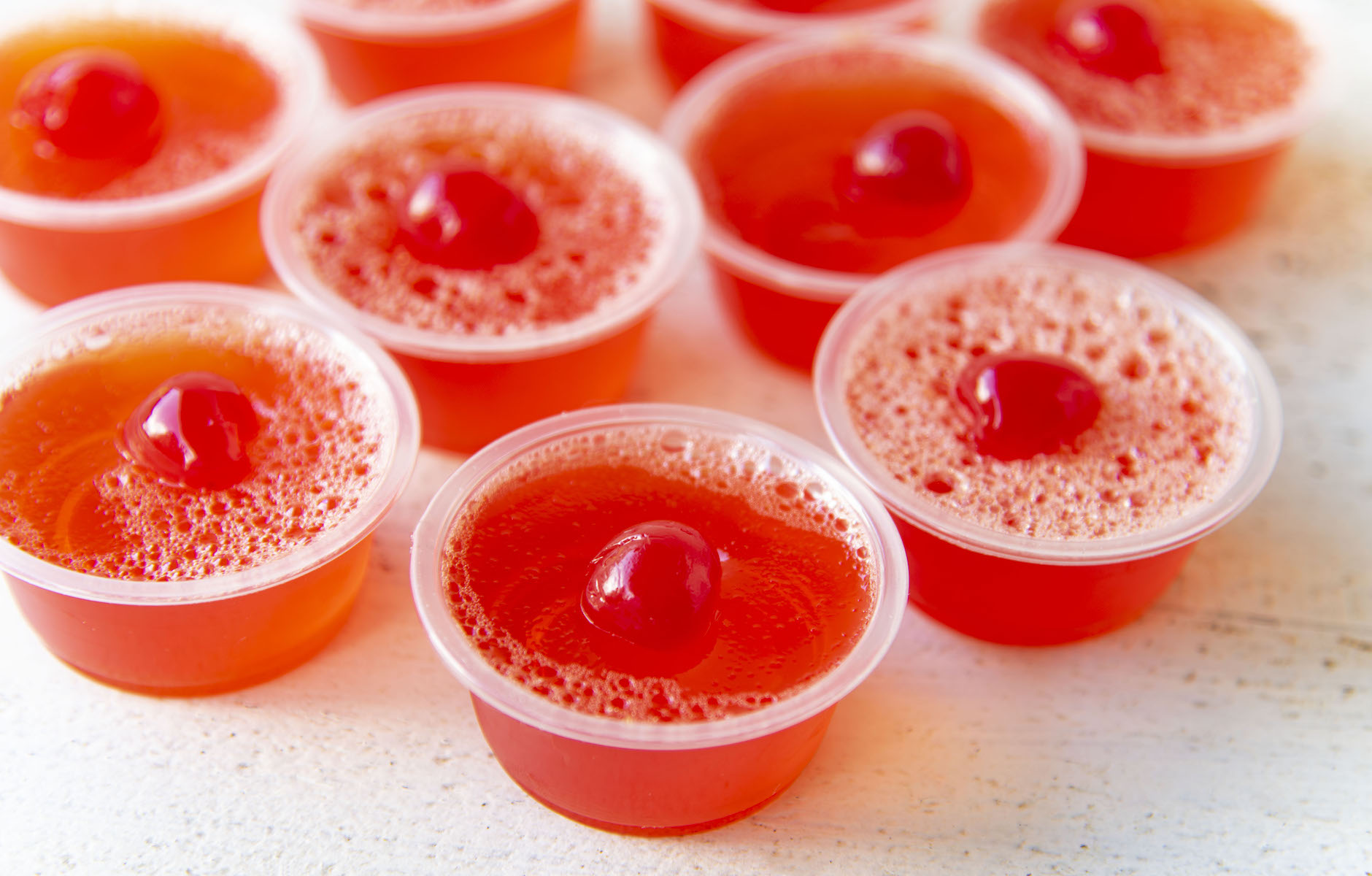 Hawaiian Punch Jello Shots
Ingredients
3 cups Hawaiian Punch Fruit Juicy Red, divided
6 oz pineapple gelatin
1 cup vodka
Instructions
Bring 2 cups Hawaiian Punch Fruit Juicy Red to a boil.
Empty gelatin powder into a large mixing bowl and add the boiling Hawaiian Punch Fruit Juicy .
Continue stirring for two minutes or until the jello is completely dissolved.
Add in the cup of cold Hawaiian Punch Fruit Juicy and vodka.
Stir until mixed and pour into 2oz. cups filled 1/2 to 3/4 of the way.
Top with maraschino cherry if desired.
Let set up in fridge for at least 4 hours before serving.