These Watermelon Mint Julep Jello Shots have watermelon gelatin, watermelon juice, bourbon, mint, and watermelon pucker.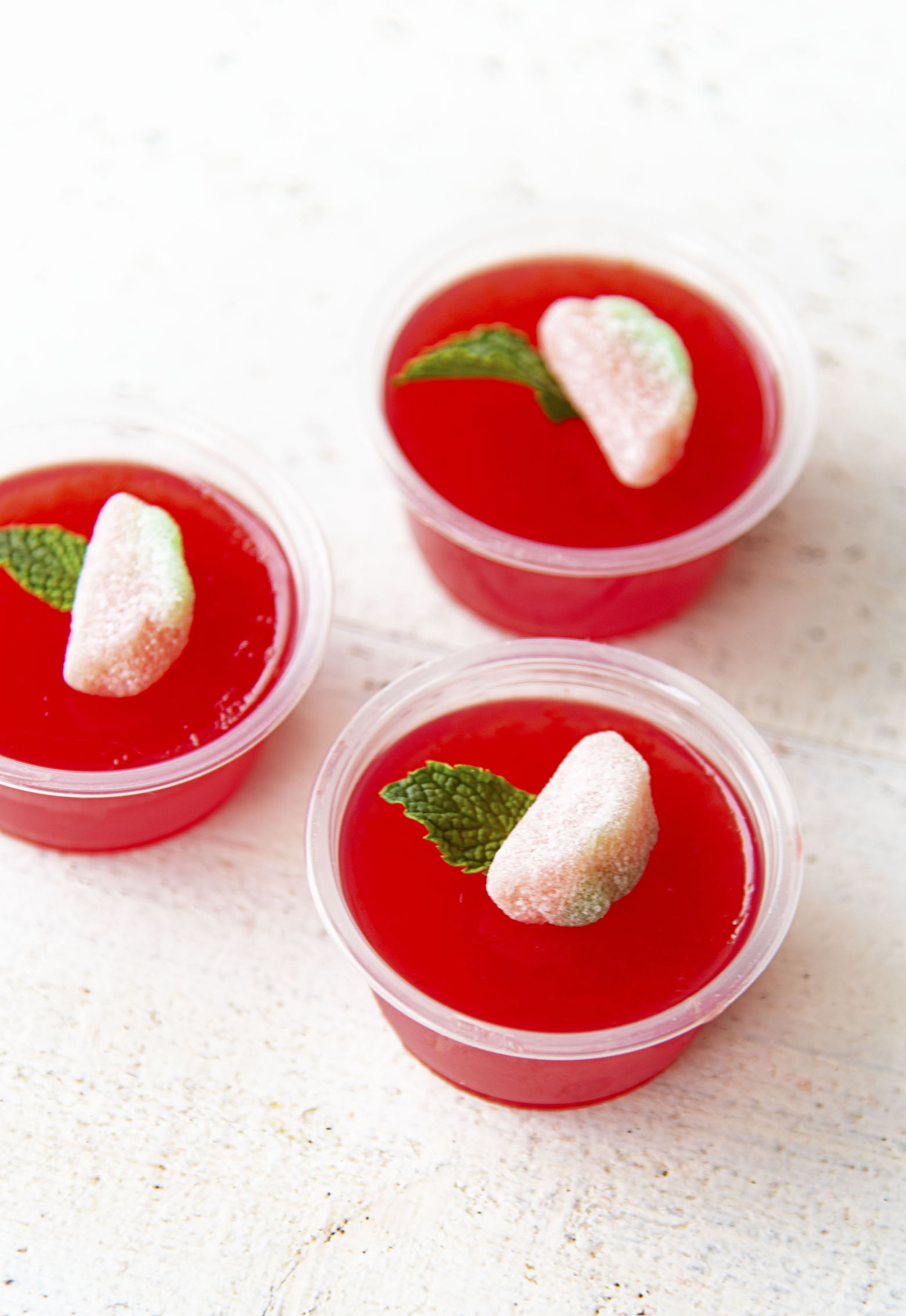 These Watermelon Mint Julep Jello Shots are a twist on the classic Mint Julep.
Mint Juleps are a Southern drink consisting of bourbon, fresh mint, sugar, water, and ice.
And you really only see them highlighted around the time of the Kentucky Derby.
Because the Mint Julep has been the traditional beverage of Churchill Downs and the Kentucky Derby for nearly a century.
Each year, almost 120,000 Mint Juleps are served over the two-day period of Kentucky Oaks and Kentucky Derby weekend at Churchill Downs Racetrack.
That is a lot of mint juleps.
But everyone has a plain mint julep recipe.
And I rarely do plain. 😀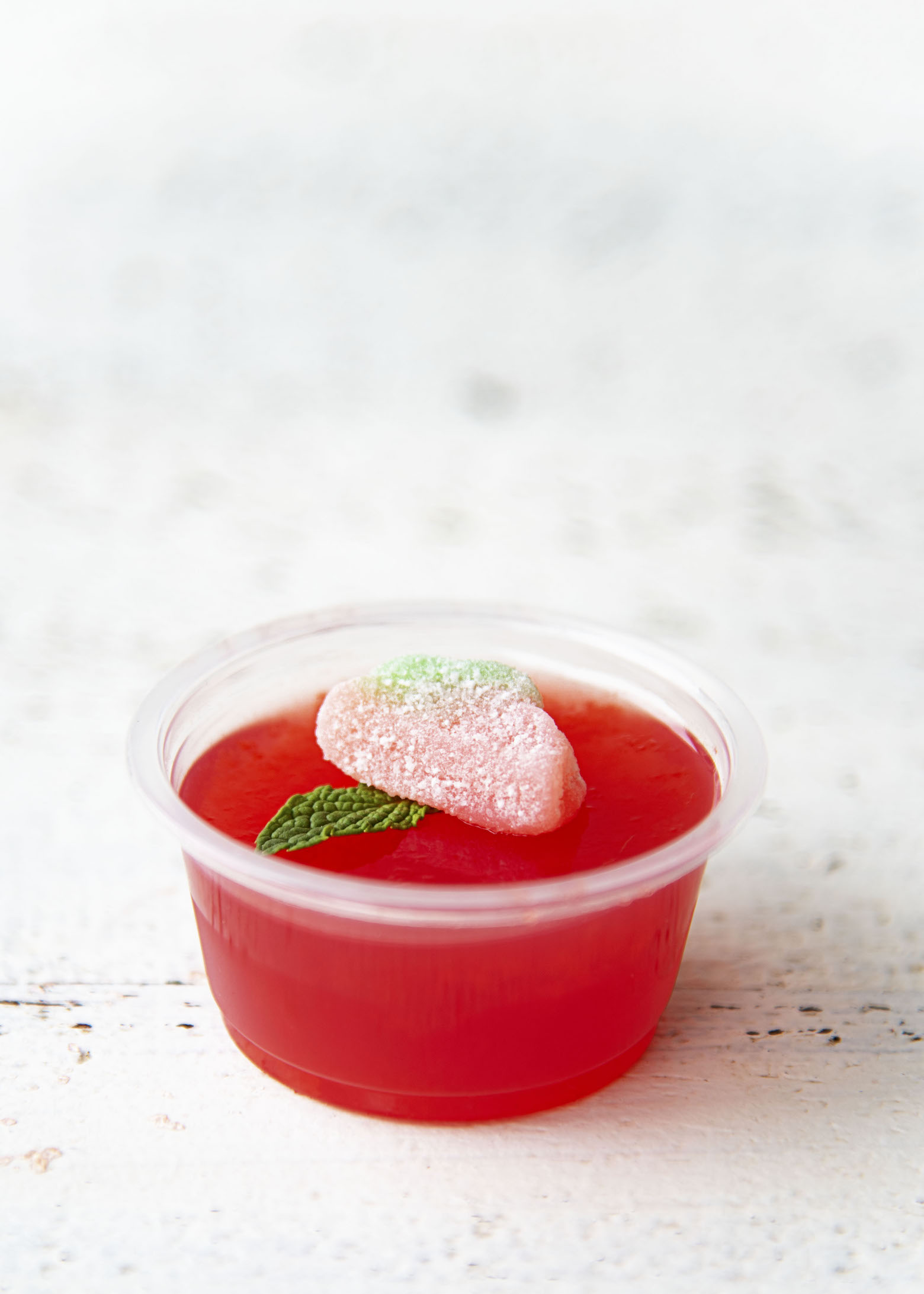 One of my weird hobbies is looking up and finding old menus.
Especially menus from restaurants in the 1950's and 60's.
And I really loved Tiki Themed places.
One of the menus I was looking at in the drinks section had a watermelon mint julep.
I thought it sounded really refreshing.
Whenever I make something with watermelon, I almost always have mint with it.
Like my Cucumber Watermelon Feta Mint Bites.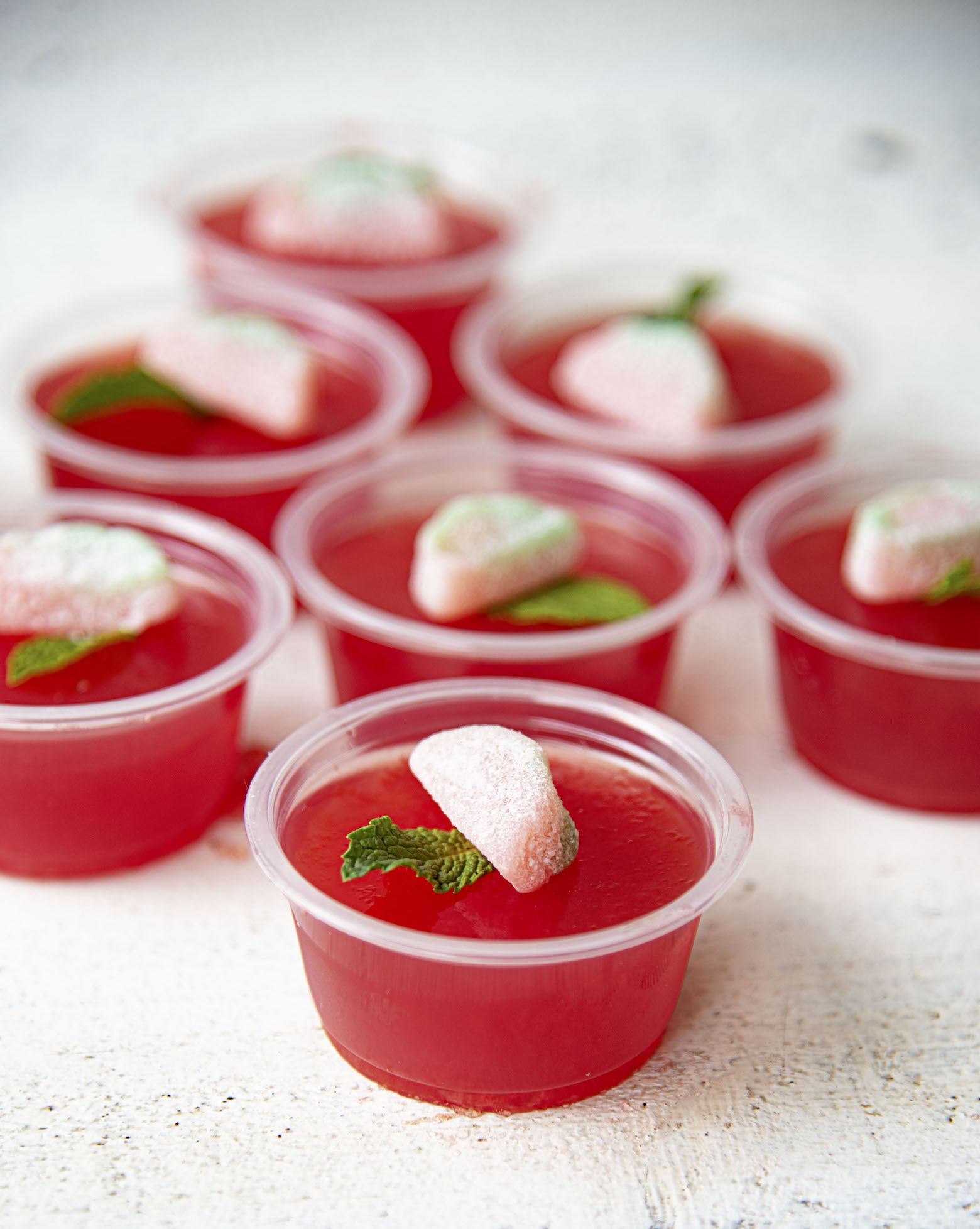 The menu of course did not have the ingredients.
So I just had to guess.
I'm assuming there was watermelon juice added to the drink at the time.
Which is kind of amazing since we didn't really start getting into juicing everything until semi-recently.
And then I'm guessing bourbon and mint.
So that's what I went for with the jello shots.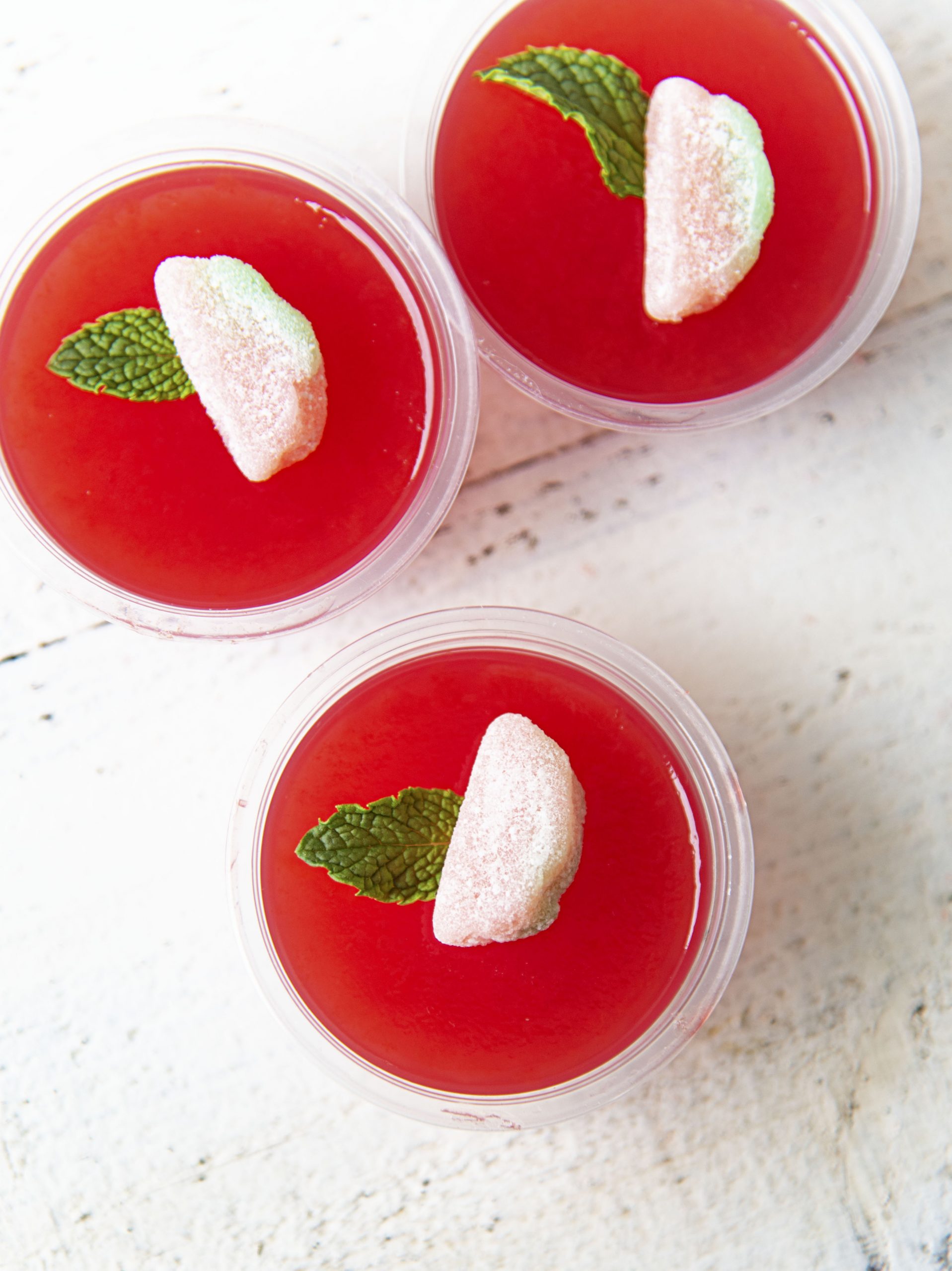 The base for these is a watermelon gelatin.
Then water that is infused with fresh mint.
You infuse the mint into the water because you don't want chunks of mint in your jello shots.
Or at least I didn't.
If you think chunks of mint would be good in yours then go for it.
I used watermelon juice which I found just at my regular grocery store.
You can use all water if you prefer or if you can't find it.
Since watermelon does have pulp sometimes the pulp separates in the water.
And it will sometimes do that in your jello shot.
Which is totally fine.
Mint Juleps only use bourbon so you can use all bourbon if you prefer.
I did add the Watermelon Pucker because I like it. 🙂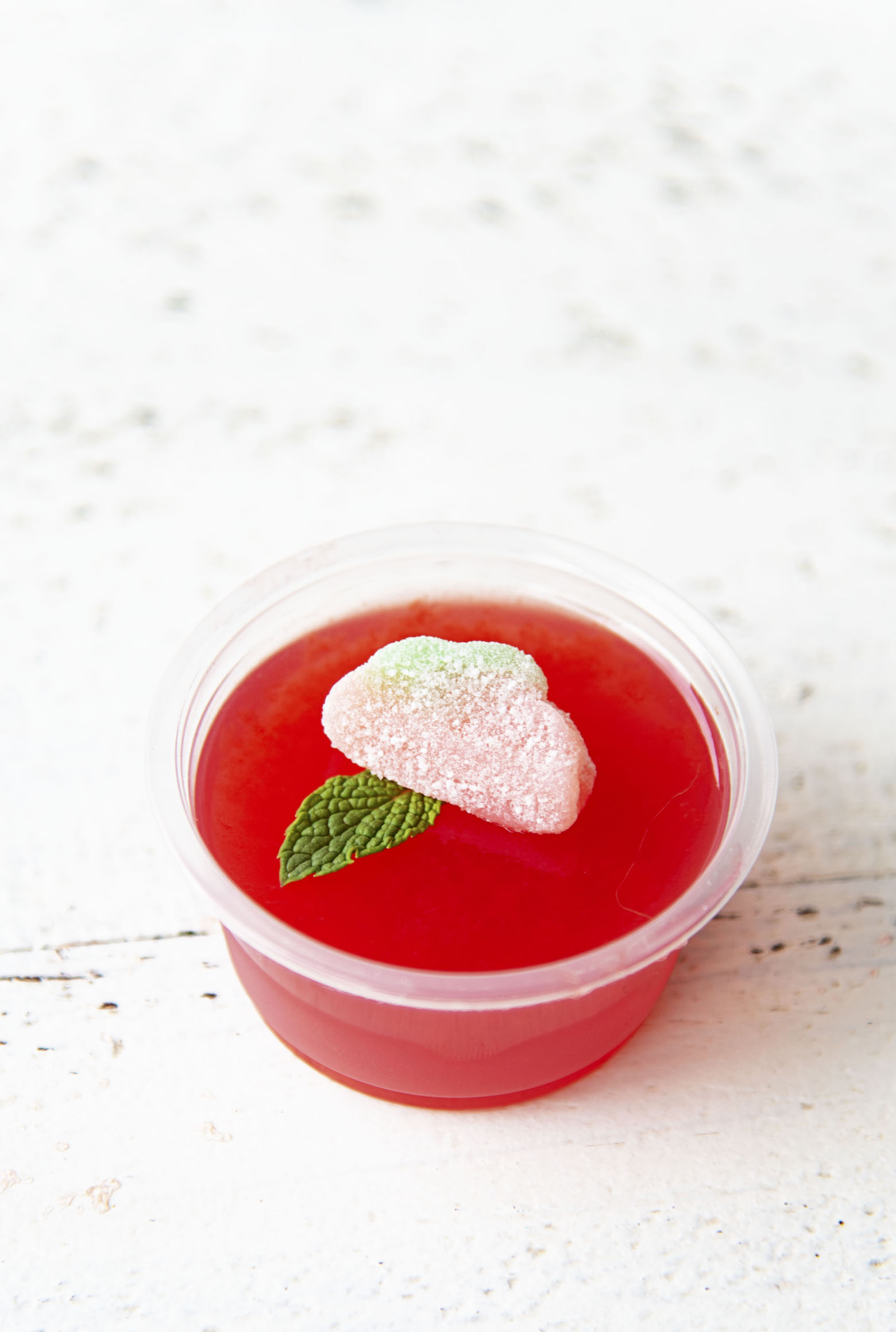 Things to remember when making Jello Shots.
When throwing a party, you'll probably want to prepare 4-6 Jello Shots for each guest.
This batch uses 6 ounces of gelatin and so you will get around 18-20 Jello shots.
If doing a half recipe and only using 3 ounces of gelatin you will only get 8-10 Jello shots depending on how you pour.
If using a garnish, don't place the garnish on the jello shot until just ready to serve.
And as always it's a great day to order my cookbook.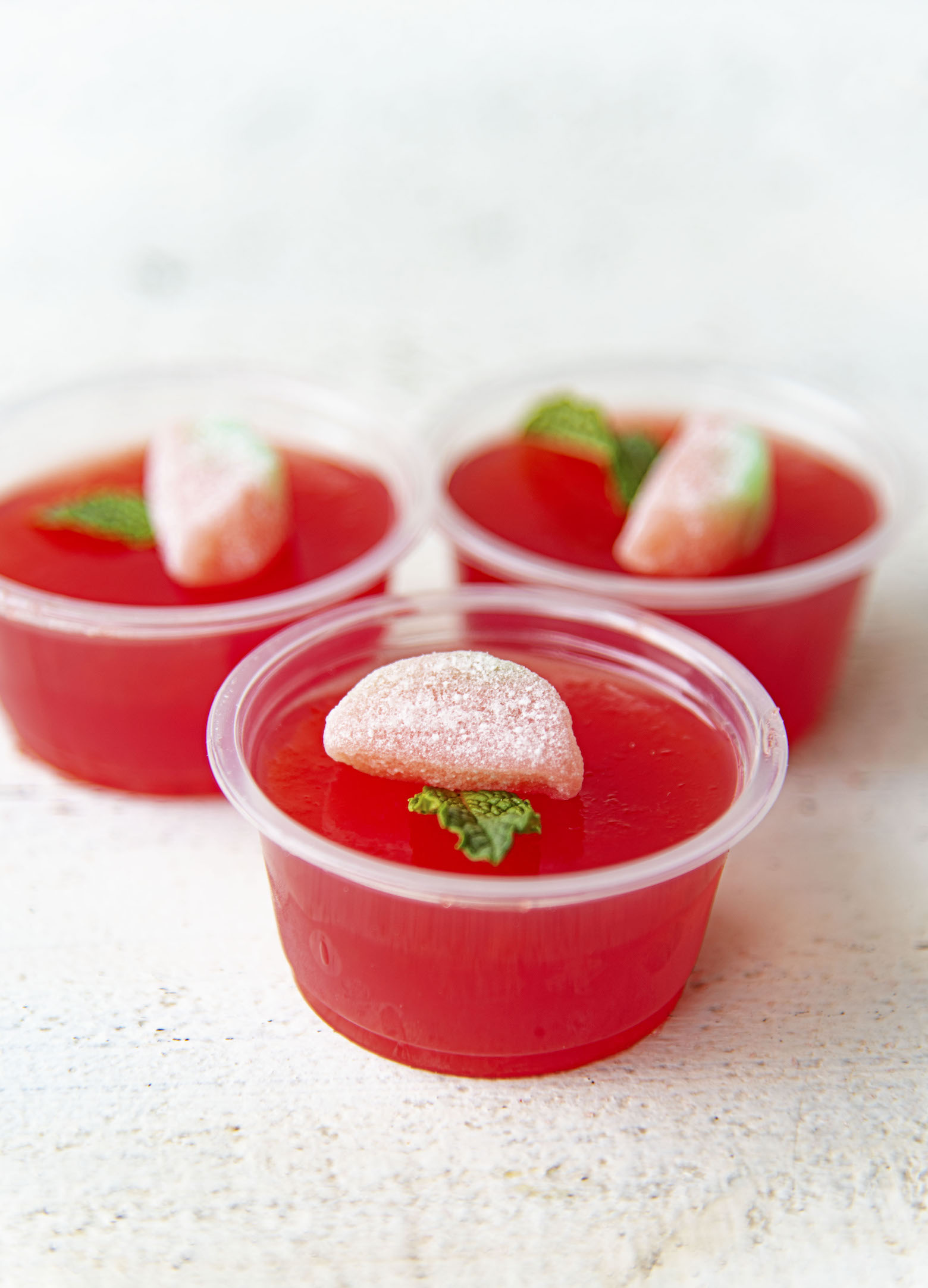 Want More Jello Shot Recipes?
Peanut Butter Grape Jelly Jell-O Shots
Touchdown Red Bull Jello Shots
Painkiller Cocktail Jello Shots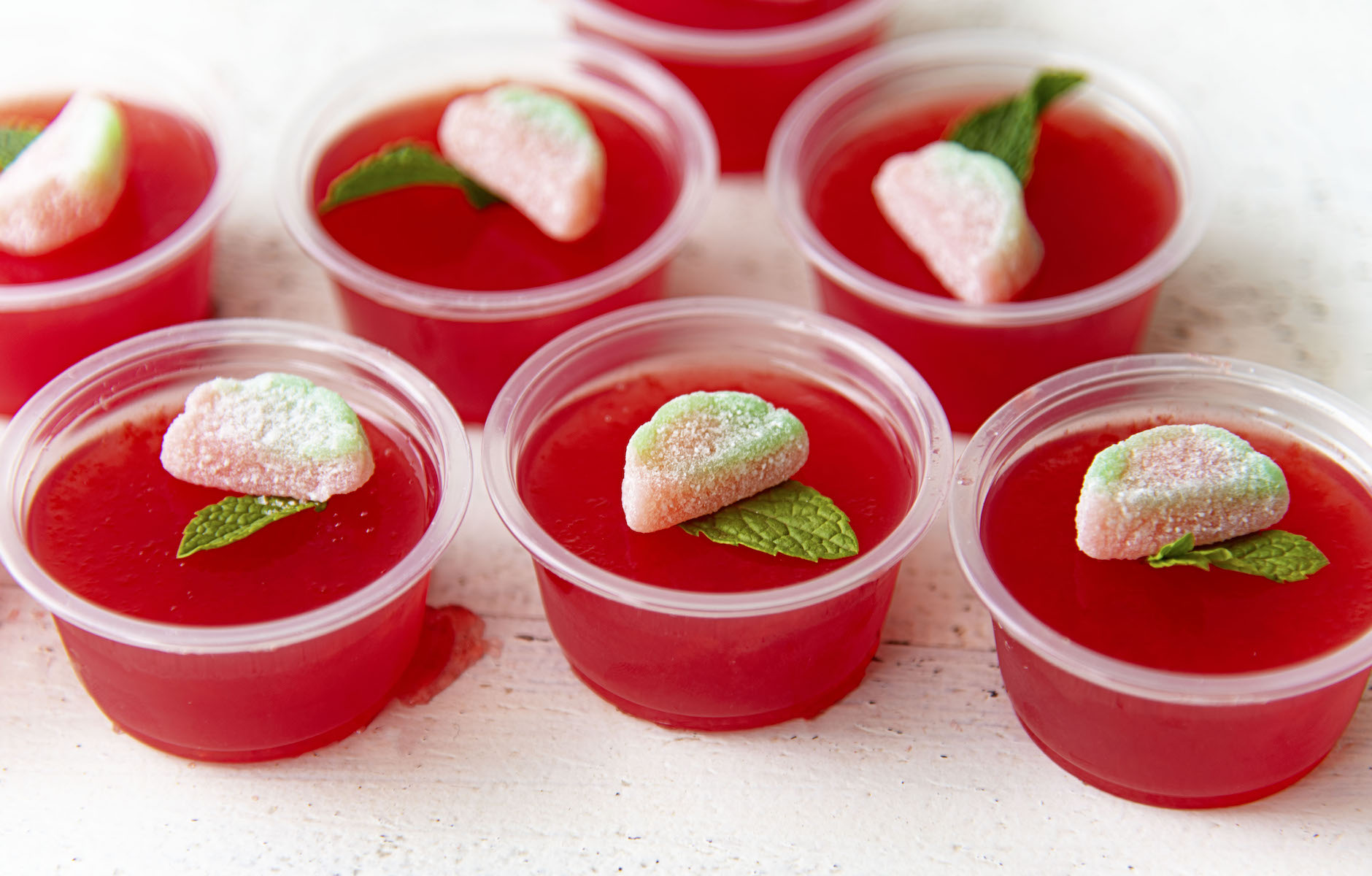 Watermelon Mint Julep Jello Shots
Ingredients
10 mint leaves (more or less depending on how much you like mint)
1 1/2 cups water
1 1/2 cups watermelon juice (or water)
6 oz watermelon gelatin
3/4 cup Bourbon
1/4 cup Watermelon Pucker
Instructions
Bruise the mint leaves. Bruising just means you tear them and pound them a little to get the oils to start to release.
Add bruised mint leaves and the 1 1/2 cups water to a saucepan and bring to a simmer. Simmer for 10 minutes.
Strain out the mint leaves.
Bring the mint infused water to a boil.
Empty gelatin powder into a large mixing bowl and add the boiling water.
Continue stirring for two minutes or until the jello is completely dissolved.
Add in the watermelon juice, bourbon, and Watermelon Pucker to the bowl.
Stir until mixed and pour into 2oz. cups filled 1/2 to 3/4 of the way.
Place in fridge to firm up.
Let set up in fridge for at least 4 hours before serving.
Top with sour watermelon candy if desired.