These Lynchburg Lemonade Jello Shots are made using lemon jello, whiskey, triple sec, sweet and sour mix, and lemon-lime soda.
One thing ironic about these Lynchburg Lemonade Jello Shots and the cocktail for that matter is that they don't contain lemonade.
Which I didn't know until I went to look up the recipe to make them.
I'll admit I find it odd.
Especially since it's often called Jack Daniel's Lemonade.
Again, with lemonade in the name.
In the cocktail the combo of lemon lime soda, triple sec, and sweet and sour mix are what make the lemonade.
No matter what is in it, I know two things.
It tastes good.
And it's dangerous.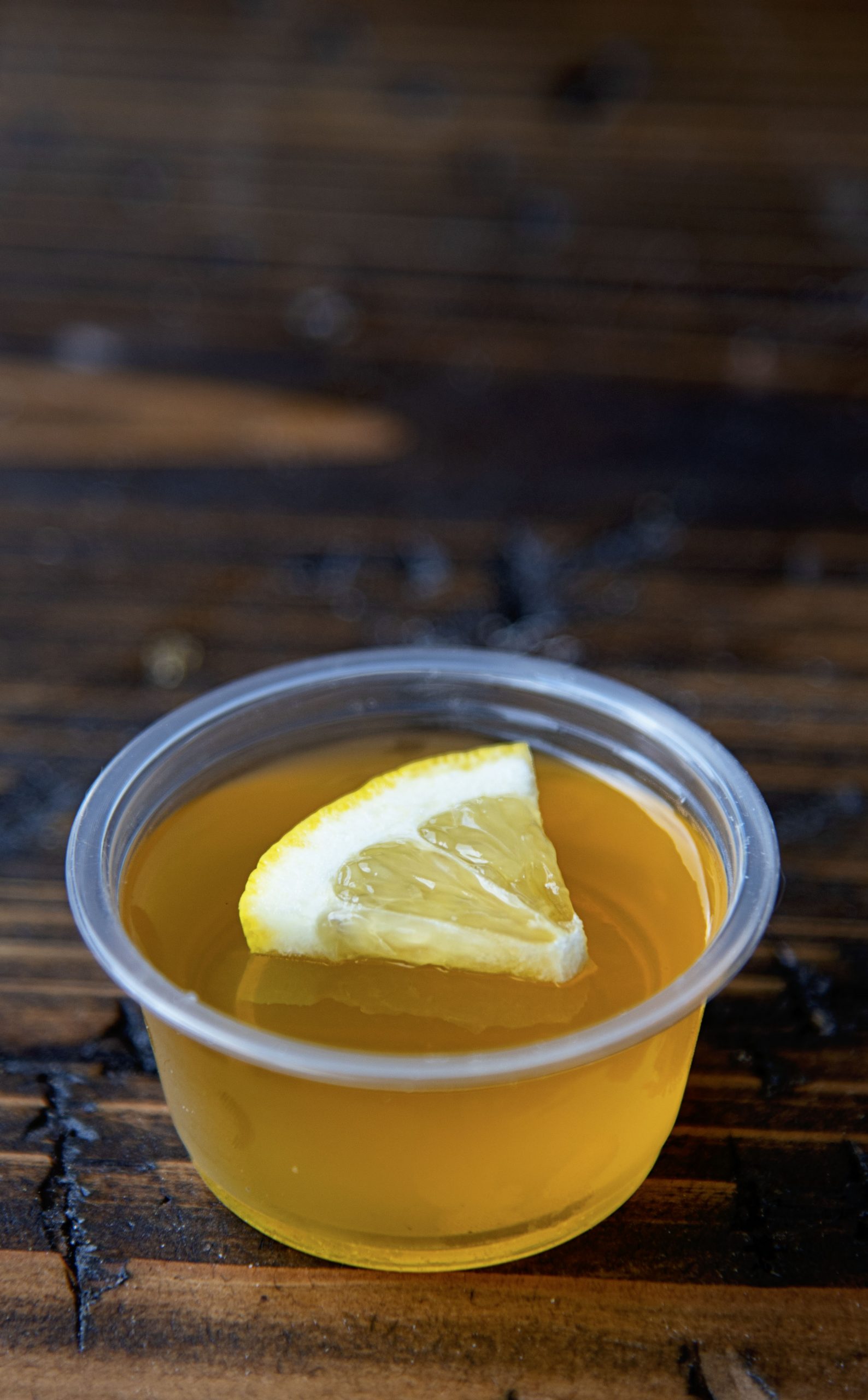 The first time I ever had Lynchburg Lemonade was at a wedding.
It was a budget wedding that the bride and groom did themselves.
And so they went with large batch alcoholic drinks for the guest.
In giant garbage cans….yes, the groomsmen were in charge of the drinks.
Which is why they thought garbage cans were the way to go for drink storage at a wedding.
Nonetheless, there is was in a giant trash can.
Which you ladled your lemonade into your red solo cup and went on your way.
It's also where I learned it was dangerous.
Because it taste good and you don't really notice how much you are drinking.
Until you go to stand up and are like whoa, yeah, this has whiskey in it. 🙂
Luckily, I was not the driver.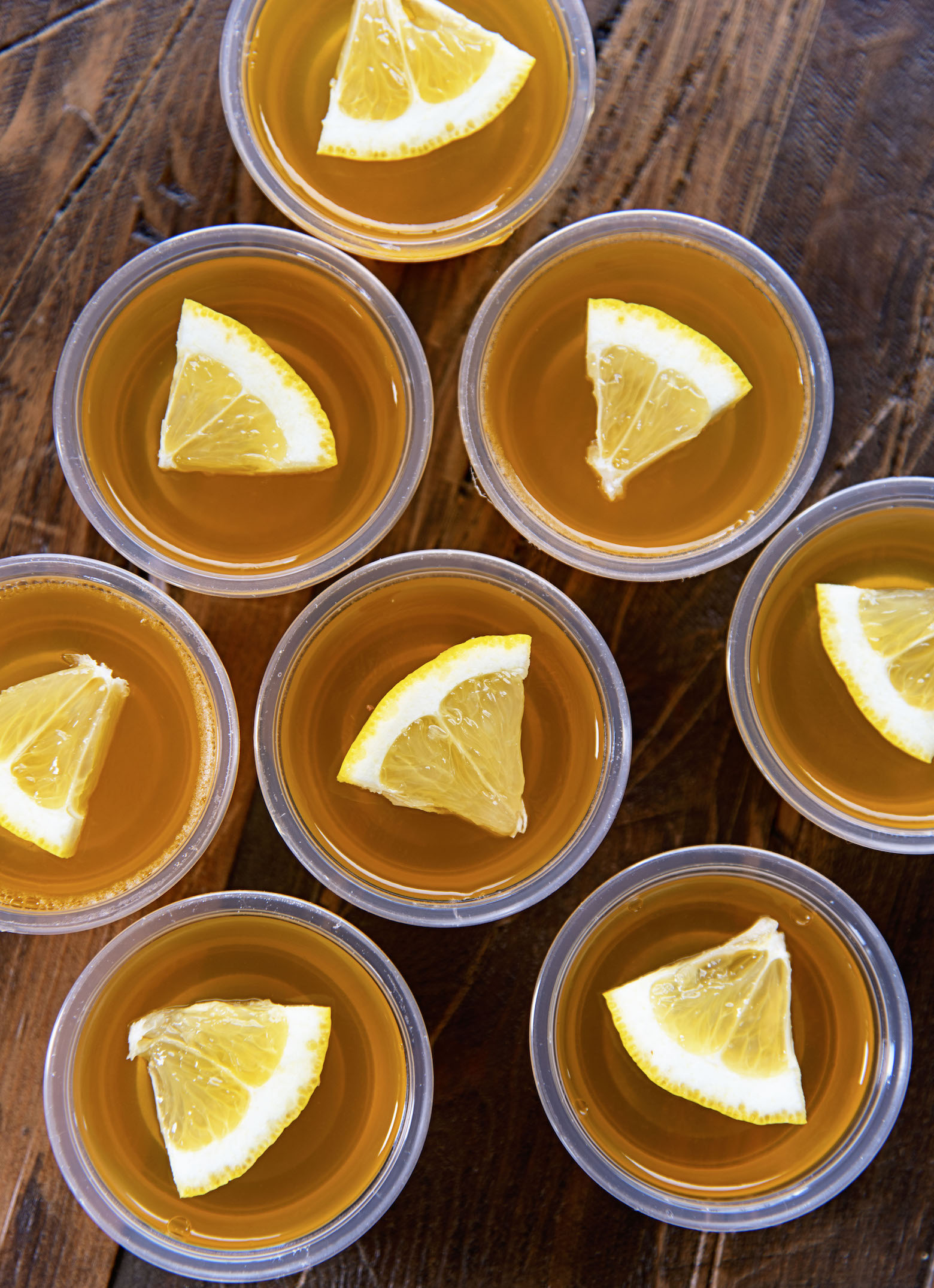 Back when my husband and I went to Nashville almost every place we went had their version of Lynchburg Lemonade.
With a slight variation in hopes of standing out.
We did visit and tour the Jack Daniel's Distillery but you aren't allowed to drink in that county so we never got to try the drink there.
But like I said, there were plenty of other places to get one…or eight.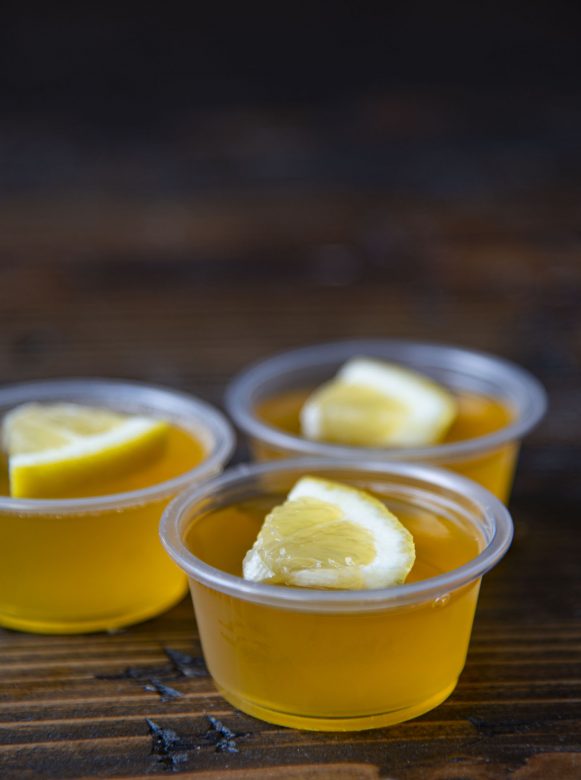 I did think about adding lemonade to the mix with these.
But then they wouldn't be authentic-ish.
If you wanted to use lemonade instead I would sub out the sweet and sour mix for lemonade.
But again, not authentic.
While Lynchburg Lemonade is now synonymous with Jack Daniels you can use whatever whiskey you want.
Because the original recipe didn't come from them interestingly enough.
And court battles did ensue.
But it's not that exciting of a story…Google it if you are curious.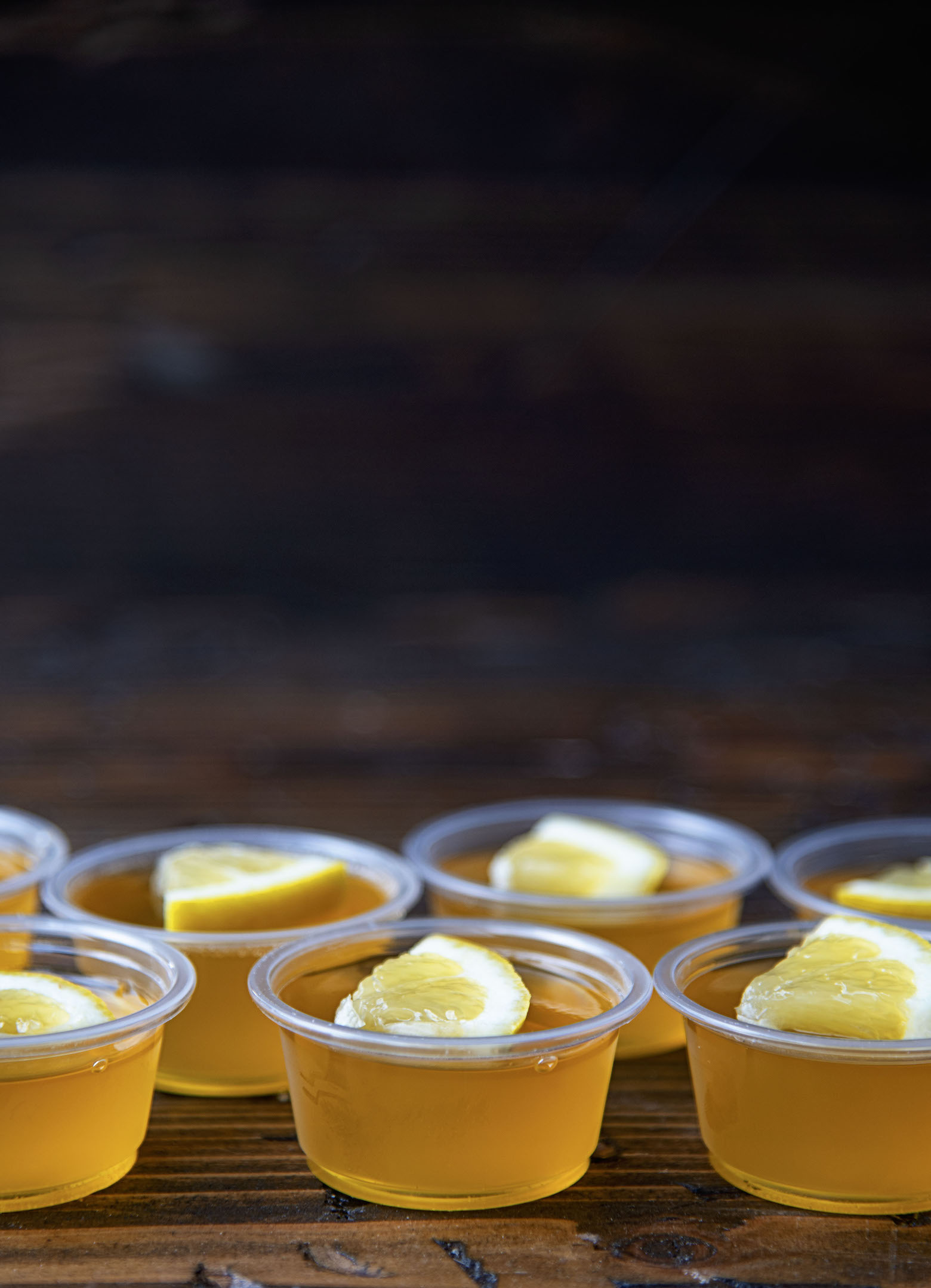 Things to remember when making Jello Shots.
When throwing a party, you'll probably want to prepare 4-6 Jello Shots for each guest.
This batch uses 6 ounces of gelatin and so you will get around 18-20 Jello shots.
If doing a half recipe and only using 3 ounces of gelatin you will only get 8-10 Jello shots depending on how you pour.
If using a garnish, don't place the garnish on the jello shot until just ready to serve.
And as always it's a great day to order my cookbook.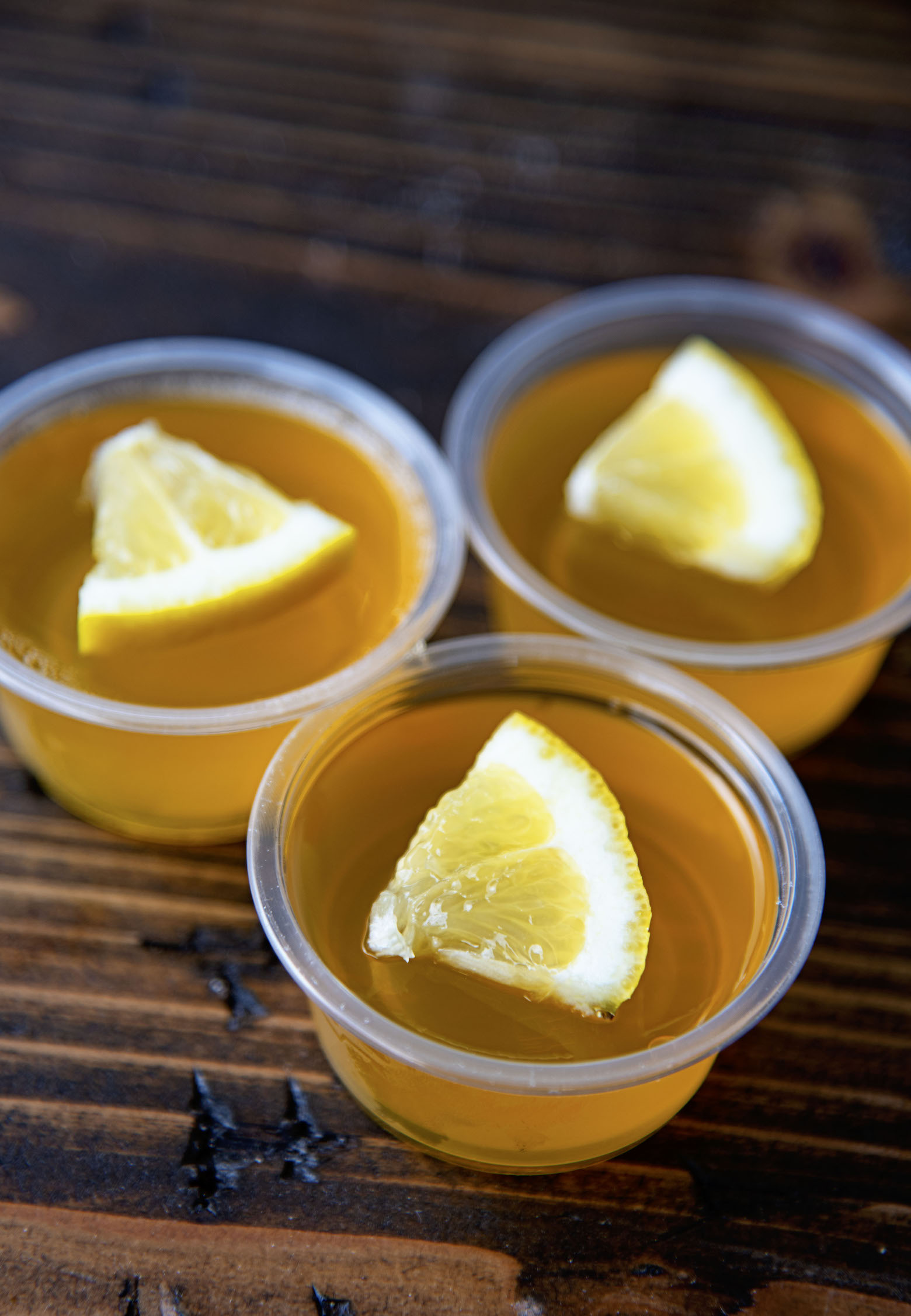 Want More Jello Shot Recipes?
Peanut Butter Grape Jelly Jell-O Shots
Touchdown Red Bull Jello Shots
Painkiller Cocktail Jello Shots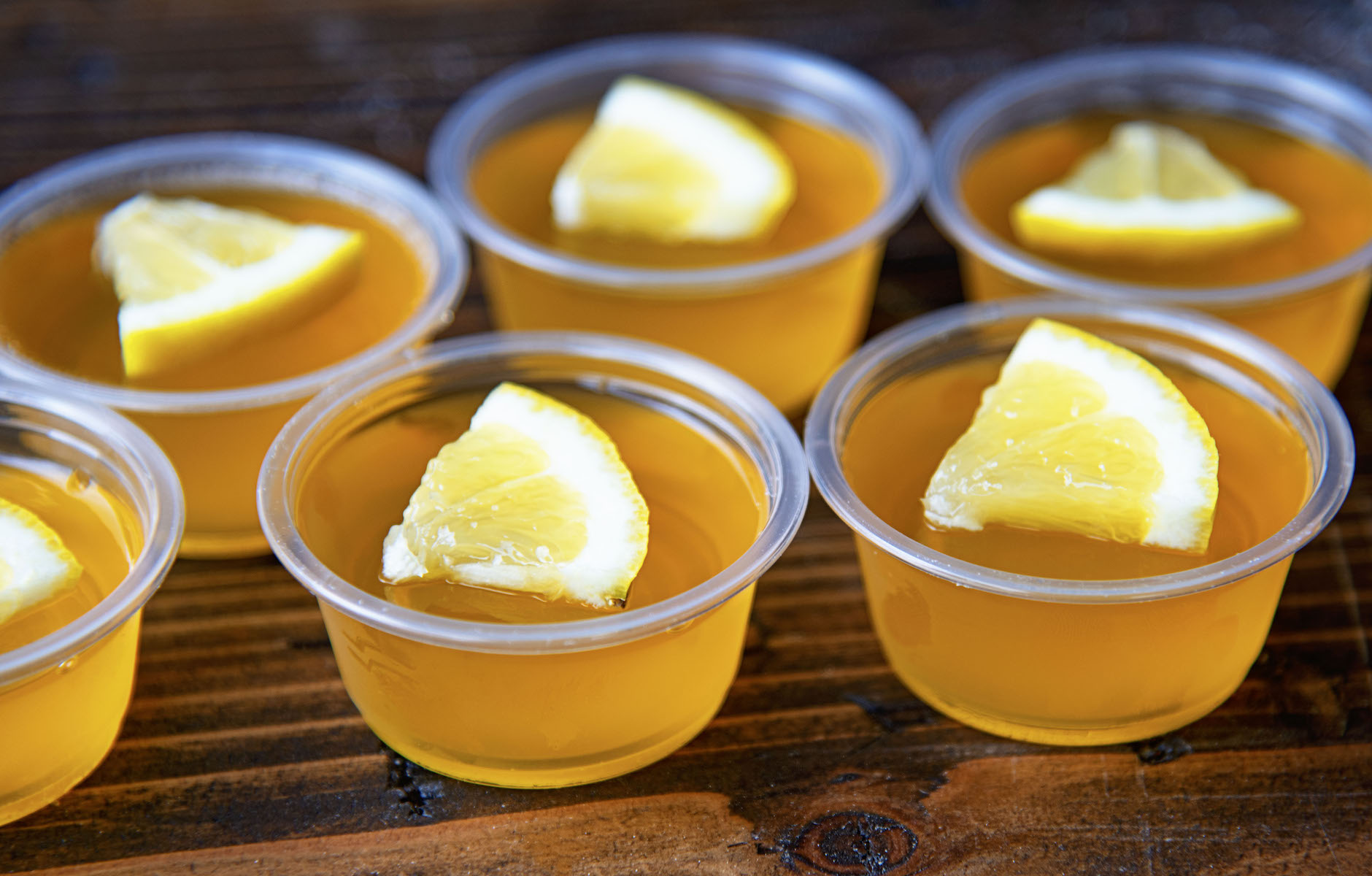 Lynchburg Lemonade Jello Shots
Ingredients
1 cup water
1 cup lemon lime soda
1 cup sweet and sour mix
6 oz lemon gelatin
3/4 cup Tennessee Whiskey (I used Jack Daniels)
1/4 cup triple sec
Instructions
Bring 1 cup of water to a boil.
Empty gelatin powder into a large mixing bowl and add the boiling water.
Continue stirring for two minutes or until the jello is completely dissolved.
Add in the lemon lime soda, sweet and sour mix, triple sec, and whiskey.
Stir until mixed and pour into 2oz. cups filled 1/2 to 3/4 of the way.
Place in fridge to firm up.
Let set up in fridge for at least 4 hours before serving.
Top with lemon wedge if desired.