This Lucky Charms Banana Bread is filled with Lucky Charms marshmallow and topped with a vanilla glaze and more marshmallows.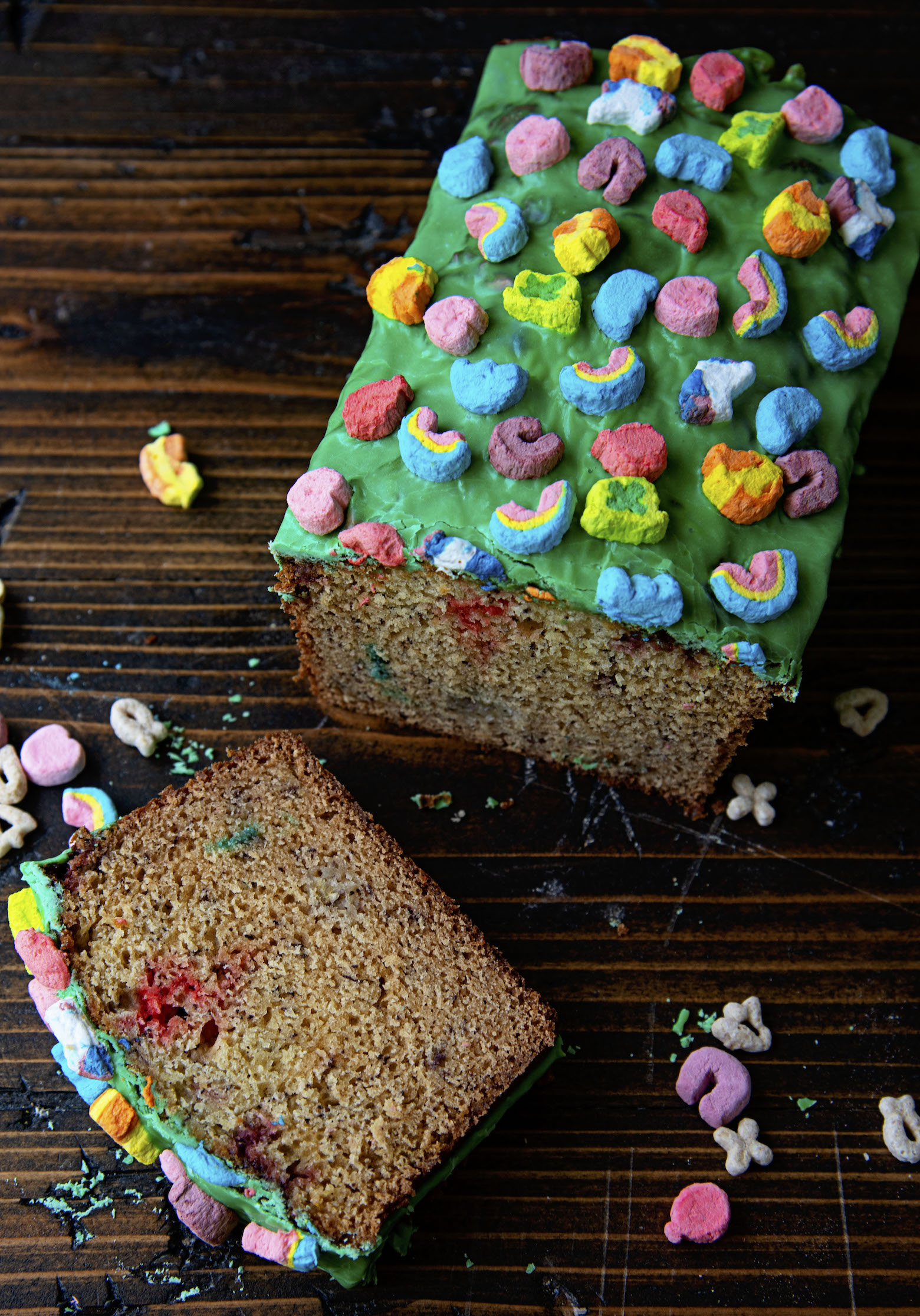 This Lucky Charms Banana Bread is totally the breakfast of champions.
Or the snack of champions.
It's funny because I got away from baking banana bread when the pandemic rolled around.
Because everyone started making banana bread.
And that meant food bloggers were making banana bread.
But after making this banana bread recipe I remembered why banana bread is so popular…because it's yummy.
This is the time of year when you see Lucky Charms.
Because of the leprechaun on the box people relate the cereal to St. Paddy's Day.
Which is why I colored the glaze green.
But reality is Lucky Charms is a year round food.
As is this bread.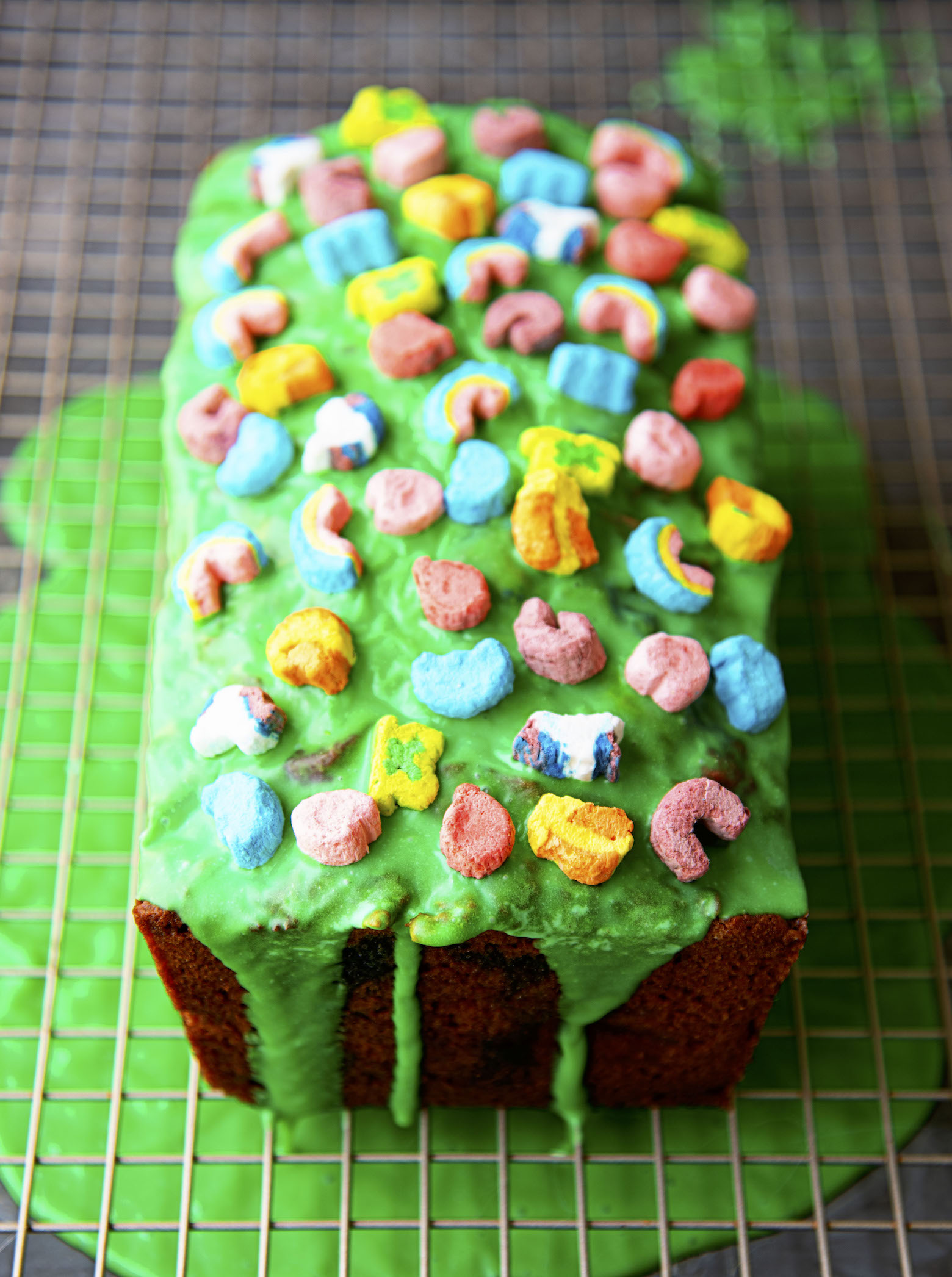 Surprisingly I have only made one other thing on the blog using Lucky Charms.
A Lucky Charms Cereal Milk Babka.
I say surprisingly because it was my favorite cereal as a kid and I still eat it today.
In fact, I didn't have to buy the cereal special to make the banana bread because I already had it in my cupboard.
As much as a I love the cereal they still don't have the correct ratio of marshmallows to cereal.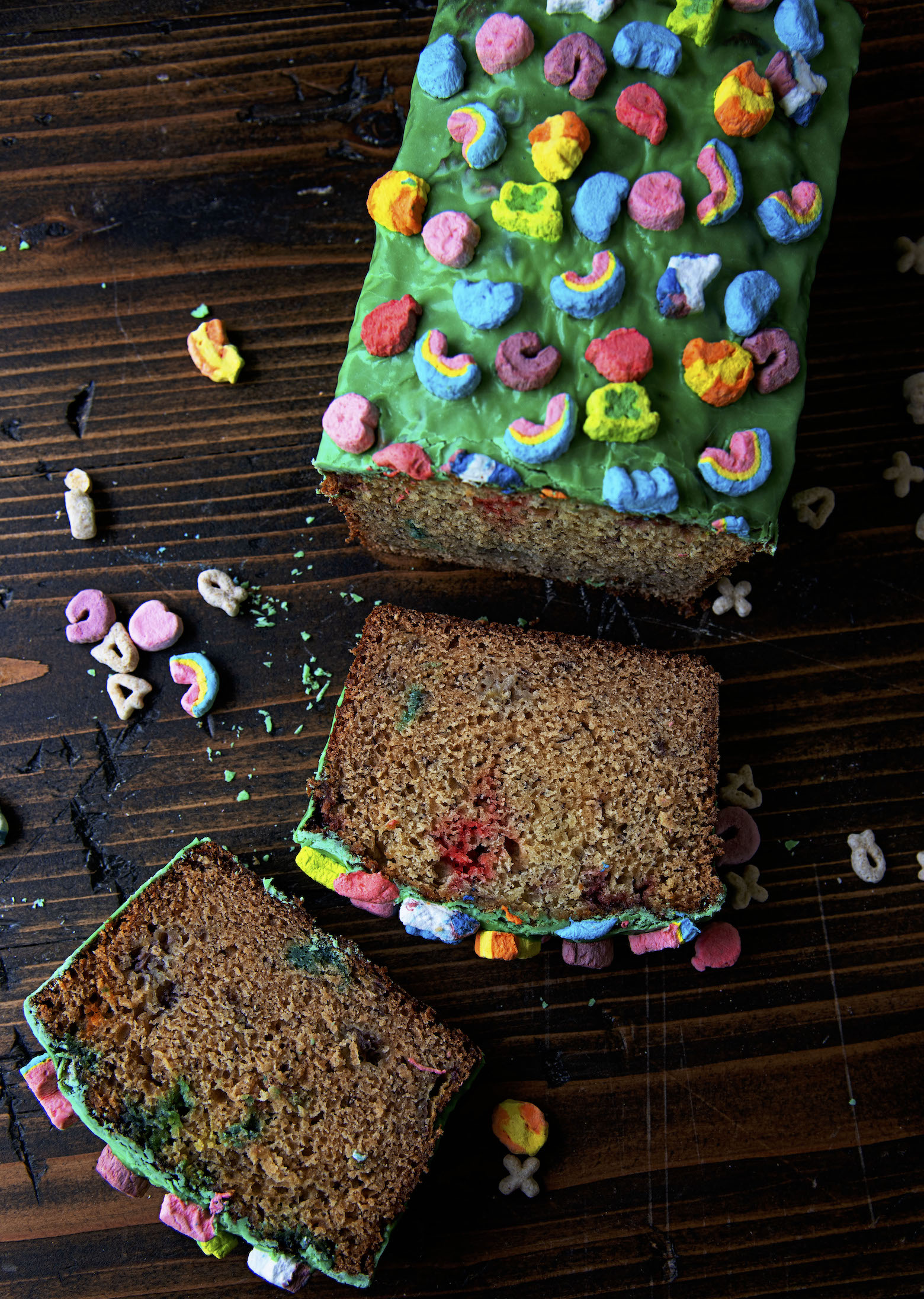 This banana bread recipe only uses the Lucky Charms marshmallows.
I thought about making a cereal milk using the cereal to use in the glaze but just decided to go all marshmallow.
Speaking of the marshmallows they will fade into the bread when baked.
You want that.
They are kind of like sprinkles.
The marshmallows are in there to add some color.
They do, of course, also have a little sweet vanilla burst.
The marshmallows on the top of the bread will stay crispy the first day but after that they turn into…well, marshmallows.
So either way it's good.
P.S. It's a great day to buy my cookbook Holy Sweet!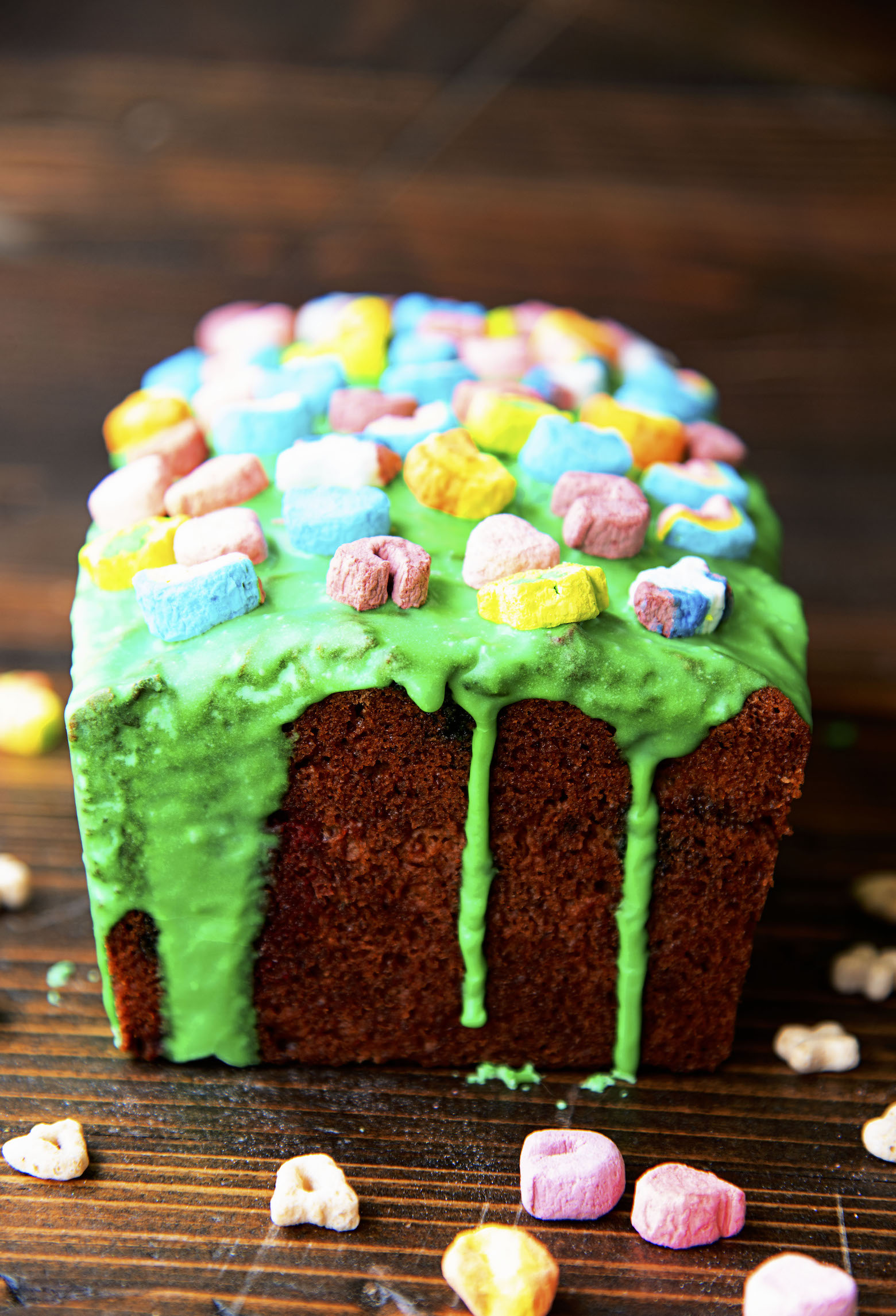 Tips for making banana bread:
You need really ripe bananas.
Brown spots on bananas are your friend when making any banana baked good.
The more ripe the more flavor it will give the baked good.
Don't have ripe bananas?
You can trick them into ripening.
How?
Preheat oven to 300F.
Place the unpeeled bananas on a foil-lined baking sheet and bake them for 15 to 20 minutes.
They will turn really dark.
Don't panic that's what is supposed to happen.
Let them cool and them mash them up.
Really mash the bananas.
A lot of people just throw in the banana in pieces into the batter.
But since they are usually added at the end of the recipe you need them mashed.
Because you won't be mixing for long and need the bananas mashed in order to incorporate throughout the whole recipe.
Since this is a quick bread do not over mix the batter.
With quick breads you don't want to produce too much gluten.
Otherwise you are going to get a tough loaf instead of the moist loaf you should get.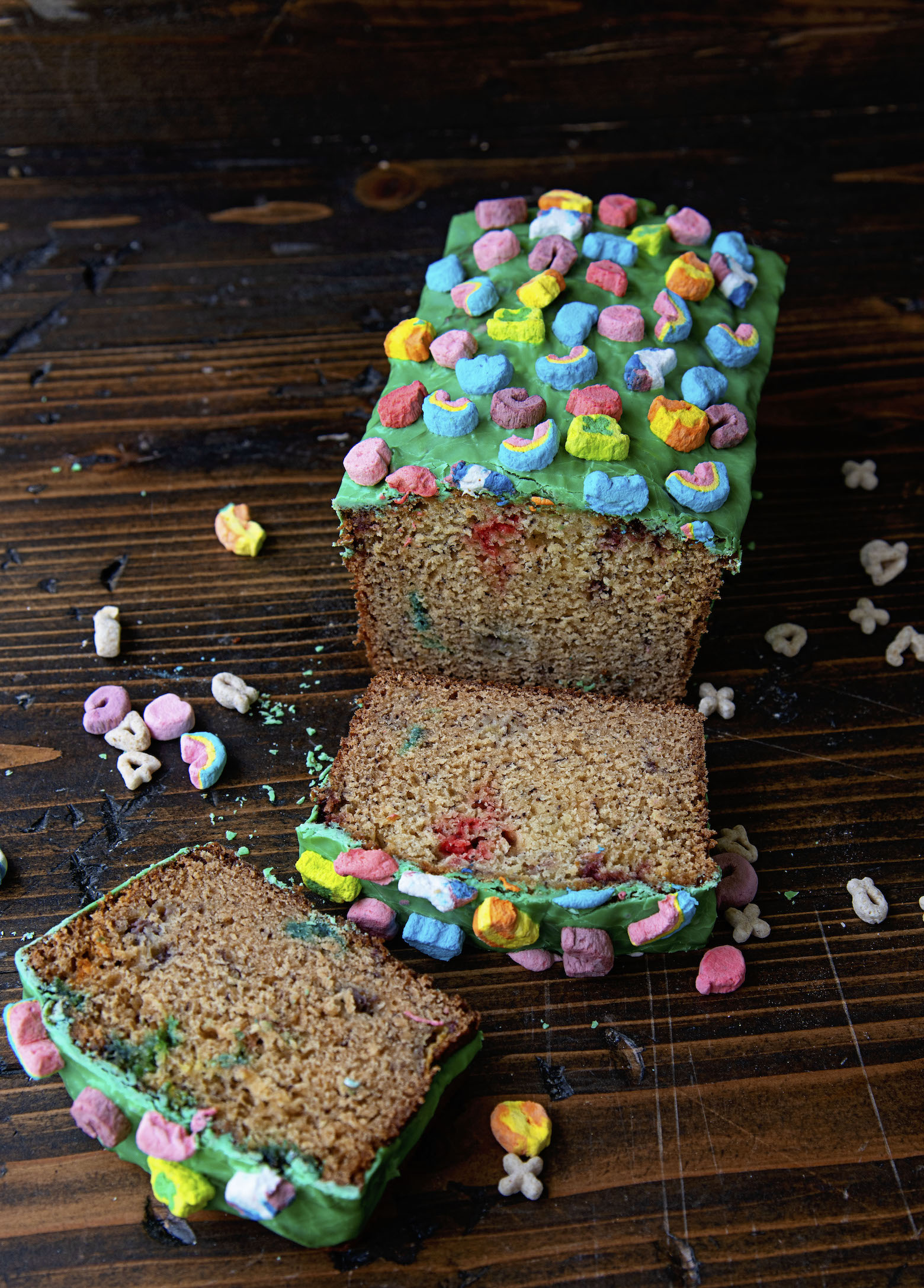 Want more Banana Bread Recipes?
Chocolate Chocolate Chip Sourdough Banana Bread
Dark Chocolate Sea Salt Caramel Banana Bread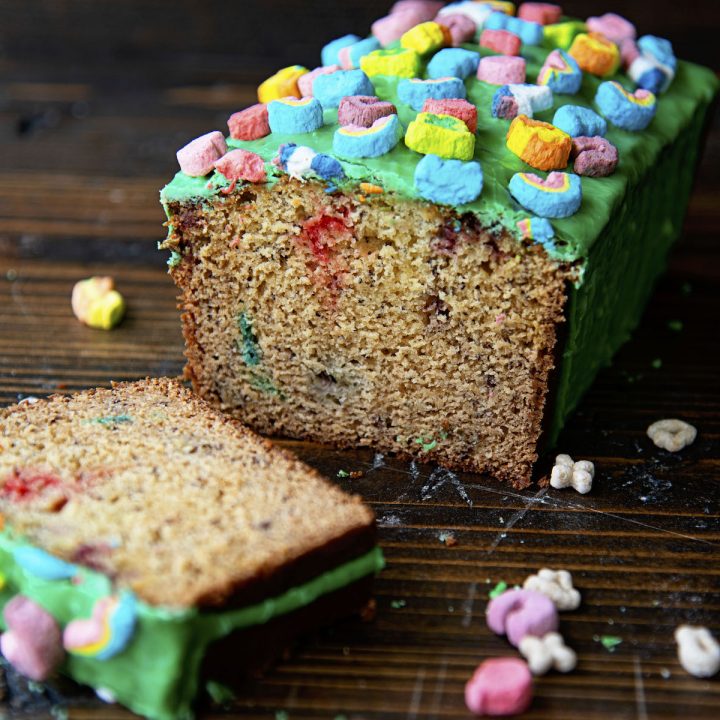 Lucky Charms Banana Bread
Ingredients
For the bread:
1 1⁄3 cups granulated sugar
1⁄2 cup butter, at room temperature
2 eggs
1⁄2 cup buttermilk
1 tsp. baking soda
1 tsp. baking powder
2 cups all-purpose flour
1 tsp. vanilla
1 1⁄4 cups mashed ripe bananas
1 cup Lucky Charms marshmallows
For the glaze:
2 heaping cups of powdered sugar
1 1/2 teaspoons vanilla extract
1/4 cup milk (more to thin)
green food gel (if using)
Lucky Charms marshmallows to garnish
Instructions
For the bread:
Cream sugar and butter.
Add eggs, one at a time, mixing well after each addition – use a mixer.
Stir baking soda into buttermilk and add to mixture.
Sift baking powder with flour and blend into creamed mixture.
Add vanilla and banana and mix.
Fold in the marshmallows using a spatula.
Pour into greased and floured 9″x5″ loaf pan. (May also use 4 mini loaf pans.).
Bake at 300 degrees F for about 1 1/2 hours or until loaf tests done with a toothpick. (Bake for 50-60 minutes for mini loaves.).
Cool for 20-30 minutes before removing from pan.
For the glaze:
Add sugar to bowl and stir in milk and vanilla until mixture resembles a thick batter.
Mixture may look lumpy at first but just continue to stir and it will come together.
Add in the green food gel if using and mix until all the glaze is green in color.
Pour over the cooled banana bread.
Sprinkle with extra Lucky Charms marshmallows...how many is up to you.