This Cheetos Cheddar Beer Bread is a crusted in Cheetos and filled with beer and cheddar for a perfect side to soup and chili.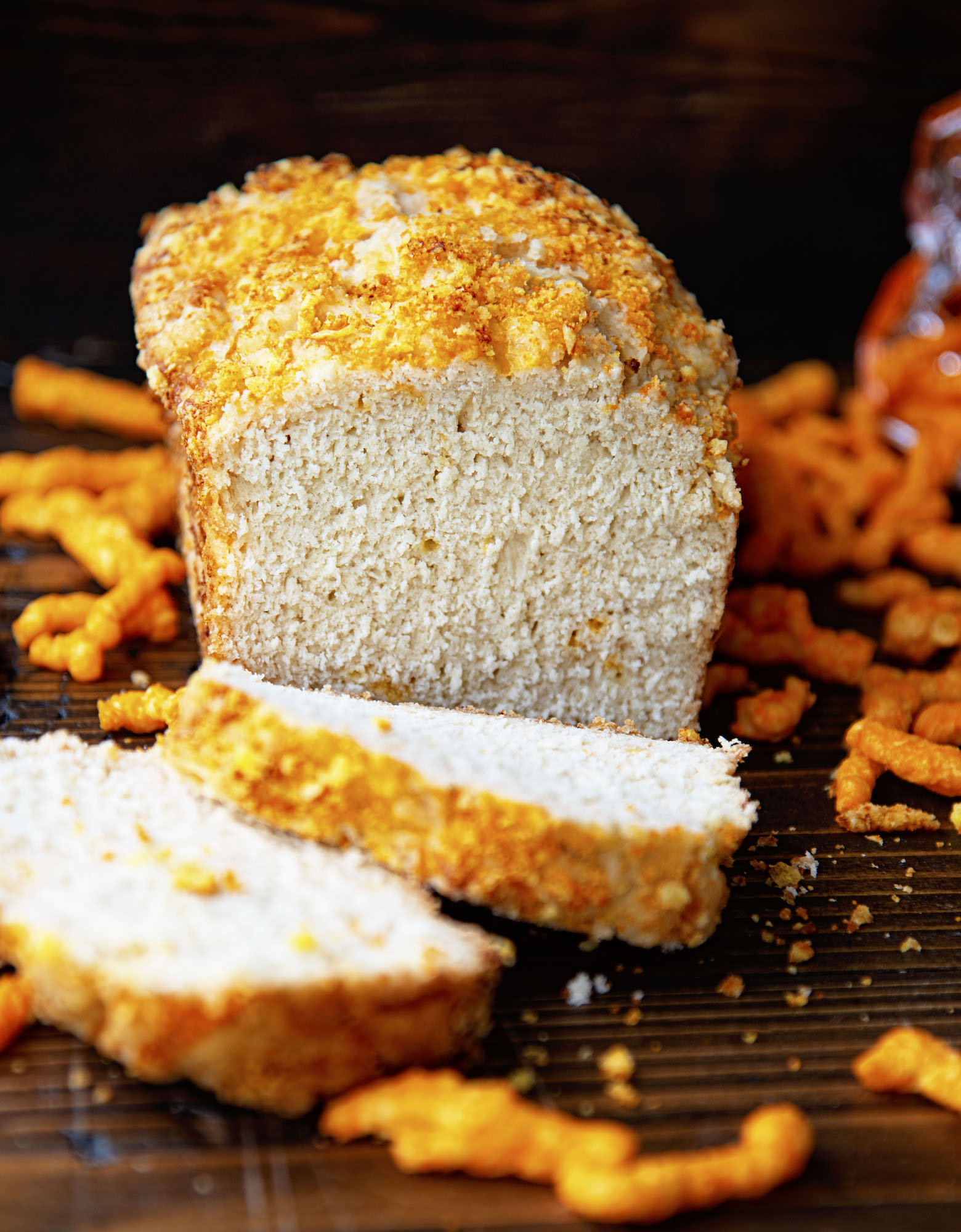 I made this Cheetos Cheddar Beer Bread for National Cheese Doodle Day.
Yes, that's a thing.
And it's a thing that Erin from The Spiffy Cookie likes to host an event for.
Now, there is almost a day for every food.
As it should be.
Food should be celebrated.
Clearly the cheese doodle should be celebrated.
What exactly is a cheese doodle?
Cheese doodles are cheese puffs, cheese curls, cheese balls, Cheetos (the name brand), and cheese poofs.
You can get them crunchy or puffy.
For this recipe I chose to go crunchy.
Because I used the cheese doodles are a coating to give the beer bread a crunchy crust.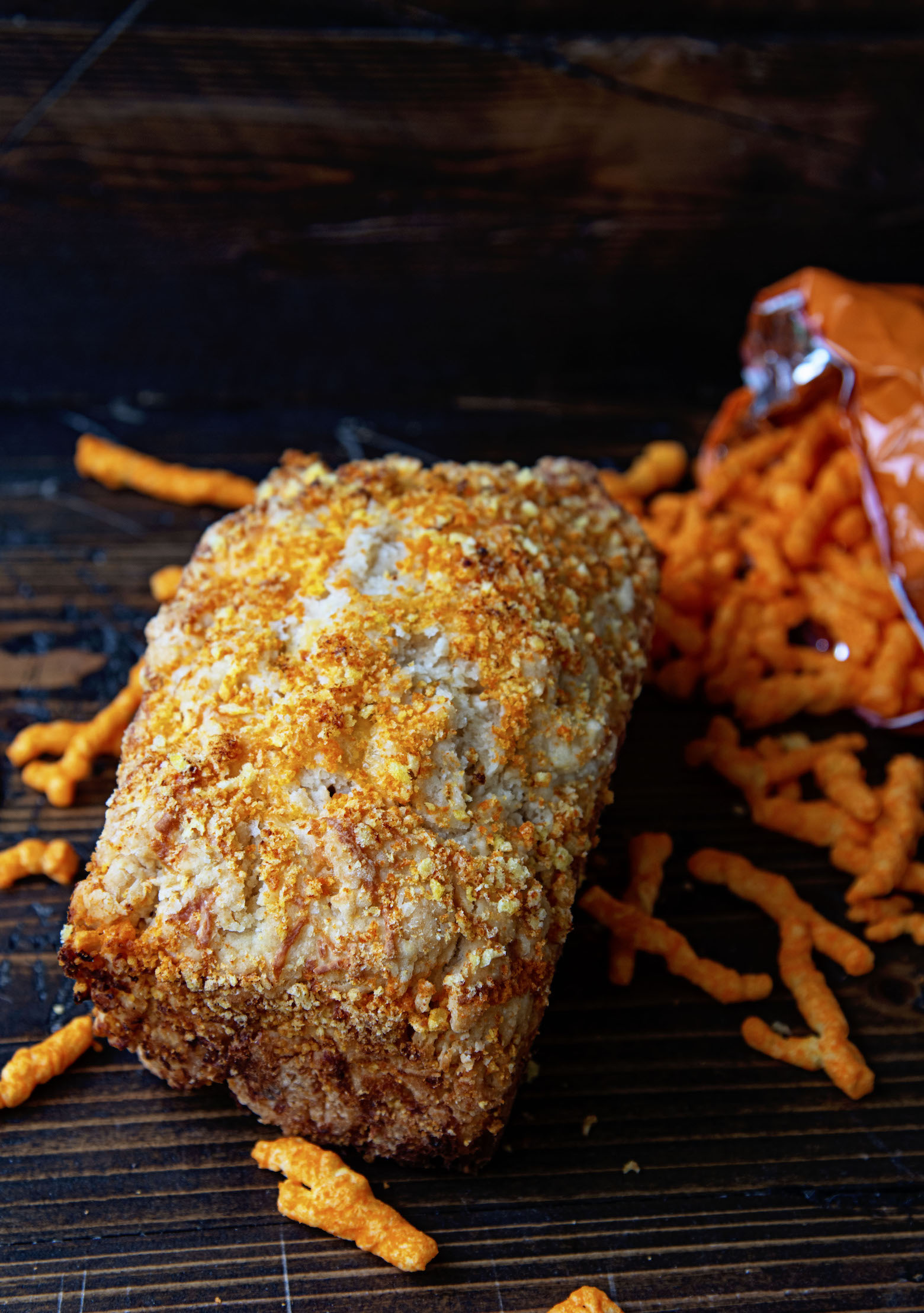 Beer bread is a quick bread.
And like all quick breads you do not want to overmix it.
Or else it will get tough.
Which is why you mix it by hand and not in a mixer.
Unlike a lot of beer breads this is not a self rising flour beer bread.
I chose to use just flour and baking powder because I feel self rising flour does not have enough baking powder for the bread.
You don't get as good of a rise in my opinion with self rising flour.
Beer bread used to be everywhere, and just like all things food, people stopped eating it.
Not sure why.
It's so good with soup and chili.
Plus it's easy to make just like most quick breads.
So I decided it should make a comeback.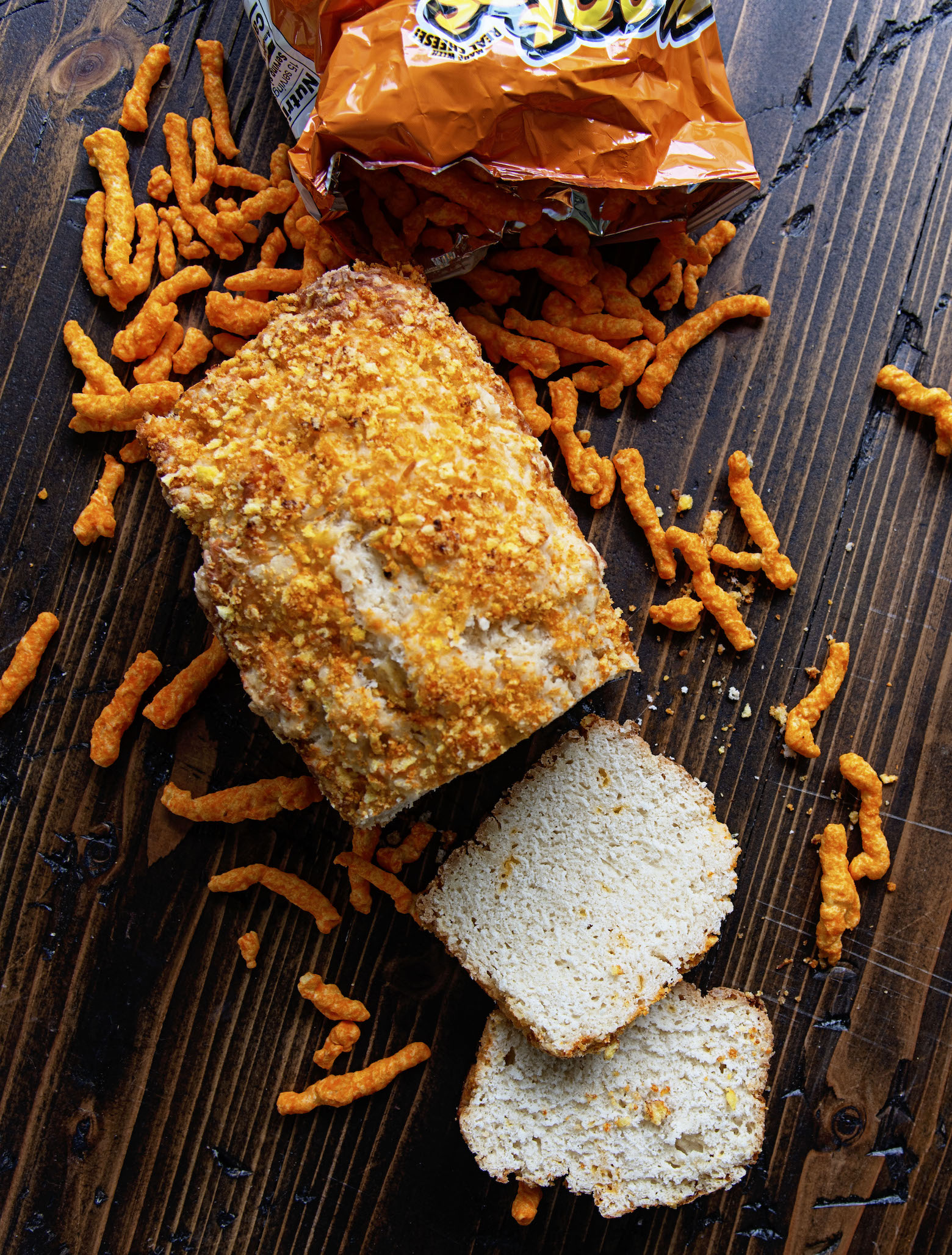 Since this bread is baked all the beer does bake off, so it's safe for kiddos to eat.
No worries there unless there is an allergy.
Speaking of beer I find a lighter beer works best.
We drink Montucky Cold Snacks after playing hockey.
It's light enough to drink after exercising but still has some flavor.
So that is why I chose to go with that one. PBR would probably work well too.
I've never made a beer bread with dark beer but if that's your preference you can always give it a try and report back how it went.
Since plain beer bread is rather boring I added cheddar cheese to the batter.
For mine I chose to go with a mix of sharp cheddar and white sharp cheddar.
You definitely need the sharp cheddar for the loaf.
It will add the flavor you are needing.
If you are a fan of heat you could add some Pepper Jack to the mix as well.
Feel free to experiment with the bread.
You can add spices and fresh or dried herbs to the mix.
Or perhaps some diced chili peppers to add a kick to the bread.
P.S. It's a great day to buy my cookbook.
Check out a couple of my other blogger buddies that are celebrating #NationalCheeseDoodleDay !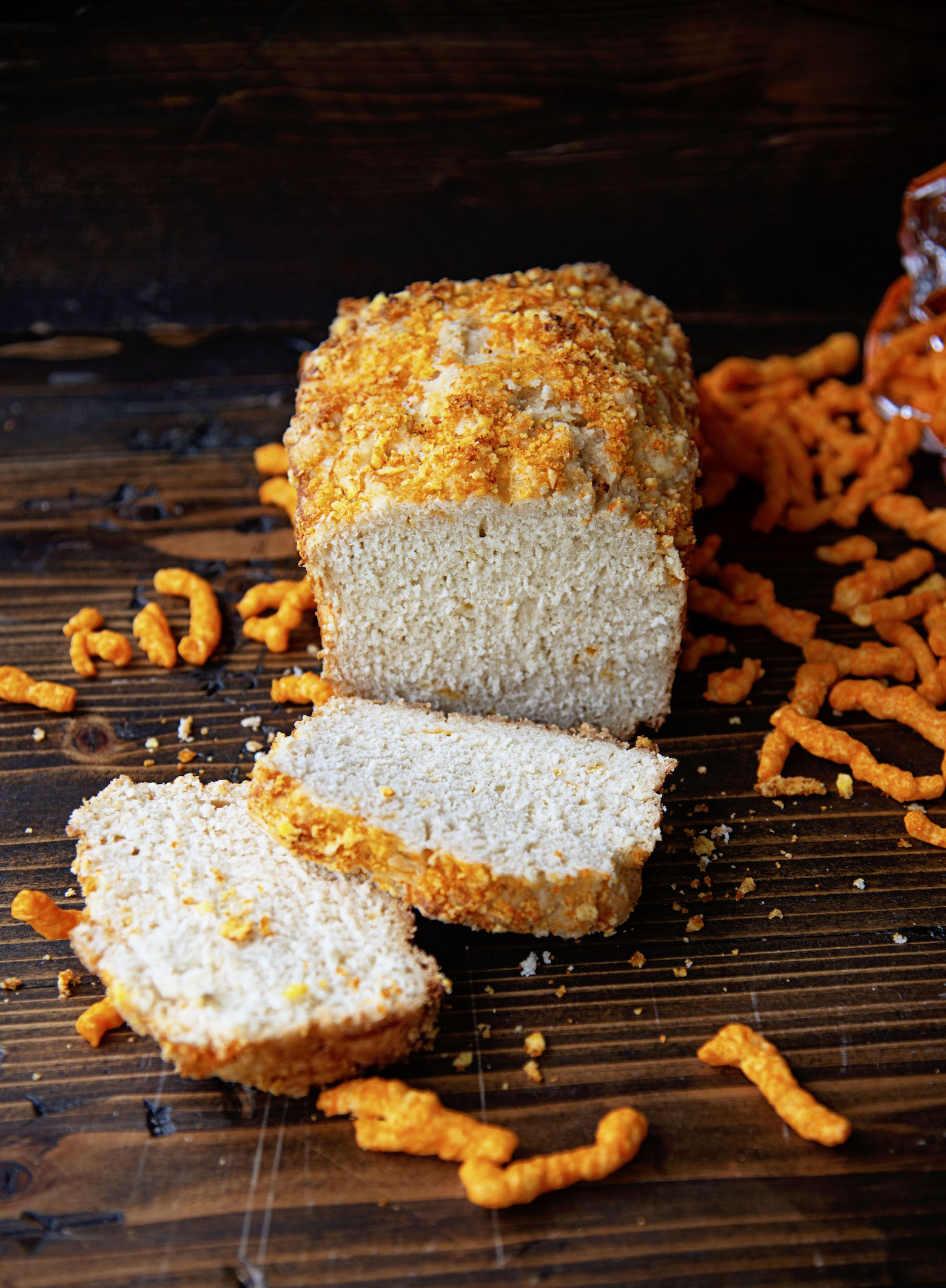 Want More Recipes with Cheese?
Cheetos Three Cheese Cheeseball
Grilled Cheese Tomato Soup Casserole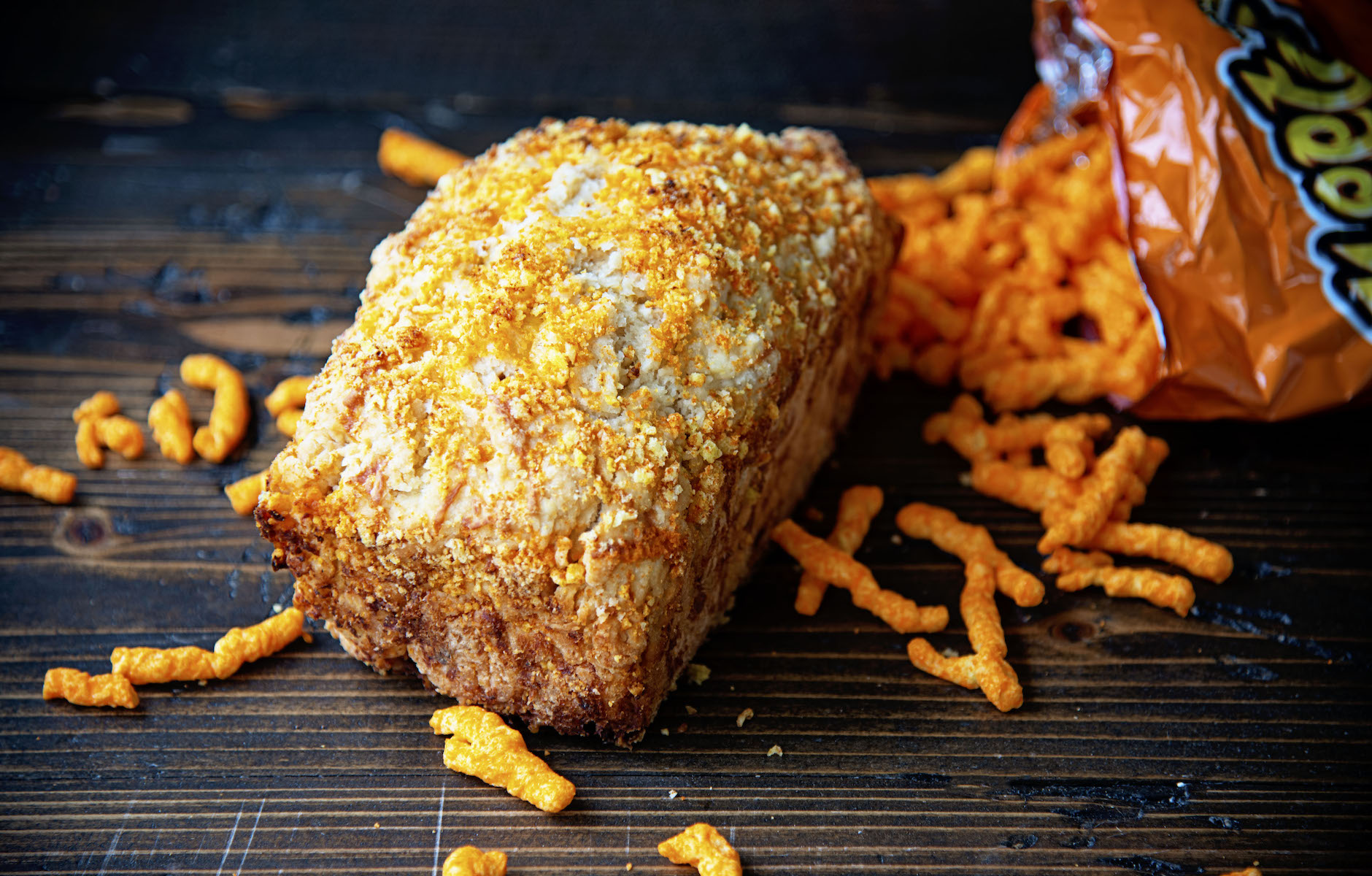 Cheetos Cheddar Beer Bread
Ingredients
1 cup Cheetos (crunchy), finely crushed
3 cups all purpose flour
1 TBSP baking powder
1 tsp. salt
3 TBSP granulated sugar
12 oz beer (I used Montucky Cold Snack)
1/2 cup unsalted butter, (1 stick, melted)
3/4 cup shredded sharp cheddar cheese
Instructions
Preheat oven to 350°F.
Generously grease a 9 by 5-inch loaf pan with butter.
Take half of the crushed Cheetos and move the pan around so that the Cheetos adheres to the butter on the pan.
In a medium bowl, stir together the flour, baking powder, salt and sugar.
Pour in the beer and cheddar cheese stir until just incorporated. (The dough will be sticky and heavy.)
Pour half the melted butter into the bottom of the prepared loaf pan.
Spoon in the bread dough and pour the remaining half of the butter on top.
Sprinkle the remaining crushed Cheetos on top.
Bake for 50-60 minutes, until the bumpy top is golden brown.
Remove from the pan and serve immediately.
Beer bread is best eaten warm.