These King Cake Pudding Shots are a fun Mardi Gras themed pudding shot perfect for Fat Tuesday complete with plastic baby.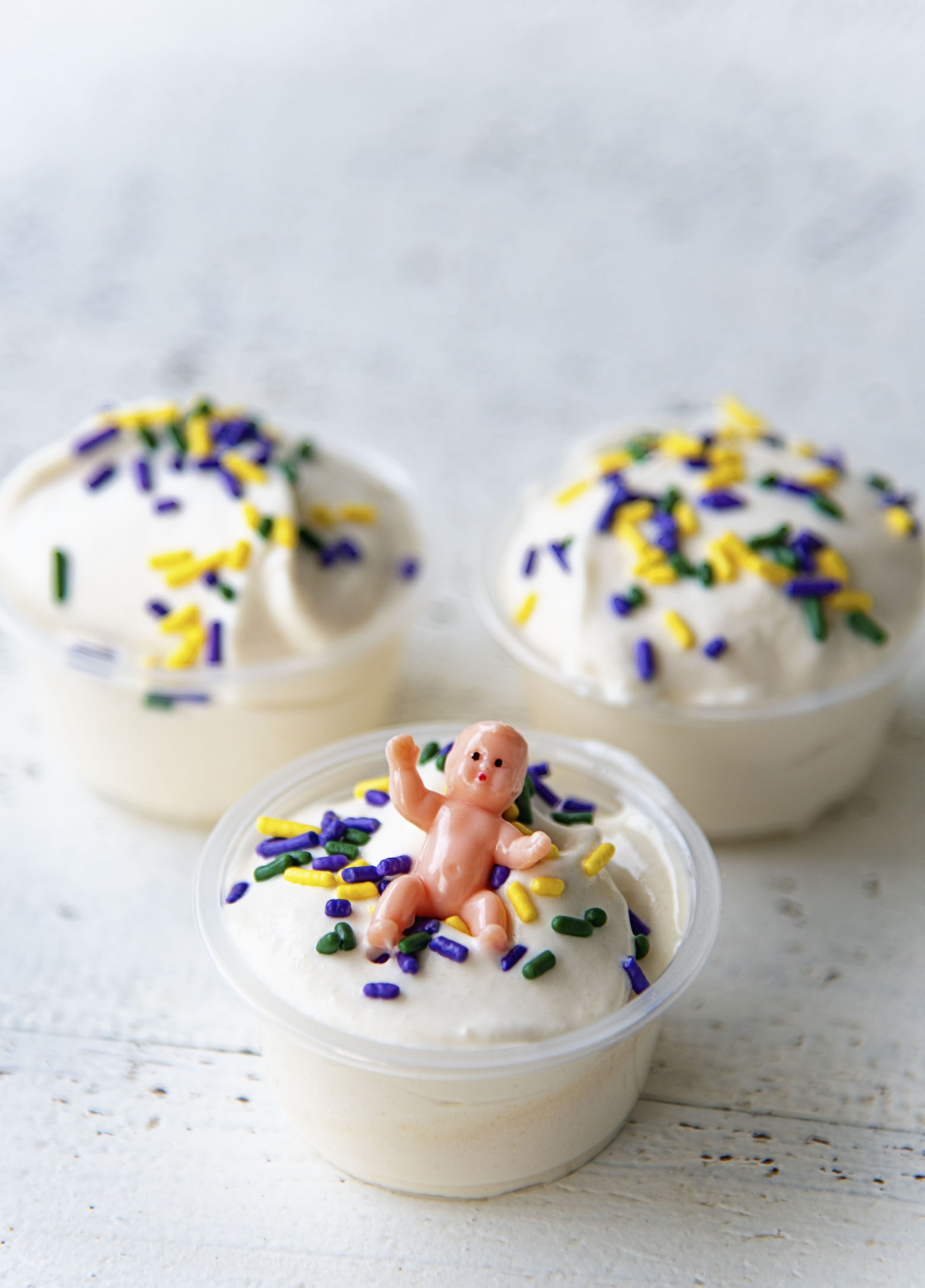 If you are not from an area that celebrates Mardi Gras, these King Cake Pudding Shots might seem odd.
I mean, they have a little plastic baby on them.
Growing up whenever I saw a King Cake on tv or in a magazine I thought they were for a baby shower.
Since there is a hidden baby in each one.
You have to admit that makes more sense than actual King Cake.
And King Cakes?
Well, they aren't so much a cake as twisted cinnamon filled dough.
Like a giant cinnamon rolls as a cake.
Covered in icing and then sprinkles with purple, yellow, and green sprinkles.
And hidden in the cake is a little baby.
Which if you find it you are the King for the day.
The baby is supposed to represent Jesus.
I personally find it very odd that I could bite into a cake and maybe bite a piece of Jesus.
But then again, that could just be me.
While some choose to put the baby in after the cake is baked, traditionalist use a ceramic baby that can baked.
Which again….baking a baby (especially one that is supposed to be Jesus) seems wrong.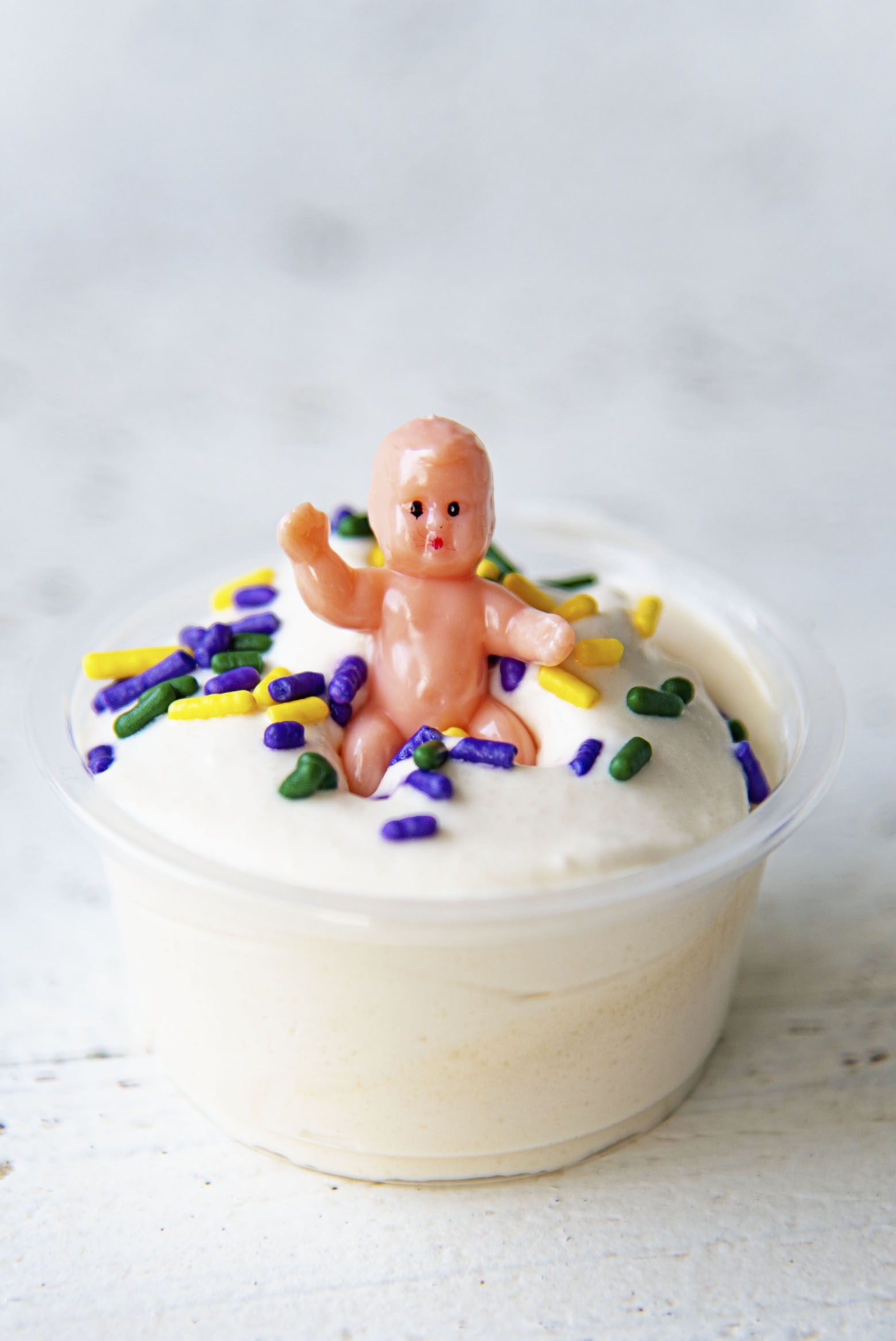 These pudding shots use cake vodka.
There are several King Cake vodkas out there believe it or not.
But I was unable to actually get ahold of any of it.
If you are lucky enough to be able to get some, I suggest just using that.
However, if you are like me then you will have to mix the booze.
I used cake vodka but you can use vanilla or whipped cream vodka if you can't find cake flavored.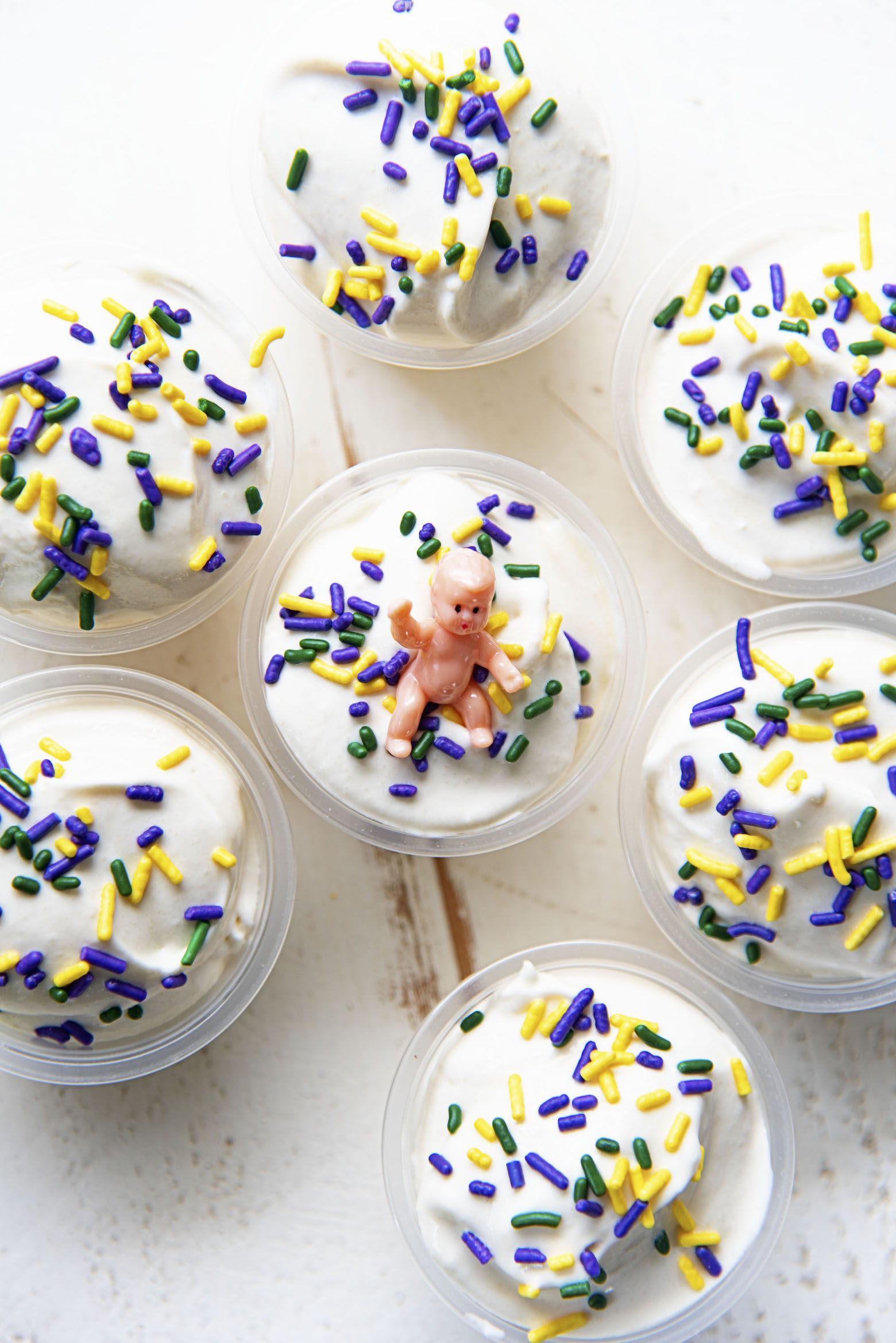 The filling of the cakes vary but the standard cakes all have cinnamon in them.
So I used cinnamon schnapps as well.
You can use Fireball or other cinnamon spirits in its place.
Some cakes have pecans in them as well.
So a splash of butter pecan liquor might be a yummy touch.
Up to you.
I used these purple, green, and yellow sprinkles. Some use sanding sugar instead.
Whatever is your preference.
I find that the sanding sugar bleeds too much.
And of course, you can't forget the baby.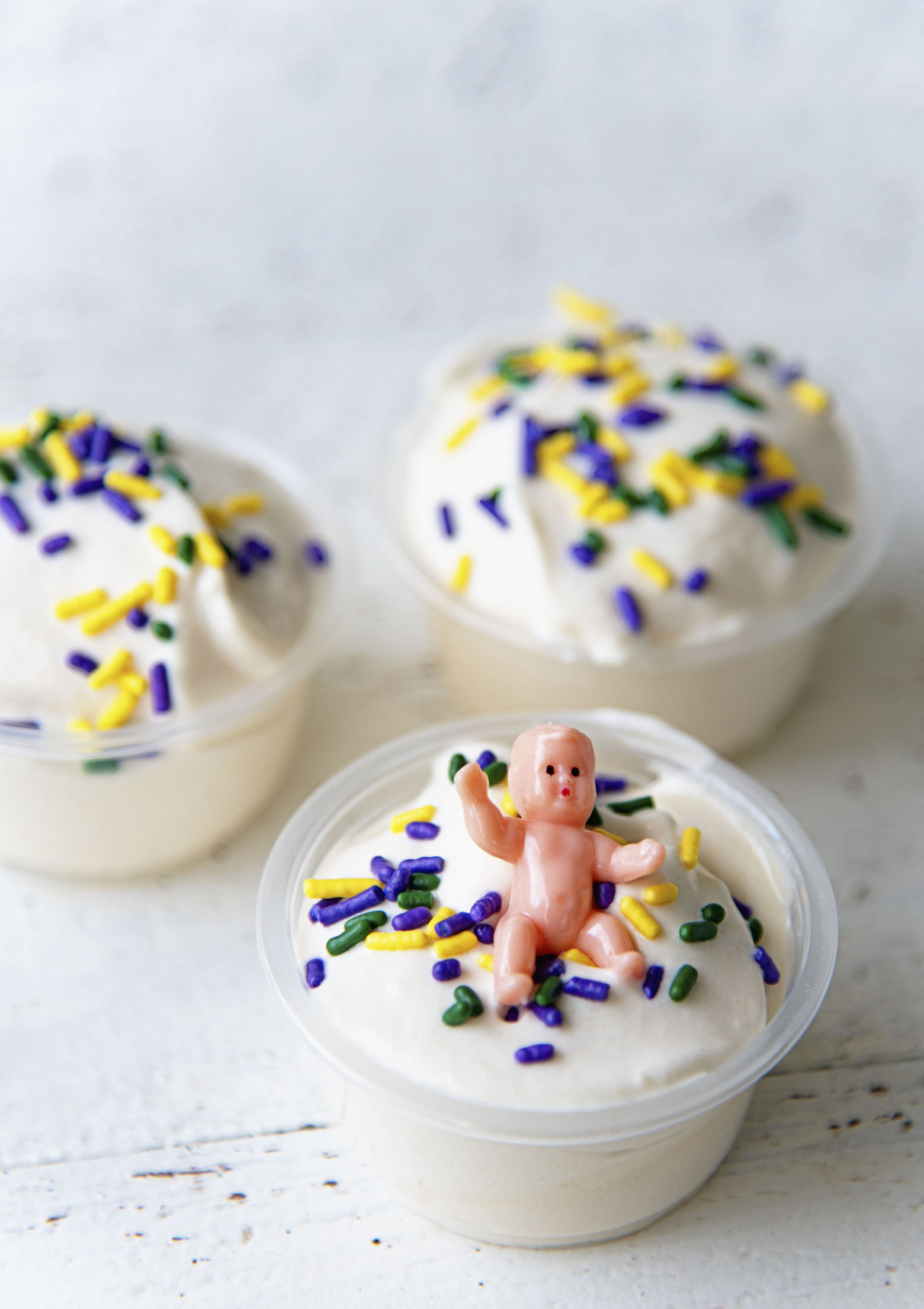 Tips For Making Pudding Shots:
Remember when using any alcohol that is more than 80 proof can make your pudding shots runny.
Most vodkas run at 80 proof and that is usually the highest alcohol content booze I use so you should be fine.
But always good to check.
Don't skip the Cool Whip.
Many people ask can they use whipped cream instead.
Yes, you can.
However, make sure that you do not use the kind out of a can.
That will not hold up.
I've always made mine with Cool Whip just because I feel it holds it shape better in pudding shots.
Be sure to chill them for at least 30 minutes.
While I say to chill them for at least 30 minutes I usually end up chilling them for much longer.
Often I make up the pudding the night before and place it into an airtight container and then scoop the day of the party.
Saves time on the day of the party.
P.S. It's a great day to buy my cookbook Holy Sweet!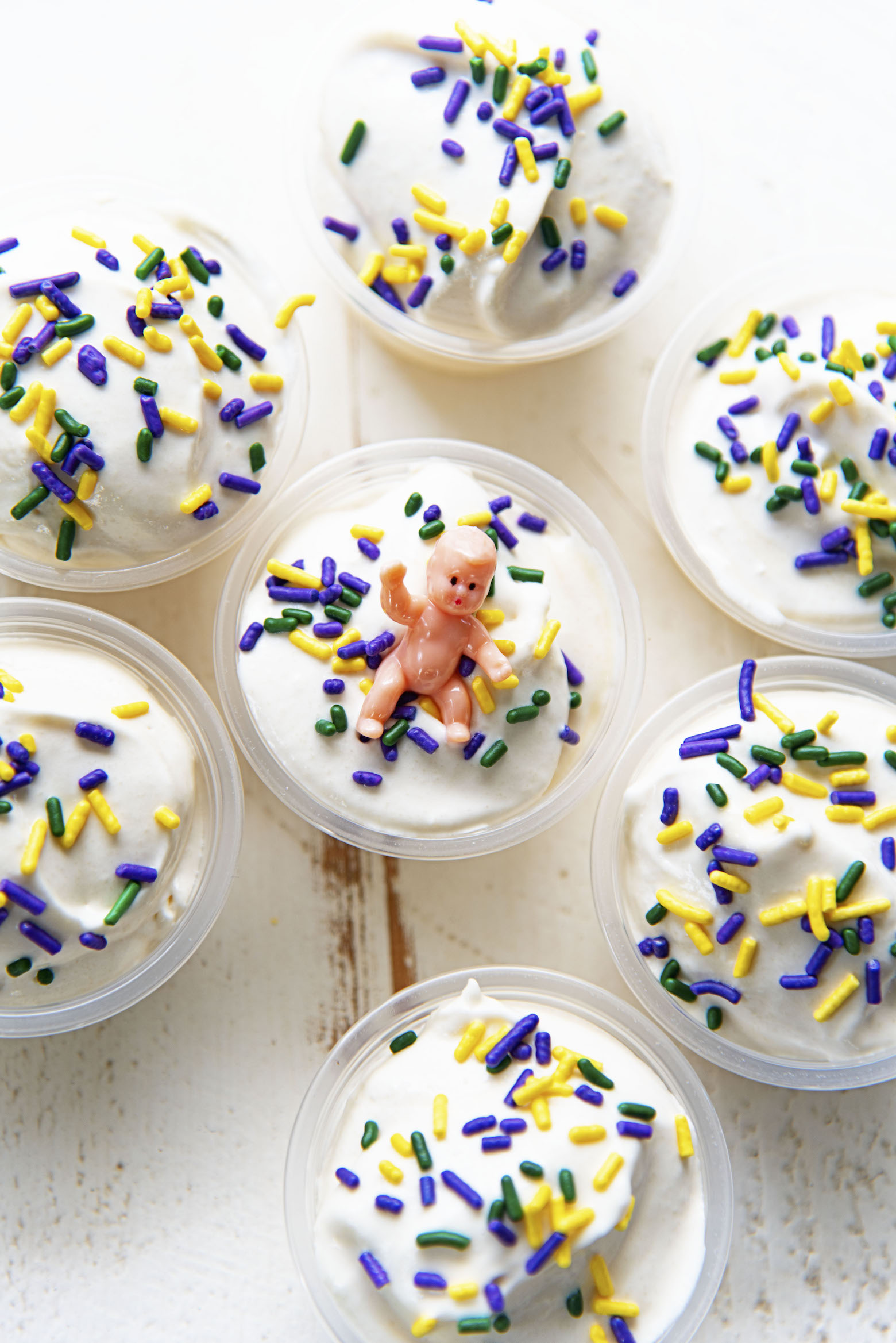 Want More Pudding Shots?
Pineapple Upside Down Cake Pudding Shots
Peppermint White Chocolate Pudding Shots
King Cake Pudding Shots
Ingredients
3.4 oz instant vanilla pudding mix
1 1/2 cups whole milk
1/4 cup cake flavored vodka
1/4 cup cinnamon schnapps
4 oz Cool Whip (thawed)
green, purple, and yellow sprinkles
plastic baby
Instructions
In a large mixing bowl, whisk together the vanilla pudding mix, milk, cake vodka, and cinnamon schnapps.
Whisk together until it starts to get thick, about 3 minutes.
Fold in the thawed Cool Whip.
Then whisk until smooth.
Cover the bowl with plastic wrap and place in fridge for at least 30 minutes.
Evenly divide the pudding between shot glasses.
Place in fridge for 3 hours.
Top with sprinkles and plastic babies if using.