These Soy Sauce Ramen Deviled Eggs a marinated in soy sauce, filled with egg yolk, japanese mayo, and Ramen packet. Topped with fried ramen.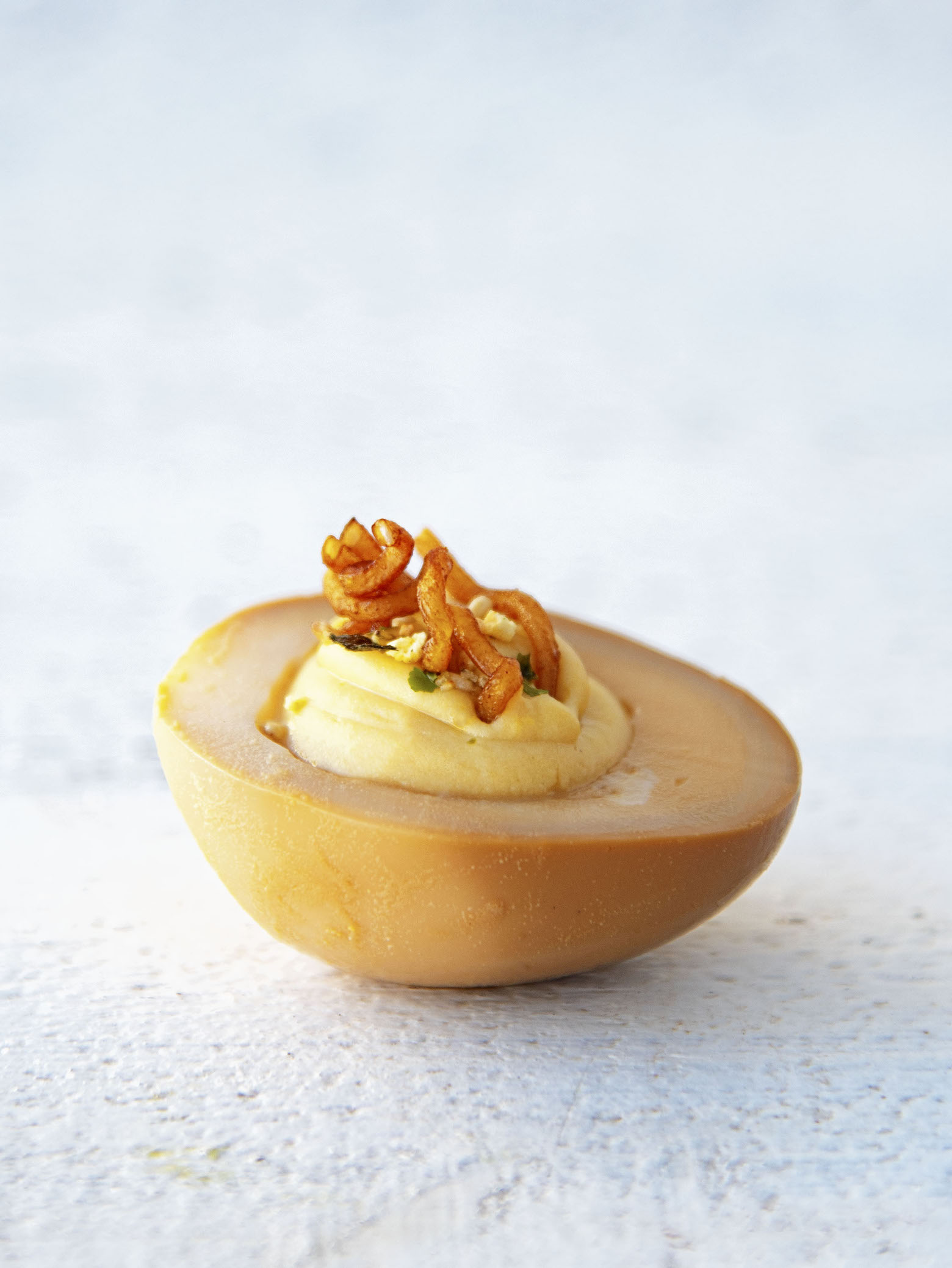 These Soy Sauce Ramen Deviled Eggs were this year's New Years Eve deviled egg.
See, each year I make a different version of deviled eggs.
Most years those eggs never make it on to the blog.
Because I make them later on in the day and then we eat them all.
So this year I decided I would make them early so I could photograph them in case we liked them.
Since they made it onto the blog, clearly we liked them.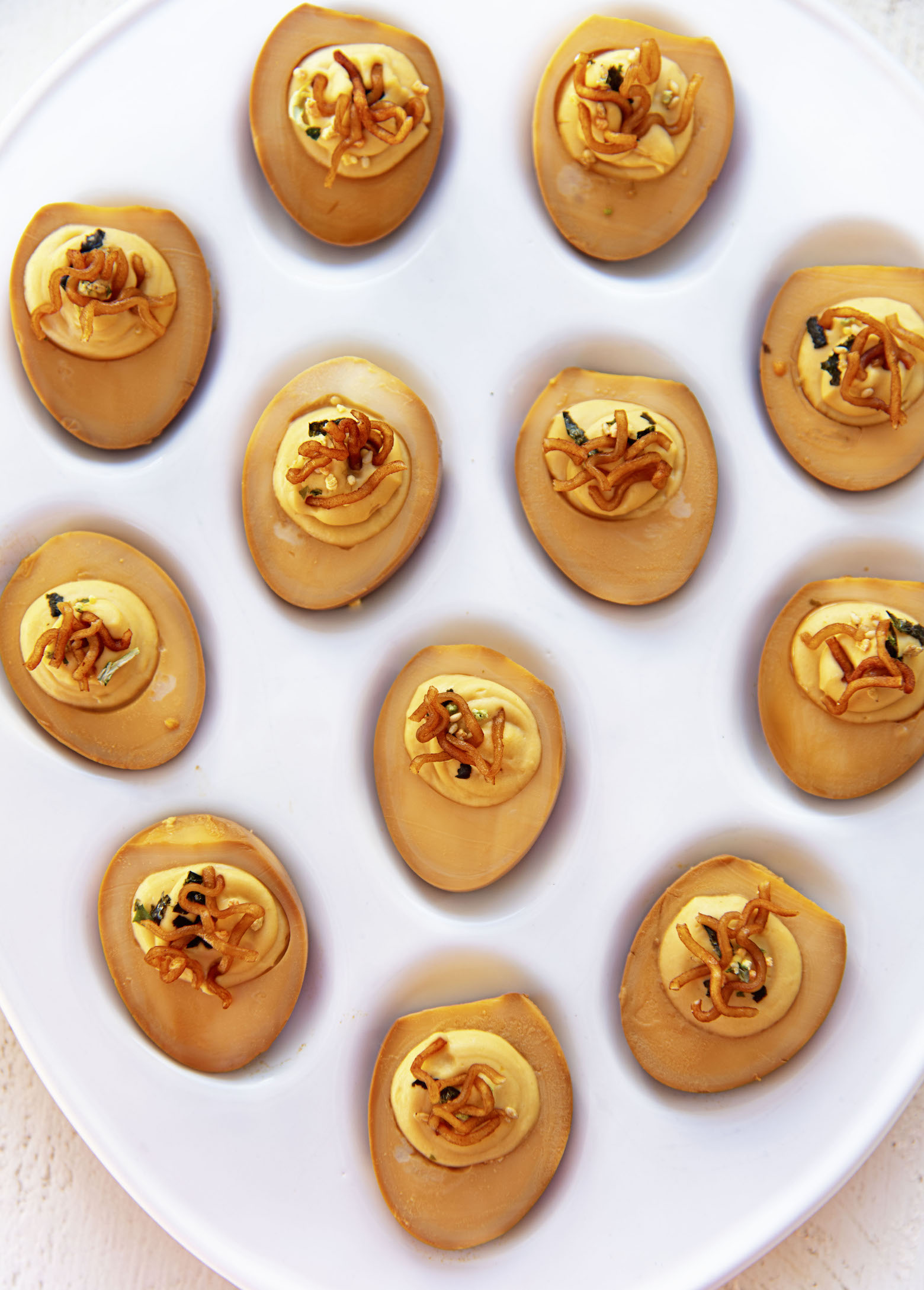 I had seen soy sauce eggs and soy sauce deviled eggs.
In which you soak the eggs in soy sauce.
I did mine for 2 hours.
Some recipes had you soak them for longer.
And some for hardly any time at all. I think it just depends on how salty you want your eggs.
While they used soy sauce almost all of those were just filled with the standard mix of egg yolks and mayo.
And I feel so much more could be done with them.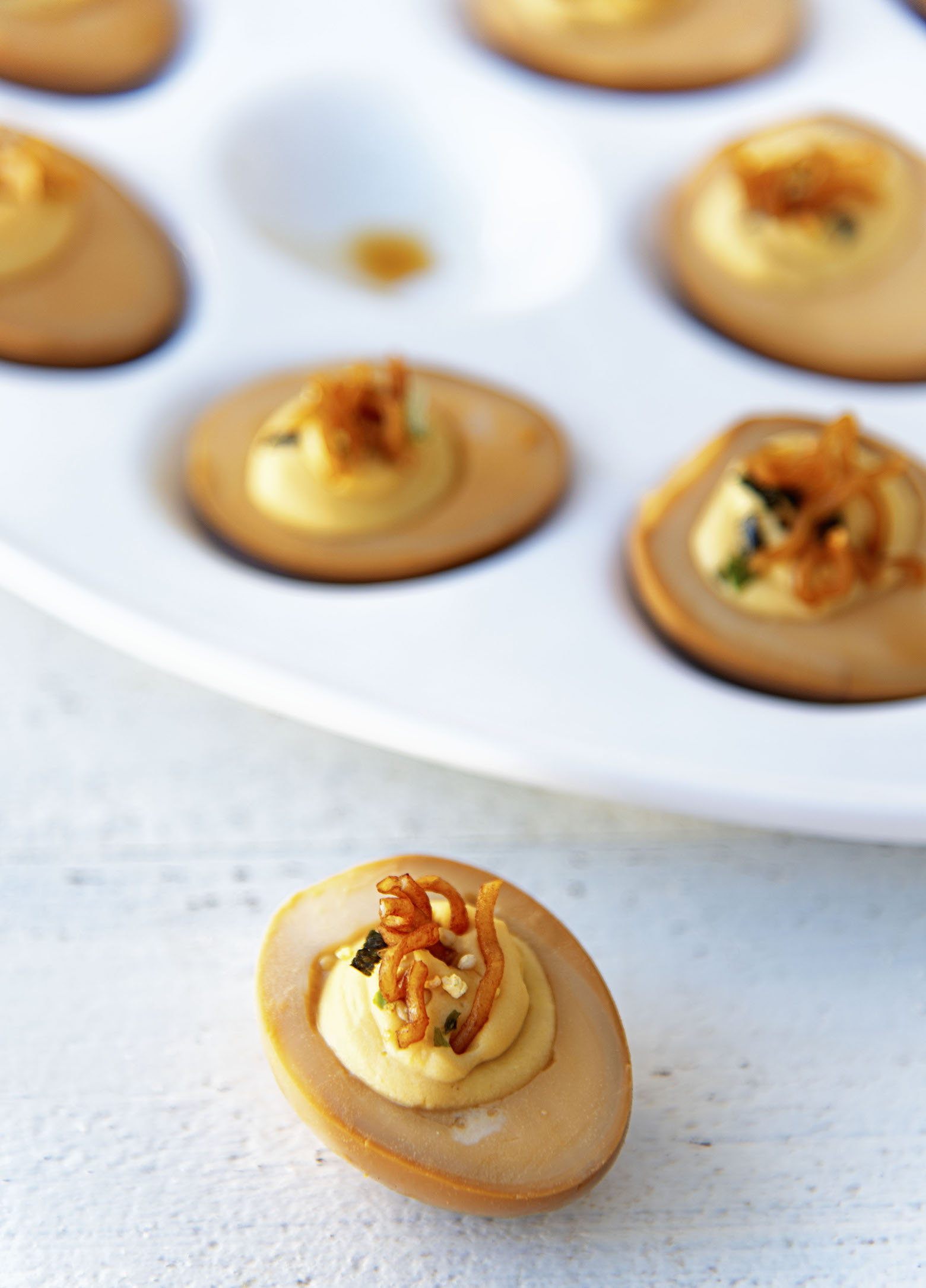 My husband and I love Soy Sauce Ramen.
It's cheap, tasty, and our monthly sodium allotment. 😛
Did I mention cheap? 😀
To class it up we add an egg.
Ramen tends to have a soft boiled egg.
But I prefer a full hard boiled egg.
So I seemed logical to combine them.
But instead of adding egg to ramen I added ramen to the egg.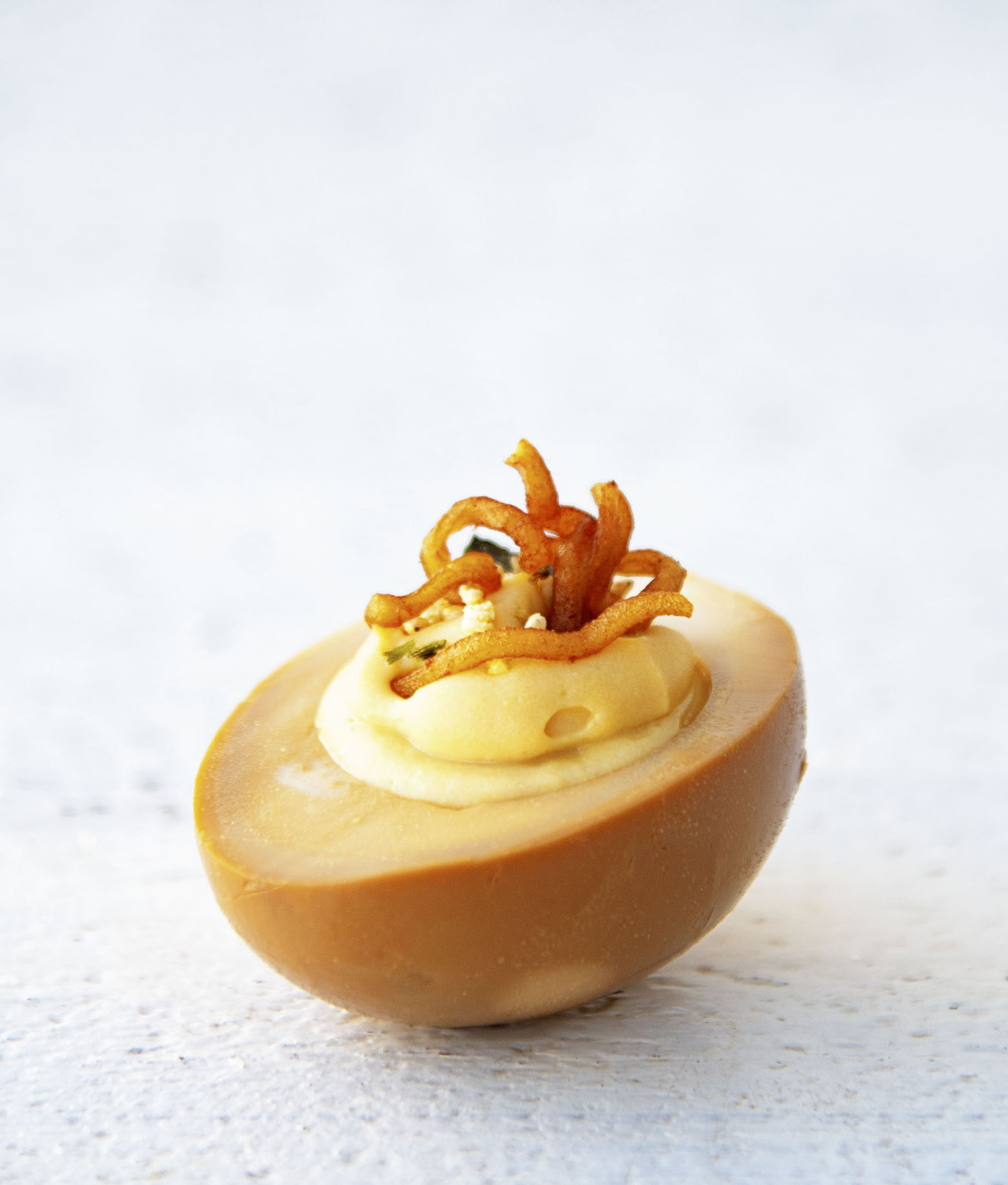 Actual ramen noodles are not in the deviled eggs but they do sit on top of them.
You can keep them soft but I chose to air fry them.
Now, ramen noodles come crunchy but that wasn't the texture I was going for.
So I do boil mine in water and then soak them in soy sauce real quick for color and flavor.
You can skip the soy sauce if you want.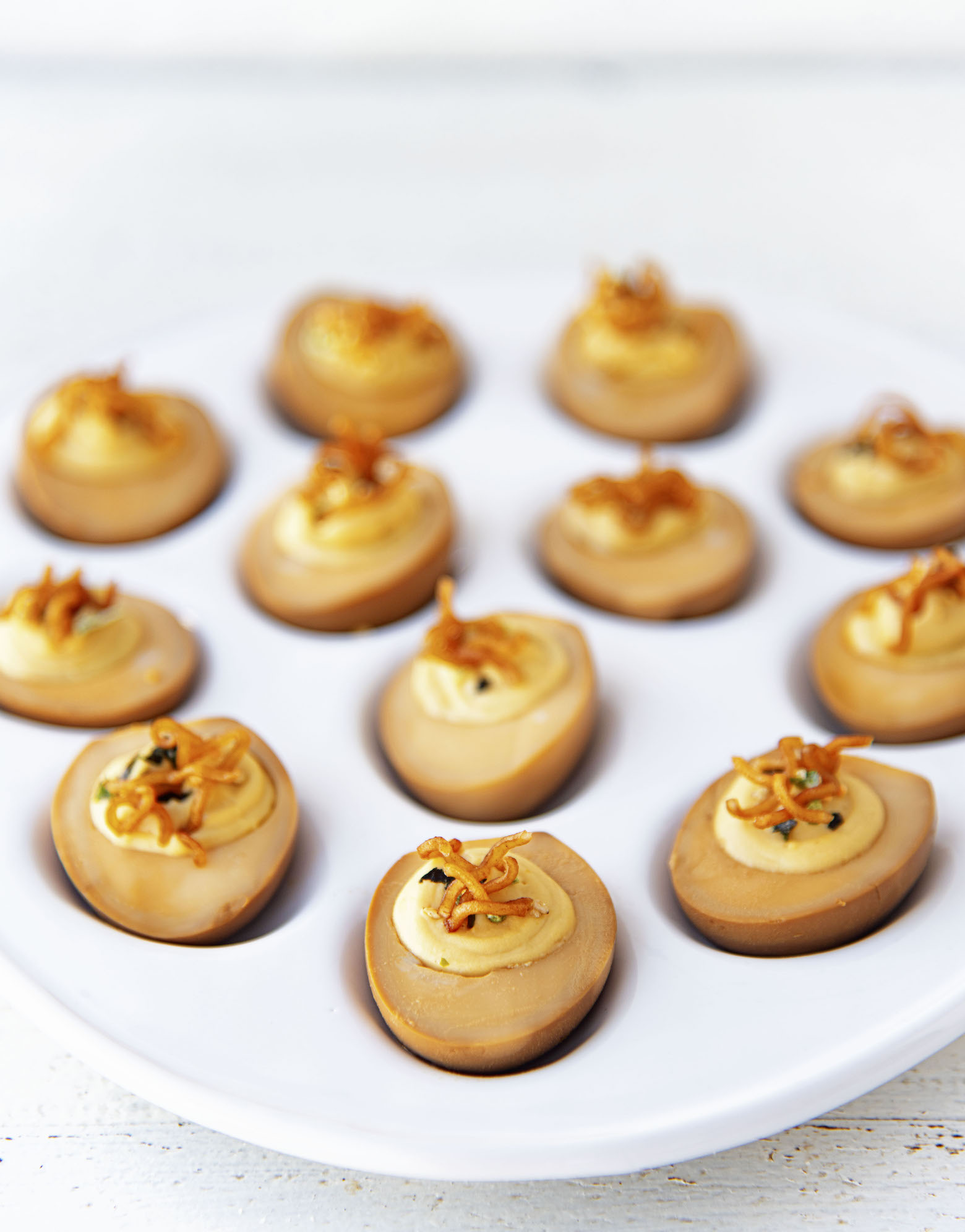 Which leaves the filling.
In which I add the Soy Sauce Ramen flavor packet to hard boiled egg yolk.
Along with some seasoned rice vinegar, Japanese mayo, and some sugar.
If you like heat you could add some sriracha sauce.
But we are wimpy and skipped that.
If you can't find Japanese mayo you can use just regular mayo.
Japanese mayo is made with only egg yolks (American uses the whole egg).
It's also tangier and sweeter.
So if you are not using the Japanese mayo I would add a tablespoon extra of rice vinegar and a extra teaspoon of sugar to the mix.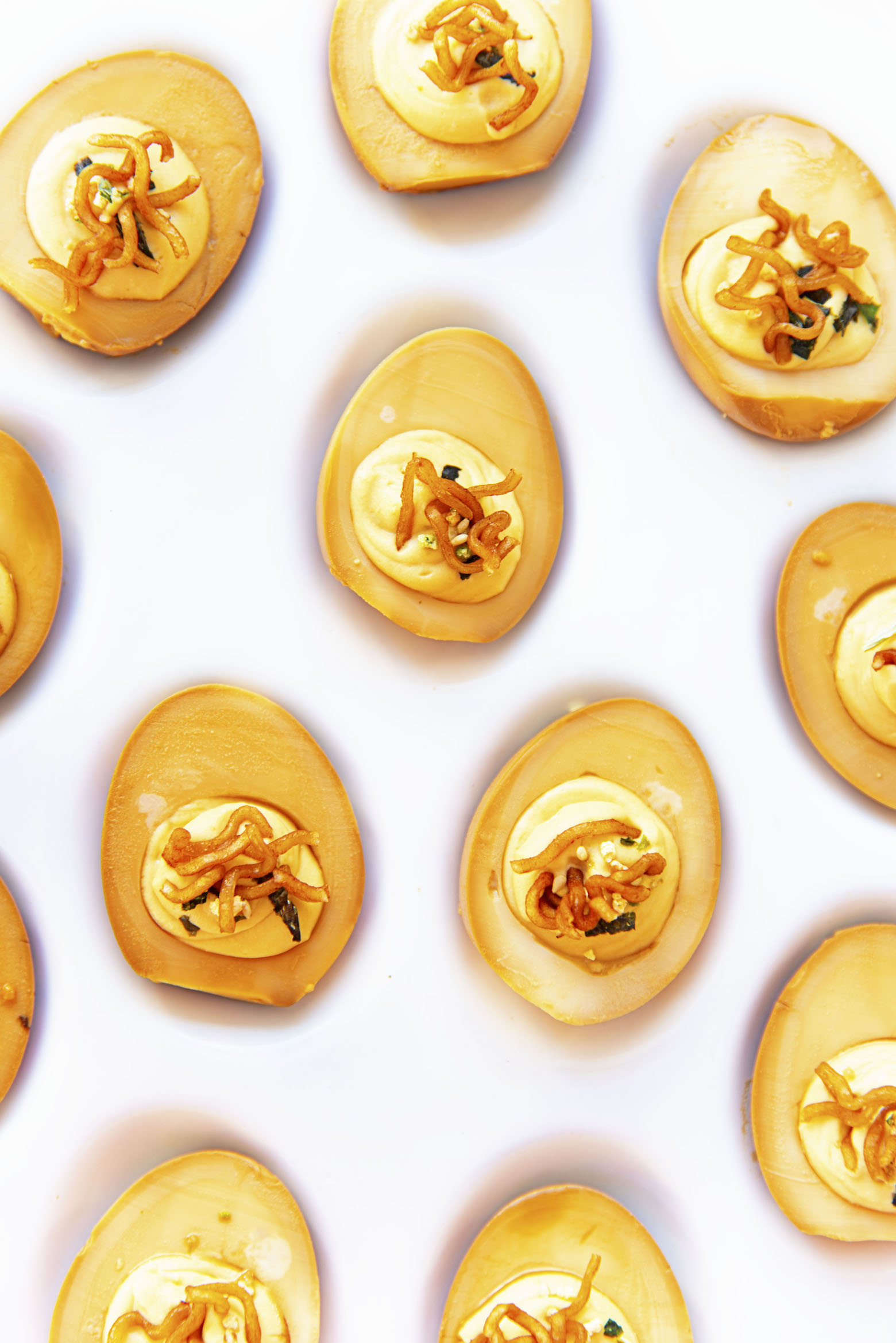 The garnish is the air fried ramen along with some rice seasoning called Furikake.
I had never used rice seasoning but a friend gave me some for Christmas this year.
There are quite a few varieties but basically Furikake is a Japanese seasoning typically made with toasted sesame seeds, nori, salt, sugar.
Nori if you don't know is dried seaweed.
You don't have to use the seasoning but it adds another umami level with salty and sweet.
P.S. It's a great day to buy my cookbook Holy Sweet!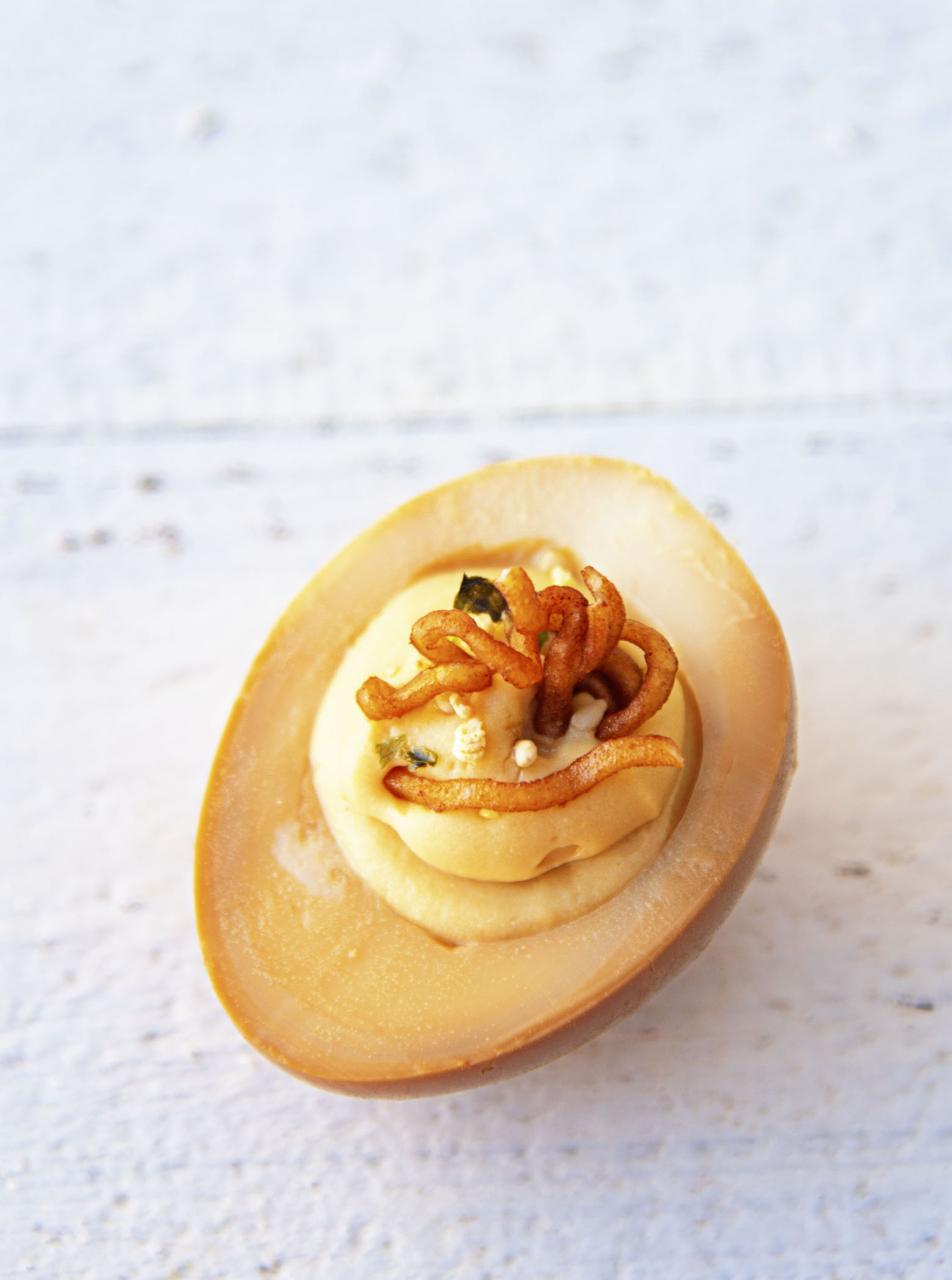 Want More Deviled Egg Recipes?
Bacon Caesar Salad Deviled Eggs
Honey Mustard Pretzel Deviled Eggs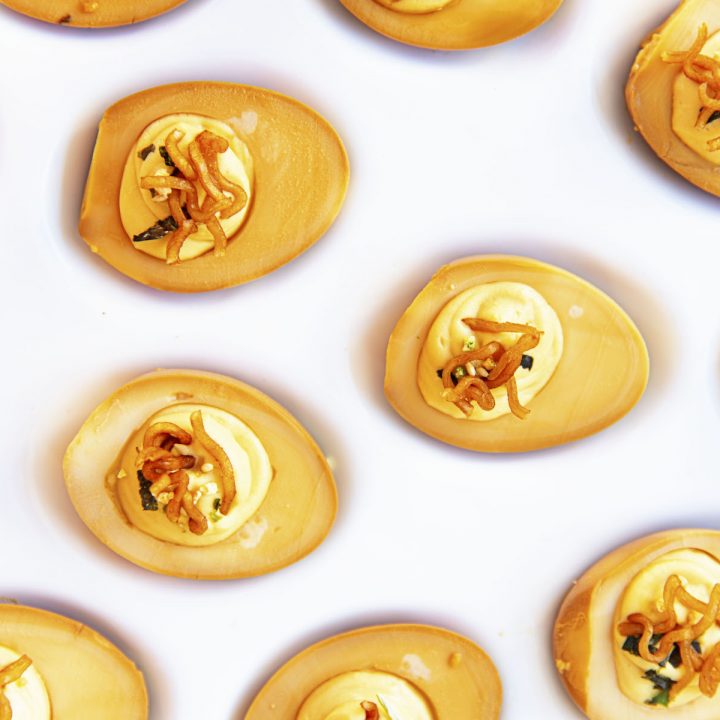 Soy Sauce Ramen Deviled Eggs
Ingredients
For the Ramen:
1 packet Soy Sauce Ramen, packet saved for filling
1/3 cup low sodium soy sauce
For the Eggs:
6 large eggs, hard boiled
1 cup low sodium soy sauce
For the Filling:
Hard boiled egg yolks leftover from the marinating eggs
1/2 cup Japanese mayo
1 Soy Sauce Ramen flavor packet
2 TBSP seasoned rice vinegar
2 tsp granulated sugar
black pepper to taste
Furikake to garnish
Instructions
For the Ramen:
Prepare the ramen according to the package but do not use the flavor packet.
Once ready, drain using a strainer and place the ramen back into the pot you boiled the noodles in.
Add the soy sauce and let sit in there for two minutes. Then remove and place noodles on a paper towel.
Prepare air fryer by setting the temperature to 375F.
Lay out the noodles so they are not clumped together or else they will stay soggy.
Fry for 3-5 minutes or until your noodles crisp up but are still soft in the middle.
For the Eggs:
Remove the shell from the outside of the hardboiled egg and cut in half. You can either buy the eggs already hard boiled or boil them at home.
Scoop out the yolk and add to a small mixing bowl.
In a shallow dish (I used an 8x8 pan) add soy sauce and lay egg whites into the soy sauce. Cover, marinade for 2 hours, flip the egg white and marinade for another 2 hours.
While the eggs are marinating prepare the egg yolk filling.
For the Filling:
Mix together egg yolks, Japanese mayonnaise, Soy Sauce Ramen flavor packet, seasoned rice vinegar, sugar, and black pepper. Keep covered in the fridge until ready to fill eggs.
When the eggs whites are done marinating remove them from the soy sauce and pat dry.
Fill the egg holes with egg yolk filling, sprinkle with Furikake and top with crispy ramen pieces.