Santa's Cookies Cheesecake Cheeseball has vanilla malted milk and filled with mini chocolate chip cookies, sugar cookies, and Oreo's.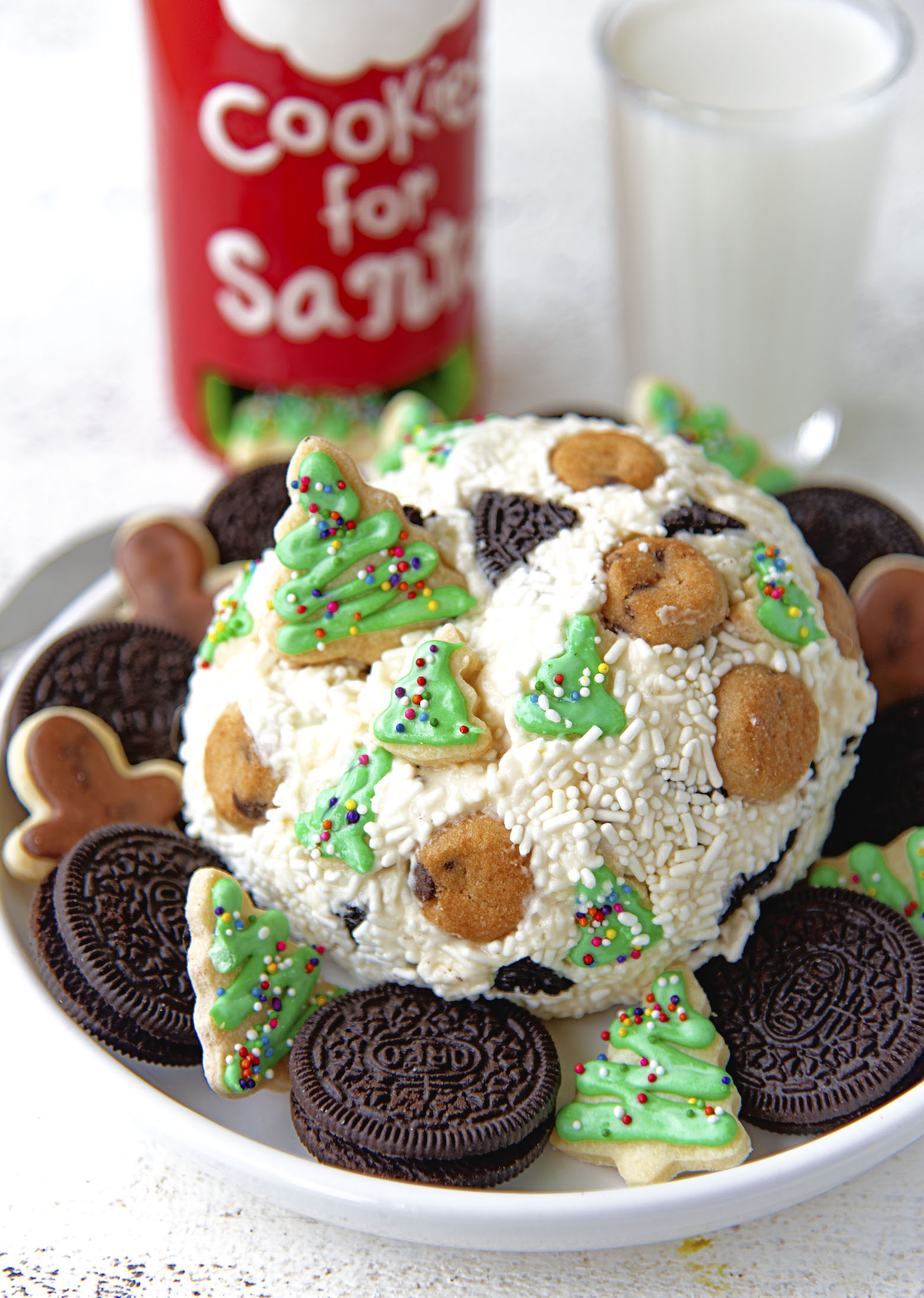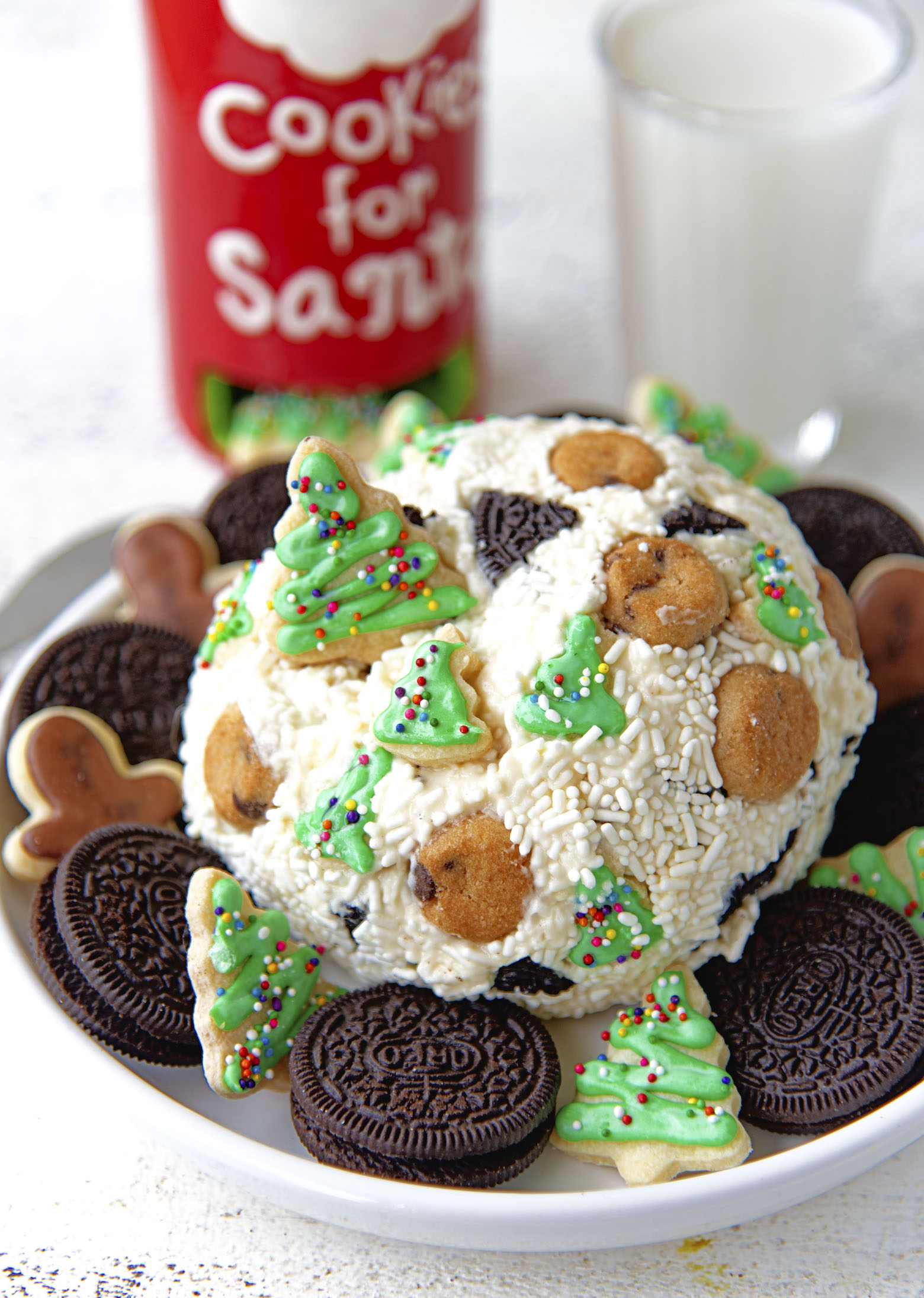 I'm going all out this year for Santa with this Santa's Cookies Cheesecake Cheeseball.
Sure you can just leave out cookies but I'm trying to go for something extra special this year.
Santa sees plate of cookies after plate of cookies each year.
So imagine Santa coming in and this is left out for him.
A cookie studded cheeseball that has cookies inside and out.
I haven't made a cheeseball in awhile.
And I really haven't made a dessert cheeseball in awhile.
Since I usually make them for a crowd.
If I make them an no one else is around to eat it, then well, I eat it.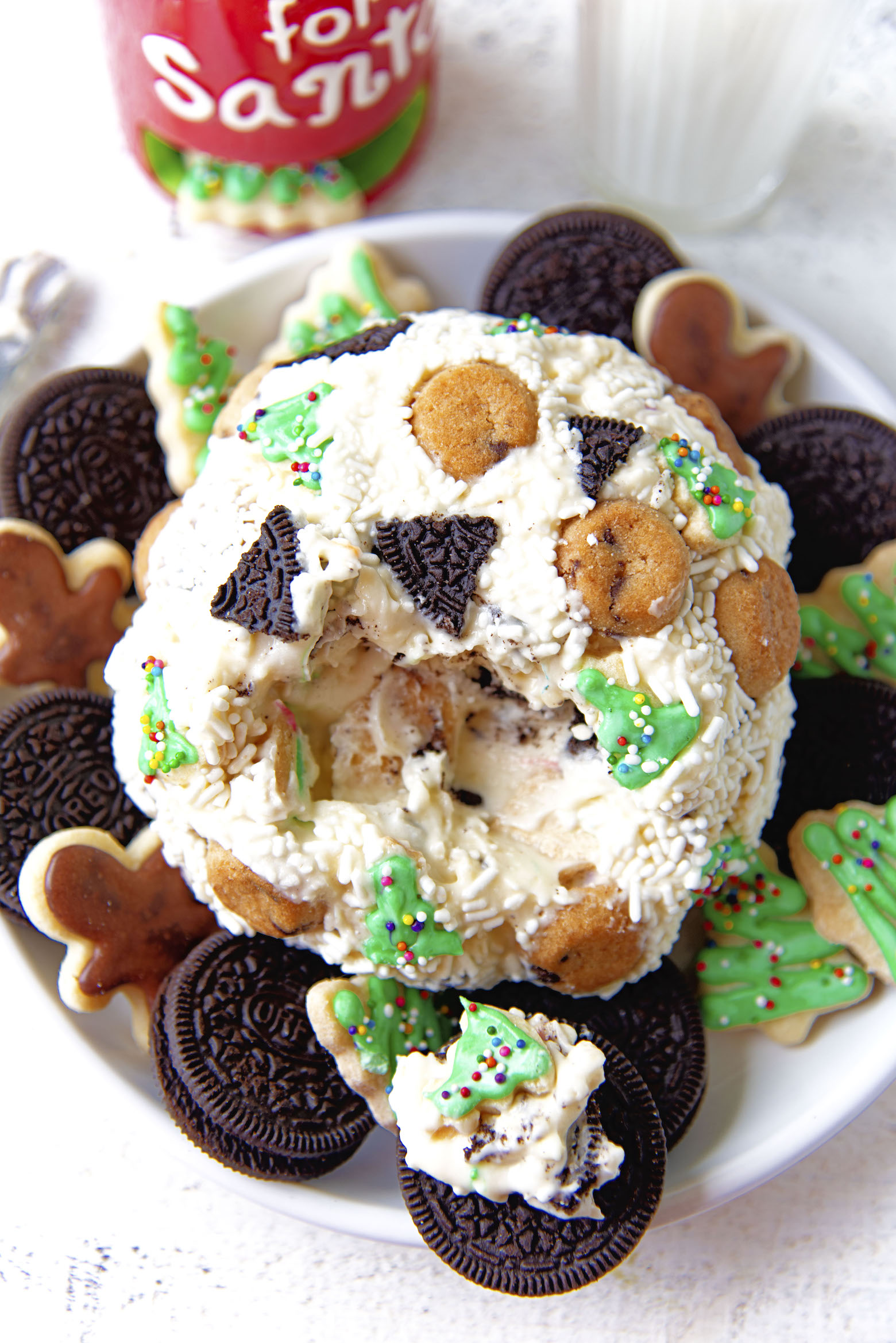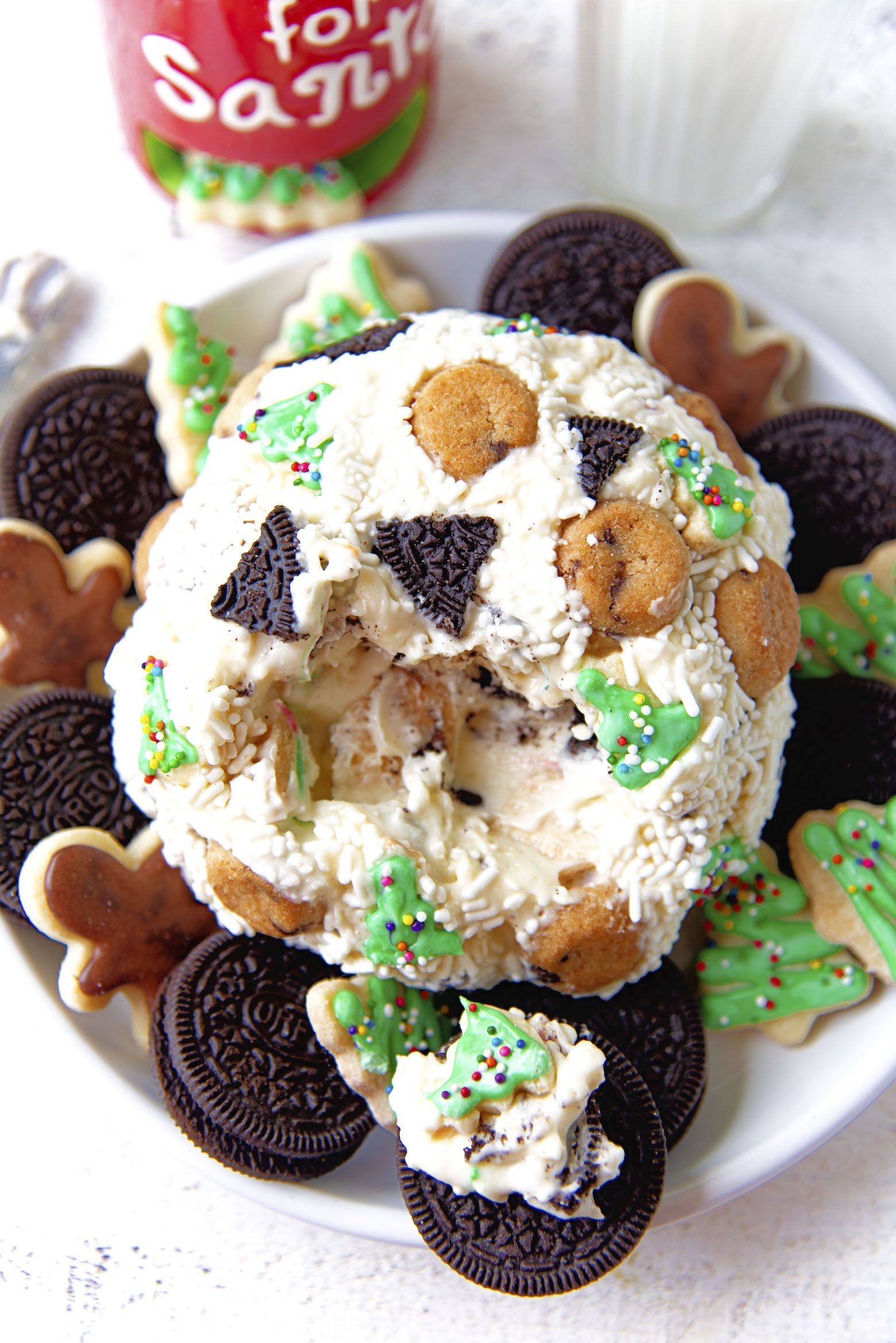 And that's a lot of cheese.
I mean, sure, I can step up and totally eat a whole cheeseball.
We made a big dent in this one…just my husband and I. 🙂
The idea for this was milk and cookies.
But milk doesn't really have that much of a flavor on it's own.
And it's not really a flavoring you can buy.
I haven't found a milk extract.
It might exist, I just haven't found it.
So I tried powdered milk.
Which was fine but again, didn't really have any flavor.
So that's why I decided to add malted milk plus the powdered milk.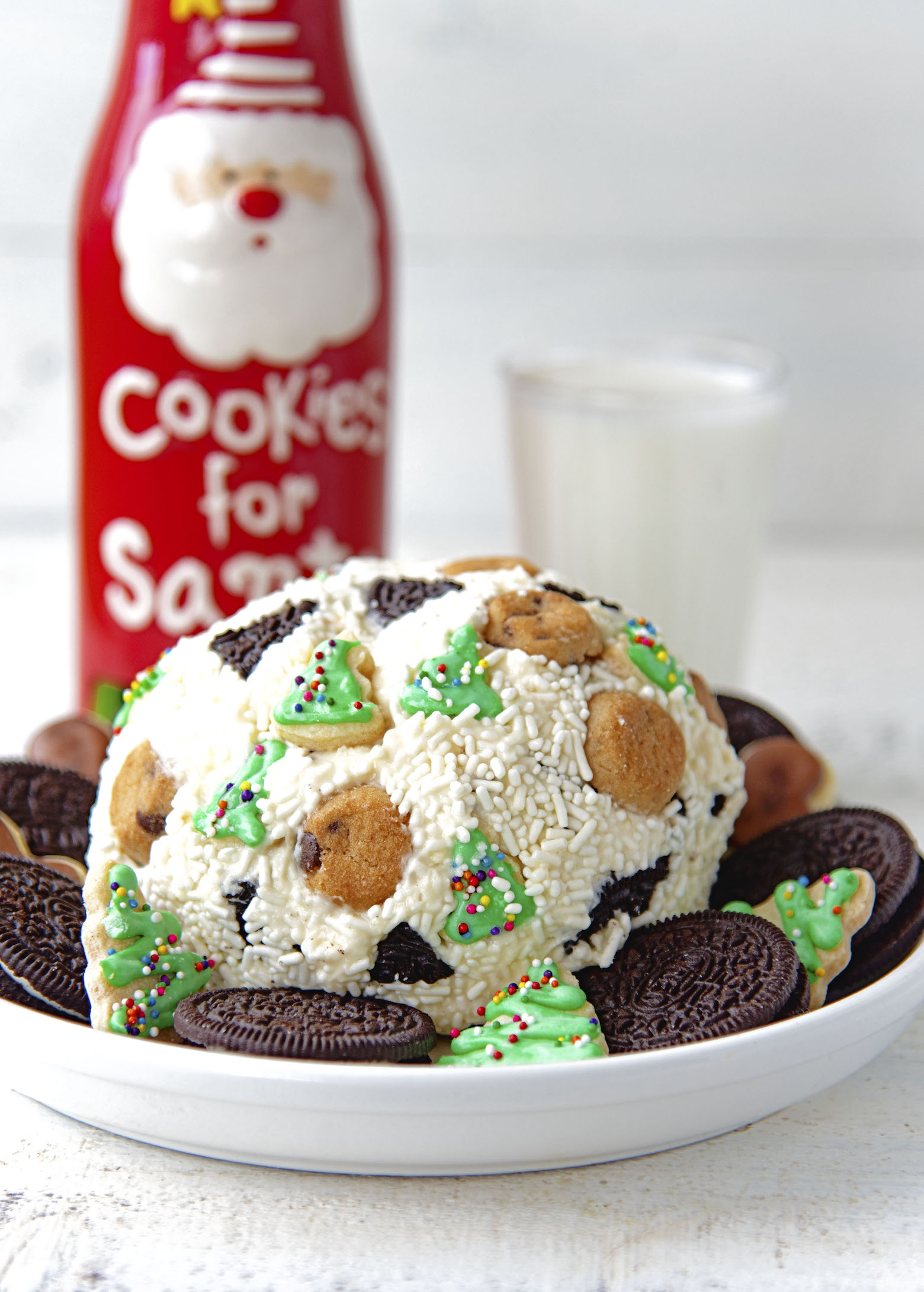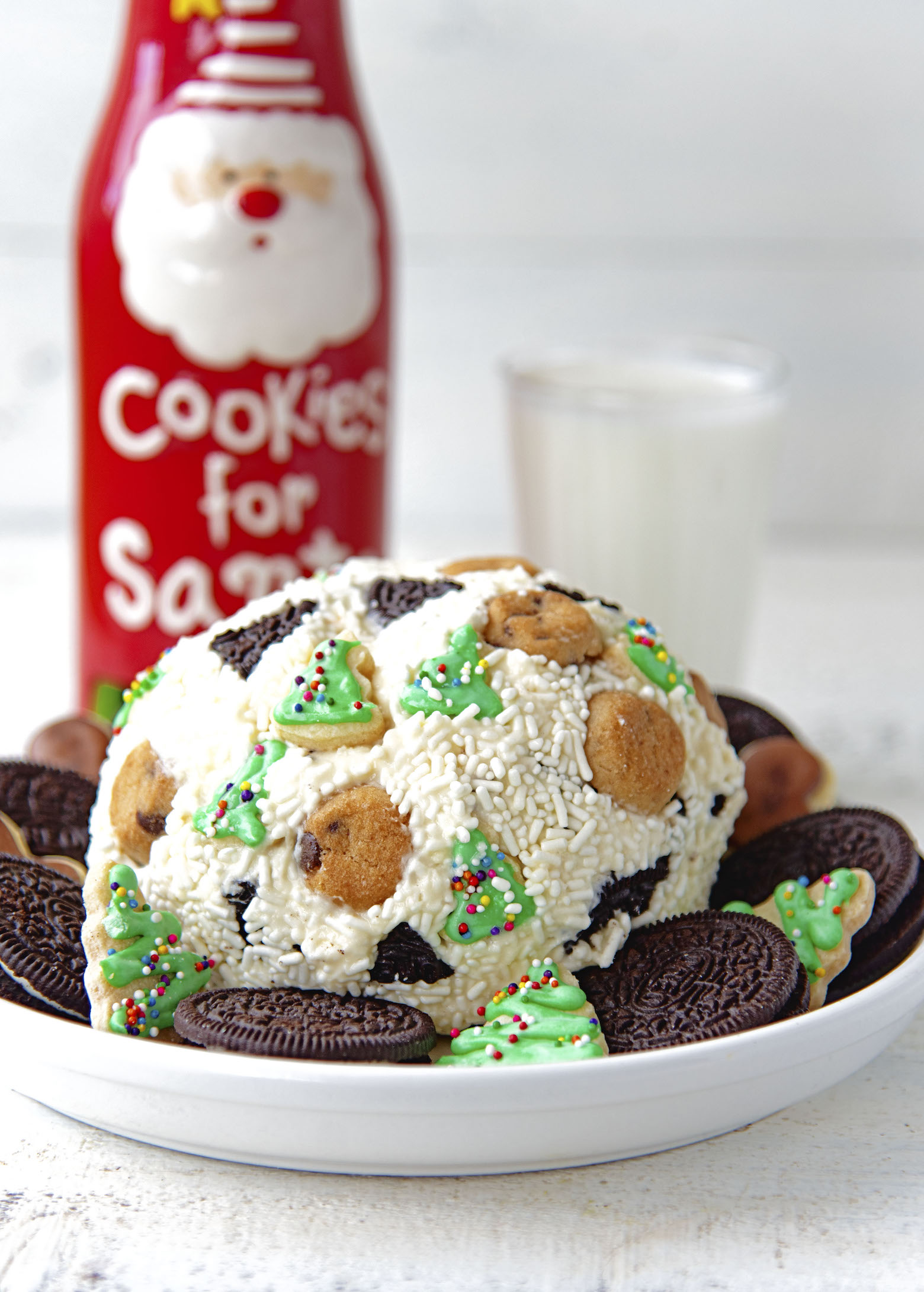 The other decisions was what cookies to use.
Now, our family has always set out frosted sugar cookies.
I guess because they are festive.
And of course, it's what us kids decorated.
So leaving something out for Santa that kids made just makes sense.
Plus sugar cookies kind of go with just about any flavor.
I grew up on Oreo commercials with plates of Oreo's left out for Santa.
So it just seemed right to add those.
Got to love the power of advertising influence in your life.
And lastly I went with mini Chips Ahoy.
If you want to make your own mini chocolate chip cookies feel free.
I was not in the mood to do that.
Especially after making tiny sugar cookies for my Sugar Cookie Cracker Toffee.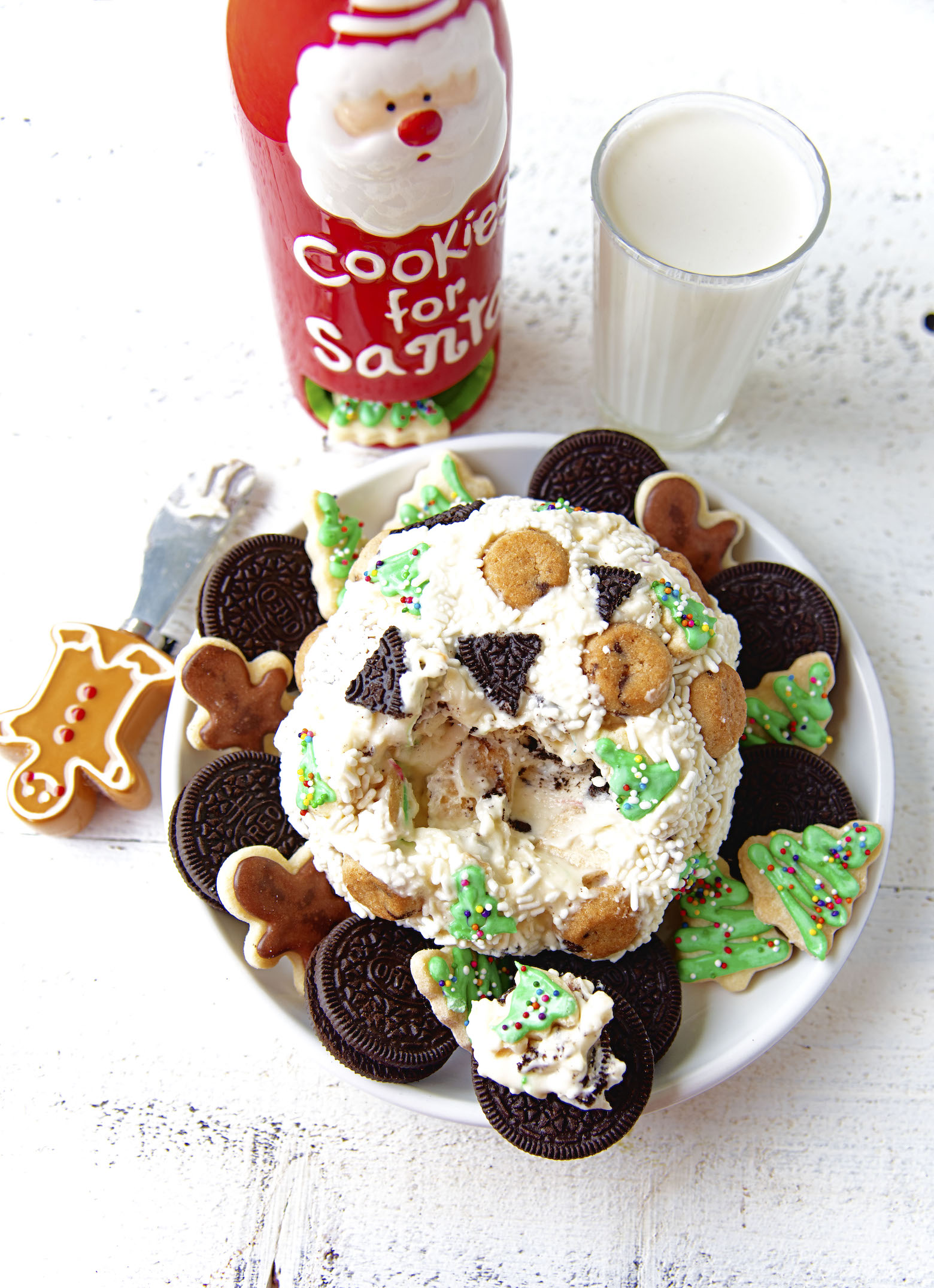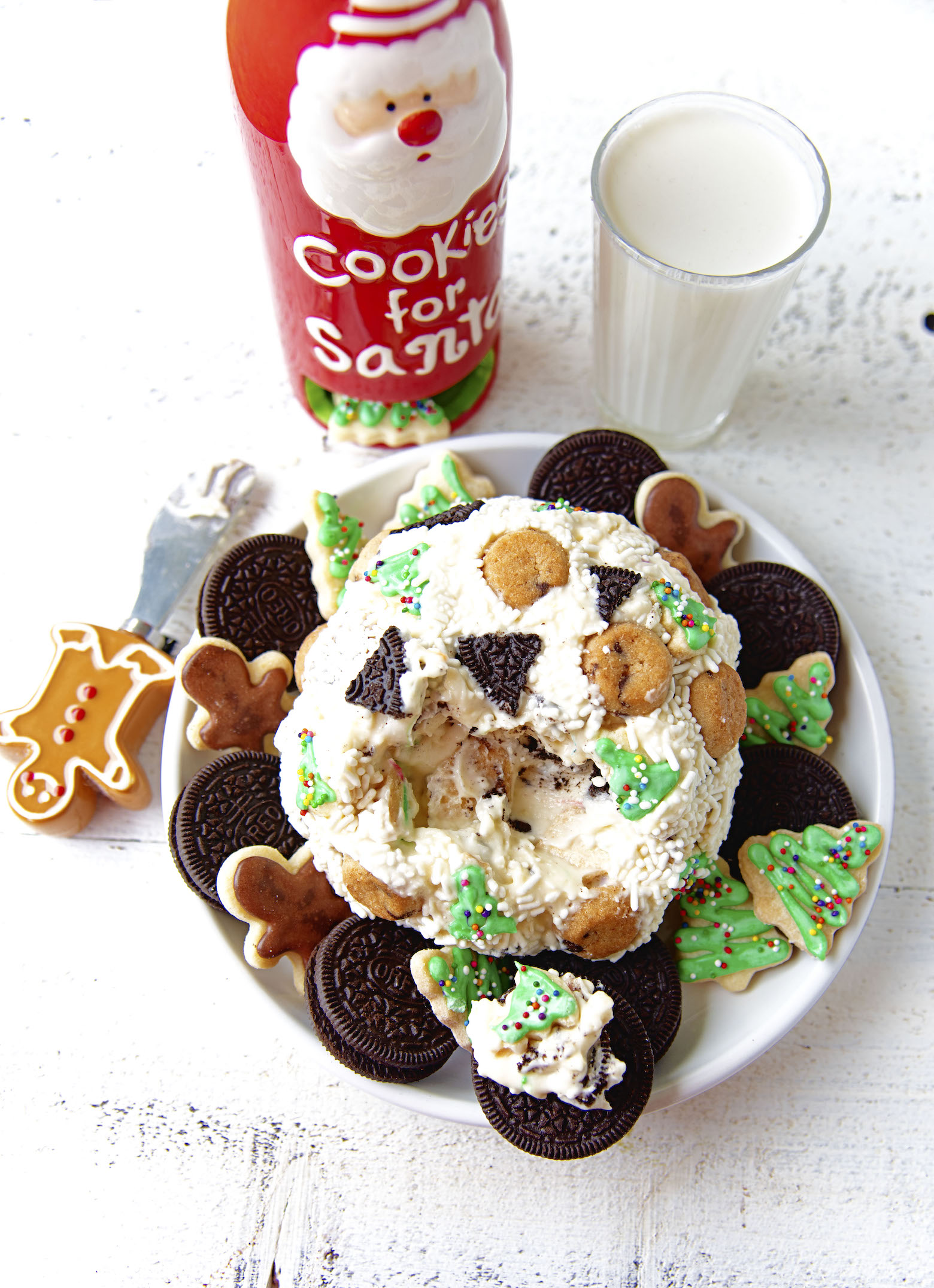 For the outside decorations of the cheeseball I went with a combo of cookies and sprinkles.
Originally I thought I would just do all cookie and cookie pieces.
But then I realized that the cookies wouldn't stand out.
Thought about just rolling it in cookie crumbs, which would have been tasty.
However, I don't think it would look very cute.
And Santa deserves cute.
You can use all sprinkles if you want.
But I really like the combo of both.
I went with white sprinkles to look like milk.
But feel free to use some festive colored sprinkles if you want.
Serve with the cookies you used in the cheeseball.
P.S. It's a great day to buy my cookbook Holy Sweet!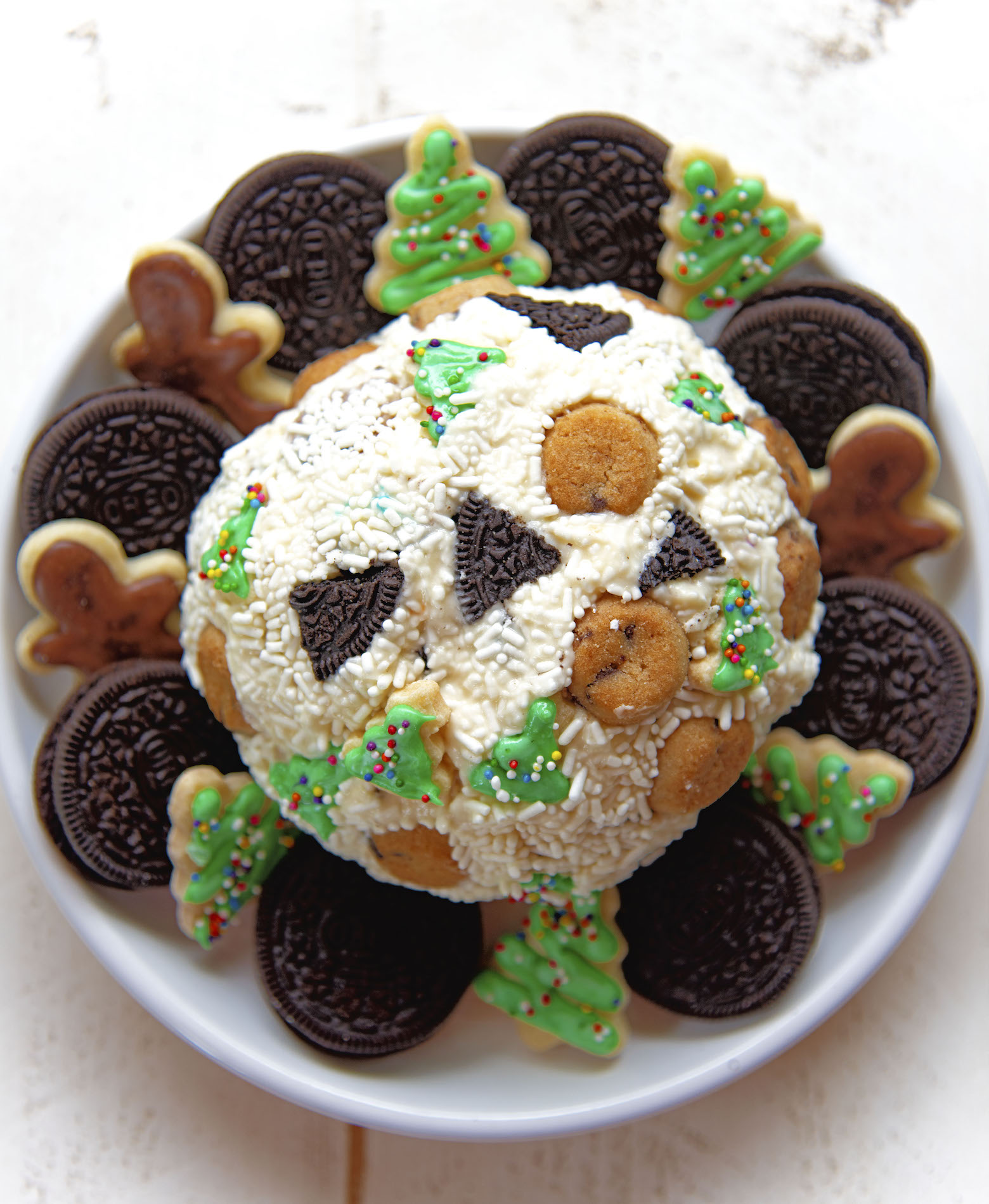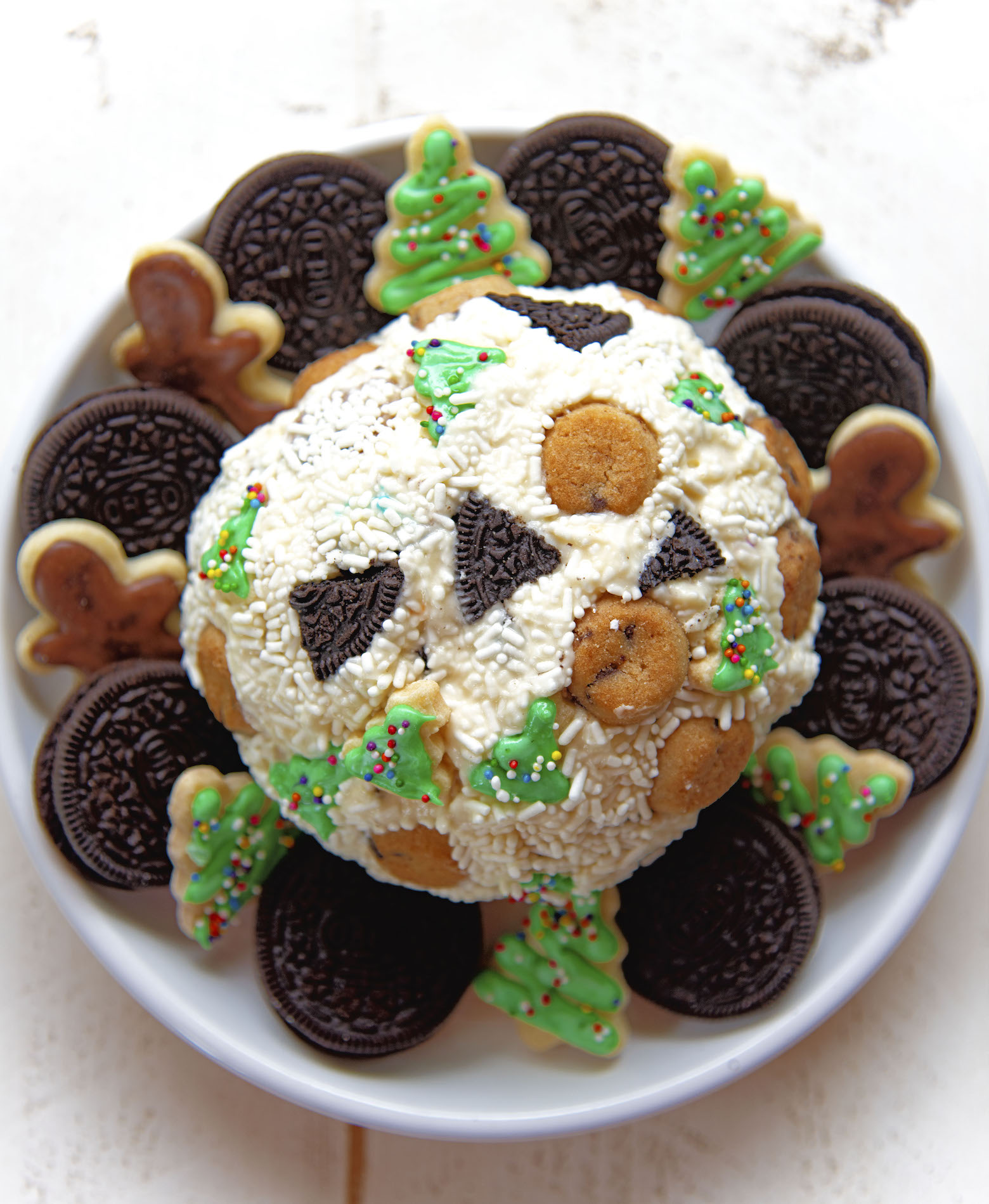 Want More Cheesecake Cheeseball Recipes?
Strawberry Pretzel Cheesecake Cheeseball
Sugar Cookie Cheesecake Cheeseball
Gingerbread Cheesecake Cheeseball
Circus Animal Cookie Cheesecake Cheeseball
Cake Batter Cheesecake Cheeseball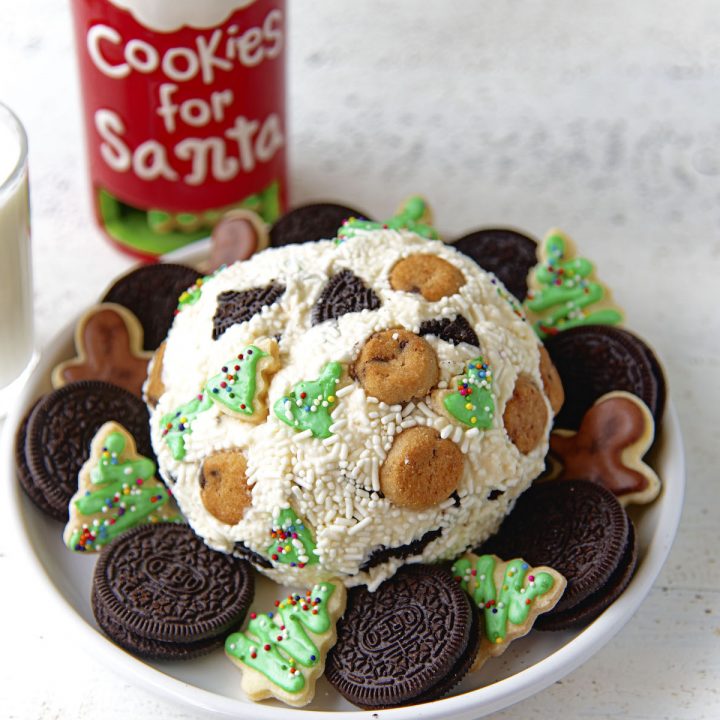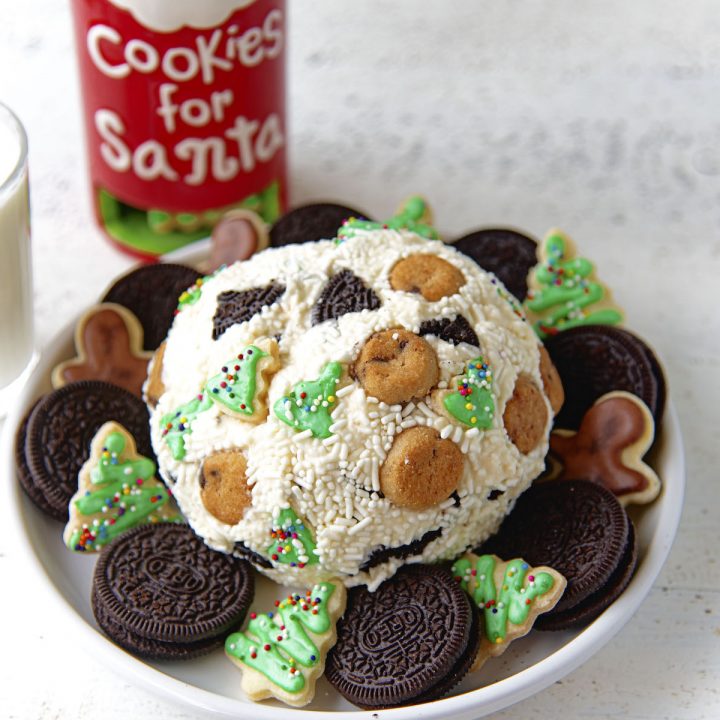 Santa's Cookies Cheesecake Cheeseball
Ingredients
For the Cheeseball:
16 oz. cream cheese, at room temperature
1 cup unsalted butter, at room temperature
1 TBSP vanilla bean paste
3 cups powdered sugar
1 1/4 cups powdered milk
1 1/4 cups malted milk powder
1/2 cup Oreos, chopped in pieces
1/2 cup sugar cookies, chopped in pieces
1/2 cup mini chocolate chip cookies
For the Decoration:
1 cup white sprinkles
mini chocolate chip cookies
pieces of Oreo
mini sugar cookies
Instructions
Using a stand mixer with a paddle attachment beat together the cream cheese and the butter until fully incorporated.
Add the sugar and vanilla bean paste and beat until fully incorporated.
Add milk powder and malted milk powder and mix until fully incorporated.
Fold in the cookie pieces and do your best to evenly distribute them throughout the mixture.
Lay out a piece of plastic wrap and scoop the cream cheese mixture onto it.
Do your best to form a ball, then wrap up the ball in the plastic wrap. Do an extra layer of plastic wrap to help it keep its shape.
Freeze for about 4 hours.
Take the ball out of the freezer and unwrap.
Place as many cookies as you want on the outside of the cheeseball. You can even decorate the whole cheeseball with cookie pieces if you want.
I chose to add white sprinkles to have the cookie pieces stand out more.
Place the sprinkles in a low shallow baking dish or jelly roll pan (I find a plate too small).
Roll the ball in the sprinkles making sure you cover as much of it as you can.
Wrap the ball back up into some plastic wrap and place in the fridge.
Serve with assorted cookies.